End tables are functional pieces of furniture. We can set our drinks and food on them, leave a book we're reading on them, and they're the perfect spot for a lamp. But, have they gone out of style? Do they no longer work in our modern homes?
In This Article We'll Discuss
Are Living Room End Tables Out of Style?
Have you wondered if end tables are no longer in style? Are you designing a new living room and find yourself unsure if it will be okay to add some end tables? If so, you'll be happy to know that living room ends tables are not out of style.
What Type of Living Room End Tables Are Out of Style?
With such a variety in home styles today, most pieces of furniture can look great if placed in the right space. Instead of wondering if your end tables are out of style, a better question might be: do my end tables fit the style of my living room?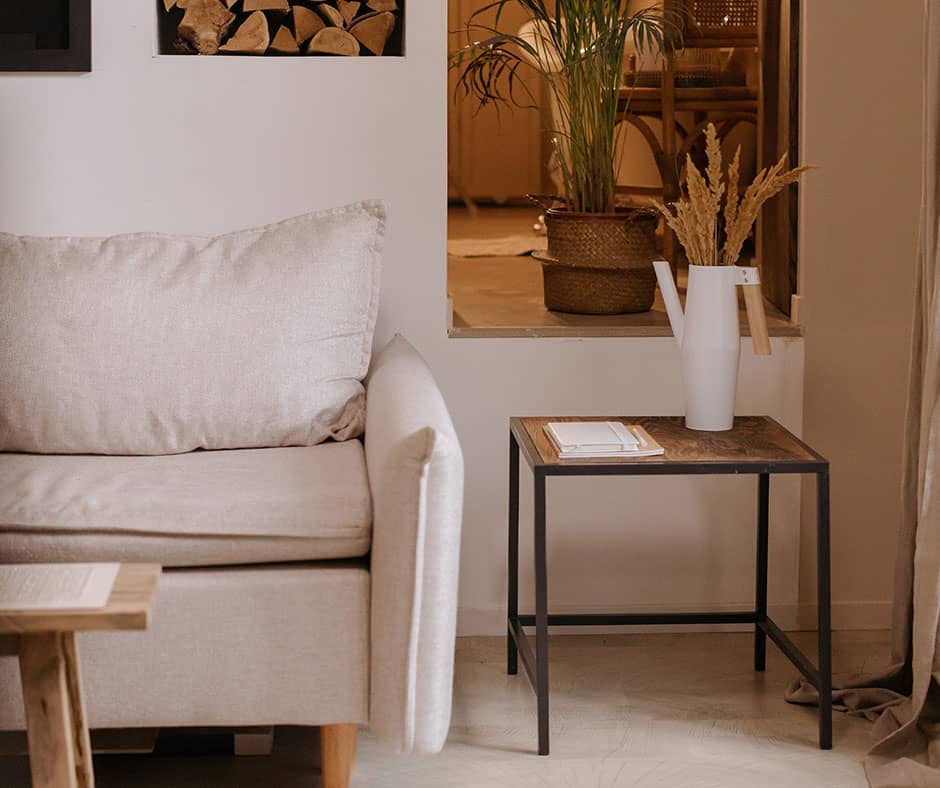 Once you know what style and look you're trying to achieve in your space, you can decide whether your existing end tables will fit in or if you should replace them.
When shopping for new end tables, don't be afraid to choose unique pieces. But, you need to make sure they will coordinate well with your existing furniture. Different styles of end tables can work well together in a space, but make sure they don't clash with your other furniture or decor.
Can I Refurbish an Old End Table To Make It Fit My Style?
Absolutely. One of the great things about quality furniture is that it can hold up very well over the years. So, you can update its look over and over to best fit your space. You can repaint and restrain end tables. Or, you can even consider adding a glass top or marble top over the wood to modernize its look.
Is It Okay To Have Living Room End Tables Now?
End tables create fantastic storage and make your living room space comfortable and convenient. They also create a space for your drinks and snacks. In addition, they serve as a perfect spot for a table lamp to add some extra lighting to your space. So, yes, it's not just okay to have them, it's a great idea.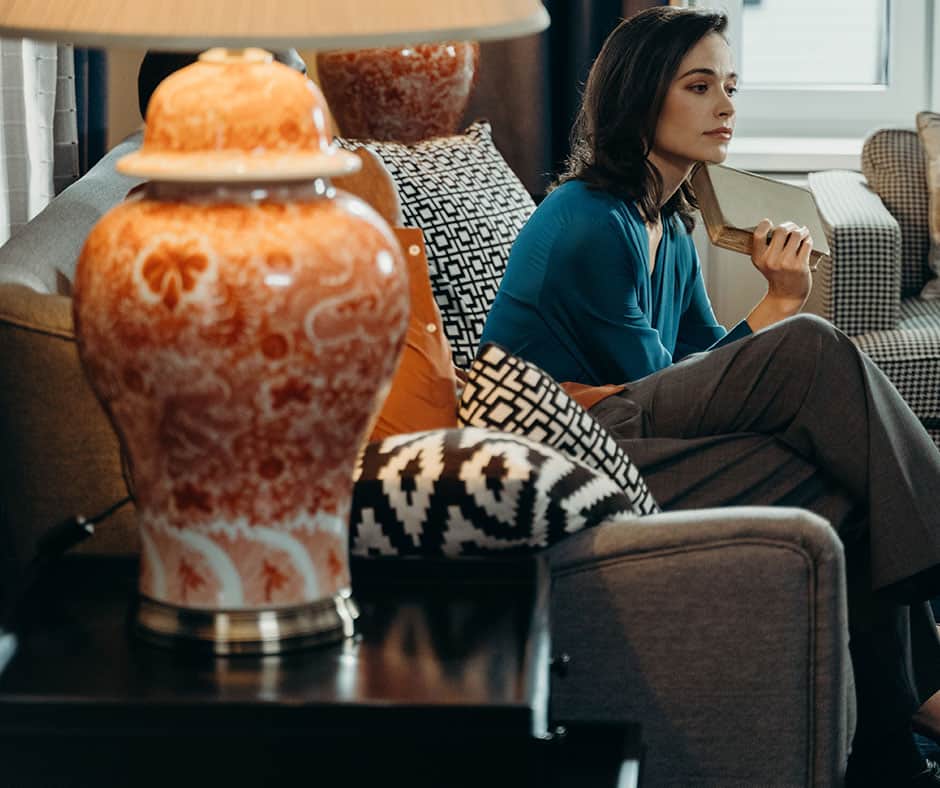 A lot of end tables have bottom shelves or drawers, so they offer extra storage for items such as TV remote controllers, magazines, or books. End tables' extra storage will keep your living room uncluttered.
You'll be adding more storage space to your living room while also adding a touch of convenience.
What To Consider When Putting an End Table in Your Space
When determining what end tables will best fit your space and style, consider the following:
Size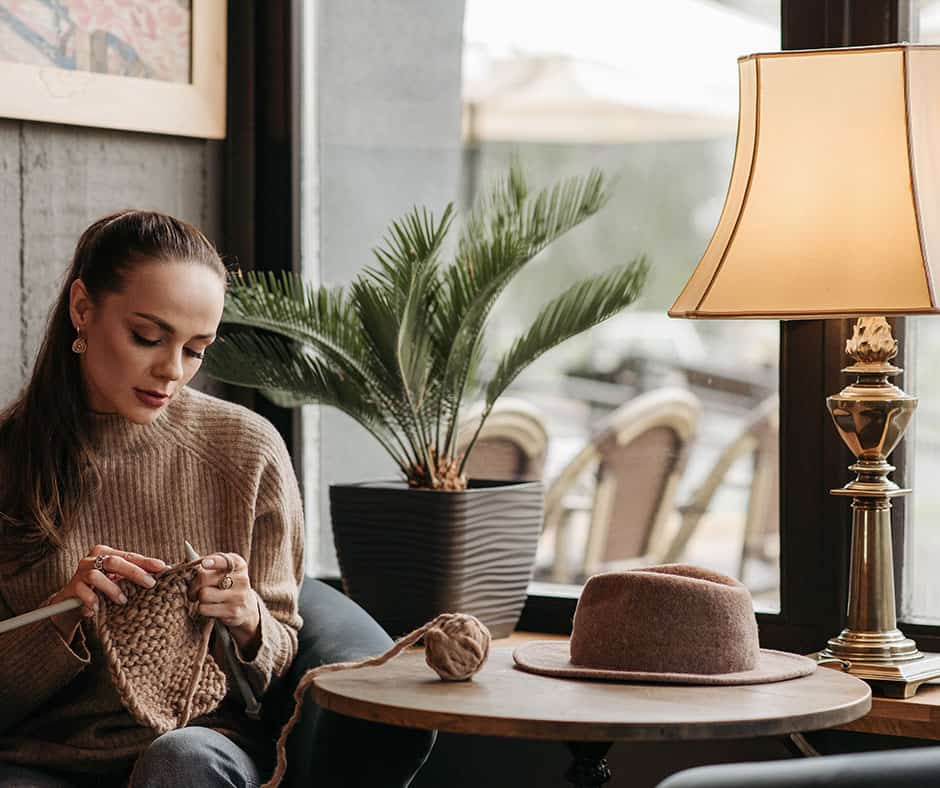 What size will fit best in your living room? End tables range from very large (over 24″ wide) to narrow (10″-12″ wide). You should also choose a size that will accommodate other items you need. For example, if you'll need to have a lamp on your end table, or if it needs to be big enough to hold another piece of large decor, you'll need to keep that in mind.
Shape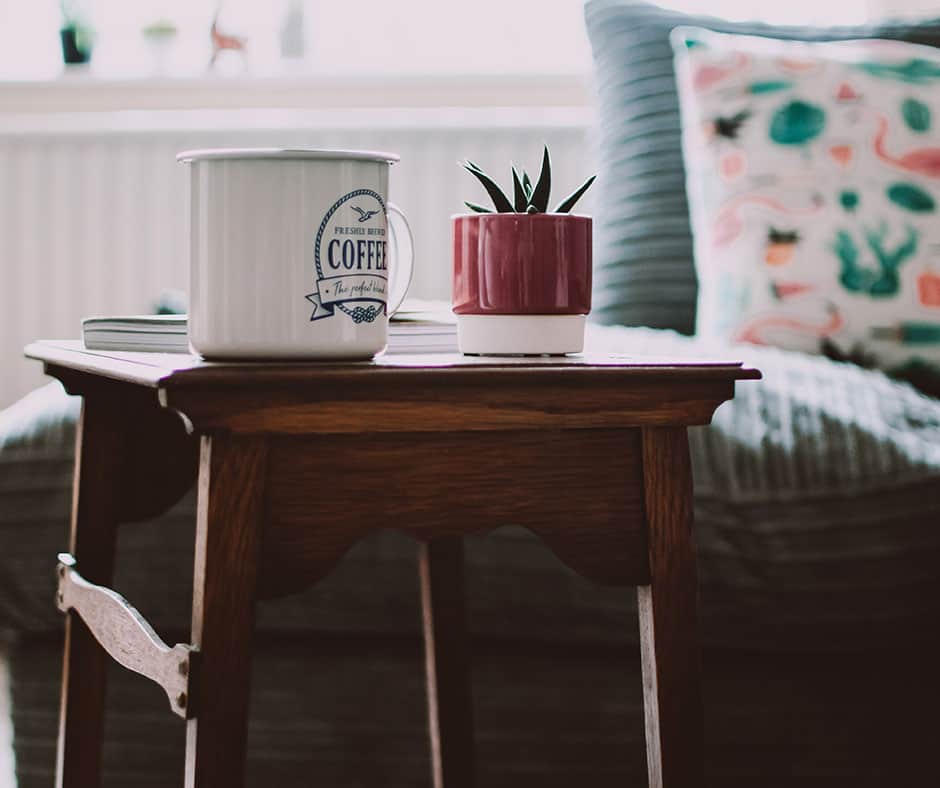 End tables can be rectangular (most common), square, oval, round, or uniquely geometric. You can bring in some of your design themes by selecting a unique end table shape. For example, bring out the diamond pattern in a rug by using diamond shaped end tables that highlight the rug's unique pattern and shape.
Style
Remember that you can be creative and take some risks by picking unique end tables that coordinate well with your space. They need to work well within your living room's theme, but they can range in style.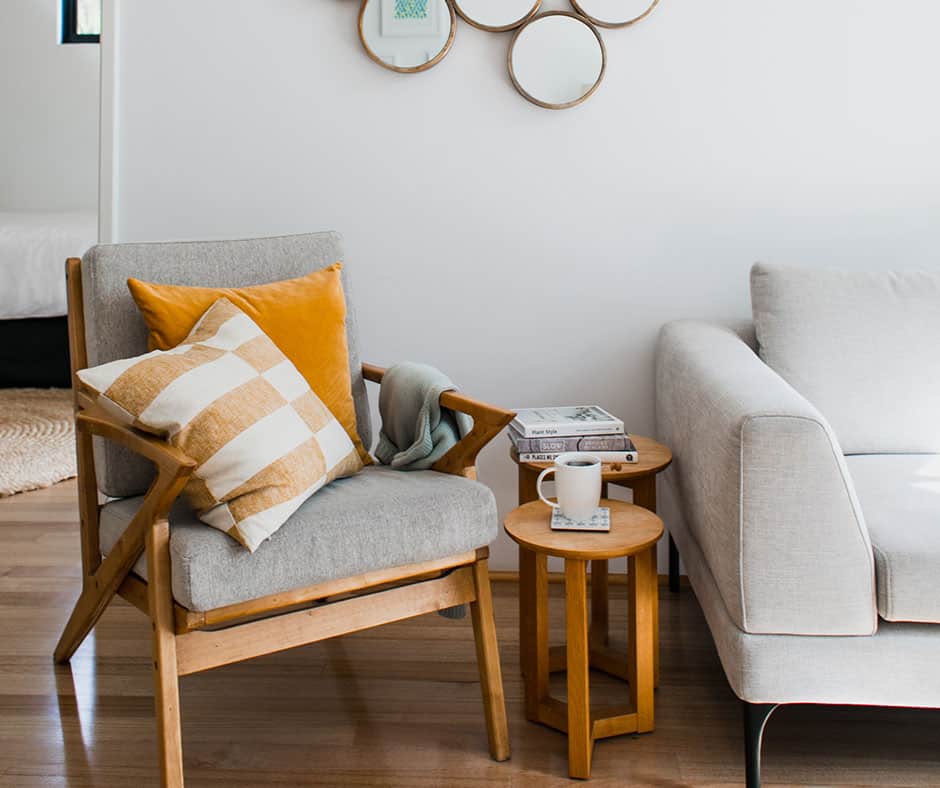 Choose from a variety of eclectic one-of-a-kind tables, rustic slab-top end tables, modern marble end tables, or even a more grandiose and traditional style pedestal end table. Be creative and select a style you'll love.
Should End Tables Match Your Other Furniture?
You can purchase your end tables and coffee table together to be an exact match, or they can be completely different. There isn't a rule for matching all tables in one room.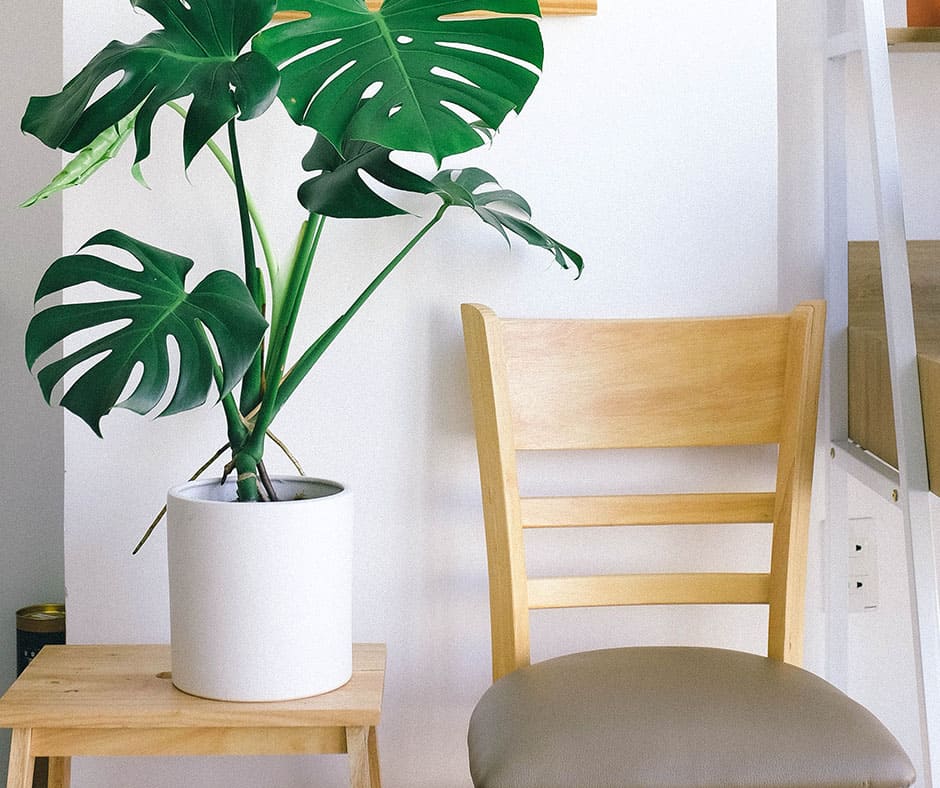 If you prefer a more cohesive look, buy all your living room tables as a set. If you want an eclectic space and look, buy unique tables. But, always make sure that they work well together in your space. You don't want to make your living room look too cluttered with too many individual styles and pieces.
How Many End Tables Should You Have In Your Living Room?
A good rule to use when thinking of end tables is to consider each seat in the space. Does each person sitting in a seat have access to a table to put their drink down?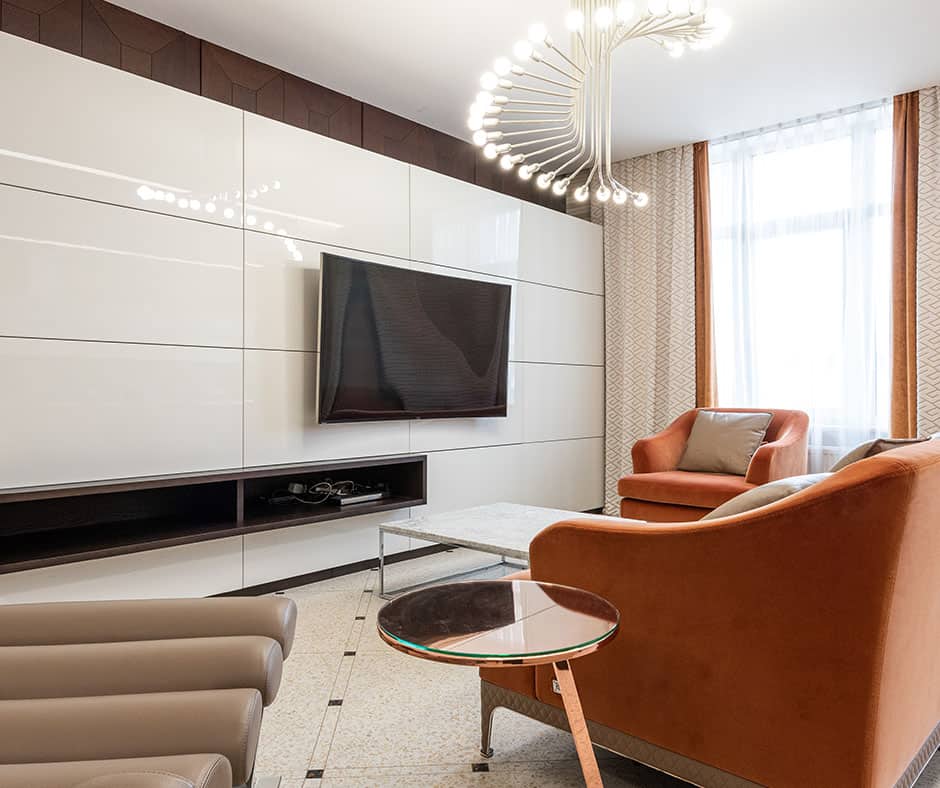 Normally, each individual stand-alone accent chair will have its own end table, unless paired together as a set. You can create a seating area with two accent chairs and one table between them to share.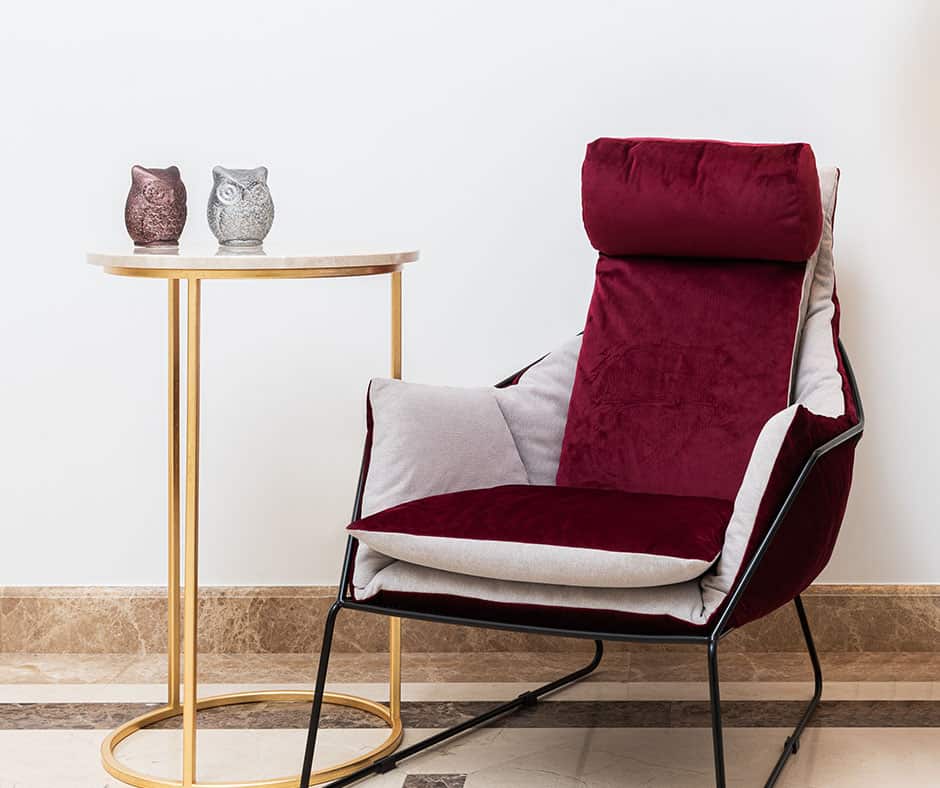 If your accent chair is alone in the space off to the side, we suggest putting an end table next to it. That will help fill the space visually and provide that person with extra comfort and convenience.
Sofas and loveseats usually have access to an end table at either end, but they can share an end table. If your sofa is up against the wall and the loveseat is adjacent on the left-hand side, one single end table can be used between the two pieces of furniture. You almost never see end tables next to each other without a seat between them.
Where Should Your End Tables Go In Your Living Room?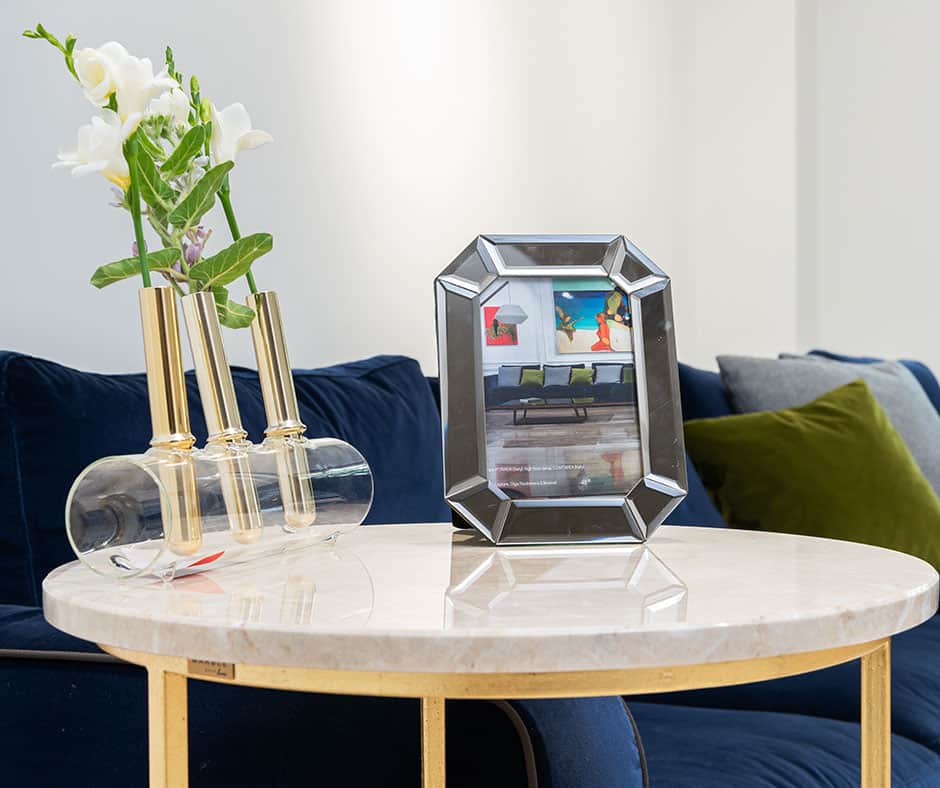 End tables should be placed next to the arms of the living room furniture. They should be a convenient height and distance from the sofa, loveseat, or chair arms that will allow you to set drinks or items down and pick them back up.
What Type of Living Room End Tables Are in Style?
Currently, most end tables have a modern look and have straight, clean lines. Often, end tables also have metal legs and/or tops. You will find that most end tables in style are square and many have neutral colors.
Conclusion
Every living room should have end tables because they add convenience and ease to your living space. Since they come in so many shapes, sizes and styles, they are still very much in style. Remember that the style you choose will depend on your room's theme and feel. The size and shape will be determined by the size of the other furniture you have, as well as by how much room you want to take up.
Don't be afraid to make bold selections when it comes to end tables. Choose pieces you love that will add convenience and storage to your living room.