Have you ever wondered what curtain colors would go best with your tan walls? The color of your curtains can transform your space. They help to set the mood and ambiance of a room. The best curtains for tan walls are ones that work well with a neutral backdrop. They should allow the color of the wall to shine. You could also make your curtains the featured color.
Keep reading to see the curtain colors that go with tan walls, and which ones would work for you.
In This Article We'll Discuss
What Curtain Colors Go With Tan Walls?
Tan is a neutral color that pairs well with a variety of curtain colors. But, it is important to choose the right color curtain for each shade of tan.
Shades of Tan
Tan comes in various shades. Tan is warm, with undertones of yellow and orange. But it can also have grey tones and these are oyster and oatmeal tan. Some tan shades have more brown in them like sand, hazelnut, and latte tan tones. While others are buttery and soft like beige and eggnog shades of tan. Each shade has a curtain color that complements it.
1. Grey Curtains With Tan Walls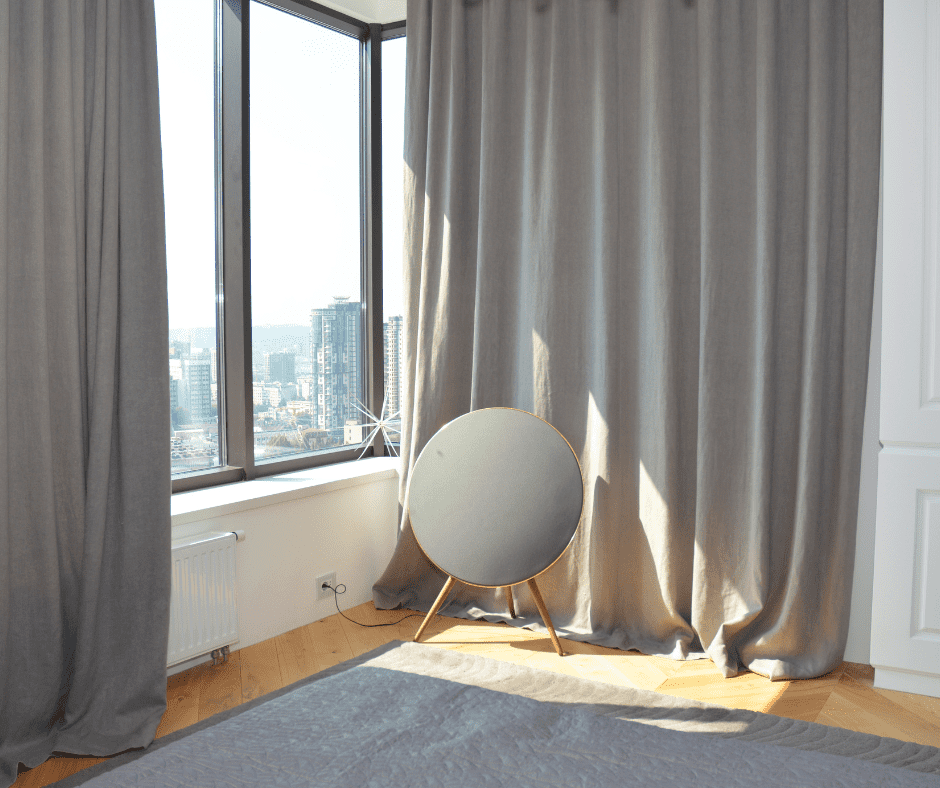 Grey is subtle and neutral which allows other colors in your space to pop. It is clean and has a feeling of balance. Light grey curtains pair beautifully with rich, hazelnut walls. They lighten the space and make it feel more open. Simple light grey curtains with elegant styling also work with beige-tan walls. They complement the warm tones and create a cozy ambiance.
For an oyster tan shade with a grey undertone, a dark grey curtain is a better choice. If you don't want anything too heavy, then an ombre-style curtain is great. Grey curtains on tan walls create a neutral backdrop for other accessories. But that doesn't mean your curtains should be dull. Try a grey curtain with fun edging details to add a subtle flair.
2. White and Blue Curtains With Light Tan Walls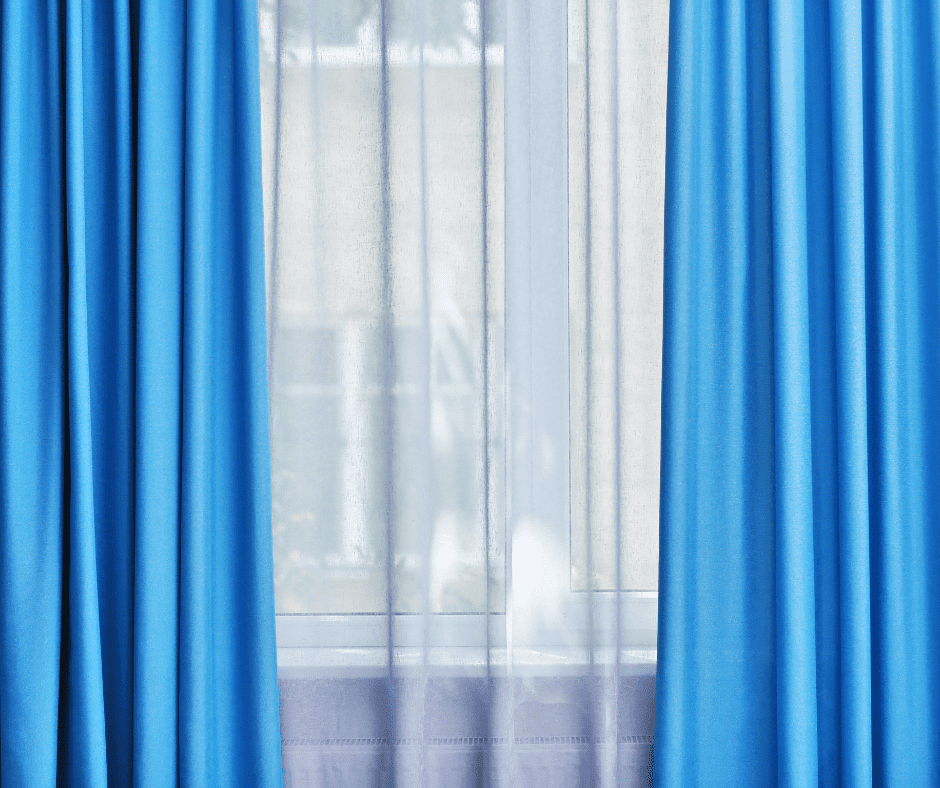 If your walls are an oyster shade of tan and have a grey undertone, white and blue curtains are the perfect option. They are a fun way to add interest and color to your space. The grey tan tones will also make the blue pop, creating a fresh and vibrant feeling.
For a subtle hint of blue, try a two-tone curtain that is subtle and elegant. For a modern space, a block print curtain in shades of blue, grey, and white will add the right amount of panache. A delft-blue bold print curtain is a quick way to liven up a bedroom with light tan walls. For a bohemian and carefree ambiance, try a white curtain with a distressed blue pattern. Your tan walls will feel fresh and fun.
3. Green Curtains With Grey Tan Walls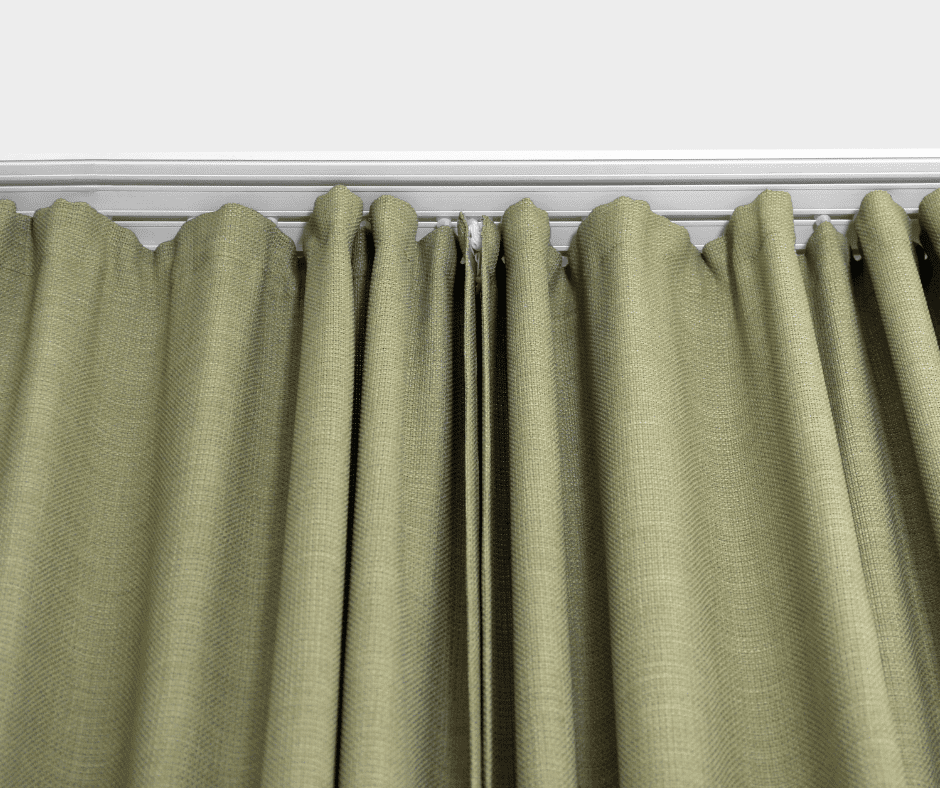 Green curtains are a bold statement and are versatile and fun. Tan walls that have grey tones mean you can have a dark and dramatic green curtain to create interest. They also work well with a khaki shade of green curtain for a calming ambiance.
If you want a subtle hint of green, then an aqua curtain will pair well with your tan walls. For a soft and modern shade of green, try a sage green curtain. They will also make your room feel more spacious.
4. White Curtains With Any Tan Walls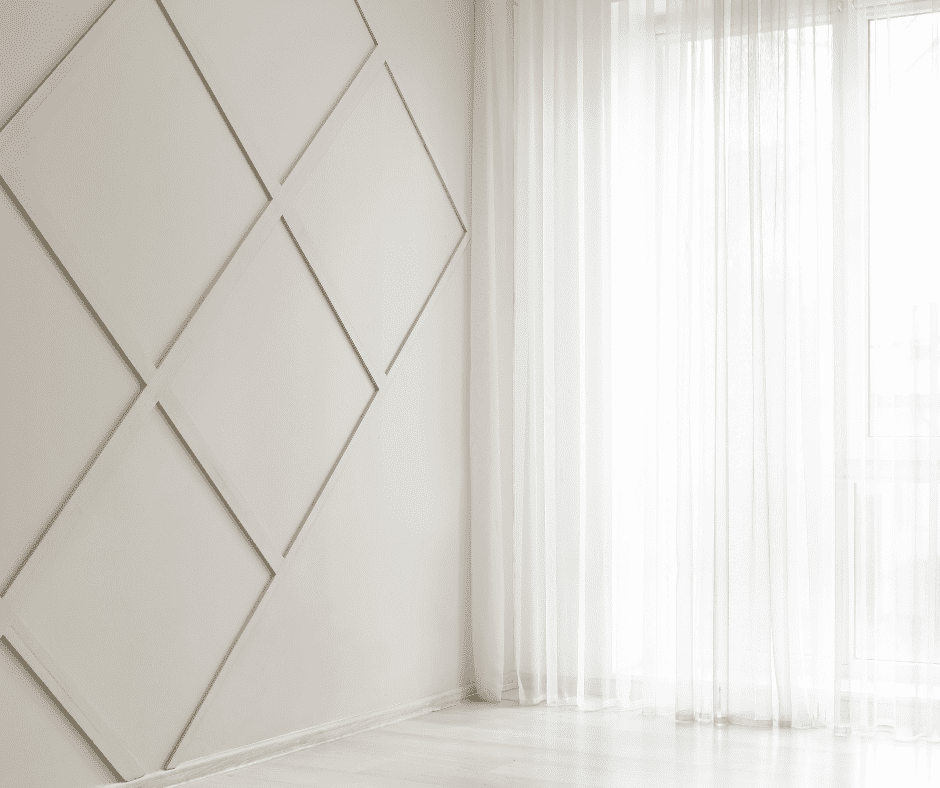 White curtains are a dream with any shade of tan walls. They are a bright pop at the windows, allowing you to layer neutral shades and subtle textures. You can't go wrong with a standard, bright white curtain or a white curtain that is softly textured. If you have yellow-hued tan walls then try a white linen curtain for a farmhouse feel. For a casual, bohemian aesthetic, try a white curtain with simple frill detailing.
5. Champagne Curtains With Dark Tan Walls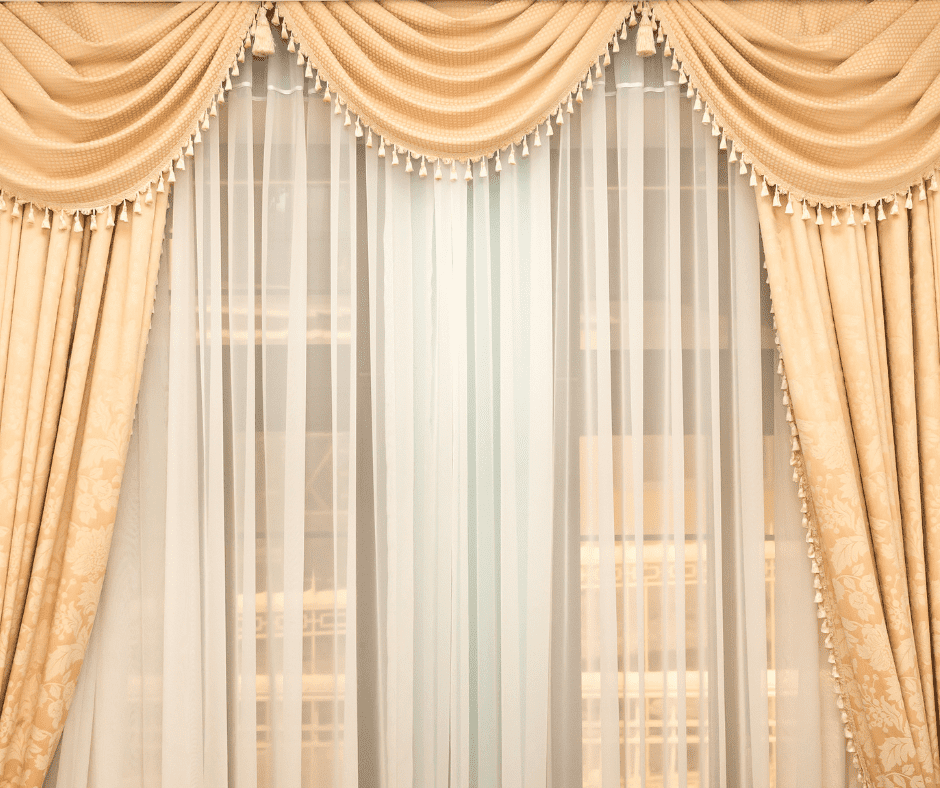 For tan walls with dark hazelnut and coffee tones, try a champagne-colored curtain. Champagne-colored curtains are a light and cool color option for dark tan walls. If you use champagne-colored curtains that are light, airy, and soft they can make the space feel more open. Champagne curtains also create an opulent effect when paired with dark tan walls. Particularly when they are a heavy fabric.
6. Patterned Beige Curtains With Light and Dark Tan Walls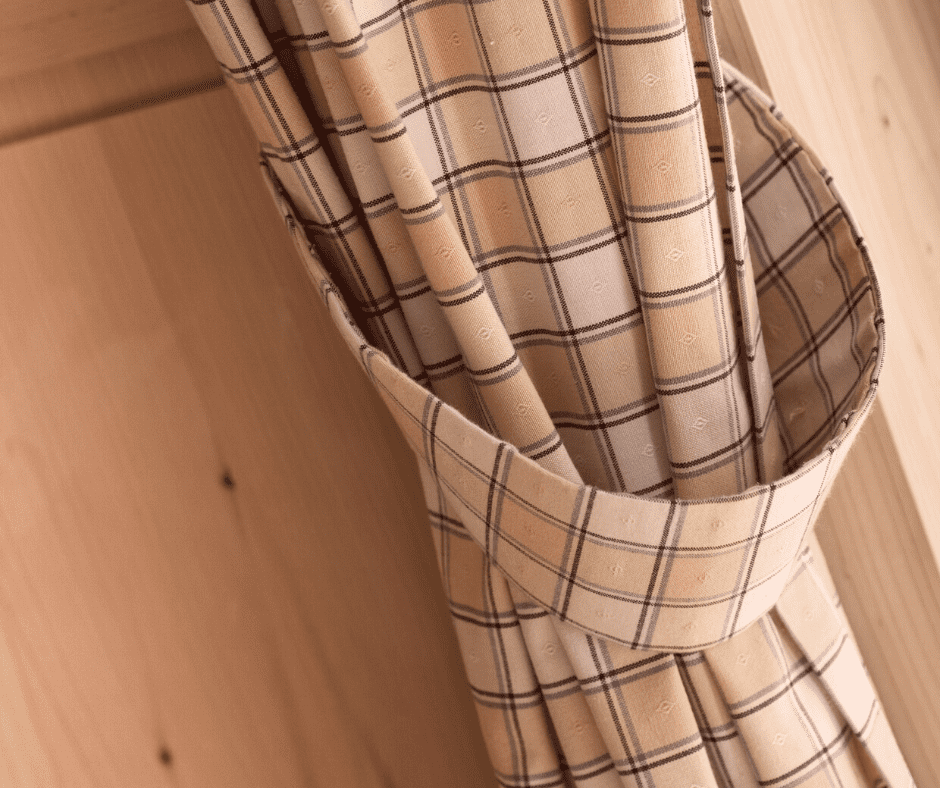 Tan walls offer a blank canvas for other design elements. That means you can layer them with neutral textures and colors. You might think beige curtains will look drab on your tan walls. But, curtains with interesting patterns make your neutral palette look sophisticated and chic. Beige curtains with a sleek and modern print or geometric pattern are a versatile way to add interest to a room. This is true for light or dark tan walls.
7. Blue Curtains with Grey Tan Walls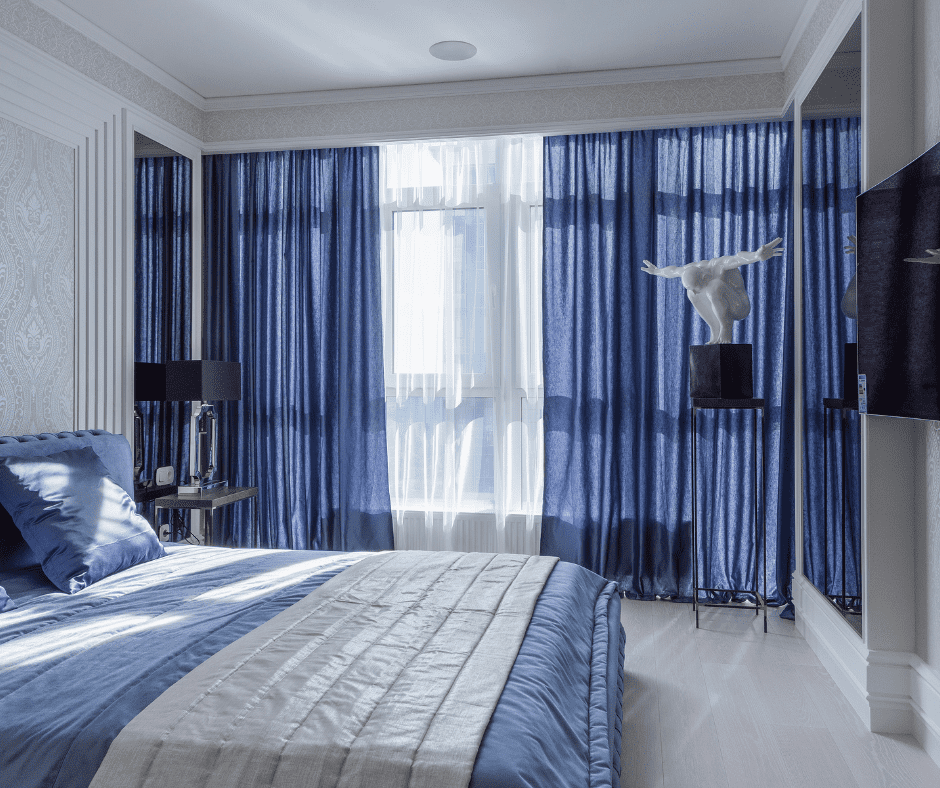 Blue is a soothing color that creates a tranquil and comfortable space. If you use warm, bright blue curtains with your grey-toned tan walls they will uplift the mood of your space. Light tan walls match well with vibrant sapphire curtains with decorative tiebacks. Blue ombre curtains and light tan walls create a casual feel in a space. For a rustic, farmhouse vibe, a blue stone-washed linen plaid with tan walls is perfect.
8. Black and White Curtains With Light Tan Walls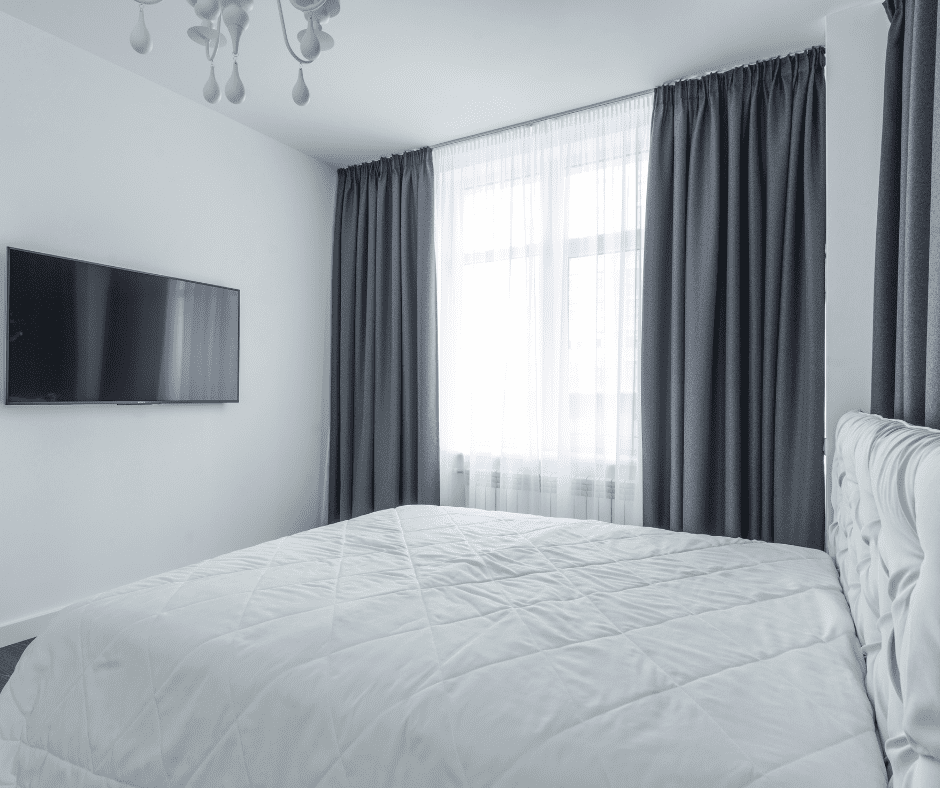 Black and white are a classic color combination. They create a modern and clean look when paired with light tan walls. Try modern geometric shapes, subtle stripes, or soft foliage prints and bold plaid.
9. Blush Curtains With All Tan Walls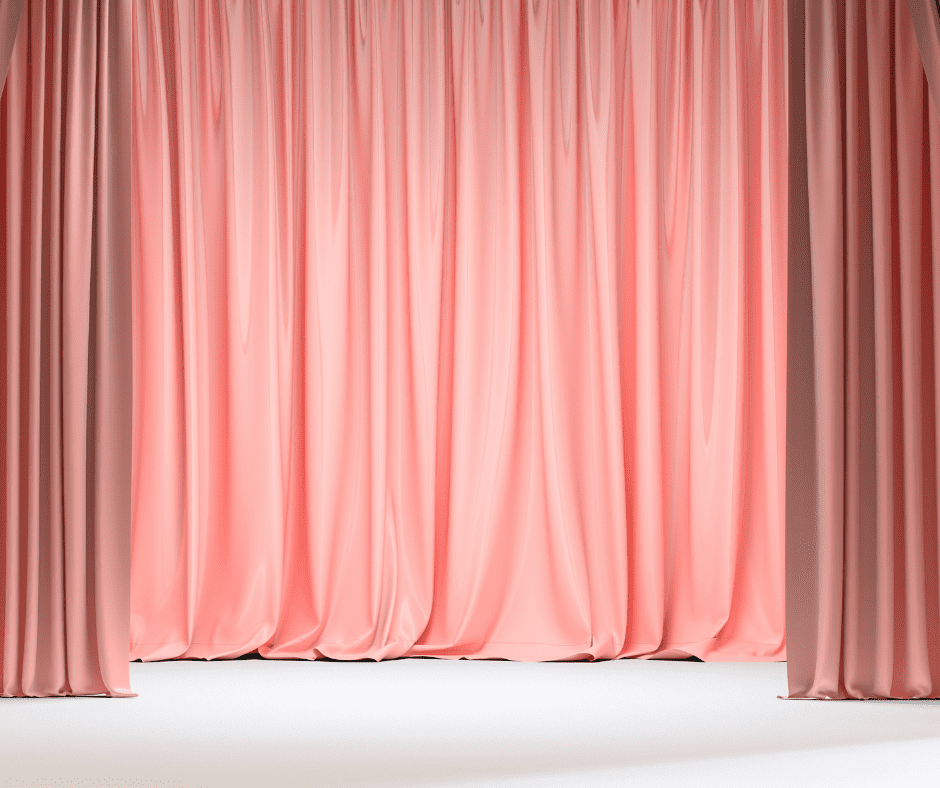 Blush curtains soften a room that has tan walls. They will create a light and open feel when paired with light tan walls. When used in a room with dark tan walls, blush curtains will soften the space and make it feel cozy. Choose a bold blush curtain that makes a statement. Or, a muted blush curtain for an elegant and stylish aesthetic. If you can't decide, choose an ombre blush curtain that is soft, for a sophisticated and unique statement.
Conclusion
Your tan walls may be dark or light but they don't have to be dull. Curtains are the perfect way to add warmth, texture, and color to your room with tan walls. Transform your tan walls with the right color. From clean white curtains to romantic blush tones.
Did you find this list helpful? Have you found some curtain inspiration for your drab tan walls?
Tan walls may seem boring, but if you style them with the right color curtain they can create a beautiful space.