Beige walls create a perfect neutral canvas for a room. You have limitless options of curtains to pair with beige walls. We've created a list of our favorite picks for unique looks. Select a curtain color from the options below to create a fun space with beige-colored walls.
In This Article We'll Discuss
Bright Shades of Mango and Tangerine Curtains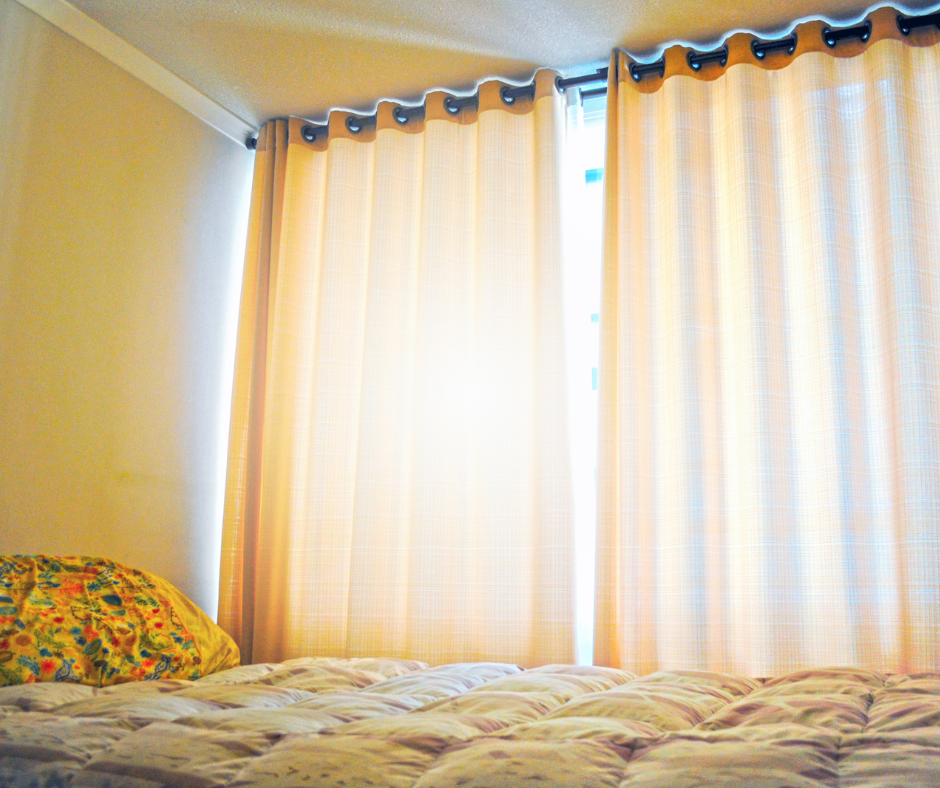 Because beige is a neutral color, it can handle a color pop. What colors are better to bring brightness and fun into a space than yellow or orange? Mango and tangerine are both incredible color choices that are bold, yet sleek.
Add movement and brilliance to your room by using mango-colored drapes. These mango yellow colored sheers are a bright and beautiful statement. For a slightly darker shade of mango, try these semi sheer curtains. Both of these options will keep your space feeling open and bright.
For a unique and elegant draped look, try this tangerine solid sheer window scarf. If you want a subtle pattern, go with a pair of lightly laced orange curtains. Both of these shades of orange will add energy and movement to contrast against your beige walls.
Are you looking to tie the warm tones into the beige? This ombre semi sheer curtain panel offers the best of all worlds. Beige and orange tones come together in perfect harmony, creating a balanced space.
Beige and Cream Curtains for a Monochromatic Space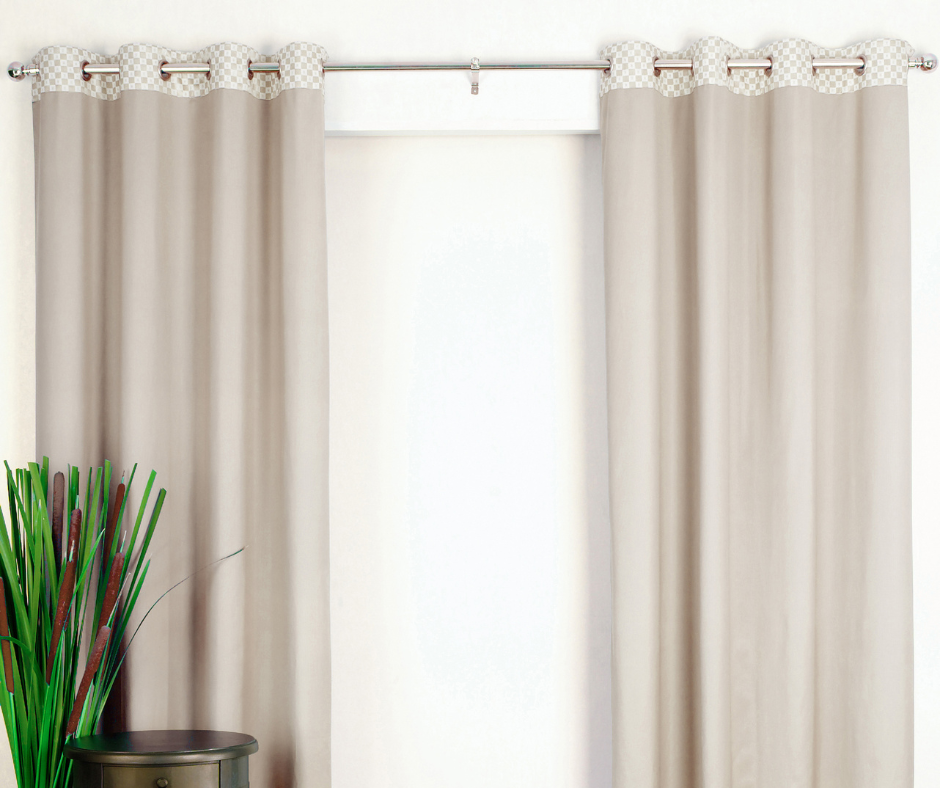 Create a crisp monochromatic space with cream curtains. With minimal color contrast, we suggest using subtle patterns to add interest and curiosity.
For an elegant space, try these Dora Damask beige curtains. They'll add a light pattern to break up the colors. But they won't overwhelm with color or pattern, creating a clean look.
To add extra light to your room, go with sheers. These trellis geometric curtains are a great choice. They will allow natural lighting in, creating a bright room.
Add a bit of texture with these beige sheer trellis drapes. The 3D fabric creating the pattern adds texture and contrast. This style softens the look of your room while still creating a classy open space.
Deep Burgundy Curtains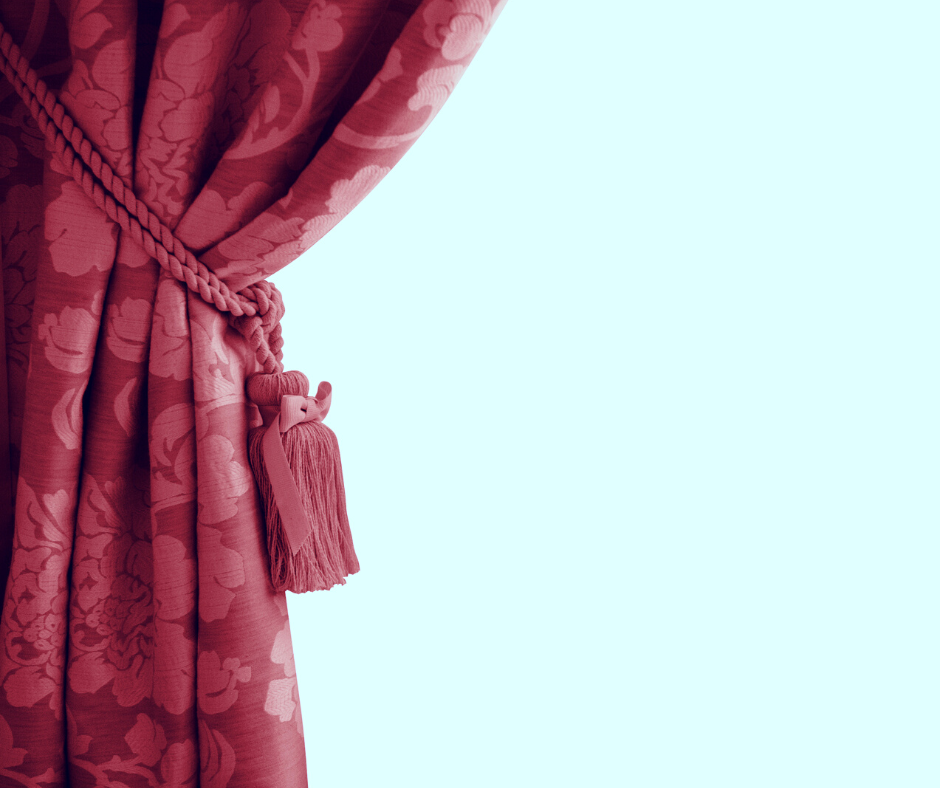 Burgundy and beige make a great pair, creating a bold space. For a cleaner look, go with solid burgundy drapes. These bring in the depth of color without a pattern. The bold depth of the burgundy contrasts well against the clean crisp beige, creating an interesting room.
For an elegant flair, try these burgundy and gold damask curtains. The classic damask pattern creates a more formal look. The gold print ties in the lightness of the beige walls while still adding contrast and elegance.
Velvet Metallic Curtains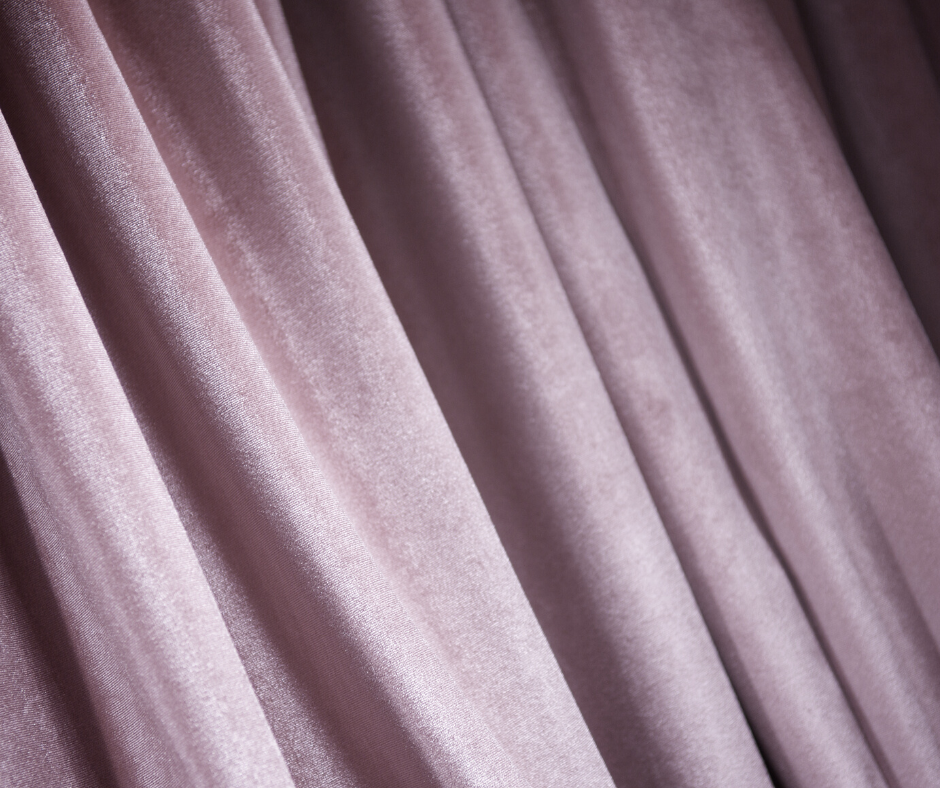 Create a modern yet fancy visual pop with metallic velvet curtains. Velvet already offers a unique look and texture that softens your space. Add an edgy vibe when you use silver or champagne colored blackout velvet curtains. Both of these create a welcome texture contrast against flat beige walls.
Elegant Shades of Rose Colored Curtains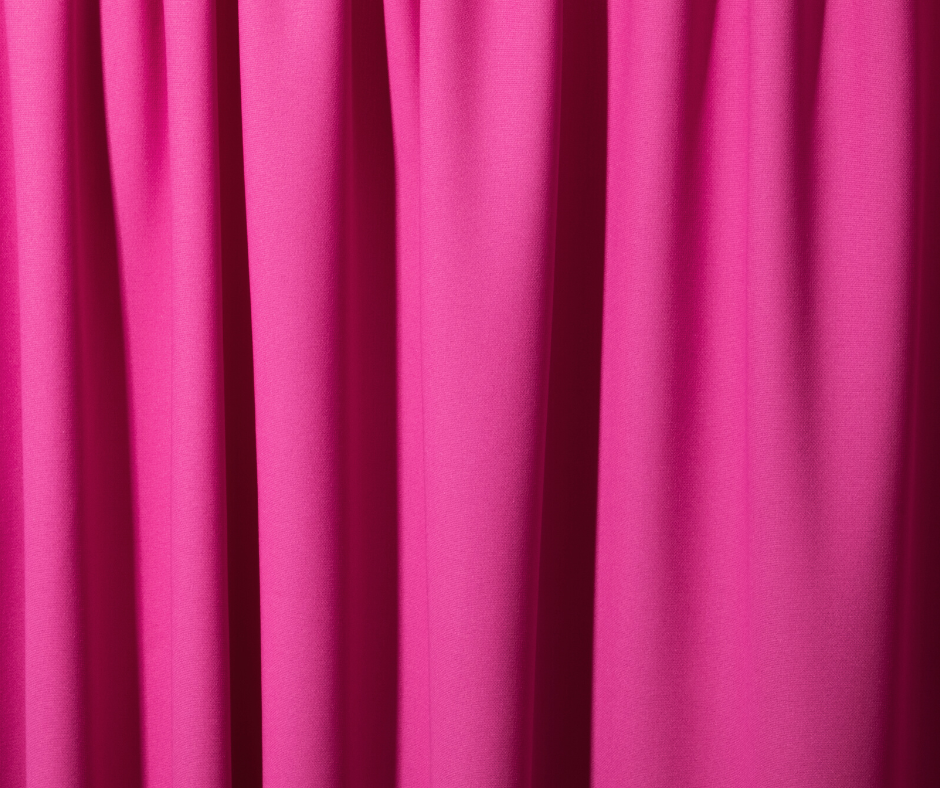 Rose comes in many shades. It can be a darker or lighter tone, but always adds elegance and class to a room. This blush pink drape with ruffles adds not only a color pop, but also texture. These curtains are sure to create a unique contrast against beige walls.
For another interesting mix of textures, try this solid color twist rose drape. The top knot on this drape style adds a unique flair to your room. This light rose color creates a monochromatic feel while still bringing color to your beige room.
Create an elegant contrast with semi sheer velvet curtains. These have plenty of texture and fun style with the top ties for curtain rods. This curtain style is meant to be a statement piece in your room, not blend in. These are a great choice if you're looking to add a bold statement to your walls and windows.
These dusty pink solid color blackout curtains are quite unique. The base of the curtains is a solid dusty pink. It's covered with a sheer off-white curtain layer, creating dimension. These are great to create a layered look to bring the beige wall color into the curtains.
Subtle Striped Curtains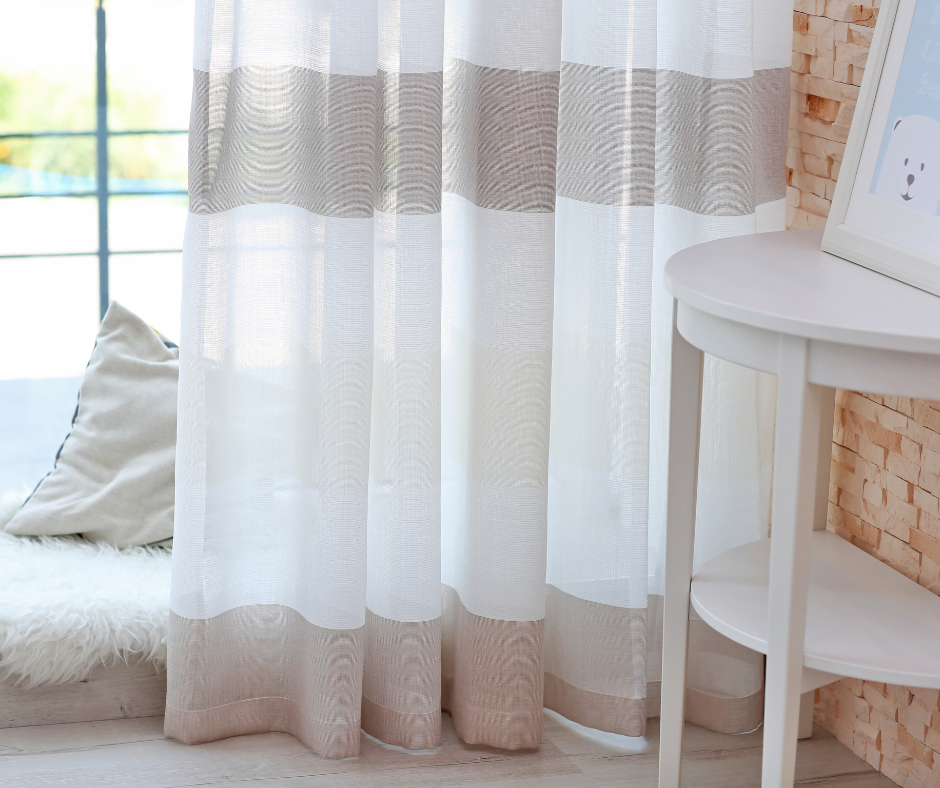 Keep your room looking crisp and clean with a subtle stripe pattern. Martha Stewart's subtle striped semi-sheer beige curtains are perfect. With a tiny bit of pattern up top and a solid base, they do the trick. These light curtains on a beige wall create a beautifully clean monochromatic space.
Another choice for a monochromatic look would be these twill semi sheer curtains. Their subtle stripe offers a bit of contrast without an overwhelming pattern. The semi-sheerness will allow plenty of light in creating an open, airy space.
Bring in just a little color with these beige and gray striped curtain panels. The thick horizontal stripes in this pattern will add a unique look to your room. Although all the colors are neutral, their thicker pattern will boldly contrast beige walls.
Bohemian Geometric Curtains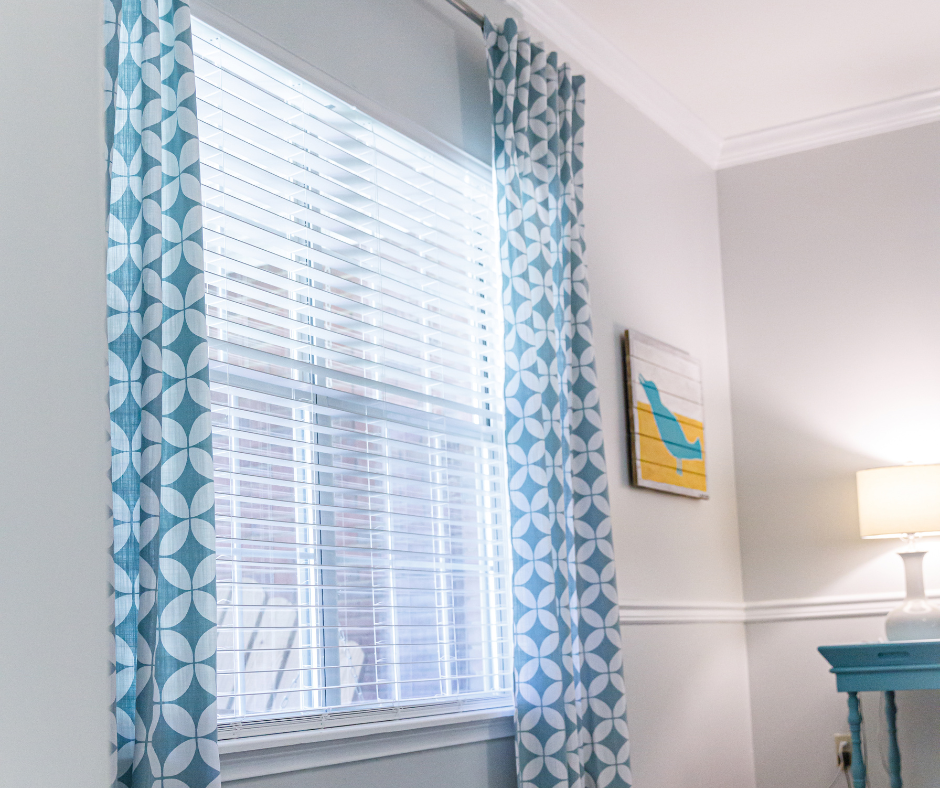 Beige walls are a perfect canvas for a bohemian room. These hexagonal geometric curtains add a clean contrast to beige walls. Their warm tones bring out the warmth in the beige and create a unique look.
This light sheer gold curtain with textured circles is perfect for any bohemian room. It brings in plenty of light, creating an open space. The gold is subtle and light, yet will contrast the beige walls. The textured circles add a bit of curiosity and folklore to the room.
These gray cotton geometric rope curtains are perfect. Nothing creates a more bohemian look than this tied and knotted cotton look. We love the idea of contrasting the warm and light beige walls with a cooler gray look for a harmonious room.
Add a color and pattern pop with these beige and blue bohemian drapes. The medallion shape brings in a fun look while adding a unique pattern. These curtains will still allow your beige walls to look open and bright.
Conclusion
The blank canvas of beige walls offers up many options for curtains. Feel free to keep the space monochromatic or make a bold choice. It's hard to go wrong with curtain colors for beige walls. Use your best judgment and create a unique space by selecting a set of curtains you love.