A country bathroom combines two of my favorite things. A warm inviting space and cozy rustic appeal. I reached out to a few home decor enthusiast to get some of my favorite country bathroom inspo. Check out these attention grabbing designs below.
In This Article We'll Discuss
Easy Guest Bath Update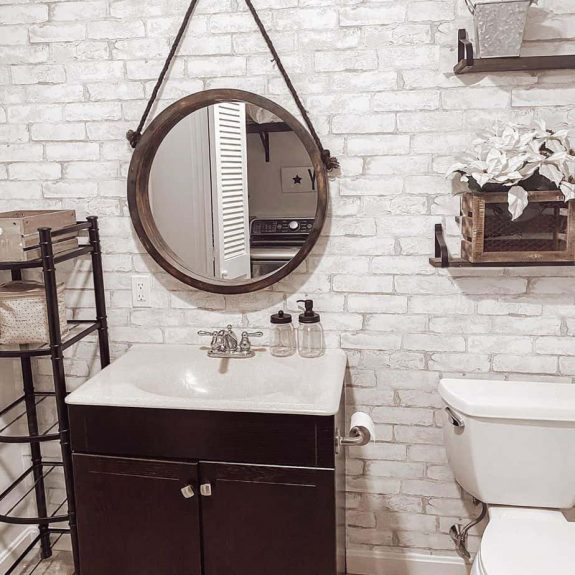 Turn that outdated and dark basement bathroom into a light and bright space. Painting the dark brick a bright white, placing a large vintage mirror over the sink, and hanging some open-air shelves gives this small bathroom new life. Adding baskets and plants further softens and warms the appearance of the brick wall.
Something Old, Something New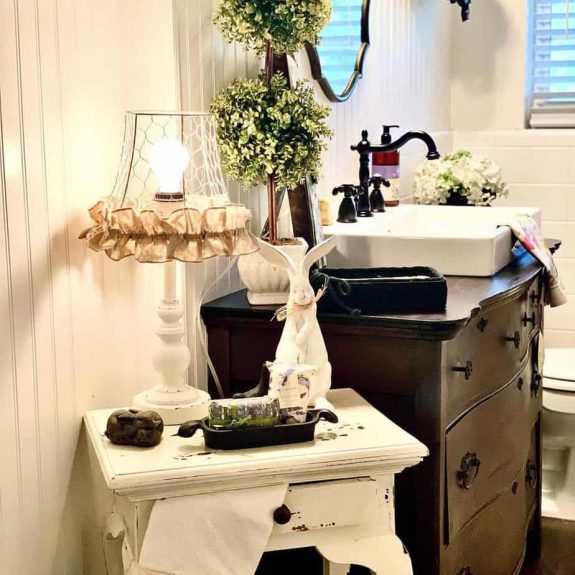 Renovating a small bathroom doesn't always mean installing new and unused items. When you scour your local thrift store, flea market, or consignment shop for decorating ideas, keep your eyes open for special pieces. Unique items, like this ruffled lampshade and two-tiered topiary, will give your bathroom a one-of-a-kind look. Turn an antique dresser into a sink vanity, add a rustic distressed side table for extra storage, and accessorize with new items such as linen hand towels and potted plants for that country french feel. An antique-looking mirror and faucet complete the old world charm.
Antiqued Beauty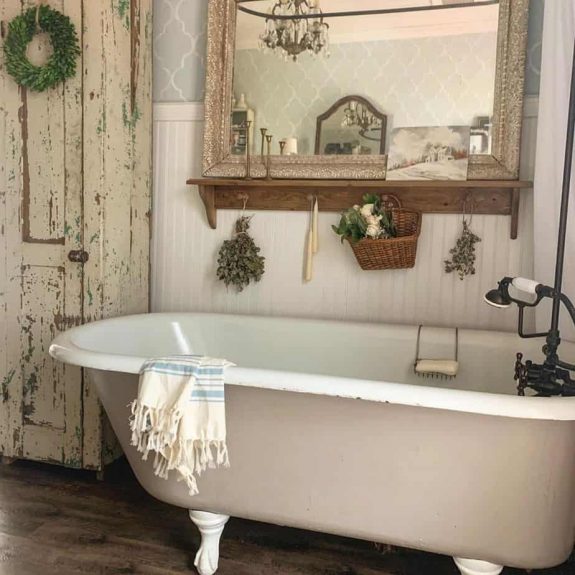 When you step into this farmhouse bathroom, it's like going back in time. From the unretouched clawfoot tub to the paint-chipped door to the antique chandelier. Upgrades such as a new wood floor, the painted beadboard and a wallpaper in a traditional gray pattern give the room a little more if an updated feel. The two large mirrors and tall white ceiling help make this small bathroom airy and light. Accessorizing with dried flowers, baskets, and candles make this a decidedly country bathroom.
Think Pink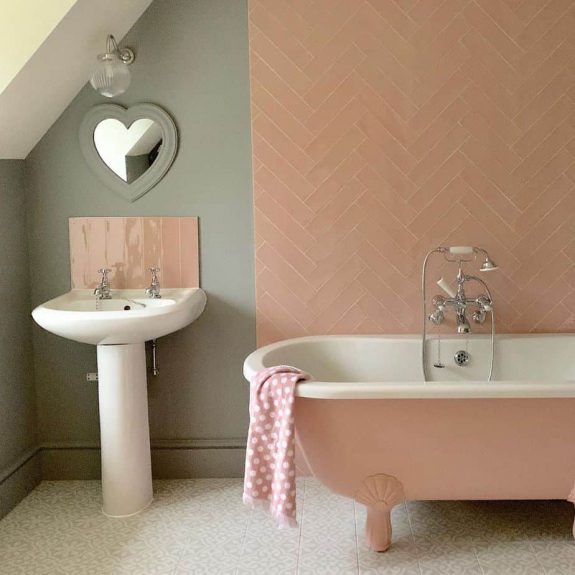 Didn't think you could use a soft muted pink as a neutral? Think again. In this country design, the color is used on the bath and tile to create a relaxing backdrop. The soft green paint color plays well with the pink. The shine of the pink tile in an unexpected herringbone pattern helps brighten and invigorate the space. Feminine touches, such as a heart-shaped mirror and a subtly patterned floor tile, give the space a personal vibe.
Let There Be Light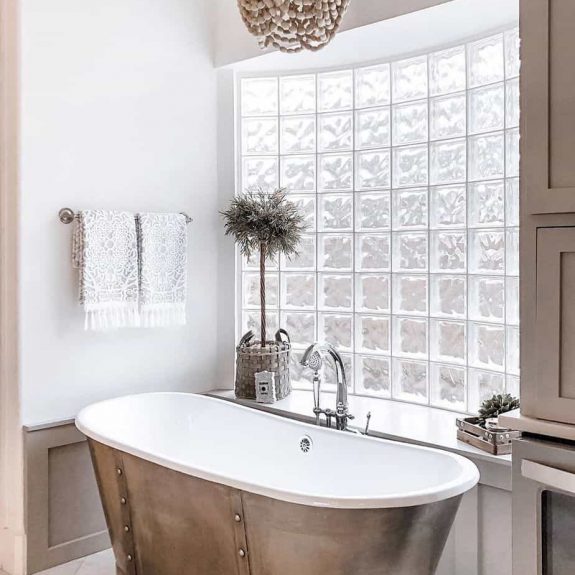 Take advantage of the natural light in your master bathroom by using cool tones throughout. The glass block window allows plenty of light to enter while providing loads of privacy. A galvanized metal tub is the focal point in the room and is a surprisingly contemporary touch in this otherwise traditional bathroom. The gray and white color palette evokes a calm and serene feeling. Warm up the space with natural materials like fluffy cotton towels, baskets, a beaded chandelier and wooden trays.
Think Outside The Box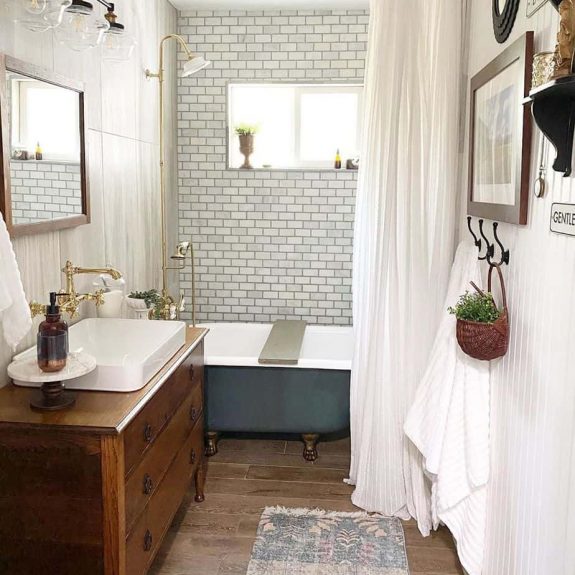 Even though this bathroom appears very ordinary at first glance, a closer look reveals the use of three different wall coverings as an unexpected design element. Over-sized grey tiles in a sleek and simple pattern are used to offset the traditional white subway tile and country beadboard. Because all of the walls are the same tone, the room feels unified. The blue of the clawfoot tub is another unexpected element, but it complements nicely the dark wood of the vanity and the floor and makes the space feel grounded. Don't forget the accessories, like a vintage cake stand to hold a soap dispenser or an apothecary jar to store bath salts. With a soft white shower curtain, fluffy towels and a throw rug, this country bathroom is warm and inviting.
Keeping It Simple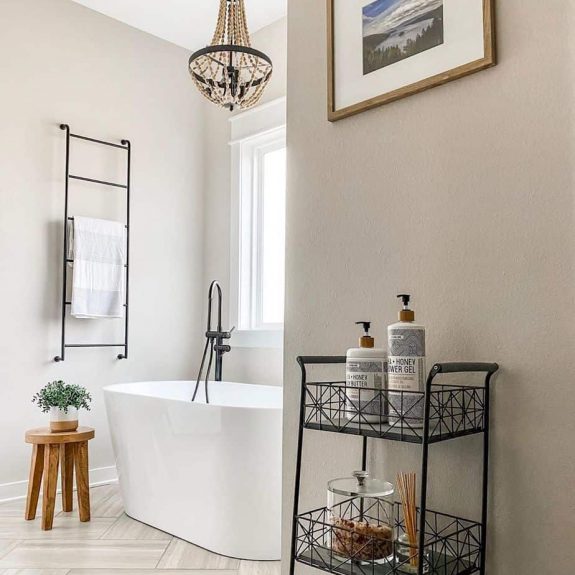 If your design style leans more toward the modern, you will want to keep your bathroom clear of clutter. This monochromatic bathroom uses different shades of beige to keep the design simple but inviting. Black fixtures, a metal cart, a sleek towel rack and a chandelier are easy ideas to add interest. Placed at an angle to the walls, the wood tiles on the floor add texture and pattern. Add some traditional country charm to this bathroom with a rustic wooden stool, a plant and a landscape painting.
Country Style Storage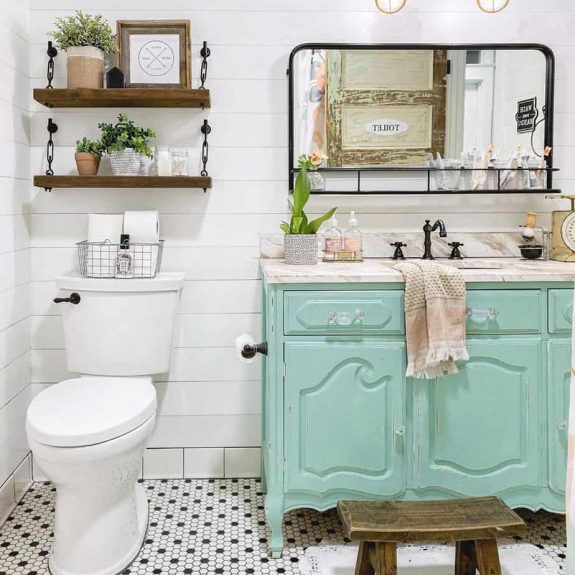 When it comes to storage ideas for country bathrooms, think vintage. Pieces like this antique metal frame and wooden cabinet have been refurbished to provide form and function. Painting the cabinet in an eye-catching teal adds to the rustic country feel. Hanging ordinary wooden shelves with decorative chains is a simple yet unique way to add interest to the negative white space above the toilet. The basket used to hold the tissue paper and the shaving brush holder on the sink are other easy thrift store storage ideas.
Show Off Your Collection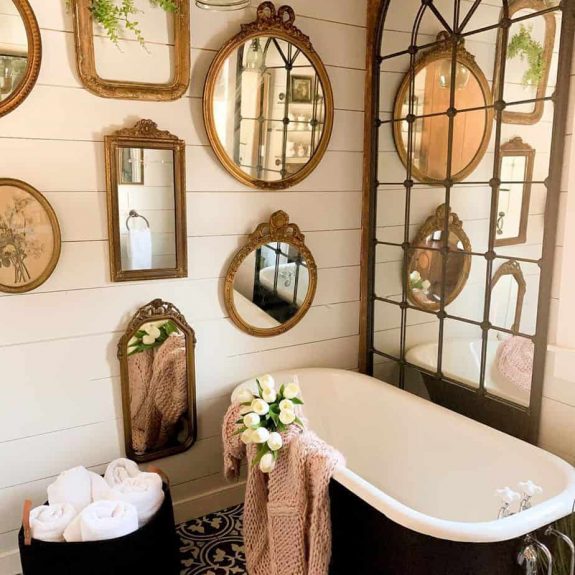 What better place to hang your collection of antique mirrors than in your bathrooms? Hung close together on a plain white wall, your collection becomes the focal point of the bathroom. And because all of the mirrors have similar colored frames, they become one piece of art. Leaning the large multi-framed mirror on the wall behind the tub gives the feeling of a tiled wall without all the work.
Fun With Geometry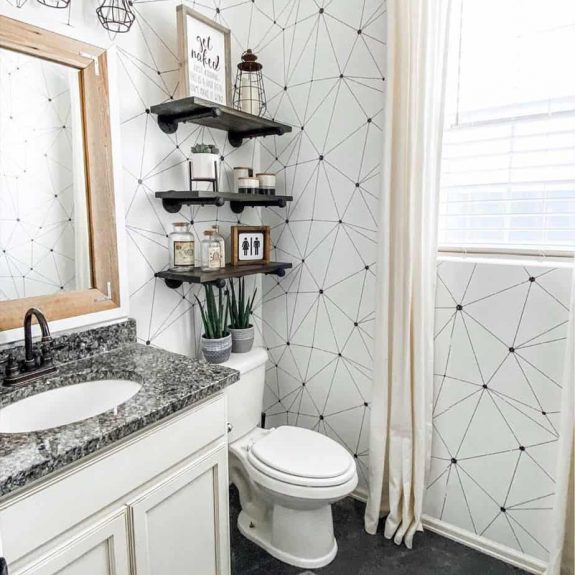 The neutral palette used in this country bathroom of black, white, and beige doesn't leave much room for other colors. For visual and textural interest, use a geometric wallpaper. The pattern keeps the eye moving and can make small bathrooms feel larger. For added interest, decorate your bathroom with whimsical accessories in the same neutral colors. To balance out the visual weight of the dark floor, add floating shelves and a countertop in a dark color.
Country Spa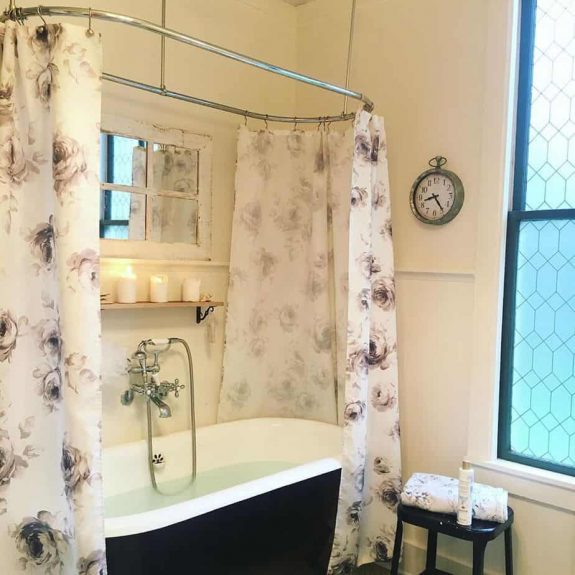 Create a Zen-like feel in your country bathroom with a few candles and a pretty shower curtain. Because this bathtub will not be used for showers, you don't necessarily have to use a waterproof curtain. Choose natural and elegant materials like cotton, silk, or linen. And because the walls are a neutral color, the dark, bold floral print of the curtain and matching tub color becomes the focus of this room. Flea market finds, such as the distressed mirror and antique clock, feel at home in this bathroom.
In The Name of Love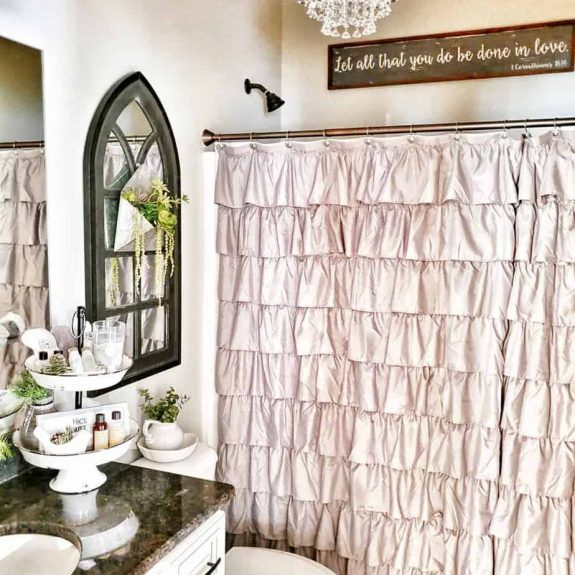 With its ruffled shower curtain, crystal chandelier, and porcelain accessories, this bathroom is the epitome of romance. To keep from feeling too claustrophobic in this small space, the shower curtain, cabinetry and walls are in light colors. You can also use items that draw your eyes up, like this tall mirror in the shape of a church nave window and artwork above the shower in darker colors.
The Lines Have It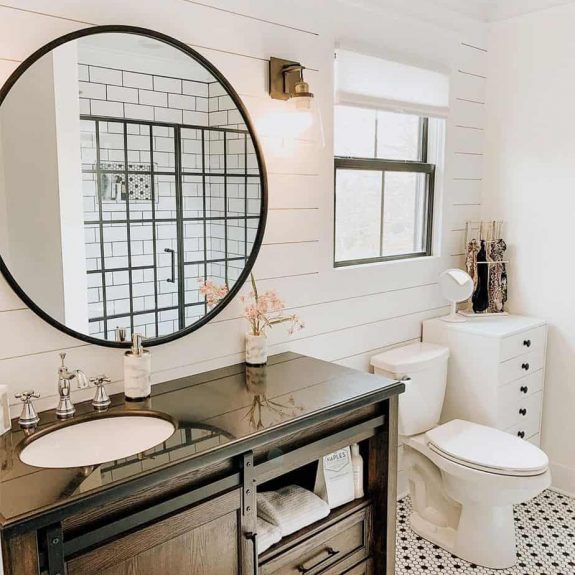 In this all-white bathroom, the focus is on the lines. Every structural feature, from the shiplap on the walls to the simple framed window, feels like a mirrored image of other features like the subway wall tile and the paned shower door. The theme is continued in the lines of the vanity and small dresser. Adding a large circle above the sink breaks up the lines and provides a little harmony in an otherwise monotone space. Add some warmth to this rustic bathroom with a dark contrasting color in the vanity and countertop.
Modern Country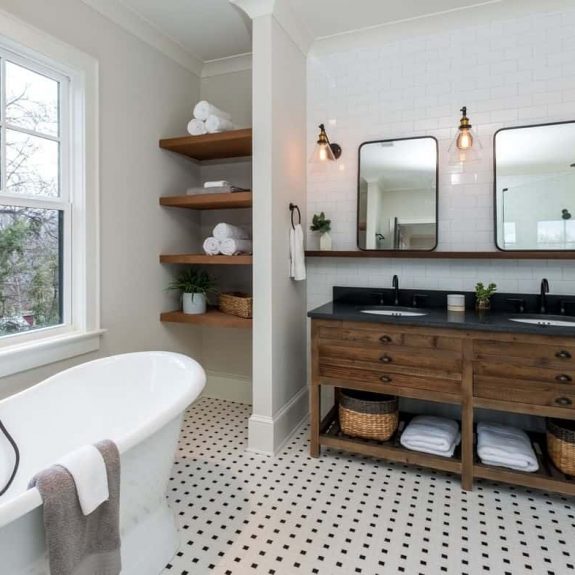 This country master bathroom has been updated to include contemporary elements, like a freestanding pedestal tub and floating shelves. To keep the country feel, a double-sink vanity was fashioned from a vintage dresser, vintage lighting is used as sconces, and black and white checkered tiles cover the floor. Keeping the decor simple and the accessories to a minimum add to the modern feel of the bath.
Statement Wall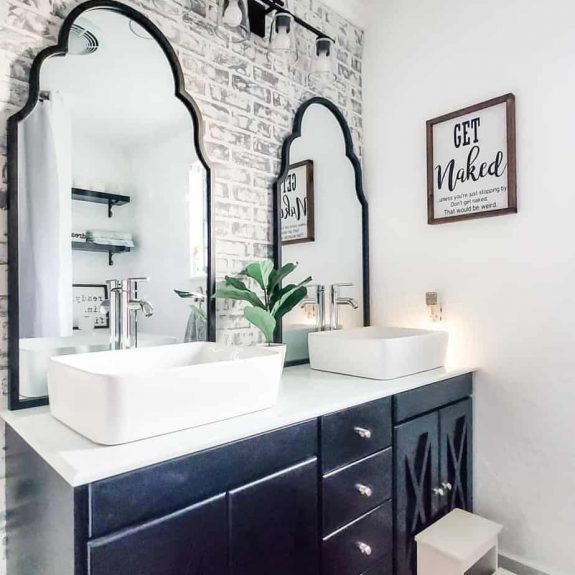 You can use one wall in your bathroom to say a lot about your style. This wall, with its rustic brick wallpaper and freestanding scalloped mirrors, says you appreciate a twist on traditional country design ideas. Even the dark-blue vanity and the double vessel sinks say you're not afraid to take risks with bathroom decorating ideas. Keep the rest of the bathroom simple and clutter-free.
Inspired By Nature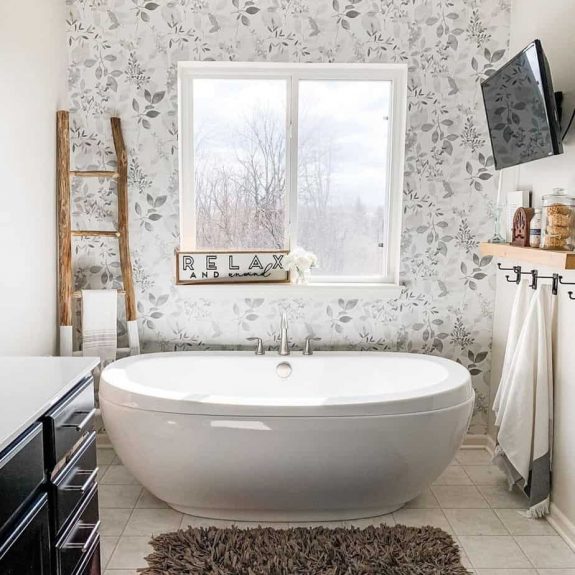 Look out your window to get ideas for a bathroom. Bring a little bit of the outdoors into your bathroom with a floral-patterned wallpaper and grass-like throw rug. Other natural elements, like a rustic wooden ladder and fresh flowers, will make you feel as if you've stepped outside. Stick to the black, white, and grey color scheme to prevent the bathroom from feeling too busy. Take advantage of the atmosphere by putting the television channel on a nature-inspired show, while soaking in this contemporary tub, and you'll never want to go outside again.
Floral Wall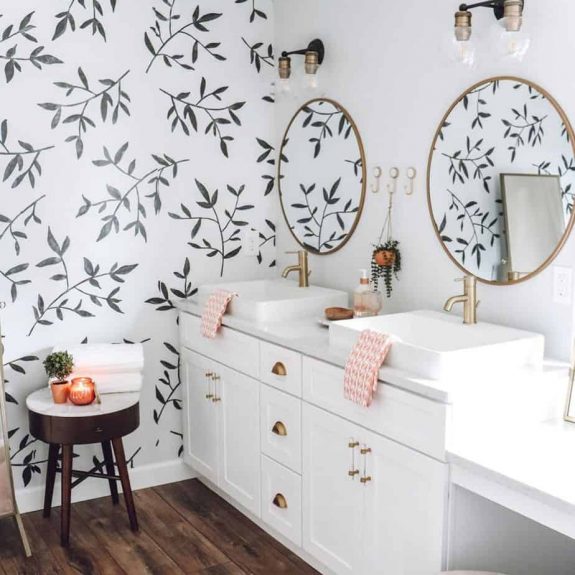 Break up the monotony of an all-white country bathroom with floral wallpaper on one wall. Use a large pattern to stay in proportion with the tall height of the wall. Strategically-placed mirrors help bounce the pattern to other parts of the room. Repeat the greenery theme by adding potted or hanging plants for a true country feel. Use the same brushed brass on the vanity hardware, sink faucets and lighting fixtures for cohesiveness.
Rustic Style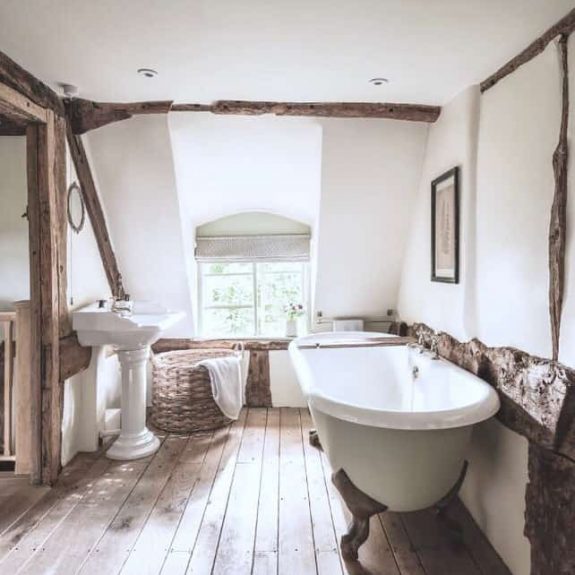 Renovate unused attic spaces and turn them into extra guest bathrooms. Keep the country charm by leaving some of the natural wood framing exposed and keeping the wood floors unfinished. To soften the space, add an oversized basket and a window shade in a light color. A refurbished pedestal sink and clawfoot tub conjure up days gone by. Hang some thrift store art or pictures rescued from the attic to complete the look.
Like New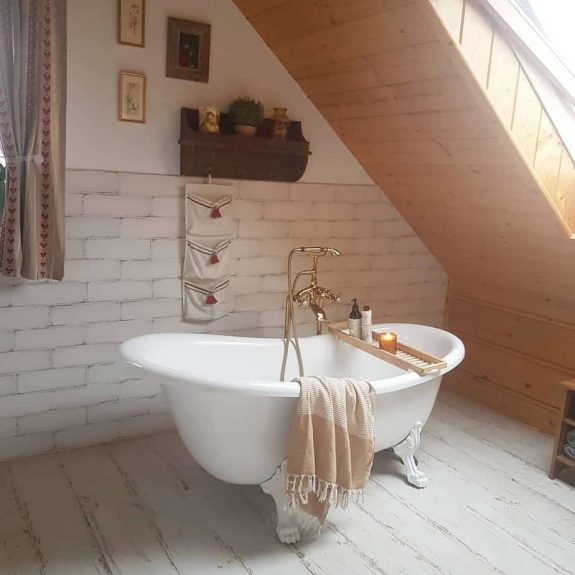 The time spent scouring the flea markets, thrift stores, or consignment shops will be worth it when you come across a beautiful, vintage clawfoot bathtub. This salvaged tub needed a little TLC to make it look like new again. This tub appreciated a good quality refinishing paint in white, a new bath and shower faucet and handle, and an ideal spot next to a bright window to feel loved again. Now this rustic space feels more like a place to spend an afternoon relaxing.
Feeling Blue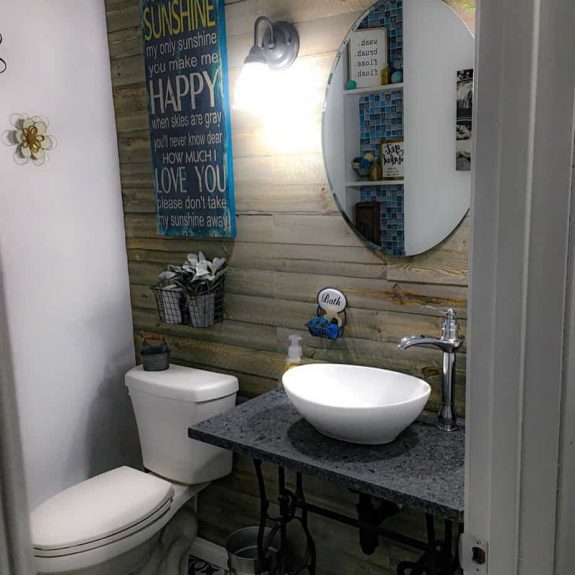 The color blue is known for its calming properties. Instead of painting an entire bathroom blue, use the color throughout the bathroom in different places to get the same effect. A pop of blue on a wall-mounted soap dish, in a rustic picture, and as a tiled-background on storage shelves are easy and unexpected ways to incorporate the color into your country bathroom.
Get Carried Away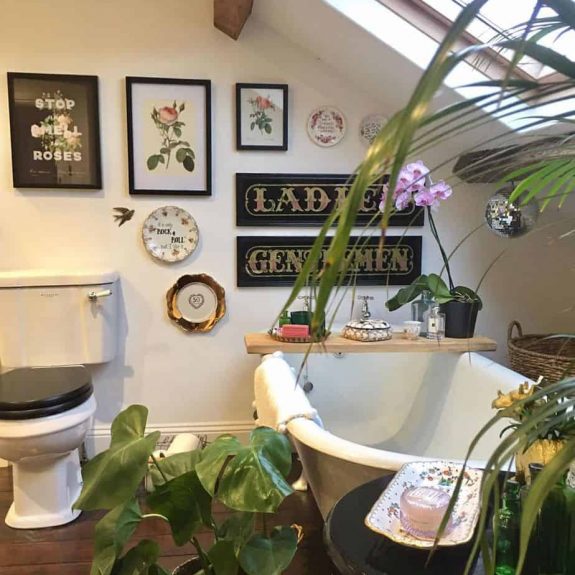 Country farmhouse bathrooms can be great places to showcase your collectibles. Create a wall display with antique pictures and plates. Show off your vintage bath accessories. Surround your bath with flowers and houseplants. Hang that disco ball that you've been saving. Go crazy. It's your space.
Get Creative With Your Storage Ideas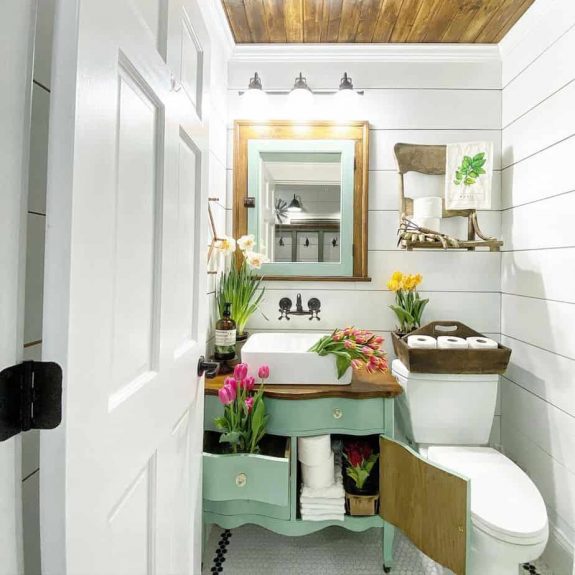 Don't let the small size of this powder room deceive you. There is plenty of storage to be had, from the refurbished cabinet that is now being used as a vanity, to the repurposed chair seat hung as a shelf, to the wooden basket used to hold toilet paper. The white walls, bright lighting, and raised vanity keep this country farmhouse bath from feeling too small for even the pickiest guest.
Unexpected Finishes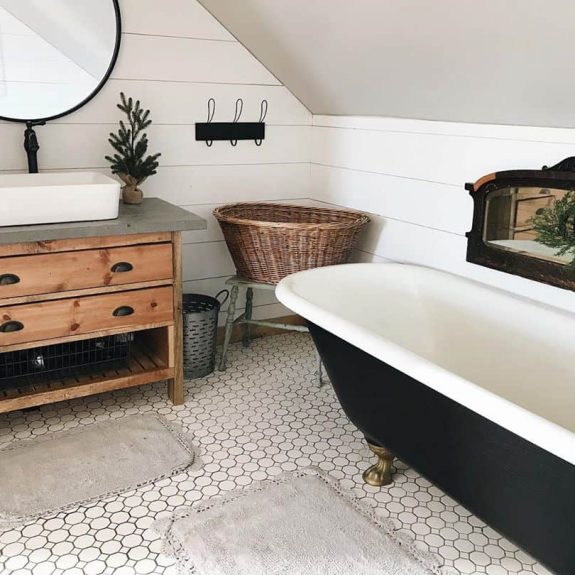 Even though your bathroom has typical country elements, like the clawfoot tub and mosaic tile floor, feel free to surprise your guests with a modern vanity. A concrete countertop on a repurposed dresser and the rectangular vessel sink make this room feel fresh and updated. The use of a white and black palette is also a modern approach to a country bathroom.
Shabby and Chic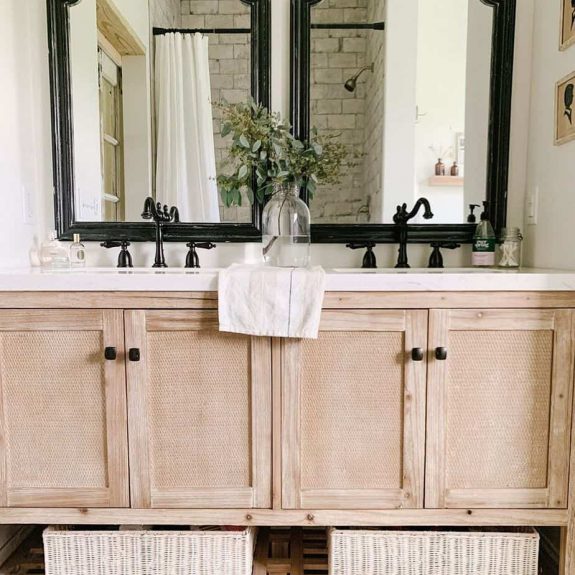 This country bathroom combines two different styles to reflect the owner's personality. The vanity is in a contemporary style with clean lines and modern hardware to give the bathroom an updated feel. The rustic brickwork of the shower lends an old farmhouse charm. The white of the shower curtain and walls tie the two designs together, making the room feel cohesive and settled.
Modern Country Storage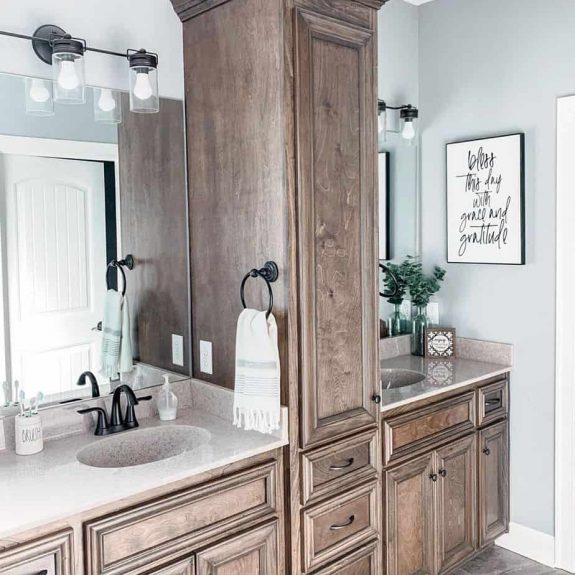 Don't have space in your modern country farmhouse for a bathroom linen closet? Install a tall cabinet as part of your vanity. The dark wood of the cabinets stands out against the light grey of the walls. The crown molding at the top adds an interesting architectural element, giving the room a sense of grandeur. Get stone countertops in the same tone as the wood to make it look like one piece of luxurious and stylish furniture.