Reading is truly one of life's greatest pleasures. If you're anything like us, there's nothing better than relaxing after a busy day with a book in hand (and a glass of wine in the other!)
But your reading sessions could be made much more comfortable by adding in a cozy reading chair, perfect for sessions immersed in the page of your favorite novel.
Short on time, check out our top pick, the Holly Home Lazy chair. This chair boasts a beautiful design and unbeatable comfort levels – a combination that genuinely takes some beating.
Looking for something a little different? Check out the Popel armchair – it's unique appearance will definitely get your guests talking.
15 Comfortable Reading Chairs For Small Spaces
---
15 Comfortable Reading Chairs For Small Spaces
Best Overall Comfortable Reading Chair
Product Details:
Dimensions: 31.2 x 28.1 x 7.9 inches
Item weight: 18.66 pounds
Material: Textile, Velvet, Cotton
This quirky chair takes our top spot for its eye-catching design and incredible comfort. It truly is a must-have for any reading nook or living room. However, this piece is incredibly versatile and would look great in a study, home office, or bedroom. What's more, the chair comes with a cute animal print option, making it an excellent choice for a child's room.
The heavenly cushioned seating and plump armrests make this ideal for relaxing after a busy day. The arms are well-positioned to support a relaxed reading position, while the back provides plenty of support.
We love the flailed legs, which make this chair very unique. The legs also come fitted with protective coverings that prevent any damage to wooden flooring.
One of the biggest bonuses of this reading chair is that it is effortless to assemble. Simply remove from the box, and within a few minutes, you'll be ready to go – no tools required!
If you're looking for a chair that truly does it all, this is it!
---
Best Reading Chair on Wayfair for small spaces
Product Details:
Dimensions: 12.5″ H
Materials: 100% Polyester / Foam / Fabric; Wood
Available colors: spice, blue, light gray, sand
If you're short on space in your home, this beautiful accent chair could be exactly what you are looking for. With its angular silhouette, this chair is definitely better suited to contemporary homes. There it would make a fabulous centerpiece to any living space.
Expertly crafted from wood and featuring a polyester blend in the cushion, the web suspension provides excellent comfort levels, ideal for reading a book or newspaper. Its arms are nicely squared off to create a great resting place for your own arms as you turn the pages of your latest read. The wooden legs create a chair that is both stylish and built to last.
Given its compact silhouette, this reading chair would look great in any small home or reading nook and is the perfect size for motorhomes or RVs. Now the seat is a little firm, so keep that in mind if you prefer a softer cushion.
---
Best small leather reading chair
Product Details:
Dimensions: 43 pounds
Item weight: 28 x 29.5 x 33.5 inches
Color: Brown, Pewter, White / Blue
Leather is both durable and comfortable, but most importantly, incredibly stylish. Picture an old library with shelves of dusty books, and chances are a cozy leather chair tucked away in a quiet corner will complete the picture.
If you're looking to create this aesthetic in the comfort of your own home, the Malone is a fantastic choice. Its bonded leather covering is incredibly easy on the eye. At the same time, its hand-carved legs help take the aesthetics to another level. Leather, as well as being stylish, is also easy to clean and maintain, which means it can last for many years to come.
This chair is guaranteed to get attention from friends and family who will be begging you to tell them where you bought it. It also comes in a few non-leather options if leather isn't your thing.
Size-wise, it's a lot smaller than you may think. While this makes it great for homes with limited space, you probably need to look for a more accommodating option if you're on the larger side.
---
Small comfortable living room chair
Product Details:
Dimension: 34″ H x 32″ W x 31.5″ D
Item weight: 46.5 lb.
Material: Wood, velvet and foam
Color: Gray, Pink, Mustard, Light Green
This blocky chair from Wayfair may look angular, but its comfort levels are through the roof!
Given its compact size, the Imani armchair is ideal for small spaces, especially in living rooms where it can blend in nicely with your existing decor. The upholstery is made from high-quality velvet material, filled with oodles of plush foam, which makes reading incredibly comfortable.
The seat itself comes cushioned with comfortable pocket coils, which makes sitting on this chair an absolute pleasure. Its vintage design would appeal to those who appreciate that particular aesthetic. At the same time, the tufted button backrest is a gorgeous little touch that makes this one of our favorite chairs design-wise.
Available in a choice of 4 different colors, this is a fantastic reading chair for any room.
---
Most compact reading chair
Product Details:
Dimension: 32.28 x 35.41 x 3.15 inches
Item weight: 10.38 pounds
Material: Corduroy, Steel
Color: Gray
If you're living in a house share or dorm room, space may be incredibly limited, but that doesn't mean you can't find a beautiful chair to fit.
The downright best thing about the Hexagon chair is that it can be folded away between use. After you're finished with it, you can simply pick it up and pack it away, ready to use next time. Better still, the foldaway feature makes it very portable. This makes it the perfect choice for a motor home or even to take with you on a camping trip.
While foldaway chairs don't often conjure up images of complete comfort, the Hexagon reading chair is different. The padded corduroy upholstery combined with the steel frame offers excellent levels of comfort for something that packs up so small.
The frame also means it's durable and will last a long time. For safety, the chair comes with a locking feature to keep it folded until you're ready to use it.
---
Best Reclining Reading Chair
Product Details:
Dimension: 34.25 x 38.7 x 38.7 inches
Item weight: 69 pounds
Material: Polyester, Textile, Birch
Color: Dark Blue, Grey, Light Grey Tweed, Muted Blue, Muted Orange, or Cream
Take your reading session to the next level with this gorgeous reclining chair from Christopher Knight.
Even though this chair has a built-in recline, it's not bulky like other recliners. In fact, your guests will probably never know of its secret until they push back on the chair to be greeted by a comfortable recline. While there, they are bound to compliment you on the chair's enhanced levels of comfort provided by the over-padded cushions and tufted back.
One of the great things about this reading chair is the sheer amount of color options you can choose from. The Macedonia gives you endless possibilities to brighten up your home for those fed up with gray, blue, brown, or black.
Even better than the comfort and design, this reading chair is incredibly well priced and won't burn a hole in your wallet.
---
Best Foldable Reading Chair
Product Details:
Dimension: 29 x 32 x 22 inches
Item weight: 9 pounds
Material: Metal
Color: Black, Lavender, Navy…and many other choices!
Working with a tight budget? Not only is this reading chair very affordable, but it's also easy to store and incredibly compact – perfect for smaller homes.
The shape of this chair is unique and inviting. The saucer shape envelopes your body like a big warm hug, perfect for losing a few hours with your favorite author. The faux fur material is plush and cozy, which is quite rare in a foldaway chair.
The best thing is, when you're done with using the chair, you can store it away to free up some space in your home. While some folding chairs may be far from sturdy, the heavy-duty frame ensures this chair will last. In fact, it's ready to use straight from the box; no assembly is required.
This gorgeous reading chair also comes in a ton of unique and colorful shades, perfect for adding a splash of color to any room.
---
Comfortable armchair for reading
Product Details:
Dimension: 32.68″ H x 32.28″ W x 31.5″ D
Item weight: 48.17 lb.
Material: 100% Polyester Solid + Manufactured Wood
Color: Beige, Blue, Mocha, Dark Grey
Looking for the ultimate in comfort? The Ulises may just answer your prayers.
Not only does this reading chair look incredible, but it's super comfortable too. When you buy from such a reputable retailer such as Wayfair, you know you can be assured of their products' quality, and the Ulises is no different.
The retro look of this chair sets it apart from others on the list. Its unique design is an attention grabber and would make a great statement piece in any room. Pair this with an ottoman and a few stylish pillows, and you'll be left with a chair you and your family will be fighting over.
While this chair is not the softest choice we tested, it's ideal for those with bad backs or those who need extra support when seated. Assembly is also super simple and requires very little DIY skill to put together.
---
Best lounge chair for reading in small spaces
Product Details:
Dimension: 33 x 35.25 x 33.73 inches
Item weight: 47 pounds
Material: Textile
Color: Grey
Sometimes you just need to put your feet up after a long day, which is impossible for most reading chairs. Enter this gorgeous lounge chair and ottoman set from Christopher Tafton.
Accompanied by a beautiful matching ottoman, you'll wonder how you ever lived without this reading chair. And while it does make a great space for sitting down and reading a book, it's a brilliant multi-use chair for watching TV or listening to your favorite music.
The studded chair back is a beautiful addition that completes the aesthetic. We think this chair would work particularly well in a living room instead of, say, a bedroom. Despite its level of comfort, it's surprisingly compact, which makes it another option for smaller spaces.
Although this reading chair is made from high-quality materials, it's pretty lightweight and therefore effortless to move around your home.
---
Best small reading chair with unique design
Product Details:
Dimension: 31.5″ H x 26.4″ W x 25.6″ D
Item weight: 18.51 lb.
Material: Solid + Manufactured Wood / foam
Color: Pink, Mustard, Navy
Words cannot express how much we love this chair. In fact, its design was a firm favorite of pretty much everyone in our office.
There is no doubt that the design exudes luxury and class and makes a beautiful statement piece to a living room or even bedroom. It's undoubtedly one of the best reading chairs in terms of style. In fact, as well as a chair for reading, we see this as an ideal makeup chair, too.
The crushed velvet material is heavenly, with the dusty pink color being both vibrant and understated at the same time. The chair is filled with medium density foam, striking a balance between being not too hard and not too soft.
If you're looking for something to help you stand out from the crowd, this is it.
---
Best mid-century modern design
Product Details:
Dimension: 29″ H x 27.5″ W x 32.75″ D
Item weight: 40 lb.
Material: solid wood / foam
Color: Taupe and Light Blue
The mid-century aesthetic is on-trend right now. In fact, we can't think of a time when it wasn't. If you're looking for a classy piece of furniture that will look better as it ages, check out the Ronaldo.
The perfect cushioning sits atop an impeccably crafted solid wood frame, offering ultimate durability for even the heaviest users. Its neutral shades mean it's a versatile choice and will work well with the existing decor in most homes.
We love this chair's low profile design, as it really helps you to sink into it. Obviously, this also makes it not so ideal for the elderly or those who may need a helping hand to stand up.
---
Best Scandinavian design reading chair
Product Details:
Dimension: 33.5″ H x 33″ W x 30.3″ D
Item weight: 31.43 lb.
Material: Solid + Manufactured Wood and foam
Color: Light Gray, Purple and Blue
Wayfair has ticked all the boxes on this chair, which we think would make an excellent addition to a light and modern home.
If a mid-century design isn't your thing, maybe Scandanavian vibes are your aesthetic of choice. If that's the case, you can't pass up the incredibly affordable Desai reading chair from Wayfair.
Wayfair claims that when designing this chair, they placed comfort above all, and we think they succeeded. Not only is it super soft, but the level of support it provides for your back is unlike any other on this list.
The Scandinavian aesthetic is all about simple, clean designs with minimal fuss, at the same time being incredibly practical. On all fronts, Wayfair has exceeded our expectations.
---
Best small velvet reading chair
Product Details:
Dimension: 32″ H x 32″ W x 35″ D
Item weight: 46 lb.
Material: Solid wood frame, cushion padded with foam
Color: Light Gray, Dust Blue, Rust, Dark Blue, Dark Gray
One of the best reading chairs for those crazy for velvet.
This modern velvet armchair offers indulgent comfort levels, thanks to its softer than soft seat covering, plush cushions, and comfortable armrests. The seat itself is also very generously sized, making it the perfect miniature chair to curl up into with your favorite book. In fact, it has one of the highest weight capacities on this list, able to support up to 500 pounds.
The solid wood frame helps to complete the chair's aesthetic and ensures it is built to last, creating a stable base for you to while away the hours.
One thing to watch out for on this chair is that the legs need to be attached – and the holes for the screws are not pre-drilled. If you're not too handy with DIY, you may need to ask a friend to help.
---
Best contemporary reading chair
Product Details:
Dimension: 33.5″ H x 30″ W x 29″ D
Item weight: 41 pounds
Material: Solid wood, linen, and polyester
Color: Black
While this unique looking armchair won't be for everyone, we think it would look great in a dedicated reading space, such as a study room or office.
The design, covered in scribbles and etchings from what we imagine to be an artist's sketchbook, is a discussion piece and something different from your typical chair design.
It's tapered wooden feet support a super comfortable cushion, with plenty of support in the back. Covered in a breathable linen fabric, this chair will keep you cool in the warm summer months.
For added comfort, consider purchasing an ottoman or simply some additional throw pillows
---
Best bean bag for reading
Product Details:
Dimension: 48 x 48 x 34 inches
Item weight: 32 pounds (large size)
Material: Textile
Color: Black, Cocoa, Cobalt, Fog, Oat
Cheap, versatile, and perfect for lounging, you can't go far wrong with a bean bag.
Technically not a chair, we had to include this bean bag on our list because of the nostalgia associated with a bean bag – plus, the kids will love it!
Bean bags are incredibly versatile and easy to move to exactly where you need them. Not only that, but the foam filling molds to and supports your body for added comfort.
While this won't be for the older folk, if you're working on a strict budget or simply want to add a sense of fun to your room, you really can't go wrong. This bean bag is incredibly affordable, lightweight, and comes in many colors to suit any taste. It also comes in a range of sizes to suit your space. Its removable cover makes it easy to clean and effortless to maintain.
---
Conclusion
---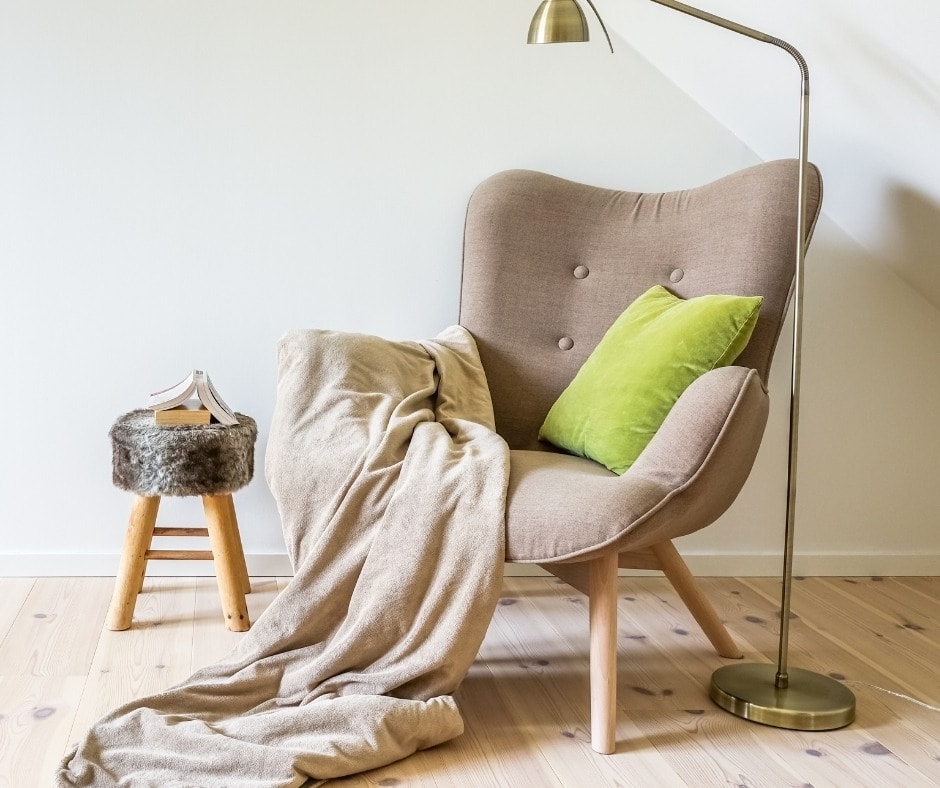 Whether you're looking for something that simply does the job, a stylish, attention-grabbing piece of furniture, or even a bean bag, any of the reading chairs on our list will be sure-fire winners.
The Holly HOME is a gorgeous chair that does it all and a safe bet for all homes, large and small.