If you are trying to figure out what color goes best with brick walls, you are not alone. This is something that many people struggle with as they try to match their brick walls with the rest of their decor.
This can be tricky to do as brick walls go with different kinds of colors. You will want to figure out what these colors are before you try to style a room with a brick wall.
The colors that you go with will have to depend solely on the kind of brick wall you have. If it is dark brick, maybe go with a dark shade of gray or if it is light brick, try going with a soft and creamy beige color.
Keep reading to find out what color goes best with brick walls so that you can spice up this area of your home.
In This Article We'll Discuss
7 Colors That Go Best With Brick Walls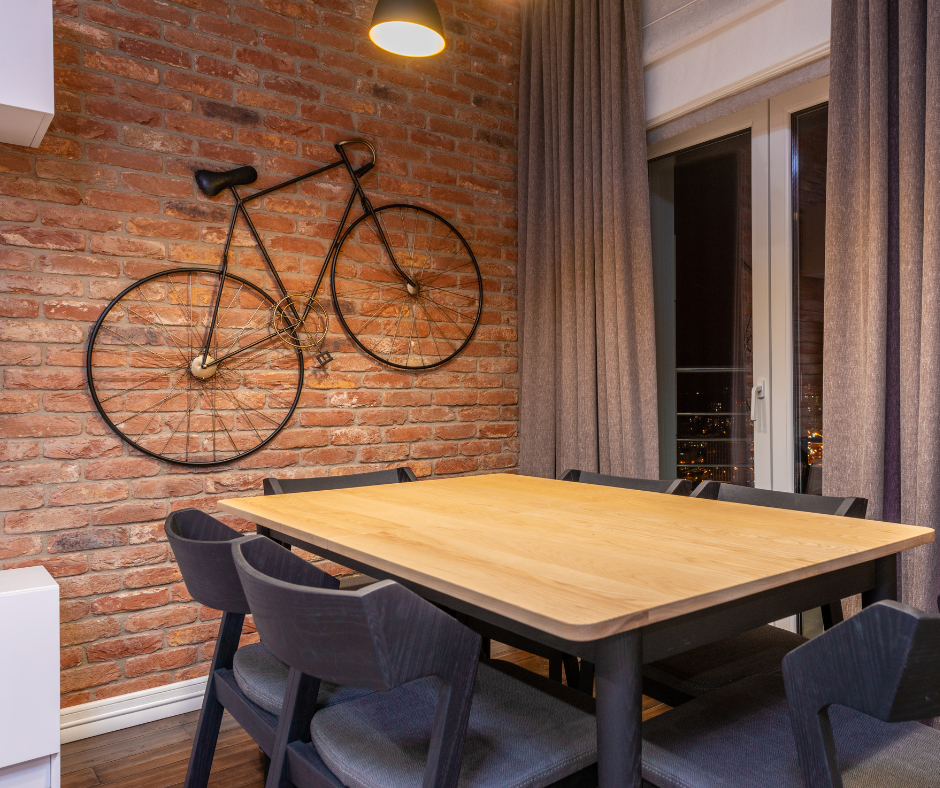 If your home has a room with a brick wall, this can seem very difficult to work around. Especially if you already have a style and color scheme that you like for your home.
A brick wall has to be taken into consideration when choosing colors. Otherwise, you risk the whole space feeling unbalanced and conflicting.
Keep Reading to find out what colors will compliment different shades of brick walls.
Green With Dark Brick Walls
Dark green is an amazing shade to pair with a dark brick wall. These two rich shades compliment each other and work well together in this space.
This creates a room that feels deep and moody with natural undertones. Perfect for a living room, office, or moody bedroom setup.
Gray With Dark Brick Walls
A dark shade of slate gray pairs beautifully with darker brick walls if you want a moody space. This darkens the room but makes it still feel cozy and inviting.
This creates a unique space that you can add a lot to with different pops of red or gold as accent colors. This is perfect if you want this space to feel sophisticated and welcoming while still making the brick wall stand out.
Sage With Dark Or Light Brick Walls
Sage is a versatile color that goes great with either dark or lighter brick walls. This shade can be either a darker sage or a lighter sage according to the brick color.
Green naturally compliments brick and can make the space feel balanced while still highlighting the brick. This also creates a versatile space where many other colors can be incorporated.
This is a great time to incorporate various shades of green into the room for more appeal.
Cream With Light Brick Walls
Cream is a versatile color that also acts as a neutral without feeling too flat or minimalist. Cream pairs beautifully with light brick walls and can make the pop even if they are not a bold color.
Cream also softens the harshness of brick, making it appear warmer and more welcoming. It takes away the roughness, making the wall feel like a beautiful centerpiece for the entire room.
This is a great place to start if you want to incorporate other colors into the room as well.
Lavender With Dark or Light Brick Walls
Lavender is a unique shade that you may not think would go with brick walls. Though this is actually a beautiful color to pair with either light or dark brick walls.
A rich shade of lavender goes well no matter the shade of the brick wall. This immediately lightens the space and makes it feel more sophisticated and less rustic.
Lavender can feel very luxurious and refined, helping to level up the brick wall, making it feel less rough. This pairs well with brick because most bricks have a slight purple tinge to them and the lavender helps to bring this out.
Red With Light or Dark Brick Walls
A rich shade of red is an amazing complimentary color to any shade of brick wall. You could go with brick red, an orange-red shade, or a deep cranberry red, most reds will work in this space.
This is an obvious choice because most bricks tend to be more red than any other color. So having red in the room pairs well with the brick and brings out their natural color.
Make sure you go for more dark or orange shades of red and not the traditional bold red that you may think of. You want the red to highlight the brick, not fight with it.
Beige With Light Brick Walls
Beige is a beautiful neutral color that is somewhere between cream and tan. This color goes well with light brick walls as many lighter bricks tend to have beige tones to them.
Beige is a soft color that helps to add softness to the room without looking strange against the brick wall. It can bring you the lightness of the bricks and make the space feel warmer and inviting to friends and family.
What Room Color Schemes Go Best With Brick Walls?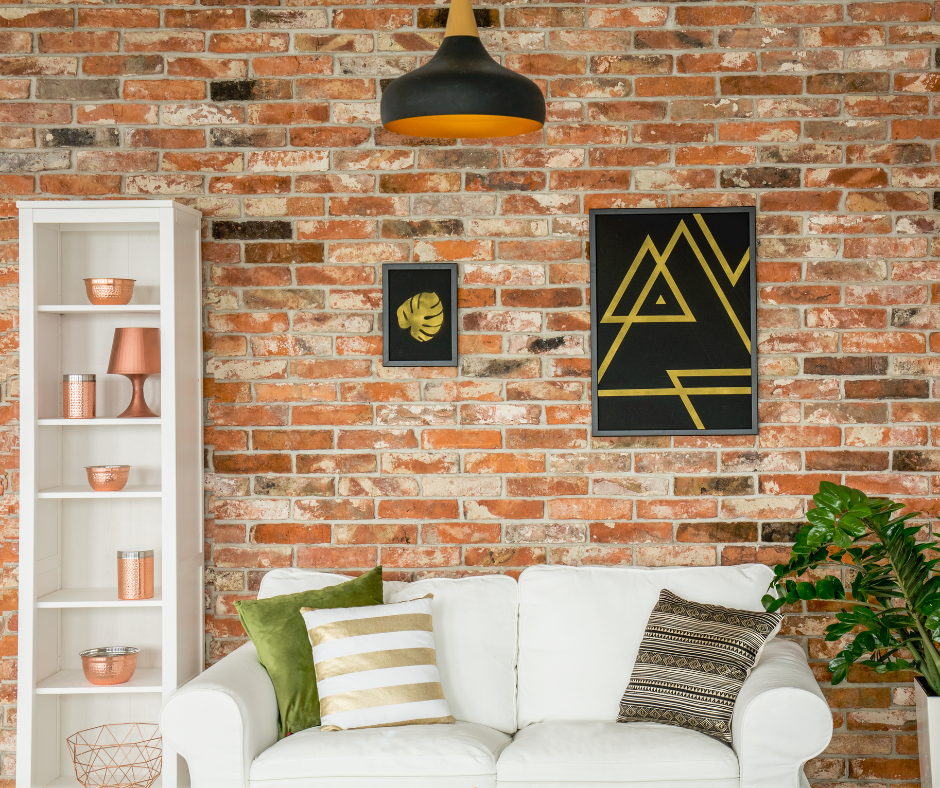 When it comes to a room with a brick wall, the best thing to do is go for a color scheme in the room. This can help you to balance out the brick while complimenting it at the same time.
The color scheme you choose will depend on the shade of the brick wall, but many options can be used for light or dark bricks. This includes green, red, orange, neutral, or minimal color schemes.
These are colors that lean more towards feeling natural, complimenting the natural feeling of the bricks. You have several color schemes to choose from to help bring out the beauty of the bricks without making the room feel heavy.
What Accent Colors Work Best?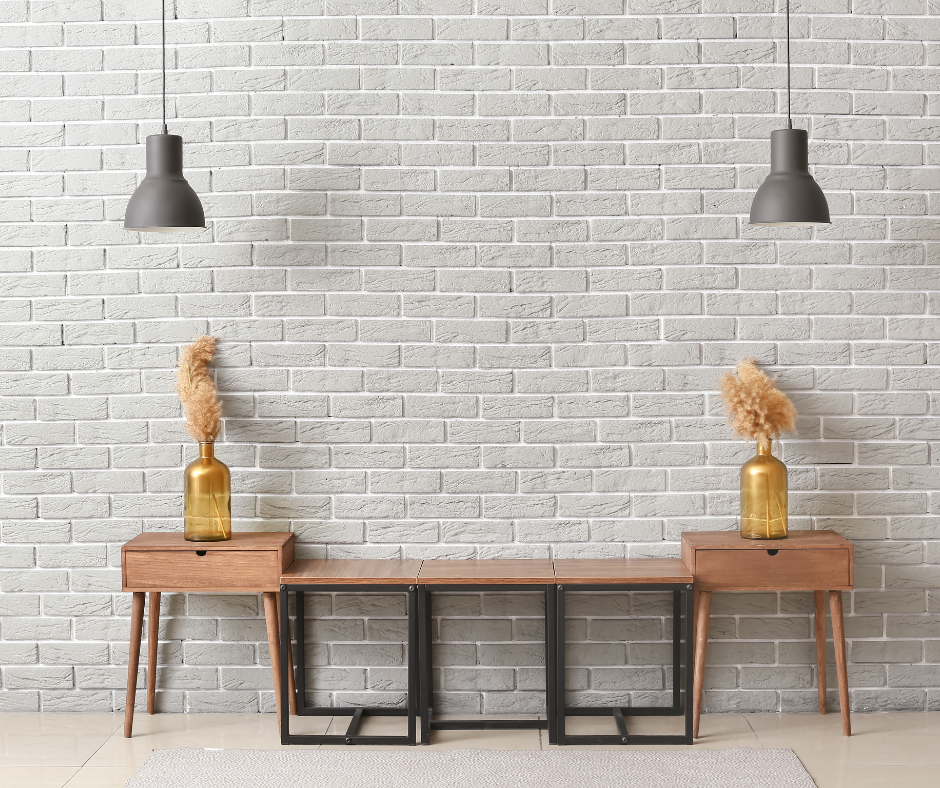 If you have decided on the color to pair your brick wall with, you may want to know more about accent colors. Accent colors are important as they help to keep the space from feeling too bland.
A room with just one or two primary colors can feel boring and fall a bit flat when you look at it. That is why it is important to also have accent colors.
Most neutrals go great with brick as long as you keep the shade of brick in mind. Most creams, whites, grays, browns, and even reds go very well with brick walls as accent colors.
You could also add wood accents as these shades of brown add a natural aspect to the room, complementing the roughness of the bricks. Even pops of bright green in the form of plants are a good accent to add a natural feel to the space.
Conclusion
If you have a brick wall in your home, you have all kinds of color options to choose from. Though this wall may feel intimidating, there are all kinds of ways to dress it up and make the room feel more balanced.
If you have any questions about what color goes best with brick walls, leave a comment below, and we will get back to you.
If you have dark brick wells, a dark shade of red or gray is great options to go with. Alternatively for light brick, you could choose rich lavender or a cream color to pull the room together.