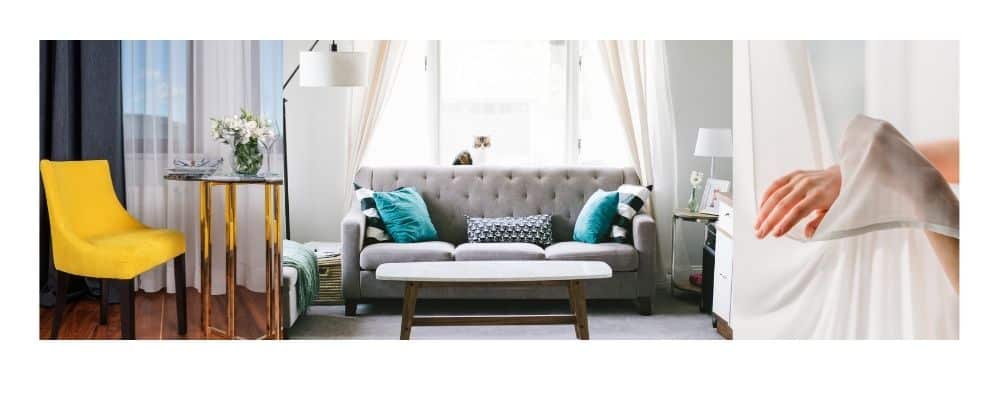 How do you choose curtains for a small living room? We'll share some tips to help you get it right.
The location of your curtains will depend on your windows. You'll need to look at their shape and what view of the outside they provide. Also, you'll want to account for the style and fabric of the curtains to ensure they make the room look more spacious and inviting.
Deciding what curtains to hang in a small living room can be a bit of a challenge. You likely won't be able to hang one large curtain as you would be able to in a large living room.
Whether you have large windows or small ones, here are some tips that will help you decorate your rooms with ease:
In This Article We'll Discuss
How to Choose Curtains That Make a Small Living Room Look Bigger?
1. Consider Your Living Room Colors and Patterns
When picking curtains for a small living room, the colors and patterns you choose will significantly change the look and feel of the room. If you have a living room with light walls, choosing dark-colored curtains will make it feel too dark.
Similarly, if you're working with floor-to-ceiling glass windows that look out into your backyard, heavy draperies can make your space feel too closed up.
However, the opposite is also true— too much color and pattern can overwhelm a small space. Start by taking stock of all the furniture pieces in the room. Consider their color and what they bring to the room's overall vibe.
Now, consider what you can do with your window treatments to complement them. For example, if your furniture is dark, you'll want to let more light in throughout the day.
2. Mix Prints Intelligently
Limit yourself to one print per set of curtains. However, don't be afraid to mix different patterns within the same interior design scheme. You can combine bold florals with striped draperies, or animal motifs with solid panels.
You can also add texture through other materials or subtle decorative elements like fringe.
3. Think About Curtain Length Carefully
It's no secret that long, flowing drapes can make a small room feel more prominent. But, there's also a downside. If you don't hang them correctly, those same floor-length curtains can actually make the room feel even smaller than it is.
You should keep an ideal height in mind as you shop around. Remember, your windows should be framed by curtain fabric, but not overwhelmed by it.
If you love the look of statement curtains but aren't sure if they'll work in such a small room, go with something mid-length. This will allow for adequate air circulation without sacrificing your design scheme.
4. Curtain Rods Can Make a Big Difference
If you're shopping online, you can't always tell how much space rods will take up on the wall. But, if they're too small or you place them too high on the wall, it can make a huge difference in how big your living room feels.
When you buy curtains online, make sure to look for the rod's length along with its diameter (usually 1 3/8″ or 1½"). Also, try to opt for decorative brackets or finials because they can do wonders for your curtain rod's impact on the room.
5. Invest in Quality Hardware
Curtain hardware is often an afterthought, but it definitely shouldn't be. The right window treatment accessories can make the difference between roman shades that slide easily and pinch pleat drapes that sag by 2 p.m.
Luckily, this doesn't have to mean spending a fortune on fancy parts. When you shop online for curtain rods, look for double hooks or rings along with felt lining.
6. Think About Curtains as an Investment
While the price tag might be higher than some other curtains you've seen around, investing in high-quality fabrics and hardware will help your window coverings last longer. In addition, they'll look better than the cheaper options.
Taffeta curtains are among the more popular options. These silky curtains are durable as well as modern and sleek. So, they're perfect if you're looking for a fashion-forward touch without going overboard.
Pick a material that complements the room's style and any furniture pieces or color schemes already present. This can help ensure any new draperies blend in seamlessly and don't clash with the room decor.
---
Which Color Curtains Work Best for a Small Living Room?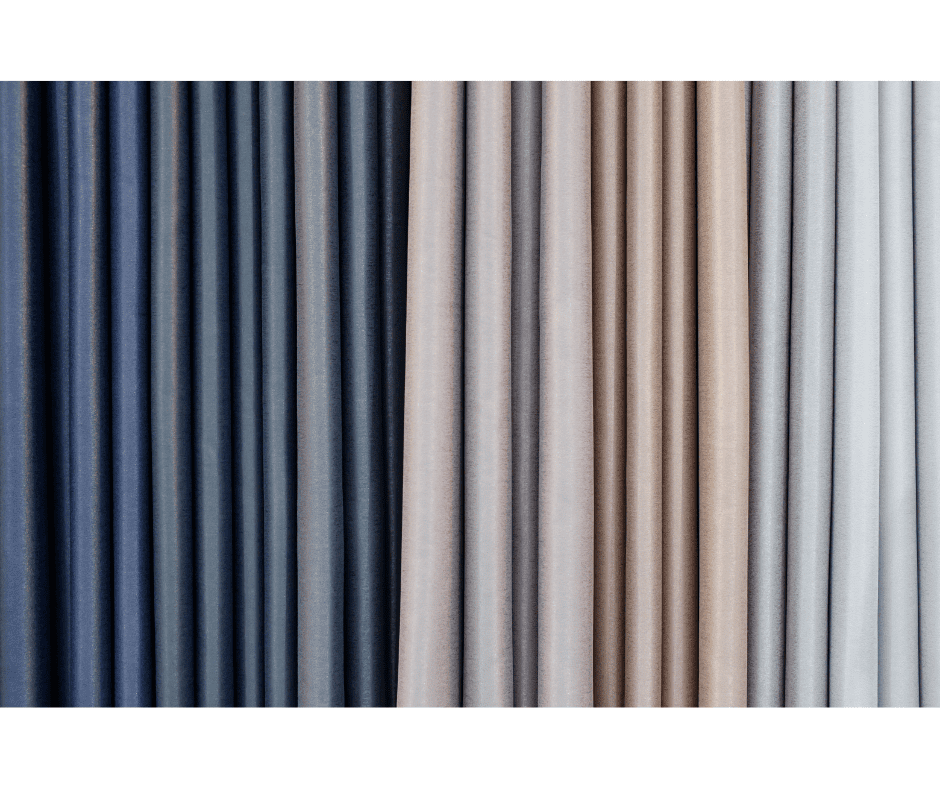 The living room is the main room in any home, so you want to make sure it looks great. Curtain color can have a significant effect on how your living room looks.
Most people think that black curtains go well with just about anything. However, many don't know that other dark colors, such as maroon or navy blue, also work well. These colors create a similar effect without taking away from what's already in your room.
If your furniture is primarily white and gray, these dark colors will match wonderfully. However, if your furniture has bright or vivid colors, choose light colors for your curtains. This will keep the attention on the furniture instead of letting it get lost behind dark-colored drapes.
Pastels work best in these cases because they are subtle and don't create too much contrast with the other pieces in the room.
Generally speaking, if you have bold colors or patterns in your living room, go with lighter window treatments. Save darker window treatments for more subtle rooms.
You can also match a colorful patterned rug with a solid-colored curtain to bring all the colors together. For example, a reddish-orange patterned rug would go well with a gray or cream-colored curtain.
What Size Curtains Are Best for a Small Living Room?
To figure out what size curtains will best fit your window, you need to divide the width of your window by two and then add one inch. For example: If you have a 46-inch wide window, 46 divided by two is 23 1/2 inches plus one inch equals 24 inches.
You'll also want to determine how long you want your curtains.
If your curtain is 24-inches wide, the curtain would need to be at least 50 inches long if you wanted it to hang down four inches on each side.
Conclusion
If you're looking for curtains for a small living room, you should look for something that speaks to your space and taste needs. While it's important to find the right size and length, it's even more important to make sure it matches the room's decor and your own style preferences.
If you have any suggestions or questions about creating the best look for your small living room, leave us a comment below.