Cherry cabinets make an excellent addition to a sophisticated home. They create a luxurious, elegant feel with their warm tones. They also complement any style of kitchen, giving you many options for hardware color. However, their red undertones mean you need to take extra care to find the perfect hardware to accent this stunning wood.
Whether your kitchen style is rustic, traditional, or modern, it is important to find the right hardware to complement your cabinets. Read on to discover our top kitchen cabinet hardware color ideas for cherry cabinets, and how to choose them.
In This Article We'll Discuss
Kitchen Color Considerations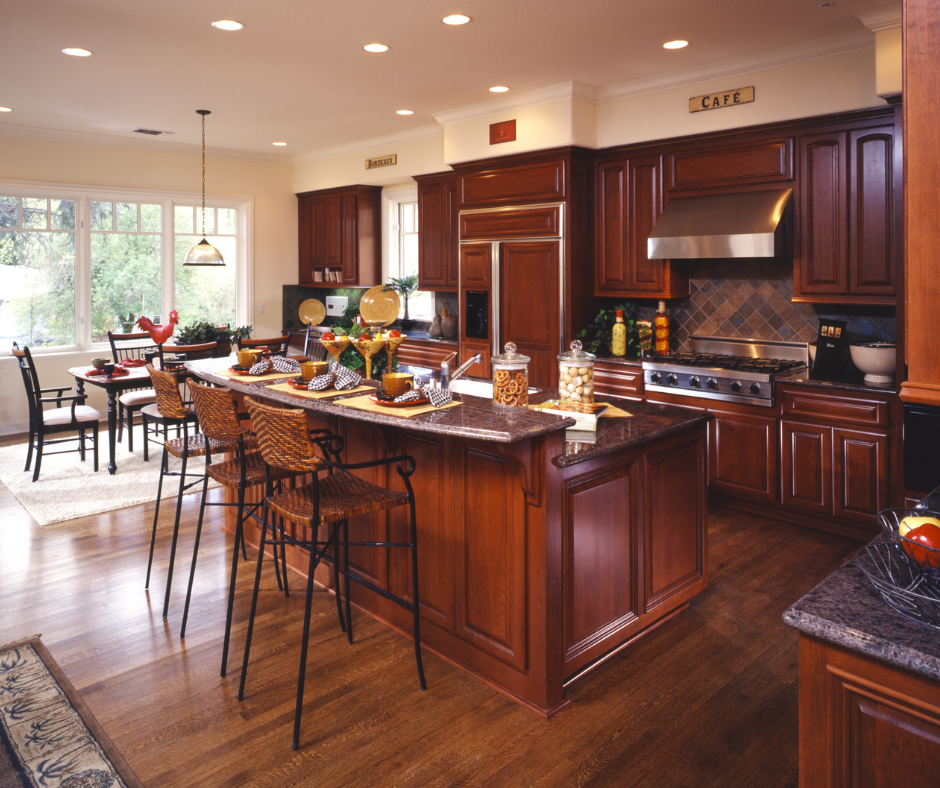 First, decide if you want your cabinet hardware color to blend in, complement, or contrast with the rest of your kitchen.
If you are building a new kitchen, something to consider with cherry cabinets is that the color will continue to change with time.
You may like the way your hardware looks with your cabinets in the beginning when the cabinets are lighter. Your opinion may change as the cabinets darken in time. Consider comparing your chosen hardware with both a younger and older cherry cabinet.
It is essential to find a hardware color that will bring out the tones in your cherry cabinets, but be sure to also consider your paint and countertop colors in your kitchen.
Do not forget to consider your faucet, sink, and appliance color and material as well. Your hardware doesn't have to have an identical color to these items, but you do need to decide if you would like your hardware to contrast or be complementary. Just be sure your hardware does not clash with the rest of your kitchen!
Kitchen Style
A common misconception is that cherry cabinets are outdated given their darker, rustic look. There are many ways to modernize your cherry cabinets. Whether you prefer a traditional or modern look, the hardware color you choose will define the style of your kitchen.
Choosing The Right Color Hardware For Your Style
There are limitless possibilities when it comes to colors and materials for cherry cabinet hardware. However, not all colors will necessarily look good in every situation. Below are our top color and material picks for kitchen cabinet hardware for cherry cabinets.
Silver Hardware
Silver hardware will modernize the traditional look of cherry cabinets. Silver will tone down the warm undertones of cherry wood, giving your kitchen a cooler look.
Silver comes in different finishes, each one creating a different look. Go for polished silver hardware, like polished chrome, for a more sophisticated and modern feel. Using weathered silver hardware, like satin nickel, will give you more of a rustic farmhouse feel.
Gold Hardware
While gold may be trendy right now, it is still considered one of the most classic and timeless fixture metals. This trend will not be ending anytime soon. Gold can achieve several different looks based on the type of gold you choose for your hardware.
Orange-gold, such as brushed or polished brass hardware, gives off a traditional, classy look. The warmer gold pulls out the warm undertones of cherry cabinets and will stand out nicely against the red tones.
For a softer, brighter, and more luxurious style, we recommend rose gold hardware. Rose gold blends well with cherry cabinets, providing a more neutral appearance.
Oil-rubbed bronze (ORB) is a darker gold option for your hardware. It blends nicely with cherry cabinets and brings out darker undertones. ORB also blends well with other materials, giving you more options for your appliances, sinks, and faucets.
Glass Hardware
If metal is not your thing or you want something unique, glass hardware is a good alternative. For a mid-century modern style, glass hardware is a great option. Glass hardware will make your cherry cabinets look lighter and brighter, giving off a retro feel. They will also catch sunlight and kitchen lighting beautifully for a classy touch.
Colorful Hardware
If you want to make a statement, a vibrant color for your hardware is a great choice. As bright color often draws the eye, consider using it sparingly as an accent. Colorful hardware would work well on an island, for example.
You can also mix materials with colorful hardware. Pairing a vibrant color with gold or silver provides an elegant, yet fun, look. Below are some of our favorite colors for hardware for cherry cabinets.
The Right Shape
Once you have determined the right color hardware for your cherry cabinets, you will need to decide if you want a knob or pull hardware.
For a more classic color hardware, such as gold or silver, a pull would be a unique twist. If the hardware you select is a vibrant statement color, a knob would be a good choice to balance out the bold color. Ultimately, deciding between a knob or pull comes down to personal preference.
Have Fun
It can be overwhelming when there are so many options and considerations for finding the right color hardware for cherry cabinets. It also means you can't really make the wrong choice, so have fun with it!
Take the time to understand your taste, style, and the look you want to achieve. Once you know that, you will be well-equipped to choose the perfect color hardware for your cherry cabinets.
What color do you think you will choose? Tell us what you decide and post a picture in the comments below!