Decorating your rooms is one of the great joys of owning a home. You can choose the color of paint, the size of the furniture and the type of lighting. One of the more popular ways to decorate a home's kitchen is in a farmhouse style.
Whether its traditional country or modern, farmhouse décor can be had on a budget. 
In This Article We'll Discuss
Budget Farmhouse Kitchen Decor Tips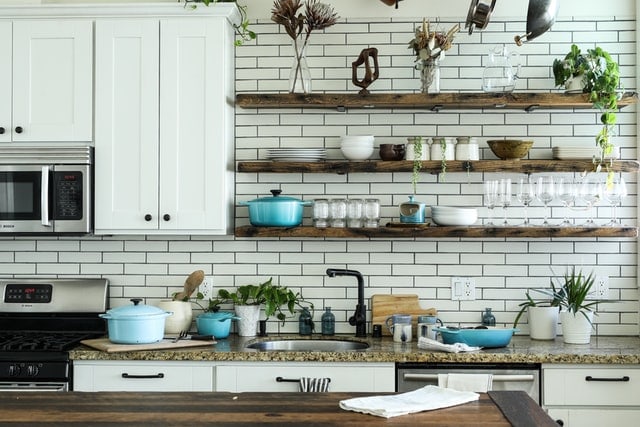 Choosing Colors
Styling your traditional country kitchen, whether it's in an old farmhouse or a newly-constructed home, starts with deciding on a color palette. Stick with white or light colors on the walls and ceiling to make the room feel airy and open.
You can add pops of color in inexpensive accessories such as vases, rugs, towels, planters and wall art. Try to choose pieces made of natural materials like glass, linen and wood to stay true to the country feel. 
Modern Farmhouse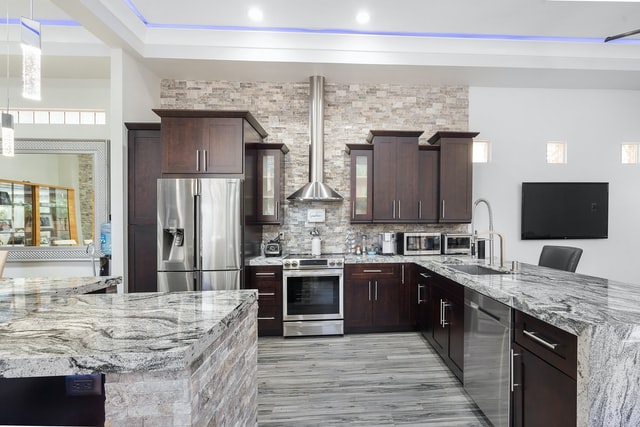 If you want your farmhouse décor to have a modern feel, don't be afraid to combine styles that will give you an eclectic look.
A modern farmhouse can be styled with a combination of vintage and industrial furniture, accessories and artwork. If you have a large glass kitchen table, granite countertops or aluminum bar stools, add a chandelier in distressed wood or some low-cost lace curtains to get that farmhouse vibe.
Rustic Farmhouse
Try surrounding your rustic wooden table with mid-century metal chairs or adding a retro-inspired painting in your walk-in pantry. You don't have to break the bank with any of these items in order to have a stylish home.
Need more inspiration to get started decorating your farmhouse kitchen? Check out these budget-friendly accessories.
Budget Farmhouse Kitchen Decor Items
3. Love-KANKEI Floating Shelves Wall Mounted Set of 3
Mix it up by adding some open shelves to your kitchen dish storage solutions. Hung on either side of the sink, you can create a chic and artistic display with your monochromatic dish set.
Or make a statement with crystal wine glasses and your favorite bottles of wine.
4. Paper And Pallet Wood Tiered Serving Stand
The distressed white wood on this serving stand will complement any farmhouse kitchen décor. Use the stand to store freshly picked apples or as an island centerpiece when filled with fragrant lemons. The stand is also the perfect way to serve pastries at your next brunch.
5. Elwiya Farmhouse Mason Jar Salt and Pepper Shakers
If you have dedicated space in your kitchen for a coffee or tea bar, these canisters are ideal for storing filters, tea bags and coffee. The galvanized metal makes these look vintage while the letters and the sleek wooden lids give them a little contemporary feel.
8. Barnyard Designs Decorative Nesting Kitchen Canister Jars with Lids
Vintage-looking accessories, like this set of canisters, can transform any countertop from contemporary to rustic. They can also keep your space mess-free and uncluttered. In addition, the neutral colors won't clash with your color palette.
11. Poly and Bark Metal Modern Dining Chair
Use a mix of styles in your modern farmhouse kitchen. Add these contemporary metal chairs to your antique dining table. Or place them around an ultramodern glass table accessorized with bowls of dried flowers and fresh fruit to achieve that farmhouse feel.
12. MyGift Rustic Multicolor Cutout Wooden EAT Letters
Distressed and weathered elements help define your space as a farmhouse kitchen. Hang these letters horizontally above the stove or vertically next to the refrigerator for a little whimsy and a gentle reminder of why you love gathering in the kitchen with family.
13. HL Cow Pig Rooster Galvanized Metal Farmhouse Wall Art Set
Balance out your use of contemporary or modern kitchen décor with something rustic like these galvanized animals. Hanging on a wall or leaning on your backsplash, this wall art is sweet and playful. Your kids will enjoy decorating these to make them uniquely yours.
14. Window Frame Wall Decor 2 Pack
Have a large blank wall in your kitchen that needs a design element? Get creative with these windowpane frames. Use them to showcase a statement wall color or display your favorite photos. Arranged together, several frames in different colors become an abstract art piece.