Wooden furniture feet can lift sofas while adding unique style elements. They look great and serve a function! If you're looking for the best wooden feet for furniture, you've come to the right place. This article will break down several of the best wooden feet for furniture. From our overall best to specific design elements, this list has it all.
Take a look at our buying guide and then browse our list. You're sure to find something you love.
In This Article We'll Discuss
8 Best Wooden Feet for Furniture
---
8 Best Wooden Feet for Furniture
---
Best Overall
Product Details:
Comes in a wide variety of sizes
Brown color
Rubber wood and eco-friendly
Comes with rubber pads
Assemble in 10 minutes
When looking for the best wooden feet for furniture, AORYVIC comes out on top. AORYVIC expertly craft this product from rubber wood. What's more, the wood harvesting process is eco-friendly. The product is then finished with a brown color.
You can choose a variety of different sizes for the product. Choose between 2 inch, 3 inch, 4 inch, 5/16 inch, 6 inch, 8 inch, or 12 inch sets. The product is very easy to install. It only takes around 10 minutes when you follow instructions.
The added height from the product takes strain off your knees when sat down. The finish looks very mid-century. It will definitely add an interesting element to your home. Each product purchase comes with 4 wood furniture legs. What's more, they also give you 4 rubber pads.
These rubber pads fix to the bottom of the product. They stop the product causing any marks on the floor. You'll also receive 12 screws and 4 insert nuts. The product will easily fit to multiple types of furniture. From beds and sideboards to coffee tables and cabinets, they will all work.
---
Best Slim Design
Product Details:
Height = 5 inches
Widest diameter = 3.26 inches
Sloped design with base diameter = 1.57 inches
Comes in walnut or white colors
Easy to install
If you want a slim design, you won't find better than this product by One Sight. One Sight have crafted a solid 5 inch design. The product comes in a choice of two colors. You can select either white or walnut. Due to this, the product can easily fit into whatever aesthetic you need!
The design is sturdy and will last a long time. One Sight suggest that you will get years of use from their product. The wood design is uses varnish to keep the quality high. The product measures 2.36 inches at its widest diameter. The bottom has a smaller diameter at 1.57 inches. This creates a thickening design as you move up.
The product comes with rubber pads. These ensure that no damage will come to your floors. The 5/16 inch m8 bolt is a US standard. This makes the product very easy to install. It should take less than 10 minutes to completely set up these wood furniture legs. The final design is chic and will brighten up any home.
---
Most Elegant Design
Product Details:
Easy to assemble
Beautiful final design
Solid hardwood with a glaze finish
Includes floor protectors
4 inches tall
If you're looking for an elegant design, you can't do better than La Vane. They have crafted a beautiful final product. This design is a fantastic way to elevate the style of any piece of furniture. What's more, they're a very fair price for the quality of product.
The installation process is very easy. They include a pre-installed 5/16 inch US hanger bolt. That means you can mount them straight onto any leg made in the US. The package included mounting plates and screws as well. Each purchase will come in a pack of four.
The product uses solid hardwood. This ensures durability and stability once you install them. La Vane then glaze the final design, giving a glossy finish. They even throw in some rubber floor protectors. They are thick and will protect your floors for years to come.
You can apply these to many different types of furniture. They are 4 inches tall.
---
Best Height Options
Product Details:
Four height options. 4 inches, 6 inches, 8 inches, or 10 inches.
Comes in two colors – natural wood or brown
Holds up to 800 kg
Quality product with beautiful design
Height is an important aspect of a wooden foot design. The height will change the design, while also changing the feel of your sofa itself. This product solves any height problem. They come in four different sizes. Choose from 4 inches, 6 inches, 8 inches, or 10 inches. A whopping 10 inch increase to your furniture size is truly remarkable.
The product comes in two distinct colors. You can choose from brown or natural wood color. GOSCHE uses high quality rubber wood. This wood is especially good for furniture feet as it is stable and strong. It can hold up to 800 kg in weight. With a weight capacity like that, you know the product will last for several years.
You can use the extra height to create more storage. Alternatively, it will allow for easy cleaning under your sofa. You can apply this product to all kinds of furniture. From beds and sofas to cabinets and tables, everything will work.
---
Best Bun Style
Product Details:
Comes in several sizes
Comes in four colors
Eucalyptus wood
High weight capacity
Bun style furniture feet are more stout in design. If this is what you're looking for, then you're in luck! The product comes in several different sizes. You could select 3 x 7cm, 4 x 6.7cm or 8 x 6cm. Alternatively, you could go for even larger sizes. They also have 9.5 x 5cm, 4 x 7cm, and 9.6 x 5cm. This huge range will fit anything you're looking for.
The product also comes in four distinct colors. You can pick from brown, dark brown, red brown, or white. Doublelife uses eucalyptus wood for this product. This is a strong wood which has good flexibility. Due to this, the weight capacity of the product will be high. These will last you several years.
---
Best Tall and Square Design
Product Details:
Check it fits function
Malaysian rubber wood
Walnut stain coloring
8 inch height
If you want a tall and square design, New Dimension is for you. This pyramid style design is beautiful to look at, and fits the description. The 8 inch height is more than enough extra room. This will allow you to have more storage, or just help you to clean. The air passing under your furniture will fight against damp and moisture.
The product has a walnut stain. New Dimension uses Malaysian rubber wood for the product. Each purchase is a set of four legs. They also include a feature where you can check if the product will fit your furniture. All you need is the model number of your furniture.
---
Best DIY Option
Product Details:
Height = 4.7 inches
Diameter = 2.85 inches
100% solid wood
DIY design
A DIY option is always a great idea if you're a creative person. Coming in a neutral tone, you'll be able to paint or dye this into whatever design you want. Btibpse uses 100% solid wood. It also comes with mounting plates and screws. Each purchase is a set of four legs.
The product is 4.7 inches tall and 2.85 inches in diameter. You can easily apply them to several types of furniture.
---
Best Slanted Design
Product Details:
Two size options – 4.5 and 5.5 inches
Beech wood
If you're looking for a slanted design, you can't get better than WEICHUAN. By using beech wood, WEICHUAN craft a beautiful slanted final product. You can easily paint and color the product, allowing you to get whatever style you want.
The product comes in a set of four. Please note that they do not include mounting hardware. The design attaches using the 5/16 inch course hanger bolt. This means it will work with lots of US based furniture. The product measures either 4.5 or 5.5 inches depending on which you select
Due to the beech wood, there will be slight variations in each product. This is reflecting the tone, texture, and specific grain of each piece of wood.
---
Buying Guide
---
How to pick wooden feet for furniture?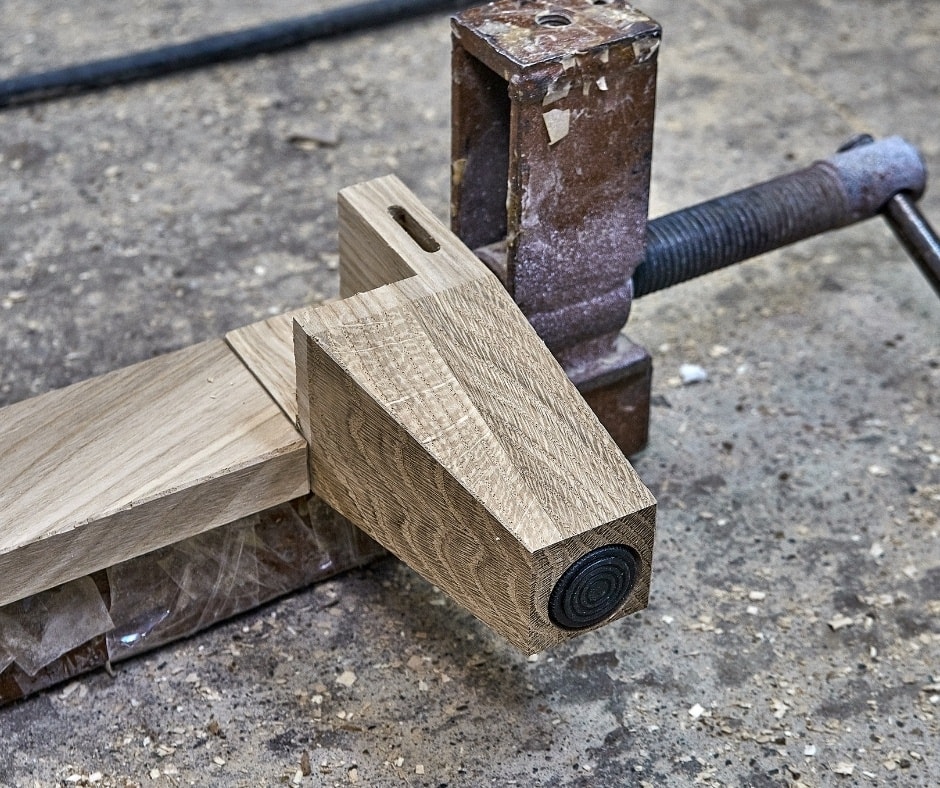 When deciding which set of wooden feet you want to buy for your furniture, you need to establish two things. The first of these is the size and purpose of the wooden feet. Secondly, you need to think about colors and style. By knowing these two things, you'll be able to successfully find the right wooden feet set for you.
First off, let's discuss size and purpose. When buying a wooden feet set, are you looking for more height or just aesthetics? If you only care about aesthetics, then don't worry about this section. You can move on to color and style.
However, if you're buying wooden feet for furniture to add height, then you need to consider how tall you need. Adding a few extra inches to your sofa has many benefits. First of all, you can then use the under sofa space for storage. Additionally, the extra inches are better for your knees. If you're a tall person, this can be very advantageous.
When you are sat on your sofa, measure from the pillow to your knees. It should only be a few inches at most. If it's much more, you should definitely raise your sofa up. The heightened position is better for your knees in the long run. Once you know how much extra height you need, you can then look for that size foot.
Sofa feet come in a wide range of sizes, so be sure to pick the right one for you!
Next, let's talk about aesthetics. When picking wooden feet for furniture, there are two options. First, you could choose the same style as the sofa. This will make the feet look like a natural extension of the sofa. Try and select the same color. Or, even match the wood they use if that is an option.
Alternatively, you can use them to add some style. This doesn't have to be in the same color or design as your sofa. Instead, use them as statement pieces. They will draw the eye and ensure that you impress guests with your décor.
Once you know what height you need and what style you want, it's time to get searching. Knowing these answers will help narrow down your search. By understanding what you're looking for, you'll save yourself a lot of time!
What is the best wood for furniture legs?
When buying wood for furniture legs, keep in mind strength and flexibility. Both of these are qualities that wood needs. Although some woods are very strong, they are hard to work with. Similarly, a wood that is too flexible will not be durable enough for legs.
You want woods that strike a balance between these qualities. Woods like maple, mahogany, walnut, and eucalyptus are all good ideas. These have enough strength to be durable and enough flexibility to shape.
Although, with furniture feet, strength is more important than flexibility. This allows you to be a little more free with your choices.
Conclusion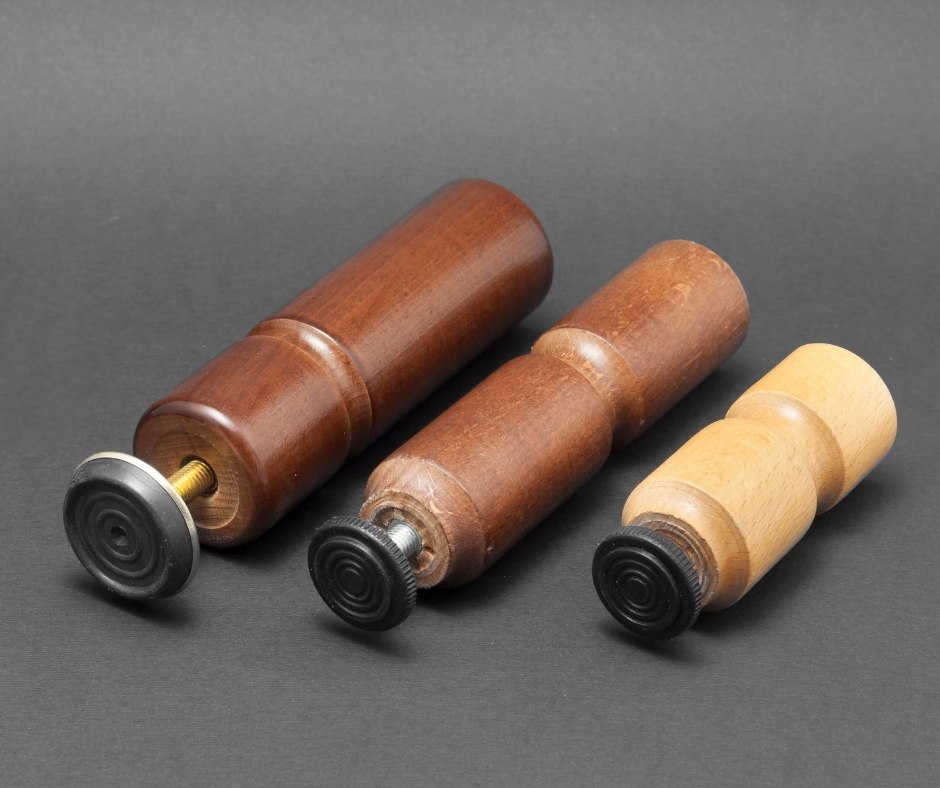 Each of the entries to this list are fantastic wooden feet for furniture. Depending on what you're looking for, this list will point you in the right direction. Once you've established what you want, take a look at each category. We're sure you'll find a set of feet that you'll love. Best of luck looking!