A dirty sofa is unsightly, but it's not just that; it's unhealthy. Apart from being a breeding ground for bacteria, the dust that accumulates on your furniture also contains traces of lead, zinc, mercury, and other harmful elements. Cleaning your upholstery regularly is necessary; however, sometimes you need to go beyond vacuum cleaning. This is when a water-based upholstery cleaner is necessary.
Why do we need a water-based upholstery cleaner? Well, this type of upholstery cleaner is better at tackling stains and dirt. They also work better on more delicate materials, such as cotton. Many of the ingredients in them are non-toxic, which is always a plus.
Today, we're taking a look at the top five water-based upholstery cleaners this year. These five products stand out for their great value, quality, and effectiveness.
Our top choice is Mohawk's awesome fabric cleaner, perfect for taking care of spot stains and deep cleaning.
In This Article We'll Discuss
5 Best Water Based Upholstery Cleaners
---
5 Best Water Based Upholstery Cleaners
---
Best Overall
Product Details:
Type: Spray Bottle
Includes: Fabric Cleaner
The Best Upholstery Cleaner Your Money Can Buy.
Is your upholstery looking a little dingy? Got some stains you can't get rid of? It's time to give it a good cleaning. Mohawk Fabric Cleaner is just what you need! It's a water-based formula that won't leave residue in the fibers of your upholstery, so it's safe for use on all types of fabrics. Treat your upholstery to a deep cleaning today.
No matter what the upholstery is, Mohawk Upholstery/Fabric Cleaner will clean and condition it without leaving a sticky residue that attracts dust, dirt, and allergens. This water-based solution is a non-toxic alternative to commercial cleaners with bleach. This makes it safe for use at home. It's also made right here in the USA by Mohawk, adhering to strict US safety standards.
The gently, water-based formula loosens dirt while leaving your furniture's natural appearance intact. Perfect for all-around use anywhere in the home.
---
Best Plant Based
Product Details:
Type: Bottle
Includes: All Purpose Cleaner
The all-purpose cleaner that goes a long way.
Biokleen Natural All Purpose Cleaner is a safe, plant-based, non-toxic cleaning solution that works hard without harsh fumes or vapors. This earth-friendly formula contains no artificial fragrance, colors, or preservatives and it's completely safe for kids and pets. Biokleen All Purpose Cleaner effectively cleans surfaces in kitchens, bathrooms, basements, and garages.
Protecting the environment is a big deal for Biokleen. That's why it has never tested its products on animals and maintains the strictest standards for safe, sustainable cleaning products. In addition, Biokleen is also committed to making sure that its packaging is 100% recyclable and biodegradable; so you can do your part.
Biokleen All Purpose Cleaner is safe to use on all surfaces in your home, including stainless steel, granite, ceramic tile, glass shower doors, and fiberglass tubs. The plant-derived formula can be used for everyday cleaning and disinfecting around the home while also being gentle enough for use in the kitchen and on fine china, upholstery, or other delicate items.
---
Best for Pet Owners
Product Details:
Type: Spray Bottle
Includes: Fabric Spray
Say Goodbye To Bad Smells With Angry Orange.
Sick of cleaning up the mess after your pet? Can't shake the doggy smell from your couch? Angry Orange has got you covered! The Angry Orange Pet Odor Eliminator is the most effective, easy-to-use, non-toxic, pet odor eliminator on the market. Gone are the days of urine smell and bad odors.
Angry Orange Pet Odor Eliminator for Home is a super-concentrated formula that eliminates odors and stains caused by your pet. The specially designed formula works to eliminate urine smell, fecal matter, vomit, pet food, animal waste, and much more. This handy pet odor eliminator for home is a ready-to-use product that has twice the deodorizing power of most leading brands. It's safe to use on carpets and any fabric and it's safe around children and pets.
This easy-to-use spray works by breaking up the molecular bonds that hold these odors together so they can be absorbed rather than masking them with perfumes. Pet owners love Angry Orange because it doesn't just mask bad odors, it eliminates them!
---
Most Affordable
Product Details:
Type: Spray Bottle
Includes: Fabric Cleaner
The Best Choice For Those On A Budget.
Cleaning is one of the most time-consuming tasks in an apartment. The best way to save yourself time and energy is to invest in an easy-to-use, non-abrasive cleaner that lifts stains without damaging your furniture. ForceField Fabric Cleaner is a great product for area rugs, carpet, and upholstery, couches, and chairs. This cleaning spray is affordable, easy to use, and all-natural. It effectively lifts stains from fabrics like carpets, rugs, and couches as well as leaving a pleasant fresh scent to your home.
ForceField Fabric Cleaner is a professional strength fabric cleaner that delivers great results at a fraction of the cost. ForceField Fabric Cleaner is strong enough to tackle everyday messes but gentle enough for delicate fabrics.
---
Best Cleaning Kit
Product Details:
Type: Complete Kit
Includes: Fabric Shampoo, Spray Bottle, and Brush
Everything You Need To Keep Your Upholstery Looking Great.
Make your life a little bit easier with this Carpet and Upholstery Cleaning Kit. This kit comes with a brush and a spare bottle, making it easier for you to clean stains without compromising quality.
The brush attaches directly to any drill, allowing you to clean carpets faster and more effectively than ever before. You'll be impressed with how well it gets stains out of carpets and even rugs — no more elbow grease necessary.
This carpet cleaning kit is complete with everything you need to clean and restore your car's carpet and upholstery. The Carpet & Upholstery Cleaning Kit includes a bottle of high-quality fabric shampoo, a drill brush, and an applicator bottle. Use the spray bottle to apply the formula deep into carpet fibers, then agitate with the foam brush to loosen dirt and stains from deep within the carpet. The advanced foaming action quickly lifts stains away while cleaning agents work hard to remove dirt, oil, grease, and grime.
The extra-large bottle has a trigger sprayer, so you can easily spray out tough stains without needing to lift off the nozzle every few seconds. With this kit, you'll be able to clean all of your carpets and upholstery, so they look as good as new.
---
Buying Guide
---
Having the right cleaner for your upholstery is one of the most important things when it comes to properly caring for your furniture.
Whether you have leather, fabric, vinyl, or microfiber upholstery, picking the best upholstery cleaner is important.
What Is The Best Upholstery Cleaner For A Couch?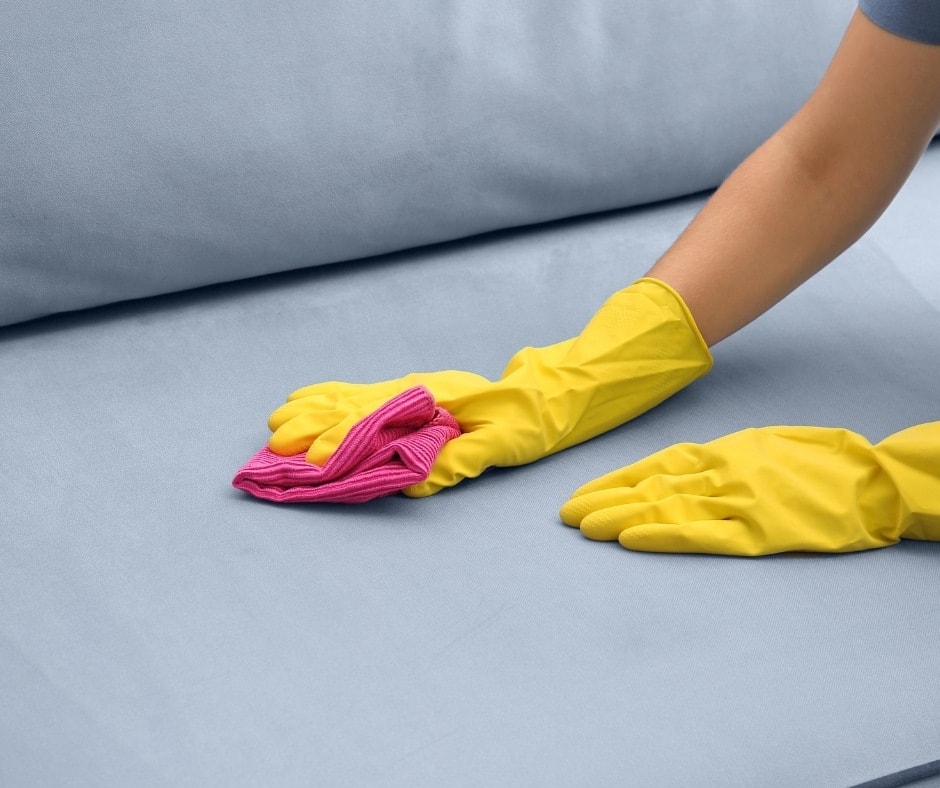 The best upholstery cleaner for a couch depends on the fabric of the couch. For example, leather requires a different type of cleaner than a microfiber couch does.
For leather, look for cleaners that are made specifically for leather, which can be found at many home improvement stores and online.
For an all-around fabric cleaner, we recommend Mohawk's powerful cleaning action.
How To Use Upholstery Cleaner On A Carpet
Read the manufacturers instructions on the upholstery cleaner packaging.
Remove excess dirt, grime, and stains from the upholstery with water and a cloth first.
Use a damp rag to remove as much of the stain as possible from the carpet without using any cleaning product. This will remove any surface dirt and may help break down the stain.
Work in small sections, applying the cleaner to one section at a time.
Leave the cleaner on for the required time, repeating if necessary.
Are Water-Based Upholstery Cleaning Products Safe?
We get a lot of questions in regards to the safety of water-based upholstery cleaning products. I understand why people are concerned; after all, these products are designed to clean dirty furniture. However, water-based products are much safer than their solvent-based counterparts.
Water-based products are less harsh than solvent-based products, so they won't leave behind any harmful residues on your upholstery. These products are also much safer to breathe in than solvent-based ones.
Conclusion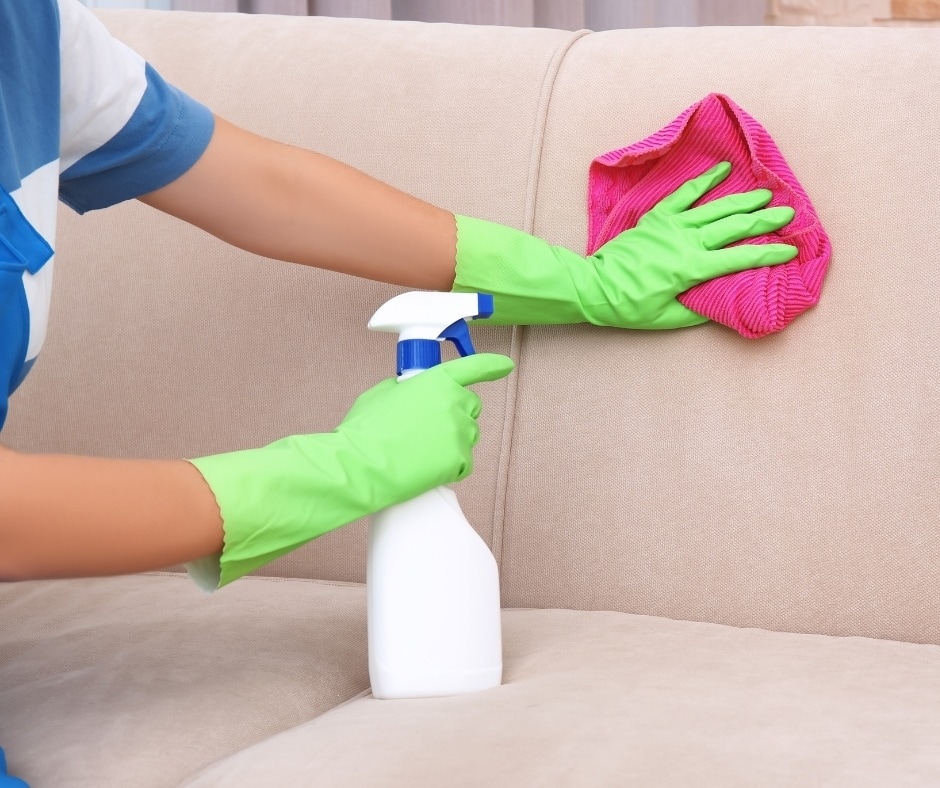 If you're looking for a safer and more eco-friendly cleaning option, you'll definitely find it on this list. Water-based upholstery cleaners are great for families with kids or pets since they don't contain any harsh chemicals and often do an excellent job of cleaning.
If you've got a piece of upholstery that needs cleaning, you can never go wrong with a water-based cleaner like Mohawk's — it's safe for homes that have pets or kids, is environmentally friendly, and won't compromise your favorite fabric.