Digital clocks are the most prevalent type of clock in our society right now, but there is also a place in the home or office for the traditional clock. A digital reading provides fast time readings, and wall clocks come in a variety of styles utilizing a minute hand, hour hand and second hand. While some places still use traditional clocks with hands as the main timepiece, we've learned to rely heavily on the digital type.
If you're adding a wall clock to your home or office, then you probably want to be able to tell the time. This is also a piece that functions for aesthetic purposes. With styles of clocks ranging from modern metal versions to shabby chic, there is something for every room. You can even find character and themed clocks for children's rooms.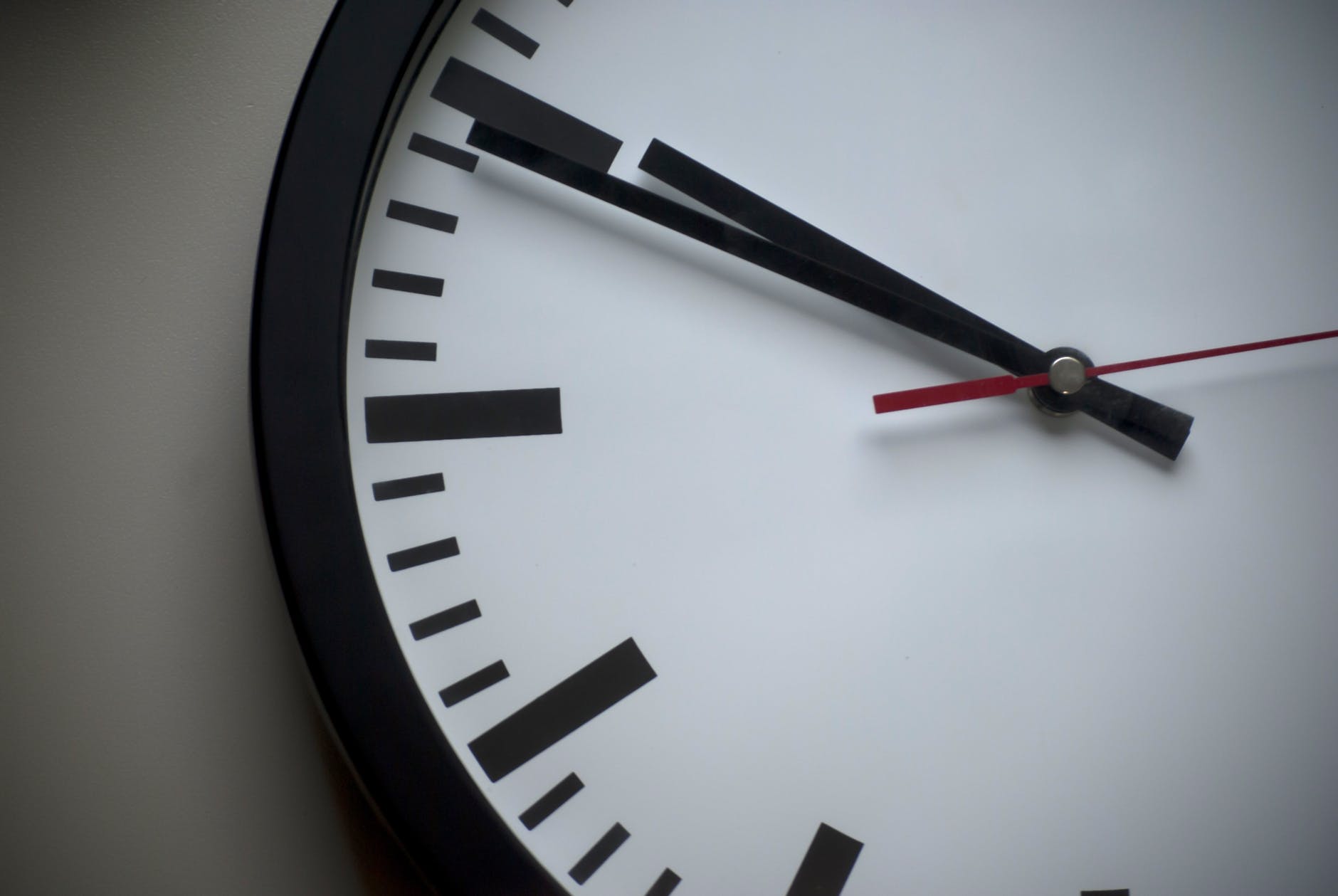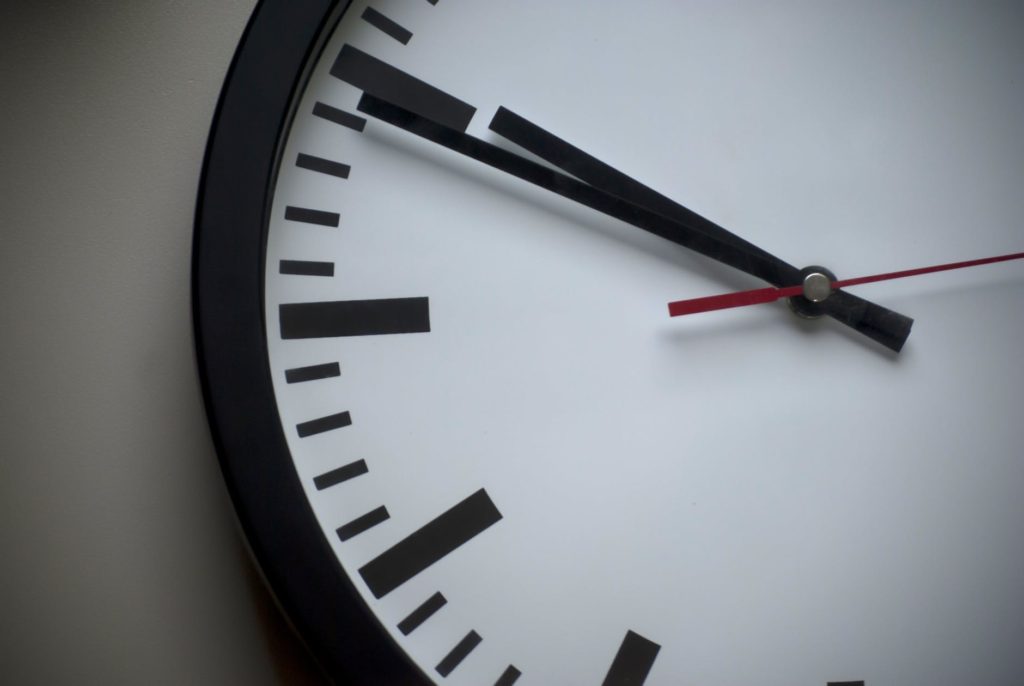 If you're looking for a traditional version of clock, you might want to opt for a cuckoo clock or pendulum clock. A neon wall clock is much more modern, and a neon version will add light to a room. Battery powered and wind-up clocks are still quite popular. Digital versions can provide the date and temperature as well. You might not find all of these options in a local store, but you can turn to the internet for a large variety. The internet is a great place to start if you're looking for collector's items. Some people collect Elvis Presley clocks, and don't forget the old school Felix the Cat clock with the moving eyes.
Smart clocks have hit the market, allowing you to view additional information besides the time. These clocks adjust themselves according to Daylight Savings Time. This prevents you from having to make the change yourself.
In This Article We'll Discuss
All You Need to Know About Wall Clocks
Power Source
While some clocks are still on the market that require you to wind them for ongoing power, the majority of clocks run off of batteries or electricity. Depending on where you are going to be hanging your clock, you'll want to think about the necessary power source. A plug-in clock will work fine, but you'll want to make sure that you an electrical outlet nearby for this version. A battery-powered clock won't require an outlet. Plan on changing the batteries every so often.
Additional Features and Requirements
Many smart clocks have features that you may or may not want. There may be an attached piece that you can place outside. This will allow an outside temperature to be displayed on your clock. You can find clocks that will display multiple times for multiple locations in the world according to time zone. You can set a clock to military time if it allows. Make sure that you know all of the different features that your clock of choice will provide you with.
Digital VS Classic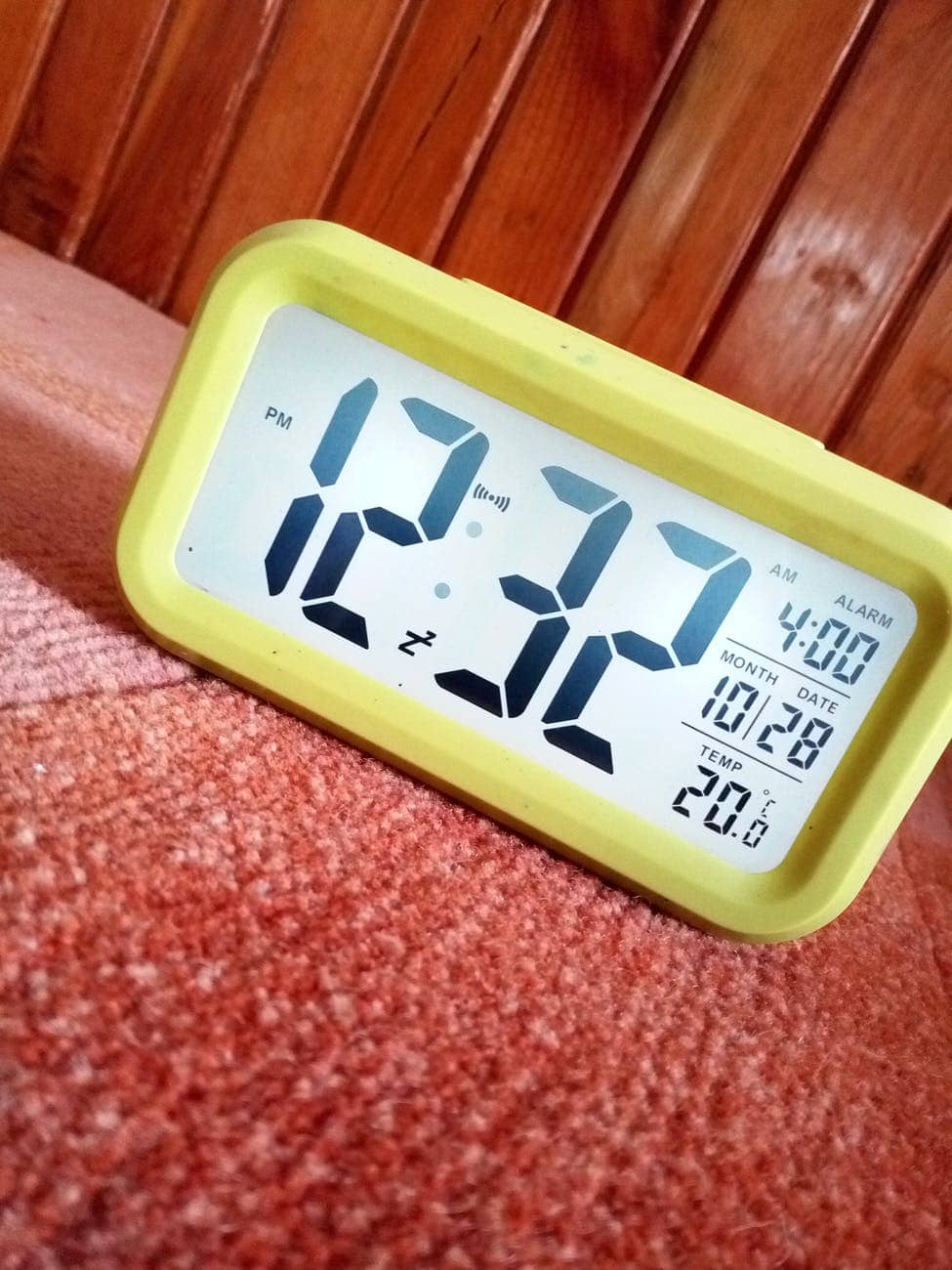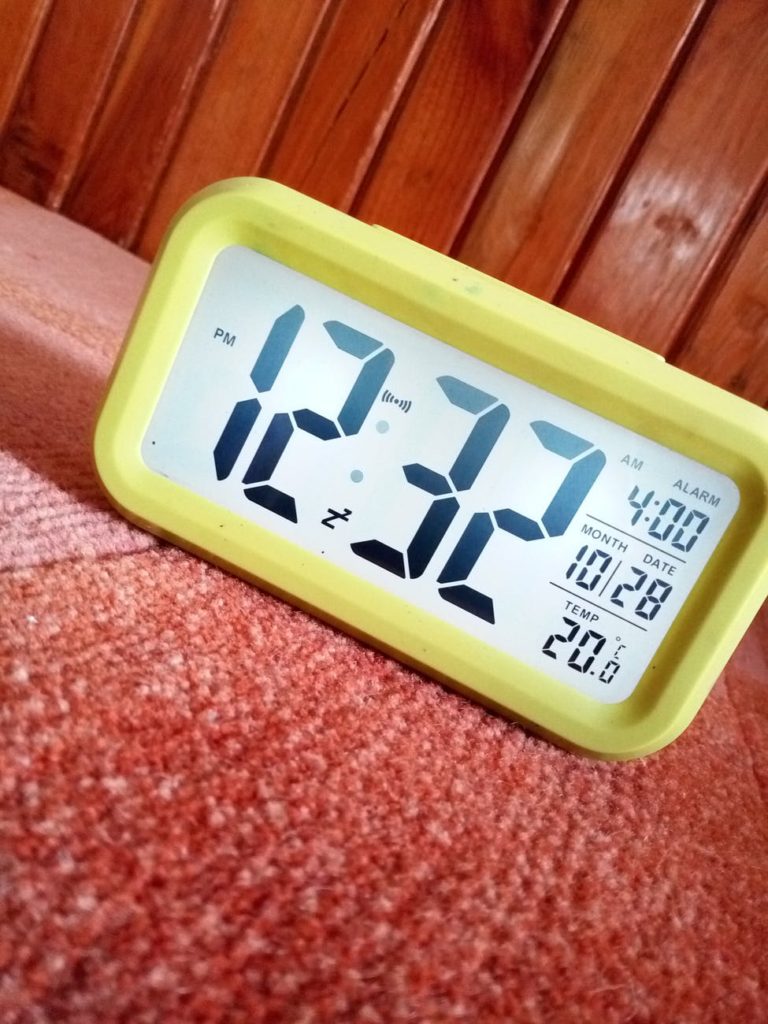 Depending on the type of look that you're going for, you'll need to choose between a digital clock and a traditional clock with hands. If you have a very modern room that is in need of a clock, you might want to opt for a digital variety. A more traditional version looks good in a farmhouse or traditionally decorated home.
Let's take a closer look at the some of the best wall clocks on the market right now.
This is a clock that is perfect for people with impaired vision. The clock itself is 10 inches with a high resolution display. You can clearly see the time, what point in the day it is, the day of the week, the month and full date. Everything is cleared spelled out without the use of abbreviations.
This is a great clock option for people with Alzheimer's disease, memory loss, dementia or vision issues.
Key Features
Five different multi-function alarms come programmed into this wall clock. You can use these alarms to program reminders for taking medication, eating a meal, etc.
Power
This clock plugs into the wall, but there is an option for a battery backup. The correct day and time will be retained with the backup function. You'll also retain your programmed alarms.
Pros
-Comes with a full 1-year unlimited warranty.
-You have 30 days to return the product if you are not happy with your purchase.
-Great customer service support.
Cons
-The backup battery cannot be replaced. It is a chargeable battery that is installed into the unit.
This hito clock is designed specifically with peace and quiet in mind. The arms move in a completely silent manner, as well as the second hand. This is the perfect clock for pretty much any room in the home. You can choose from a couple of different styles. The colorful clock comes with white hands and numbers. The white clock features black hands and numbers. There is also a glass front cover to protect the entire clock.
Key Features
Power
This hito clock runs efficiently off of one AA battery that is not included. One battery will last for approximately one full year.
Pros
-A very accurate clock.
-Completely silent.
-Modern design that works in a kitchen, living room, bedroom and office.
Cons
-Some consumers found that the life expectancy of the clock was not very long.
This is a really simple and unique clock design that fits into all kinds of décor. There is a wall-mounted style. There is also a desktop version that will compliment the wall clock. You can also use it as your primary time source. A number of different colors are available as well.
Key Features
Designed to look like a piece of art in your home, this is a completely silent timepiece that is functional yet practical. The clock is made from artificial leather material without any glass. It's a great option to have in a home with children.
Power
This clock is battery powered with minimal battery expenses. One battery will last you about one year before needing to be replaced.
Pros
-Lightweight design at 0.4 pounds.
-You can hang it on the wall using double-sided tape or a removable adhesive tab.
-Unique and stylish design.
Cons
-The surface of the clock is a bit porous. Not recommended for use in a kitchen or bathroom. Humidity levels are high in these areas.
-The leather material is adhered to a foam backing.

This is a very large LED clock that has large numbers that can be seen from across the room. It's a great option for a large office space where many people need to see the information. The visibility range is over 200 feet.
Key Features
Displays current indoor temperature, date, and day of the week. You can choose from a variety of colors that include red, blue, green and white. Free Amazon product support is provided if you need any help once you have received the product.
Power
Runs off of a 9-foot power adapter. It comes with its own cord storage. You can pack the clock away with ease.
Pros
-Features 5.5 inch digits on the face.
-Comes with a comprehensive manual.
Cons
-This is a very practical design for commercial or office use. It isn't as attractive in a residential setting.

This large wall clock is 13 inches in diameter. The numbers are very big and bulged out over the main surface. The contrast between the black face and white numbers makes it very easy to read.
Key Features
The design of this clock is very quiet. You won't hear any ticking thanks to precise quartz movements, making it ideal for any room in the home or office. It is very accurate with a quiet sweeping second hand. A plastic hook is included for installation. You don't have to drill into your wall or make any permanent changes.
Power
This Plumeet clock is powered by battery. It is very fast to install and hang on the wall.
Pros
-Comes with a full satisfaction guarantee.
-You have 90 days to return the clock for a full refund or replacement.
-A 365 day guarantee is in place for defective parts.
Cons
-Some consumers complained that the hands started to make noise after a few months of use.

This is a 14-inch clock made by La Crosse Technology. With a plastic frame, this is a very lightweight product that you can install just about anywhere. Its simple design makes it preferable for an office setting.
Key Features
The time is set automatically thanks to a radio signal to the automic clock. You'll get the hours, minutes and seconds for four different United States time zones. It even adjusts on its own when Daylight Savings rolls around.
Power
This clock runs off of 1 AA alkaline battery that is not included. There is a battery compartment that provides even longer power life.
Pros
-Contrasting colors makes the face of this clock very easy to read.
-Lightweight and very simple to install.
-It will check its time at 6 different points during the day to make sure it is accurate.
-Comes with a 1-year warranty.
Cons
-Very simple design.
-Does not come in different colors or styles.
This is a great design of wall clock that will fit into kitchens, living rooms, bedrooms and offices. It is completely silent thanks to precise quartz sweep movement technology. The rose gold frame is very sleek. The solid plastic design keeps it looking great for years to come. There are also a number of other styles to choose from.
Key Features
Extremely large numbers makes this Foxtop clock very easy to read even from across the room. There is a front glass overlay that keeps the face clean and protected. It's very easy to wipe off from time to time.
Power
-One AA battery is required to run this clock, but the battery is not included in the purchase. Install the plus side of your battery into the clock first.
Pros
-Comes with a hook for hanging. A slot in the back of the clock doesn't require you to do any drilling or to use any adhesives.
-Full satisfaction guarantee is provided. Simply contact the seller directly.
Cons
-Will not work with Alkaline batteries. Carbon zinc must be used.
This DreamSky clock comes in four different colors / styles. It has a 10-inch face with basic dials. It does not tick and a quiet sweep second hand allows this clock to be used even in a bedroom or office space. The numbers are printed on the clock in 3D fashion, making it even easier to view the time from far away.
Key Features
The clock base is made from solid plastic, rather than the common foam or cardboard. It will hold up well in a variety of climates and environments. A traditional black on white design is featured. There is also a black on wood design, a black on white design with a blue edge and a black on white design with a pink edge.
Power
Powered by 1 AA battery that is not included. The clock is designed to provide long lasting battery life.
Pros
-A 30-day no hassle return policy is provided with the purchase.
-A 12-month replacement warranty is in effect for any damaged parts.
-Simple but stylish design.
Cons
-Though it is advertised as being very quiet, some consumers found that this clock became noisy with frequent use.
This is a very affordable clock that comes in different sizes, with multiple packs offered. Large and black numbers are very bold against the clean white backing. It uses precise quartz movements for very accurate time keeping.
Key Features
A solid plastic frame is covered by a durable glass cover. You can use this clock in a living room, kitchen, bathroom or office. Second hands provides additional clarity of the time.
Power
Powered by 1 AA battery that is not included. Install the plus side of your battery first.
Pros
-Easy to hang.
-Multiple packs provide you with an affordable option for office use.
-Easy to clean and maintain.
Cons
-Some consumers reported that the clock will run a bit slow, even with a fresh battery installed.