Need to reupholster damaged or outdated furniture? For this, you need to get your hands on a good upholstery tool kit.
To help you with your search, we have reviewed 5 of the top-selling upholstery tools in the market. Topping the list is the C.S. Osborne 12pc. B-7 Professional Upholstery Tool Kit, which has everything you need for your project. Made with high-quality materials, these tools are great for DIYers and experts alike.
In This Article We'll Discuss
5 Best Upholstery Tool Kits
---
5 Best Upholstery Tool Kits
Best Upholstery Tools and Supplies For Various Jobs
Comes with 12 items, including:
Bronze Magnetic Tack Hammer
Gooseneck Webbing Stretcher
Square Point Knife
Perfect for light to heavy-duty upholstery projects, this high-quality kit is a good investment for a beginner or a professional upholsterer.
Despite its name, this 12-piece tool kit is not only for experts as it can also be used by those taking their first step on upholstering a chair or sofa. That's because it comes with all the supplies you will ever need for furniture and crafts projects. With the detailed instruction manual, even a newbie can complete a basic DIY job with ease.
The professionally boxed kit includes a webbing stretcher to attach new or tighten existing webbing, a white rubber mallet to help strip staples, and an upholstery regulator to help smoothen out fabric irregularities.
The kit also comes with a ripping chisel, staple lifter, square point knife, 2 needle cards, 10-inch shears, 3-inch upholstery pins, and a white Taylor chalk.
---
Most Affordable Upholstery Tools
Includes 7 upholstery tools, including:
No. 201 Tack Claw
Curved Needle
Upholstery Pins
Ideal for a beginner or a hobbyist who wants to save money, this starter kit offers quality basic supplies suitable for many DIY projects.
If you don't have the budget to pay for expensive upholstery project supplies, you don't have to worry. With this beginners' upholstering kit, you'll get everything you need for a fraction of the price.
While it only comes with 7 tools (compared to the previous kit's 12), it has all the essential equipment to help new upholsterers. These include a magnetic hammer that'll help you hammer staples (or lift a tack). There's also the important webbing stretcher to help apply the needed tension for stapling.
The kit also comes with 2 curved needles. One is specially made for slip-stitching cushions, while the other is for attaching outer fabric, box edges, seat work, and edge rolls.
Add to that, the kit also includes one straight needle to help you work your way through batting or foam.
---
Best for Repairing Upholstery Tears and Fabric Rips
The 29-piece repair kit includes:
9 pcs. leather stitching needles
8 pcs. upholstery thread cord
7 pcs. leather sewing needles
Repairing upholstery projects is now easier with this complete 29-pack kit from Ovlort.
Whether you're a DIY or a professional upholsterer, you're sure to benefit a lot from this 29-piece kit.
Compared to other tools, the Ovlort kit comes with a variety of sewing needles. From blunted to sharp – and triangular to pointed – the selection is more than enough to help you sew a wide range of projects with ease.
Another advantage of this kit is that it features 8 rolls of leather threads. That way, upholsterers can sew threads that blend well with different furniture colors.
As well as that, the kit also includes a stitching awl, thread unpicker, measuring tape, sewing thimble, and yarn scissors.
Perfect for most upholstery projects, this kit is a one-stop shop for fixing canvas, tarpaulins, carpets, umbrellas, sofas, chairs, tents, mattresses, and coats. Given its low price, this kit is definitely worth your money.
---
Best for Leather Upholstery and Furniture
This 26-piece crafting kit includes:
Adjustable stitch groover
Needle set for repairs
Frosted strip
Hand sewing leather has never been more effortless, many thanks to this 26-piece kit from the Plantional Store.
Thinking of embarking on a leathercraft project? Whether you want to reupholster shoes, belts, or clothes, you will need the help of Plantional's handy 26-piece upholstery toolset.
Compared to other kits, this set has everything you need for basic leathercraft. This all one one kit comes with a leather stitch punch, beeswax, a sewing awl, a wool dauber, finger cots, and a thimble.
Apart from being an essential part of a leatherworker's toolkit, this easy-to-use kit is surprisingly durable. These upholstery tools, including the prong punch, are made from steel and wood. It's specially designed to resist impact and wear, which means you can easily use them for the years to come. Given its affordable price, this makes for a good deal for every leather-loving customer.
---
Best Tools for Repairing Upholstery Furniture Tacks
The 5-piece kit includes the following:
Rubber mallet
Tack puller
Nose plier
While repairing each tack is no easy task, you can make the job more manageable with the help of these Keadic tools.
If you're a dedicated upholsterer, then you'll probably know that it's not enough to just have a tool kit. You also need something to help you repair every tack – which the Keadic set is perfect for.
Although inexpensive, this 5-piece set is made from high-quality materials. Its soft mallet hammer, for one, is made with polyurethane for good elasticity and impeccable abrasion resistance. On the other hand, the plier is made with thickened chrome for durability and wear and tear.
Unlike other tools, the Keadic staple remover is made with magnetic material. This makes jammed metallic tacks easier to loosen. With its curved-handle design, you can pull tacks out without exerting much effort.
Apart from being highly functional, Keadic tools are also very ergonomic. Given their state-of-the-art design, they can keep your hands from cramping or becoming sore – even if you use them for a long time!
And while Keadic tools are specially made for tack repairs, this doesn't mean that you can't use them for other tasks. Truly versatile, you can use it to fix furniture upholstery and create decorative DIY projects as well.
---
Buying Guide
---
What should I look for when buying an upholstery tool kit?
Ideally, you need to search for a complete set – just like the C.S. Osborne 12-piece kit.
This kit comes with all the quality tools an upholsterer like you may need, such as:
Bronze magnetic hammer to hammer items or lift tacks
Gooseneck webbing stretcher to apply the tension needed for stapling
Staple lifter to remove staples without frame damage
Ripping chisel to pry stripping fabric
Square point knife for small cutting jobs
White rubber mallet to hammer tack strips without causing damage
Light regulator for detailing piping or moving stuffing around
Needle cards to assist with hand sewing
Shears to cut fabric or upholstery
Upholstery pins to hold fabric for hand or machine sewing
Tailor chalk to mark furniture
These are some of the essential tools that all upholsterers will need for practical upholstery projects.
Are there any other tools you will need to purchase for upholstery that are not included in the tool kits?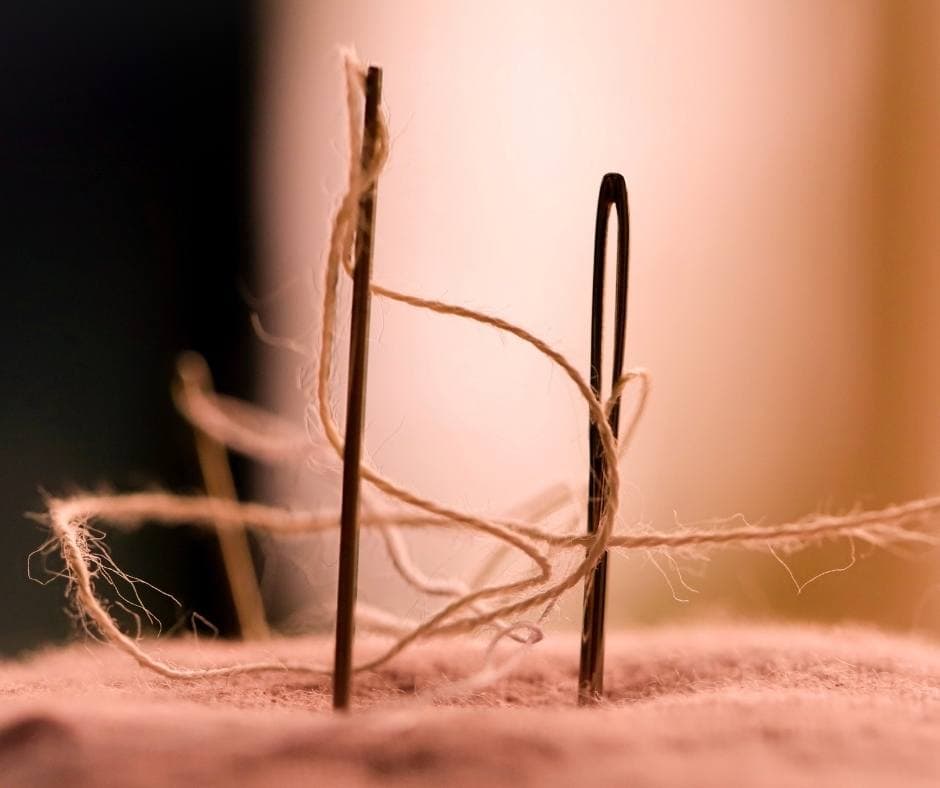 Although kits such as the C.S. Osborne 12-piece set comes with everything you need, you may need to buy additional tools for specific projects.
For example, if you need to repair tears and rips, you will need some of the tools found in the Ovlort set. This set includes a variety of repair needles, including:
Straight needle for sofas, canvas, or car seats
Sail needles for tarpaulin or Venetian blinds
Carpet needles for heavy cloth
Sack needles for bags, hampers, or sacks
Glover's needles for leather and fur
Curved needle for mattresses
Add to that, this kit also comes with stitch needles, upholstery thread cords, a stitching awl, hook awl, yarn scissors, measuring tape, and a thimble.
Should you buy a full upholstery tool kit or just one for a specific job?
We think it's better to pay for a full upholstery kit. While it will cost more money up front than say, buying just one item, the vast array of tools will help you save a lot in the long run.
The B-7 professional set, for one, comes with 12 items that will set you back at about $17.50 per tool. Buying a good magnetic tack hammer alone will cost you about $40.
Having a complete set of tools also serves as a good investment. If you need to fix furniture in the future, you already have the items you need to hand.
Conclusion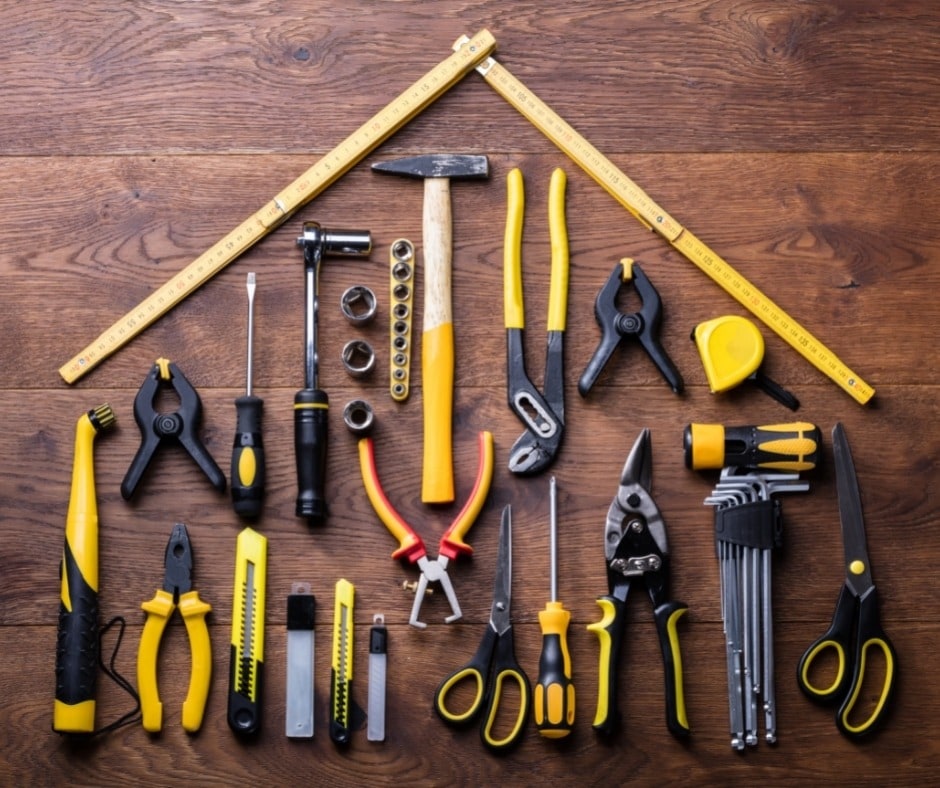 Upholstery tools are vital for repairing leather goods, your favorite chair, and your other expensive furniture. But instead of going to a professional upholsterer, you can do the job yourself with the help of complete tool kits.
When it comes to picking one, your best choice proves to be the C.S. Osborne 12-piece kit. It has everything you need for upholstering furniture, making it an excellent choice for beginners and experts alike.