A relaxing TV recliner can be a welcoming addition to your home after a long day at work. The best TV chairs are considerably more comfortable than regular chairs. We've spent the past two weeks putting the best TV chairs through their paces, so you don't have to.
Short on time? Opt for the Homall recliner, our top pick when it comes to comfort and style. Check out the Esright massage recliner if you need a little more assistance when sitting or standing.
In This Article We'll Discuss
10 Best TV Chairs for Adults
---
10 Best TV Chairs for Adults
Most Affordable Recliner
Product Details:
Maximum weight capacity: 265lbs
Material: PU leather
Colors: Black, red, beige, brown, and grey
The Homall reigns supreme: a true all-rounder you'll be proud to own.
The Homall Recliner ticks all of our checkboxes, scooping our top spot. This chair has it all when it comes to comfort, style, and affordability.
Numerous features, such as the ultra-thick padding, make it incredibly comfortable. But it's the attention to detail that sets it apart from other cheap TV chairs for adults. Its rounded armrests are ideal for comfortably getting out of the chair, for example.
Multiple sitting postures are supported by this TV recliner. You can sit up straight or recline to take a quick nap. A rising footrest increases the comfort of the chair. The best part, you only pay a fraction of the price compared to most of its competitors.
---
Best Bean Bag
Product Details:
Material: microsuede
Cushioning: shredded memory foam
Machine washable cover: yes
Who needs a chair? This Chill Sack bean bag is comfortable and easy on the wallet.
Sometimes watching TV is even more comfortable on a bean bag chair. Often likened to sitting on a cloud, the comfort offered by the Chill Sack is suitable for late nights in front of the screen watching your favorite movie, documentary, or sports game.
With a size of 60 x 60 x 34 inches, this bean bag chair is among the most versatile large seat designs you can find, ideal for watching TV or playing video games.
When it comes to comfort, upright chairs simply don't compete against a bean bag.
However, they do have their downsides and would not be suitable for the elderly or those with mobility issues.
---
Best for Elderly and Disabled Users
Product Details:
Functions: massage, heating, and swivel
Material: leather
Rocking chair design
The Esright is perfect for those who need an extra helping hand.
Seniors can also benefit from some of the most supportive TV lounge chairs, thanks to this model. Esright's TV chair features a heating function and a comfortable design and an easy-access lever for a comfortable recline.
This recliner for watching TV is also ideal for the elderly who may struggle to get up from a usual chair, thanks to its elevated height. It features built-in cup holders seniors can appreciate as practical and a comfortable accessory for watching TV.
---
Best for Contemporary Home
Product Details:
Material: soft fabric
Legs: solid wood
Design: tufted button
Mix up your style with the Canmov Elizabeth Chair.
The Canmov chair for watching TV comes with a unique design that works nicely with contemporary furniture.
Ideal for modern homes, it can be the recliner to choose when you value style and comfort. Its most significant advantage is that it looks like an armchair. But it reclines, and it also comes with a footrest to offer the right chair for stylishly watching TV.
This feature means it won't stand out like a sore thumb in your home like some bulky recliners. Suave and understated, your guests will be pleasantly surprised when they find out the Canmov can recline.
---
Best TV Chair With Ottoman
Product Details:
Functions: swivel, massage, and recline
Accessories: Ottoman
Material: soft leather
Put your feet up with the Mcombo recliner, complete with an ottoman.
A TV chair with an ottoman is another solid option when it comes to providing ultimate comfort. The ottoman acts as a soft, comfortable support for your legs. Of course, this chair can be used both with and without the ottoman, but these two pieces together are responsible for incredible comfort
If that wasn't good enough, the Mcombo also benefits from a massage function with 8 intensity levels, perfect for using at the end of a busy day.
---
Best Fabric Design
Product Details:
TV chair weight: 95lbs
Color: neutral grey
Rocker feature: yes
Experience a soft embrace with the Ashley Altari's comfortable fabric upholstery.
Leather isn't for everyone, especially if you live in warmer climates. This is where the Ashley TV recliner truly shines.
Made with a neutral aesthetic in mind, this chair definitely won't overtake your living room. It benefits from a soft fabric cover that is an ideal leather replacement. Thick cushioning and a responsive seating system make it the perfect addition to your living area when fabric is your preferred upholstery.
---
Best Swiveler
Product Details:
Warranty: 1 year
Material: microfiber upholstery
Cushioning: foam
Recreate the ultimate Bond villain with the Revenna swivel chair, perfect for movie nights.
A TV chair that swivels boasts the ultimate in convenience. The Ravenna features a versatile design that allows you to easily move to reach for the TV remote, for a magazine, or to get a drink without getting out of the chair.
This TV recliner also features foam padding, which means its comfortable support naturally follows the contours of your body for a relaxing sitting experience.
We are big fans of swivel chairs because of their convenience. We are sure you will too!
---
Best Bohemian Style
Product Details:
Maximum weight capacity: 200lbs
TV chair weight: 29lbs
Functions: swivel
Go boho with this beautiful bohemian-style TV chair.
If you're looking for a TV chair with a unique flair, this may be your perfect match.
The OSP Home Furnishings offers its Papasan chair in multiple colors so that you can easily match it to your living room's furniture. We think this TV chair lends itself for use in a conservatory or sunroom, where its wicker base adds an elegant touch.
The best feature is that this chair features a 360-degree swivel for extra convenience.
---
Best Modern Style
Product Details:
Colors: blue, red, and grey
Maximum weight capacity: 500lbs
Frame: steel
Going for a modern vibe? The HollyHome will make the perfect addition to your room.
If you need a rugged TV chair for heavy adults, you need one with a high weight capacity. HollyHome offers this fabric TV chair that supports up to 500lbs, ideal for heavier folks.
Fashionable and functional, this TV chair also comes with a hugging design for the ultimate comfort. Shaped to cradle the user, it can be the TV chair you can sleep in for late nights spent in front of the screen.
---
Best Contemporary With Ottoman
Product Details:
Materials: Leather and fabric
Accessories: Ottoman
Colors: brown, dark blue, ivory, grey, light blue, light purple, and natural
Take relaxing seriously with the Christopher Knight recliner plus ottoman combo.
The Alfred club chair is elegant and stylish, not to mention overwhelmingly comfortable. If that wasn't enough, the matching ottoman helps you effortlessly up your relaxation game.
The studded back and soft upholstery make this chair a real crowd-pleaser, especially those who prefer a more contemporary vibe.
Not only is this chair great for watching TV, but it's ideal for getting lost in a book too.
---
Buying Guide
---
Looking for a TV chair but don't know where to start? Let us help.
What To Look For In A Chair For Watching TV?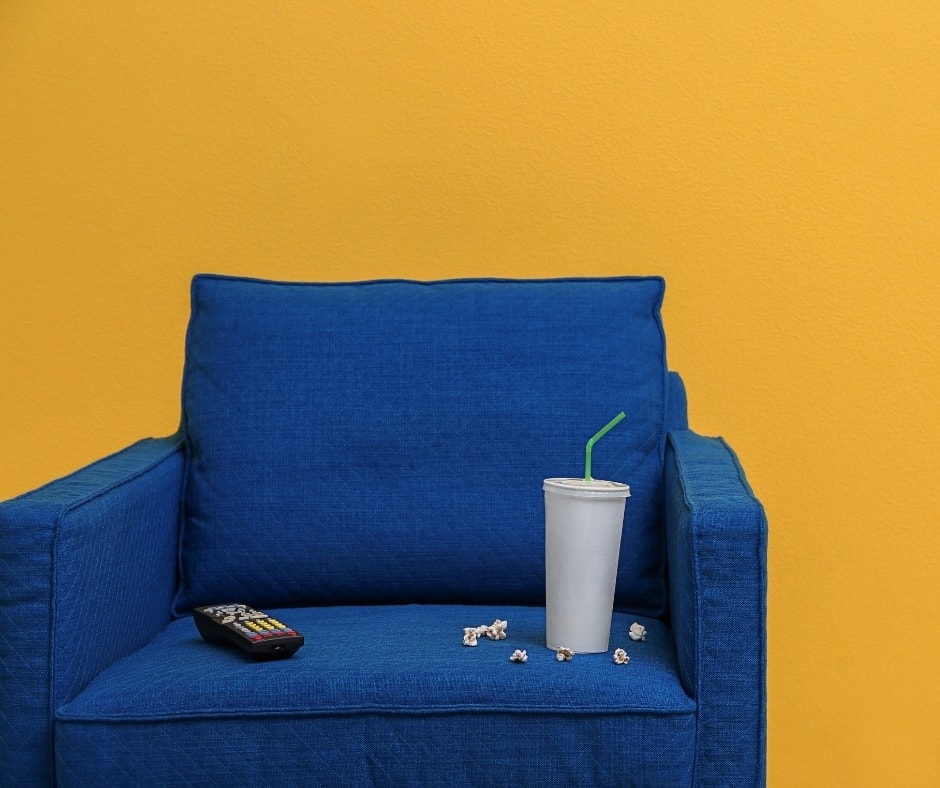 Here's what to look for in your next TV chair.
Maximum Weight Capacity
You should always check your TV chair's maximum weight capacity to ensure its fit for purpose. Most brands list their maximum weight capacity on the product description page, so it's easy to spot which ones will and won't work for your circumstances.
Cushioning
There are 2 common types of cushioning used in modern TV chairs. These are foam and sponge cushioning, and each comes with its own pros and cons.
Foam is ideal for a bit more support, while sponge can be the better choice for breathability. However, both materials need to be soft for the ultimate sitting comfort.
Materials
The cover (or upholstery) material of TV chairs is also important. Fabric, faux leather, and real leather are your main options. Genuine leather is the most expensive option. Faux leather can look just as good but at a fraction of the price. Fabric TV chairs are ideal in hot weather or warm climates where poor chair breathability considerably reduces comfort.
Design
Which TV chair is right for you? Design is entirely a personal choice. One thing to keep in mind is that you need to consider other furniture items to ensure your new TV chair doesn't look out of place.
From the classic leather TV chair to the modern tufted backrest TV chair, there are plenty of options to consider.
Extra Features
Do you need your TV chair to come with a massage function? Or do you prefer your TV chair to offer a heating function instead?
It's up to you to decide which of these features works best for your needs. The massage function of a TV chair typically comes with different vibration intensity levels. You can easily switch from one massage mode to another, typically through an easy-reach wired remote control. At the same time, the heating function should also come with different intensity levels. You might prefer extra heat on cold winter nights.
Extra features are great to have but tend to come at an additional cost.
---
FAQ
---
How Far Away From A TV Should A Chair Be?
If you want to make the most of your new TV chair, you need to place it at an appropriate distance.
There isn't a set rule for this measurement. However, most experts agree that you need to sit at a distance of at least 1.5 times the diagonal of your TV.
A TV chair for a 70″ TV should sit at least 105″ away from the screen.
How To Get Comfortable In A Chair While Watching TV
You can get comfortable watching TV by slightly reclining your backrest to around 110 degrees. This allows you to sit a bit back compared to upright 90-degree sitting.
If you're fortunate enough to have a recliner with heat or massage, switch those on to ramp up the relaxation.
Conclusion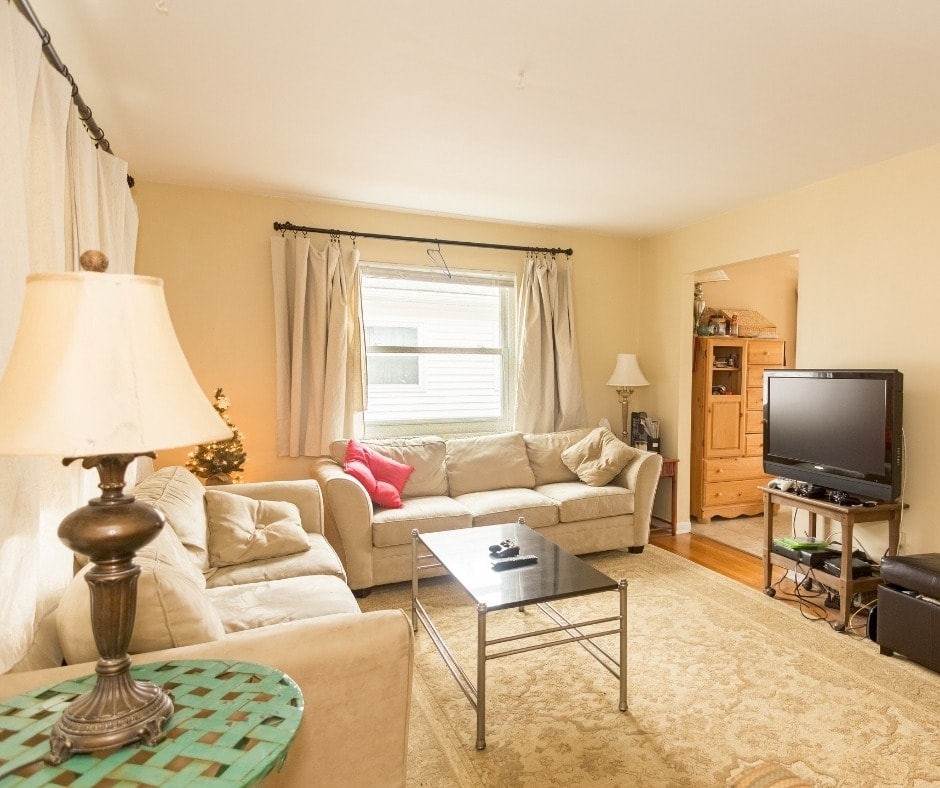 Investing in a TV chair is a wise choice. Add up how much time each week you spend sitting in front of the TV, and you'll quickly see why a comfortable chair is needed.
We love the Homall because of its comfortable upholstery and versatile design that works with most design choices. If you're looking for something that does the job and doesn't break the bank, why not consider a Chill Sack Bean Bag Chair?