A swivel recliner chair makes for an excellent addition to a living room. After all, who doesn't like to kick back and relax as you indulge in a power nap or simply watch a movie?
If you're in the market for a swivel rocker recliner, you can't go far wrong with our top pick from Esright. This massage recliner is packed with comfortable heat and massage features while being an eco-friendly option at the same time.
If you're working with smaller spaces, check out the ANJ Swivel Recliner Rocker Chair, ideal for your RV or motor home.
In This Article We'll Discuss
Best Swivel Recliners Reviews
Best Rated Swivel Recliner Chair
If you're looking for the best swivel recliner for your home, you don't need to look any further. With the Esright chair, you can recline, relax, and so much more!
Its indulgent levels of comfort make it hard to leave this chair. After all, it comes with a soft padded back and a plush seat cushion thickness. It's also very spacious, given its generous seat width of 22 inches.
With a recline of 140 degrees, this chair is perfect for power napping. It also features a rocking feature as well as a 360-degree swivel for ultimate convenience.
This chair is ideal if you suffer from back pain, thanks to this swivel chair's heat and massage functions. To operate, simply switch them on with the convenient remote control to try any of the chairs 8 vibration options.
More than just being relaxing, the Esright recliner is perfect for entertainment too. For one, this chair comes with two cup holders. That way, you don't get to spill your drink as you recline to watch the game or indulge in a movie.
This chair is also effortless to assemble. It comes with an illustrative manual and, even better, doesn't require any screws for assembly.
To top it all off, the Esright reclining chair has an earth-friendly design! Made with CARB-certified materials, it does its part for the planet while it works its magic on you.
Swivel Recliner Features & Dimensions: 32 1/3″ W x 26 3/4″ D x 40 1/5″ H
Recliner Weight capacity: 300 lbs
Colors: Gray
Materials used: CARB-certified frame, Thick sponge back and seat cushions, Soft fabric cover
Most Comfortable Leather Swivel Recliner Chair
If you're looking for a leather swivel recliner for your living room, go for the Abbots chair. Compared to similar leather recliners, it's a lot kinder on the wallet. But make no mistake, that does not mean it is lacking in other departments.
One of its more popular features is its soothing massage function. Simply select your preferred intensity using the accompanying remote, and hey presto! As it also comes with comforting heat, this low-height recliner can soothe aches and pains in your lower back as well.
Like the Esright recliner chair, the Abbotts recliner also comes with a rocker and swivel function. Better still, with its ball-bearing mechanism, it can smoothly rotate to provide a full 360 degrees view.
Despite its affordable price point, this low-height leather recliner doesn't cut corners on comfort. After all, it makes use of dense cushions that don't flatten, even after repeated use. With its firm seats, it can provide advanced lumbar support. This also keeps you very comfortable, whether you're seated or reclined.
The Abbott leather recliner is perfect for entertainment, too, as it comes complete with two cup holders and side storage compartments.
Swivel Recliner Dimensions: 32.5" W x 32" D x 29.5″ H
Recliner Weight capacity: 300 lbs
Shades: Brown, Black
Materials used: Wood frame, High-density back and seat foam, Soft faux leather upholstery
La-Z-Boy Pinnacle Recliner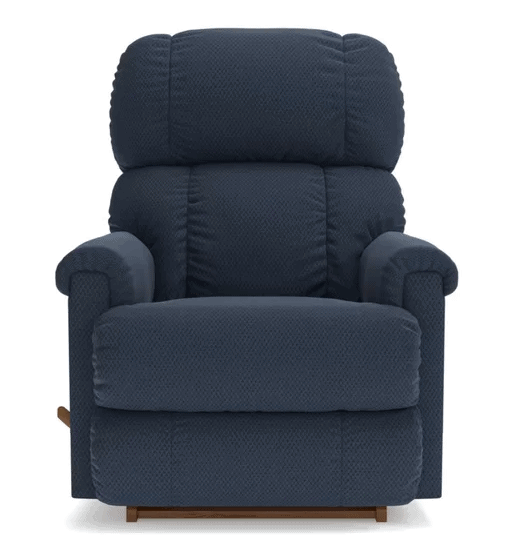 The Pinnacle is the most comfortable rocker recliner for those of us who just need the basics.
Most Comfortable La-Z-Boy Rocker Reclining Chair
If you are a fan of La-Z-Boy rocker recliners, then the Pinnacle model is perfect for you. The most significant selling point is obviously the reputation of the company, which is synonymous with manufacturing high-quality recliner chairs.
As with most La-Z-Boy recliner chairs, this is made with a sturdy wooden frame. It also has a comfortable coil spring seat for optimum lumbar support. With its perfect seating height and seat depth, it can help to promote good posture.
Unlike most recliners, the Pinnacle is upholstered with polyester. As such, this chair is incredibly durable. Not to mention, polyester is easy to clean, meaning you can take care of any stains or spills. These features make it ideal for a home with young children or one where it will be used frequently.
Unlike the Esright, the La-Z-Boy recliner is only limited to a rocking feature. While this is a dealbreaker for some, the Pinnacle makes up for this with its wall-hugging design. Compared to other recliners, it only needs a 5-inch clearance in your living room for a full recline.
Swivel Recliner Dimensions: 33" W x 38.5" D x 42" H
Recliner Max capacity: 300 lbs
Color options: 12 shades available!
Materials used: Manufactured wood, Coil spring seat, and back, Soft polyester upholstery
Best Bonded Leather Swivel Rocker Recliner with Back Massage
Some recliners forgo aesthetics for comfort, but that's certainly not the case with the Mecor chair. With its bonded leather covering, it can work to make your living room and home look elegant.
Its classic design aside, it also comes with a useful feature: massage. It has 8-point nodes and a heated function that can help relieve lower back pain.
The extra features don't stop there, as it also comes with a smooth swivel motion. This makes it perfect for entertainment or home theater. For added convenience, it comes with two drink holders and additional storage compartments.
Unlike some of the other recliners we reviewed, this comfortable chair is straightforward to assemble. In fact, all you need to do is slip the two arms into the base to complete the assembly.
As for comfort, this swivel chair can recline to up to 160 degrees with the help of its built-in footrest. The degree of decline makes it a top performer compared to some of the others we tested. This feature makes it perfect for people who can't resist sneaking in a nap on their beloved recliner.
Just watch out for the bonded leather, which doesn't have the longest of life spans.
Swivel Recliner Dimensions: 33.5″W x 33″D x 41″ H
Recliner Weight capacity: 330 lbs
Shades: Brown, Black
Materials used: Wood base, Soft padded back, and seat cushions, Bonded leather upholstery
Best Swivel Recliner Chair with Heat and Back Massage
If you're looking for a swivel recliner with soothing heat and massage functions, we have just the chair for you. The Despain comes with an excellent smooth rocking and swiveling mechanism, comfortable faux leather, and convenient side pockets.
While the massage function is common in many of the recliners we tested, we think there's something a little special about this one. Not only are there a ton of different modes, but there's also a convenient timer to switch off the chair in case it lulls you to sleep.
Apart from being very easy to use, this swivel recliner comes with an easy assembly design. This means you can set the recliner up in a matter of minutes.
Despite its welcomed extras, it holds true to its purpose – and that is providing the ultimate when it comes to comfort. Made with soft foam cushions, it offers generous lumbar support, whether in a seated position or in decline.
The Despain recliner comes with an adjustable headrest and footrest, giving it a max recline of 160 degrees. This makes it the perfect leather recliner for power napping.
Despain also comes with a taller seat height compared to most recliners. As such, taller individuals may find the Despain a little more comfortable to use.
Swivel Recliner Dimensions: 34" W x 37" D x 41" H
Swivel Recliner Max capacity: 300 lbs
Colors: Brown, Black
Materials used: Wood frame base, Soft seat back foam cushions, PU leather cover
Best Recliner and Swivel Glider Chair for Small Spaces
Have a tiny living room? Fear not, as you can still get your hands on swivel recliner chairs, despite your lack of space. The best choice for such areas is the Rowe swivel rocker. With its space-saving footrest design, you can use it in even the tiniest of rooms.
Although it's smaller than most recliners, it does come with many welcome additions. It can swivel and glide, thanks to its smooth reclining mechanism. However, it can't rock like the Mecor swivel recliner.
One potential downside is because of its compact design, it comes with a lower capacity (250 pounds).
Despite its drawbacks, the Rowe reclining swivel chair comes with a one-year warranty. It's also CAL 117 compliant. As such, it less flammable than most low-height recliners. This, along with the compact size, makes it an ideal choice for RVs and motor homes.
Swivel Recliner Dimensions: 22.5" W x 32" D x 33" H
Swivel Recliner Weight capacity: 250 lbs
Shades: Beige, Dark Gray, Gray
Materials used: Wood base frame, Soft cushions, Linen upholstery
Best Swivel Recliner and Rocker Chair for the RV
RVs and campers, while convenient, naturally require some sacrifices. Despite this, there's no reason why you cant still be comfortable in your trailer. Opting for a specifically designed recliner, such as the ANJ chair, you can recline in complete comfort. One of the biggest benefits of the ANY is that you can rock and swivel around your small RV too!
Another great thing about this swivel chair is that it is easily adjustable. From an upright 90 degrees for reading, it can flatten to an indulgent 150-degree recline. All you need to do is pull up the footrest to achieve a reclined position for lumbar support.
To cover any issues and for added peace of mind, the ANJ swivel chair has a one-year limited warranty. This covers damages to the reclining mechanism, frame, and cover.
Swivel Recliner Dimensions: 28″W x 30.3″D x 42″H
Swivel Recliner Max capacity: 300 lbs
Shades: Silver, Smoke Gray
Materials used: Metal base frame, Soft and thick seat back cushions, Textile
Best Swivel Rocker Recliners for the Nursery
New mothers (and fathers) among us will understand the importance of having a comfortable chair for nursing and feeding. It's also a great idea to purchase a recliner with a rocker, which will help lull your baby to sleep. If you're on the lookout for one, then take a look at the Neoma swivel recliner.
Made with a sturdy wooden frame, this recliner is durable for many years of use. Its swivel and rocker mechanisms run smoothly too. This is incredibly important, as you don't have to worry about waking the baby as you rock the chair.
Comfort-wise, you can recline in a relaxing 150-degree position, with added support provided by the leg rest. Cramps and stiff muscles are all too common when feeding a baby, but this chair really looks to change this.
This swivel recliner chair is effortless to clean as well, many thanks to its microfiber covering, which is another reason why it's great for small children. With a simple damp cloth, you can wipe away any mess, spills, or stains with ease.
Swivel Recliner Dimensions: 31.25" W x 37.5" D x 38.25" H
Swivel Recliner Weight capacity: 250 lbs
Shades: Navy Blue, Charcoal, Slate
Materials used: Plywood base frame, Polyurethane back and seat foam, Microfiber
Best Swivel Glider Recliner for Short Person
If you're on the shorter side, you may have a hard time shopping for swivel recliners. Too big, and the chair you're sitting in can quickly give you that sinking feeling. Good thing, there's the Naomi Home Odelia swivel glider recliner to save the day.
For one, this chair has a soft foam for immense back comfort. Although it does not come with an adjustable headrest, the footrest can be adjusted to suit the perfect position. The Naomi supports a recline of up to 150 degrees, perfect for reclining for a quick nap.
The chair is also effortlessly quiet thanks to its ball-bearing reclining mechanism. This makes it ideal for a nursery so as not to disturb the baby.
The swivel recliner is simple to assemble too, in fact, the chair comes with all the tools you need. With just a little DIY know-how, you can set this up in your home in just a few minutes.
Swivel Recliner Dimensions: 30″ W x 37″ D x 41.80″ H
Swivel Recliner Max capacity: N/A
Colors: Bright White, Cream, Gray, Mocha
Materials used: Heavy duty metal base frame, Spring core back and seat foam, Microfiber
Best Oversized Swivel Recliner Leather
Oversized swivel recliners are unbeatable when it comes to comfort. So if you want to feel as if you're sitting on a bed of marshmallow, then go for the Furniwell recliner. With its accommodating head and leg rest, you can recline up to 140 degrees smoothly.
Apart from providing immense comfort, this swivel recliner features many extras as well. Not only does it rock and swivel, but it also comes with massage and heat. You can even time these two functions as needed.
Great for home entertainment, this swivel recliner has drink holders too. With its built-in storage, you can keep your remote control and consoles within easy reach.
This chair was also one of the easiest we assembled. Simply attach the backrest, and you're all done!
Swivel Recliner Dimensions: 34″ W x 35″ D x 42″ H
Swivel Recliner Weight capacity: N/A
Shades: Brown, Black
Materials used: Metal base frame, Padded seat and back cushion, PU leather
Best Zero Gravity Design Swivel Rocker Recliner
If you want an out of this world experience in the comfort of your own home, opt for the Cortez swivel recliner. With its zero-gravity feature, it can suspend your body in a neutral position. Zero gravity works to help take the weight off your joints and muscles, helping you achieve full-body support and unparalleled comfort.
And when not reclining, you can use this recliner for rocking and swiveling to a full 360 degrees, allowing you to take complete control.
While its extra features are great, its construction is even better. Although this recliner doesn't have a power lift, it has a sturdy wood frame and durable masonry. This helps to support a max capacity of a whopping 500 pounds!
Swivel Recliner Dimensions: 40″ W x 39″ D x 43″ H
Swivel Recliner Max capacity: ~500 pounds
Colors: Steel, Merlot, Sand
Materials used: Wood frame, Mortise & tenon joints, Comfort cradle back & seat cushions, Soft PU look leather
Best Swivel Rocker Recliner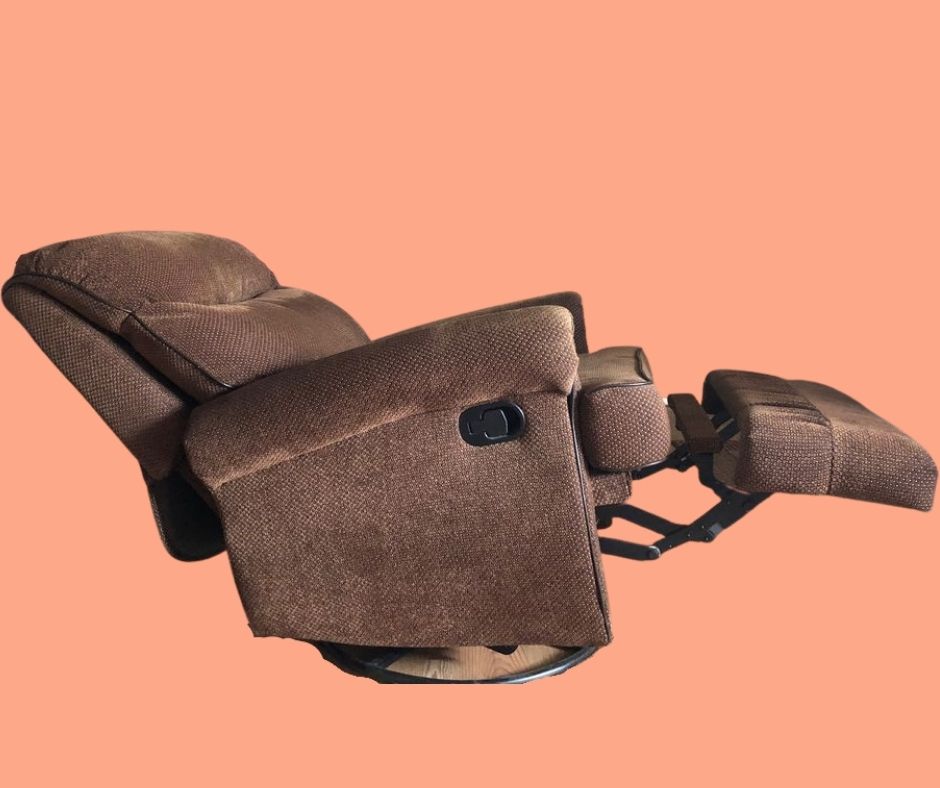 How To Determine The Best Recliner Chairs For You
Consider the following when looking for a swivel glider chair recliner:
Recliner Location
First, determine where you'd like to put your swivel rocker recliner.
If your home is spacious enough, you have complete freedom of choice and could go for any design type. However, if you have a smaller area, you may need to consider a wall-hugging recliner chair. An excellent example of this is the Rowe glider recliner.
Recliner Base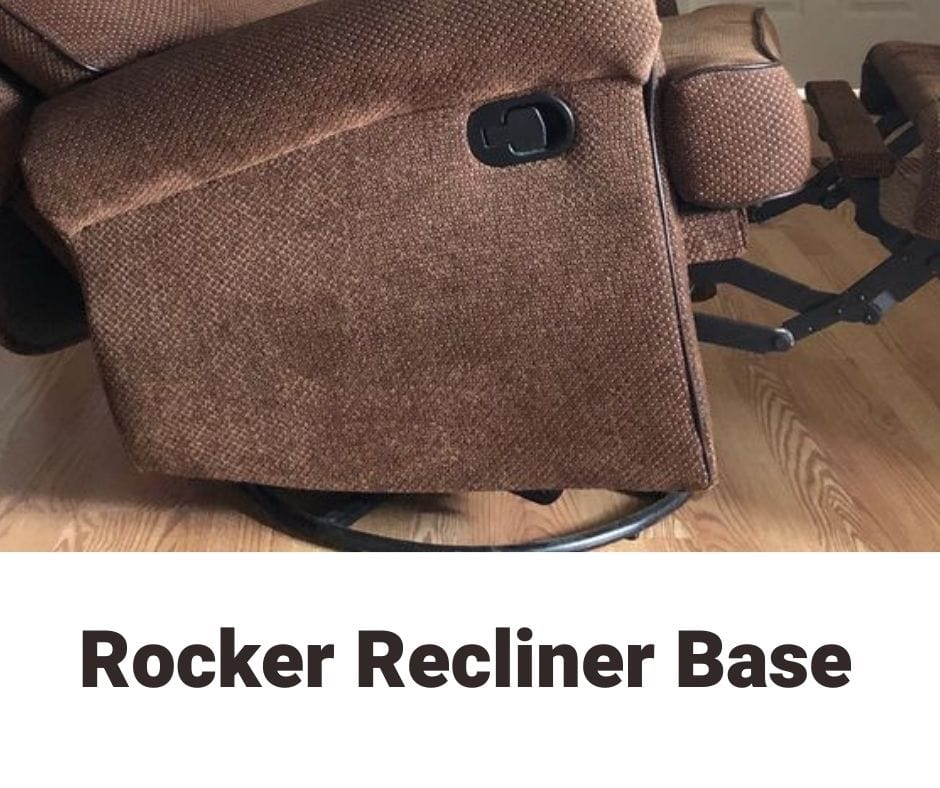 The next thing you need to look at is the swivel recliner base. A swivel recliner, for example, can rotate any which way you want. Rocker recliners, on the other hand, go in a back and forth movement.
For the best of both worlds, opt for a swivel rocker recliner chair that combines these functions.
Recliner Construction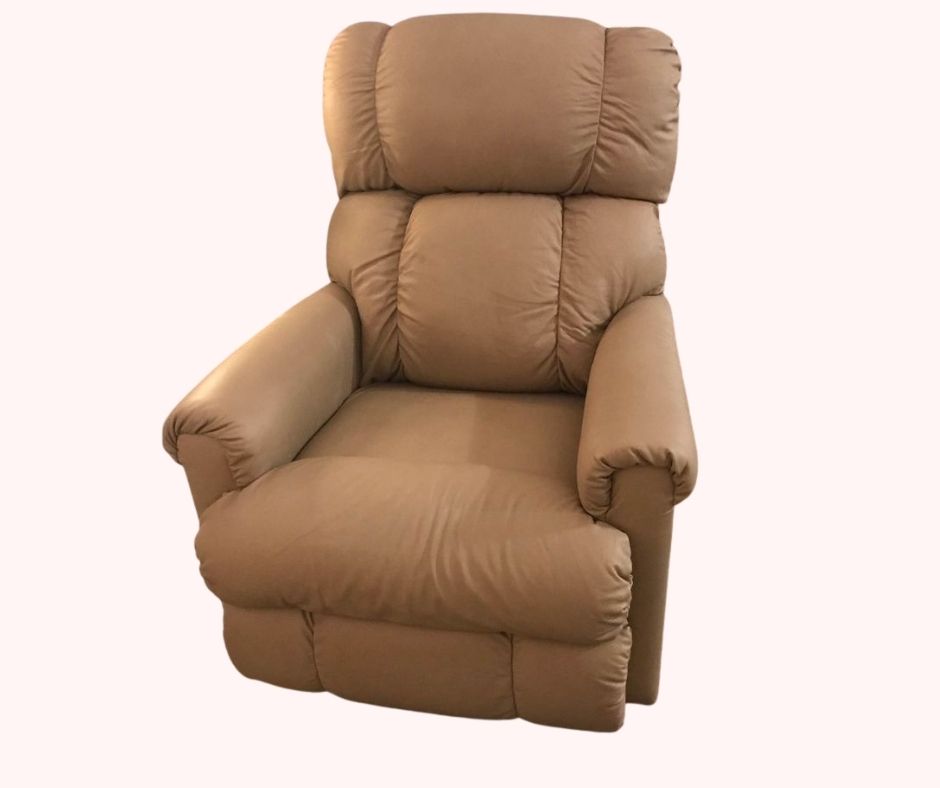 Hands down, the most important factor in determining how long your recliner will last is how well it is constructed. For something that will truly stand the test of time, pick a chair with a sturdy wooden frame. The best materials include kiln-dried wood and hardwood. A cheap yet sturdy option is engineered wood, which is used in the Pinnacle recliner chair.
As for the joints, your swivel recliner should have Mortise & tenon joints. This is seen in the sturdy Cortez chair. Dowels, corner blocks, or screws help promote durability as well.
Recliner Comfort and Support
Recliner chairs are usually made with foam cushions. High-density foam, which is seen in the Abbott recliner, maintains its form well. It is quite firm, though, so if you want something softer, go for low to medium-density foam.
Another option for a soft seating experience in your swivel recliner is feather or down. While these are very plush, they can make the recliner expensive.
Polyester, which is seen in the Pinnacle recliner, is a smooth and bouncy option. However, a polyester recliner can lose shape over time.
Apart from the cushion, you also need to check for good support construction. Make sure to pick a recliner chair made with a hand-tied spring system. Another option is coil steel springs, which are used in the Pinnacle swivel recliner.
Recliner Upholstery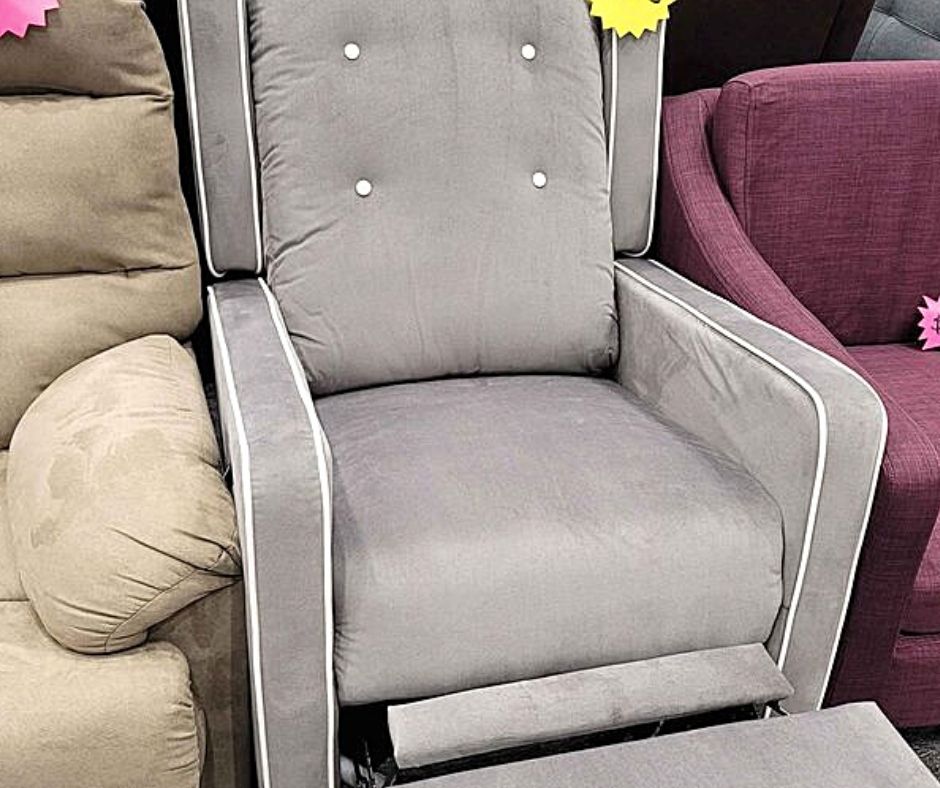 Recliner chairs are made with different fabrics.
Faux leather recliners are very popular, mainly because they're cheap. Just like genuine leather, they're durable and effortless to clean. When purchasing recliner chairs, try to avoid bonded leather. This mix of leather and plastic can only last for about 2 to 3 years.
Microfiber is another good option for your swivel recliner. Seen in chairs such as the Neoma, it's soft, durable, and easy to clean.
A wool fabric upholstery recliner is best for cold climates due to its warmth and softness.
A linen fabric upholstery recliner, on the other hand, is known to be soft and smooth. Although this is the case, this material is durable and corrosion-resistant.
Recliner Extras
The best recliners come packed with features that can improve your seating experience. Some recliners are automatically-powered, which means there's no need to fumble around with levers. Reclining is as simple as flicking a switch.
Another feature to consider in swivel recliner chairs is a USB port for charging devices. Storage compartments like that of the Abbott recliner come in handy as well. For movie enthusiasts, it's good to have cup holders. This is a feature seen in the Esright recliner.
What Is A Recliner That Rocks And Swivels?
A swivel rocker recliner chair does what the name suggests. It reclines, rocks, and comes with an up to 360-degree swivel as well.
What Is The Best Recliner And Swivel Glider For Short People?
The best swivel glider recliner for petite persons is the Naomi chair. Catering those for as small as 5'3″, you can rest your head and, at the same time, plant your feet on the floor.
It also comes with extras such as a 360-degree swivel and a smooth gliding motion.
Can You Add A Swivel To Recliner Chairs?
As a matter of fact, you can, although you will need to be reasonably confident with DIY.
Check out this Youtube video if you're considering adding a swivel to a recliner chair.
Wrapping Up The Best Swivel Rocker Recliners
With the overwhelming choice of swivel rocker recliners in the market, the best choice proves to be the Esright chair. Complete with extra additions such as heat and back massage, it's a no brainer for helping you to relax at home.
Other recliners worthy of consideration include the Lane Home Cortez recliner. While it doesn't have massage and heat, it has a Zero Gravity configuration. This can make you feel very comfortable as this recliner can assume a neutral position.