When it comes to cleaning your sofa, there is nothing better than using the power of steam. A steam cleaner is very powerful and can kill up to 99.99% of germs. And since it doesn't use harmful chemicals, it's a safe way to clean your couch.
In This Article We'll Discuss
Looking For The Best Steam Cleaners for Upholstery and Sofas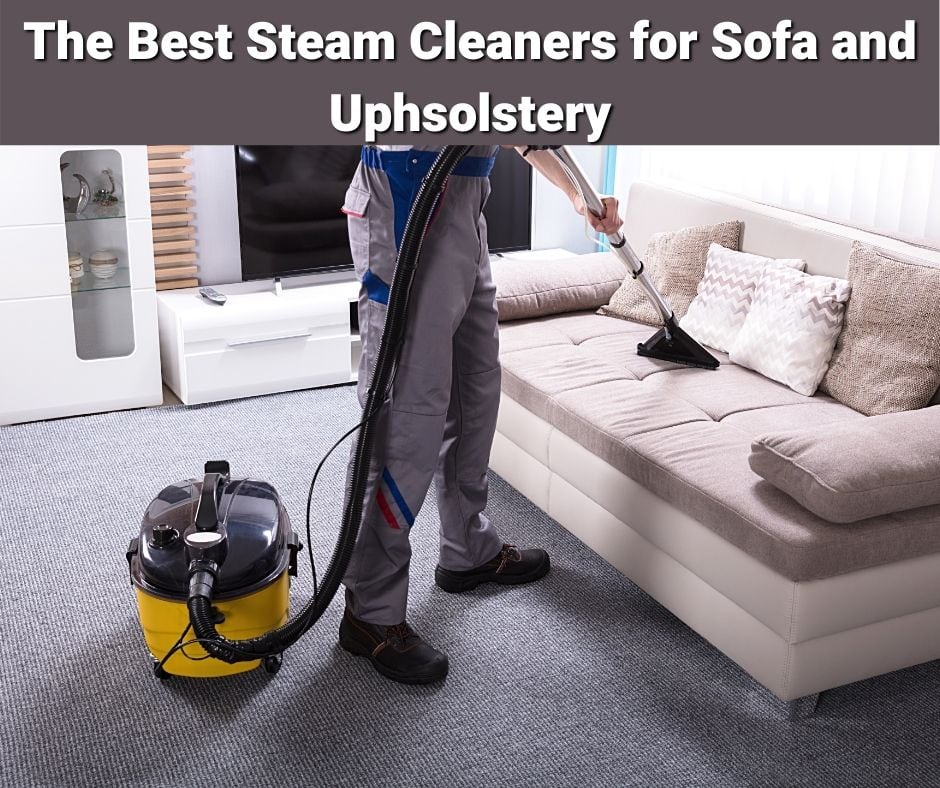 Over the past week, we've spot tested 10 of the top-selling steam cleaners, pitting them head to head to determine an ultimate victor.
If you're in a rush and looking for a top-rated cleaner and our favorite, opt for the SpotClean from Bissell.
Best Steam Cleaners For Sofas
Rating: 4.9/5 – Best Overall
If you're looking for a multi-purpose steam cleaner that can clean almost anything, then the Bissell 3624 is for you. For one, it does more than sanitize your sofa. This product also works on upholstery, stairs, carpets, and car interiors.
The Bissell 3624 cleans surfaces exceptionally well due to its powerful suction. If you have stubborn stains, attach the 3-inch 'tough stain tool' (or the 6-inch stair tool for hard to reach areas). With its large tank that holds 96 ounces of water, you can sanitize your sofa (and the rest of your home) in one go. No need for time-wasting refills!
Another useful feature in the Bissell 3624 apart is its exceptional scrubbing power. This feature is less common in other models but works to boost its cleaning power.
If you're an animal lover, you'll love the Bissell. Not only do its superior features help remove pet-related stains from your upholstery, but each sale supports the Bissell pet foundation and its mission to help save homeless pets.
More than deep-cleaning your sofa, it helps with immediate spot-cleaning as well. With its Pro Max Clean + Protect formula, there's no need to buy separate disinfectant. One liquid takes care of the job from start to finish.
Compared to other machines, it has an extra-long cord of 20 feet. Coupled with a 2-year warranty, the Bissell 3624 is one of the best steam cleaners on the market.
Rating: 4.7/5 – Best Budget Pick
Expensive does not always mean better. If you're working with a limited budget, then opt for this portable steam-cleaner by Bissell. Small but mighty, it can eliminate spots and stains without the steep price tag.
What it lacks in size, it makes up for with its powerful suction and spraying ability. With its 3-inch nozzle, it can help you clean your upholstery, rugs, car interiors, and stairs in a jiffy.
Weighing only 9.6 pounds, transporting this machine around your home is a breeze. The portability actually makes for faster cleaning – and more accessible storage too. Unlike bulky steam cleaners, you can keep this device under the sink or in a small closet.
Despite its compact size, it has a respectable tank capacity of 48 ounces. While this means more refilling breaks, the tank is simple to remove and top up.
This compact little cleaner is perfect for apartments or smaller spaces. It also comes backed by a Bissell 1-year limited warranty for added peace of mind.
Rating 4.6/5 – Best Sofa Steam Cleaner For Pets and Dogs
Although owning a pet is a beautiful experience, dealing with the inevitable mishaps and pet fur is one of the disadvantages. And we don't need to mention the 'doggy' smell that can sometimes seep into your sofa.
When living with a pet, spot-cleaning and vacuuming are not the best options. Not only are they time-consuming, but they're not always 100% effective. Instead, you need the steam cleaning prowess of the Bissell Pet Pro Portable Carpet Cleaner.
Designed for pets, this machine comes with a stain trapper tool that keeps dirt and mess out of the device. Even with its powerful suction, you don't have to worry about pet hair blocking the machine. It's also cordless, which keeps you and your pet safe from trips and accidents.
As for nasty stains and odors, the device comes with two bottles of its famed cleaning solution – 'The Pet Pro Oxy Urine eliminator.' This cleaning fluid makes light work of the most stubborn stains and odors.
Each sale also supports the BISSELL Pet Foundation, working to tackle the issue of homeless pets
Despite being tailor-made for pet owners, the Bissell Pet Pro is very versatile. With its 2-year limited warranty and 96-oz tank, it can be used for all manner of cleaning jobs. Be it carpet or upholstery, the Bissell SpotClean Pet Pro can sanitize them thoroughly.
Have you recently noticed dark spots on your sofa or mattress? Unfortunately, this is one sign that you're having a nasty case of bed bug infestation. While you have every right to panic, you don't need to call in the exterminator just yet. Fortunately, there's the McCulloch Steam Cleaner, which is every bed bug's worst nightmare.
This ultra-powerful steam cleaner can heat water to 200 degrees Fahrenheit in under 8 minutes. This temperature is effective at eradicating bed bugs and 99.9% of germs in the process. The 49-oz tank, although not the largest on our list, allows you to operate for 45 minutes at a time, which is enough for most homes.
Apart from eliminating critters, the McCulloch machine can also get other jobs done. It comes fully stocked with 18 different accessories for a variety of uses. Accessories include:
Steam Cleaner and Carrying Handle
19″ Extension Wands (2) and 12″ x 6″ Mop Head
Triangle Brush, Brass Utility Brush, and Nylon Utility Brushes (5)
Scrub Pad and Microfiber Pads (2)
Steam Jet Nozzle
8.5″ Squeegee
Water Funnel
Measuring Cup
The McCulloch comes with a 2-year hassle-free warranty and a US-based support team, so you can be confident that any issues can be resolved promptly.
Rating: 4.4/5 – Best Steam Cleaner for Microfiber
Microfiber is a popular fabric choice for modern sofas. Not only is it soft, but it is also durable and resistant to stains. While this material is easy to clean, it may harbor some nasties below the surface, invisible to the naked eye. In this case, you need a specialist cleaner to take care of any lurking germs.
The SF-370 comes with a 48-ounce tank that heats up within 8 minutes. With the help of its jet nozzle, it can help you generate 45 minutes of steam (continuous or on-demand). The steam penetrates the uppermost layers of the microfiber, taking care of stains and odors that may be buried deep in your upholstery.
The pressurized heat can kill up to 99.9% of germs, making this machine useful for all kinds of surfaces. Apart from Microfiber sofas, you can also use this on granite, wood flooring, and laminate, to name a few.
What's exceptional about this steam cleaner is that it comes with 15 additional accessories. These include squeegees, utility brushes, and brush tools to tackle most scenarios. With its 2-year warranty and US-based customer service team, any issues can be dealt with swiftly.
Rating: 4.3/5 – Best Hands-Free Steam Cleaner
Let's face it, given a choice, we all want to clean our sofas in the easiest way possible. If only there was a machine that could help us achieve this.
But wait, there is!
Presenting the SpotBot steam cleaner. With a 2-year limited warranty, it is one of the best hands-free steam cleaners in the market.
Simply set the cleaning cycle and push the button to start. Through carefully timed intervals, It does the spraying, brushing, and suctioning for you.
If you're using this on your carpet, you can actually set up the cleaner and get on with the rest of your day while the steamer works its magic. Although you will need to use the hose tool on your couch, its auto functions really take much of the hassle out of the process.
With its DeepReach technology, it can reach into the depts of the layers of your couch, achieving a professional-level clean. It can remove visible stains easily as well, many thanks to its gentle scrubbing action.
Want to get rid of unpleasant smells? This product comes with trial versions of Bissell's best-selling cleaning formula for pets. With this solution, you can easily remove vomit, urine, and even skunk odor!
Rating: 4.3/5 – Best Versatile Steam Cleaner
Looking for a machine that will work to clean all manner of surfaces and furniture around your home? Check out our best multi-purpose cleaning device, the Dupray Neat Steam Cleaner.
An incredibly powerful machine, it has a 54-ounce tank and a 7-minute heat up time. This allows you to tackle stains quickly after they happen, preventing them from settling and becoming harder to remove.
It can also produce low-moisture steam at higher temperatures (275F) for up to 50 minutes. This allows you to use on bigger areas such as cars and larger couches.
Its 2-meter steam hose is handy when it comes to accessing those hard to reach areas. With these features, it can deodorize and degrease all surfaces quite easily.
Despite being a heavy-duty machine, you'll be surprised with the Neat Steam's portability. Weighing a mere 9 pounds, its pretty light given its power, and also has a retractable handle for secure storage. With its 2-year warranty and very reasonable price, it is hailed as one of the best steam cleaners for general use.
Rating: 4.2/5 – Best Splurge Pick
The Vapamore MR-100 may be a little expensive, but it's proof that sometimes you get what you pay for.
For one, it comes with a 54-ounce tank that can heat water up to 220F. While it has a slower heating time (11 minutes), you can use it for 60 minutes at a time. Ideal for tackling more extensive areas, or when you want to take your time to ensure a job well done. With its adjustable steam output, you can easily adjust depending on the surface you are working with.
Talking of surfaces, the MR-100 can pretty much be used everywhere, including cleaning the grout on your bathroom tiles. It also comes packed with accessories to cover all scenarios, making it extremely versatile.
What really sets apart Vapamore devices from its competition is its lifetime warranty. Provided you buy from an authorized seller (such as Amazon), Vapamore offers an industry-beating lifetime guarantee on all their devices.
Best Steam Cleaners for Sofas Buying Guide
How to Choose the Best Steam Cleaners for Sofas
Before buying a steam cleaning product for your couch, consider the following:
Sofa type
Before you buy a steam cleaner, you need to be sure your sofa can be steam cleaned. Check your couch's tag to see if it has the code "W" or "S/W." If it does, then it is safe to use a water-based cleaner (including steam) on it.
If your label says "S" or "X," it's best to use a solvent cleaner instead.
Functions
Depending on how you intend to use your cleaner, you may prioritize one over another
The most commonly available steam cleaners and their respective functions are:
Portable Steam Cleaners
With a hand-held design, these are best for small cleaning jobs. A good example is the Bissell 1400B. It can be used for sanitizing upholstery, décor, and most fabrics.
Multi-Purpose Steam Cleaner
Because of its versatility, this cleaner can be used all around the house. An example is the Vapamore MR-100, which you can use to disinfect your sofa, floors, and other fixtures.
Warm-up time
Us humans don't like waiting around, so opt for something with a short warm-up time. A good example is the Dupray Neat Steam Cleaner, which has a quick heating time of only 7 minutes.
Tank Size
Steam cleaners operate on heated water. Unless you want to refill the tank regularly, choose a product with a larger tank size. If you're looking to cut back the number of refills, the Bissell 3624's has an extra-large 96-ounce tank capacity.
Another good option is to pick a machine with a 'continuous fill' feature and a back-up tank. This will allow you to clean your sofa without interruption.
Heat
Steam cleaners disinfect surfaces through heat. For best results, you should opt for a machine that has a minimum setting of 200 degrees Fahrenheit.
Remember, the hotter the temperature, the drier the steam. For example, the Dupray Neat Steam Cleaner can generate temperatures of up to 275 F.
This equates to less moisture, which may end up damaging your couch in the long run.
Price
As with many other things, you get what you pay for with a steam cleaner. Depending on your budget, you should balance the price with the features you need.
What are the Benefits of Steam Cleaners for Sofas?
While you could clean your sofa by other means, steam cleaning comes with a host of benefits not available with other methods:
Safe and Eco-Friendly
Steam cleaners only use water – that's it. There are no chemicals that may compromise your health – or that of the environment.
Time-saving
With a steam cleaner, no need to waste hours scrubbing the sofa upholstery. Instead, run the machine over your couch for instant cleaning.
Cost-effective
While a steam cleaner can involve an initial outlay, it's more cost-effective in the long run. For one, you no longer need to buy expensive cleaning chemicals. But also you avoid the cost of professional-level cleaning.
More importantly, this machine gives you more time to do more important things. Remember, time is money!
Cleans sofas deeply
Unlike other cleaning agents, steam can penetrate the deeper layers of your couch. With its immense heat, it is apt at killing bacteria, viruses, and molds that lie deep within.
Eliminates allergens
Cleaning your sofa with disinfectants may not be enough to remove allergens. This makes a steam cleaner your best bet in eliminating pollen, house dust, mold spores, and dander.
Removes odors
Steam clean does not only remove visible residues, but it can also get rid of funky odors as well. This is particularly important if you have pets at home. The leader in this category is the Bissell Pet Pro cleaner.
Rejuvenates your couch
If your sofa has lost some of its luster, dirt and residue are usually to blame. A steam cleaner can help you sanitize your sofa and breathe life back into it, helping it to look brand new again!
How do you steam clean a sofa?
For best results, follow these steps to steam-clean your sofa:
Check for your couch's color-fastness. Steam a small area of your furniture. Check for signs of discoloration or damage after 15 minutes. If no discoloration has occurred, then you're good to go.
Vacuum the couch to get rid of any dust and debris. Don't forget to vacuum the inner side of your cushions.
Apply a spot-removing liquid on any existing stained areas. Blot the surface after 5 minutes to clean.
Precondition your upholstery (optional) with an emulsifier. This will help loosen any stubborn stains and trapped dirt.
Prepare your steam cleaner. Set the steam cleaner to the recommended temperature for sofas. Prepare any attachments needed.
Sanitize the cushions first, working on one small area at a time. Proceed with the other parts of your couch.
Leave the couch to dry completely. You can usually speed this process up by ensuring your room is well ventilated.
Conclusion
Steam cleaners can get rid of up to 99.99% of germs on your sofa. Not only that, but most cleaners are versatile and can be used to sanitize various surfaces around your home. If you're thinking of buying one, our top pick is the Bissell 3624. With its big tank that produces 200F heat, it can help you disinfect your couch quickly.
The Bissell 1400B is also a worthy consideration. Even with its compact size, it packs superior performance. Given its low price, it's a perfect piece for budget-conscious sofa owners.
Some FAQ About Steam Cleaners for Upholstery and Sofas
Can you use a steam cleaner on a couch?
Always check the label on your couch before steam-cleaning to ensure it is safe.  Not only can a steam cleaner be used on your furniture, but you can even use this machine to clean other surfaces, including:
●      Upholstery
●      Mattresses
●      Carpets
●      Tile and hardwood floors
●      Glass
●      Grout
●      Sinks
●      Countertops
●      Stovetops
●      Ovens
●      Grills
●      Tubs
●      Showers
What is the best steam cleaner for sofas?
According to our test results, the best steam cleaner for sofas is the Bissell 3624. Offering superior performance and ease of operation, it's an ideal choice for most homeowners.
What is the best way to clean a fabric sofa?
Steam cleaning is one of the best ways to sanitize a fabric sofa. Not only does it get rid of bacteria, stains, and molds, it can get rid of allergens and nasty odors as well. It doesn't use strong chemicals, which make it safer for you, your family, and the environment. Since it usually is a quick process, it makes for a faster and cost-effective way of disinfecting your sofa.