A sofa is a significant investment for any homeowner, but it doesn't need to be.
Thanks to the birth of e-commerce and online shopping, there are many affordable yet high-quality couches available online, available at the click of the button.
Take our top-rated Honbay convertible sectional, for example, offering the perfect blend of design, comfort, and, of course, price.
Get the best bang for your buck by checking out these 9 best sofas under $300.
In This Article We'll Discuss
Top 9 Sofas Under $300
[hfe_template id='5256′]
A sectional sofa is a perfect choice if you're looking for extra capacity. Not to mention, it's great for lounging too. Sectionals can often set you back thousands of dollars. While they are incredibly versatile, they can often take up a lot of space. Well, the good news is we have found a solution—the Honbay convertible sectional.
We love this convertible as it boasts a space-saving design. By moving around the ottoman, you can make it left or right-facing, or simply just a sofa with an ottoman. As it's super easy to switch up the layout, you can change it from one week to the next.
Despite being compact and affordable, the Honbay sectional is very durable. With its solid wood frame and sturdy legs, it can carry up yo 660 pounds of weight, making it an ideal family couch.
Comfort is another plus factor with this product. It has cushions that come with pocket coils and serpentine springs. With these features, your seats are sure to remain in firm shape while hugging your body.
It's also covered with durable upholstery, which can withstand the usual wear and tear. Cleaning is a breeze, and any stains can easily be removed with a damp cloth.
If you are looking for a sofa that stands out from the crowd, then this Baxton studio piece is a perfect choice. Available in black or grey, it offers a sleek, clean silhouette. With its button-tufted couch and dark walnut finish, it is a visual treat for any small area.
More than just being a sight for sore eyes, the Baxton sofa is a reprieve for sore backs as well. After all, it comes with semi-soft cushions that provide body support and comfort. Since the removable covers are made with polyester, you can clean spills with ease.
The only downside is its wooden armrests, which, while striking, can be uncomfortable. What it lacks in arm comfort though, the Baxton mid-century carries in durability. For starters, its frame is made from robust rubberwood. Constructed with splayed legs, it can take a weight of up to 500 pounds.
Do you often have family and friends sleeping over? If you don't have much room for a new bed, then the Novogratz sleeper sofa should be your top choice. Truly versatile, it is an excellent couch by day and a comfy bed by night.
Equipped with a split-back design, it can be positioned in a variety of ways. You can recline while the person next to you sits straight – and vice-versa. Sadly, it lacks armrests, and this can be a deal-breaker for many.
On the upside, you don't need to be a handyman to convert this sleeper. With just a few clicks, you can turn this couch into a full bed. With its sturdy wood frame and padded feet, it can accommodate up to two people comfortably
More than just being durable, the Novogratz sofa can also turn any dull space into a vibrant one. It comes in three striking colors – blue, orange, and yellow – all guaranteed to brighten up an ordinary room.
If your small living room or study requires some extra seating, then this loveseat is ideal. At just under 50 inches, it can fit neatly in tight corners or compact spaces.
Even though it's small in stature, this loveseat is big in comfort. Its cushions are made with a thick sponge and high-strength springs, with additional elastic for extra bounce. With these features, you can sit comfortably for hours on end. Pick up a book and kick back.
It's also very sturdy, many thanks to its strong solid wood legs. Compared to other loveseats, it has a higher weight capacity of up to 400 pounds.
One of the great things about this product is that it comes in 2 fabrics. You can go for linen, which is comfy, stylish, yet very easy to clean. Another option is faux leather, which is resistant to stains, scrapes, and scratches. This fares better against UV light and is less likely to crack and peel.
After choosing the right fabric, you can go ahead with selecting the best color. Choices include a sleek black and an earthy brown.
If you're looking for a unique sofa under $300, then you have come to the right place. The Merax loveseat comes with a quilt design that is attractive to adults and kids alike. With its vibrant multicolored style, it can liven up any home.
Although its design is its main selling point, it does come with other impressive features.
For one, it has a 5-angle control that allows you to adjust the back and armrest. You can recline easily while watching TV, and turn it to a sleeper once your eyes get heavy. With its high-density foam cushions and soft linen upholstery, it is sure to suck you in.
Made with sturdy wood and a metal frame, this sofa is bound to give you many years of satisfaction, at an incredible price point.
If you want your dining room to look more exquisite, consider the Andeworld loveseat. With this sofa, you can transform your dining space, and any other space for that matter, into that of an expensive restaurant or stately home.
Truly elegant, this French-style settee is decorated with button tufting and copper. It comes in Ivory and Khaki – colors that complement any type of room design.
While it's best for the dining room, it can be used in entryways and hallways as well. As it is covered in flame-retardant fabric, it's even suitable for use in commercial spaces, such as coffee shops or restaurants.
One great thing about this product is that its outside is just as good as its internal components. With the help of its wooden frame and legs, it can carry a maximum capacity of 330 pounds. Despite this ability, it's relatively light (79 pounds) and very easy to assemble.
A big family needs a spacious, durable sofa. If you have active kids (or a playful pet), then you should consider the DHP Dillan futon. What makes this perfect for families with kids is its microfiber upholstery. This fabric is nothing short of a miracle, as it is resistant to both stain and water. Since the liquid collects on the surface, you can spot clean it before it works its way in.
With its wooden frame and tapered legs, this 69-inch sofa can carry a combined weight of 600 pounds. It also has a 1-year limited warranty, which comes in handy, especially if you have rowdy kids.
Comfort-wise, this recliner helps you rest in a variety of positions. As you can convert it to a sleeper, you can take a nap whenever the need arises.
Unlike some other family sofas, the Dillan futon features a sleek design. Available in Grey and Tan, this neutral convertible can beautify any living space.
If you want a versatile couch that you can place literally anywhere, then this armless settee is one for you. With its simple yet sleek design, you can use it at home – or even at your cafe or restaurant. With 6 colors to choose from, you can get 1 – or 2 – maybe even 6.
Truly stylish, this loveseat is praised for its ergonomic design. After all, it is made with a high-elastic sponge and serpentine springs. These allow the sofa to follow the natural curves of your head, back, and butt. Whether you are reading or watching TV, this couch can keep you comfortable for hours on end.
Even with its compact size, this sofa can carry upwards of 450 pounds. It draws its strength from its solid wood frame, which is sturdy enough to accommodate 2 people.
Not all inexpensive couches look inexpensive, as the AODAILIHB sofa will show you. Despite its affordable price, it can provide your home or office with a luxurious feel.
For one, it is covered with soft velvet fabric that can upgrade the look of your room. Since it comes with a classic tufted design, it can work well with any design concept.
To make things even better, the AODAILIHB sofa feels just as good as it looks. After all, its cushions are filled with plush doll cotton – a material that can keep you comfortable and warm.
And don't worry about spending too much time on the sofa. After all, the sofa's durable frame is said to be on par with other costlier models. Made from solid wood and buffer springs, it won't lose form even with prolonged use. Time to get back to Netflix!
Sofas Under $300 Buying Guide
How to Choose the Best Sofa Under 300
There are so many things that you need to consider when buying sofas, especially at a cheaper price point. But aside from cost, you need to be on the lookout for the following features:
Sturdy Frame
You are most likely going to spend a considerable amount of time on your sofa. As such, you need to choose a product with a sturdy frame, such as the Novogratz sleeper. Choose one made of either oak, beech, or ash. These kiln-dried hardwoods last better than plastics, metals, and particleboards.
Strong Joints
Joints are just as important as the frame. They keep your couch sofa secure even with repeated use. A solid-joined sofa comes with wooden corner blocks or wooden dowels. These are usually described as screwed/glued corner blocks in the label.
Remember: stay away from joints made with glue, nails, or staples, unless you want to waste money.
Supportive Springs
Do your kids (or pets) enjoy jumping on your sofa? To prevent sagging, opt for cushions with serpentine springs. This feature can be seen in our top choice, the Honbay convertible sectional sofa.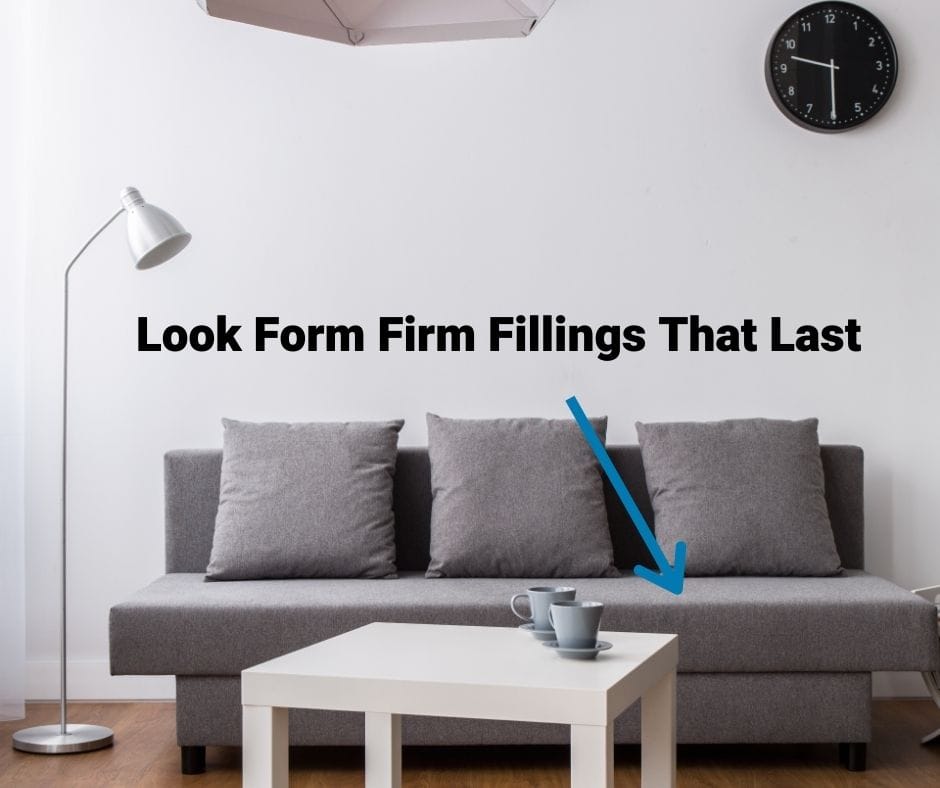 Firm Fillings
Most people turn to comfy fillings, like those made of goose and duck feathers. While they are undoubtedly plush, they can deteriorate and lose shape over time.
If you want a cushion that can withstand your kids or pets, go for sofas made with high-density foam. An excellent example of a sofa with this material is the Merax contemporary loveseat. While the cushion may feel hard at first, it gets softer through time.
Durable Upholstery
A firm, supportive cushion is useless if it's not wrapped in a hard-wearing fabric. The best choices are leather and wool, though they could be a tad expensive. A more affordable alternative is synthetic microfiber, which is seen in the DHP Dillon Futon. This upholstery makes the sofa comfy yet stain-resistant.
Cotton and linen are also good options, though you should be on the lookout for snagging threads.
What's the Best Way to Use a Sofa?
While the sofas mentioned above are built to last, they are not immune to wear and tear. If you want to extend their lifespan, follow these simple maintenance tips:
Fluff and flip your cushions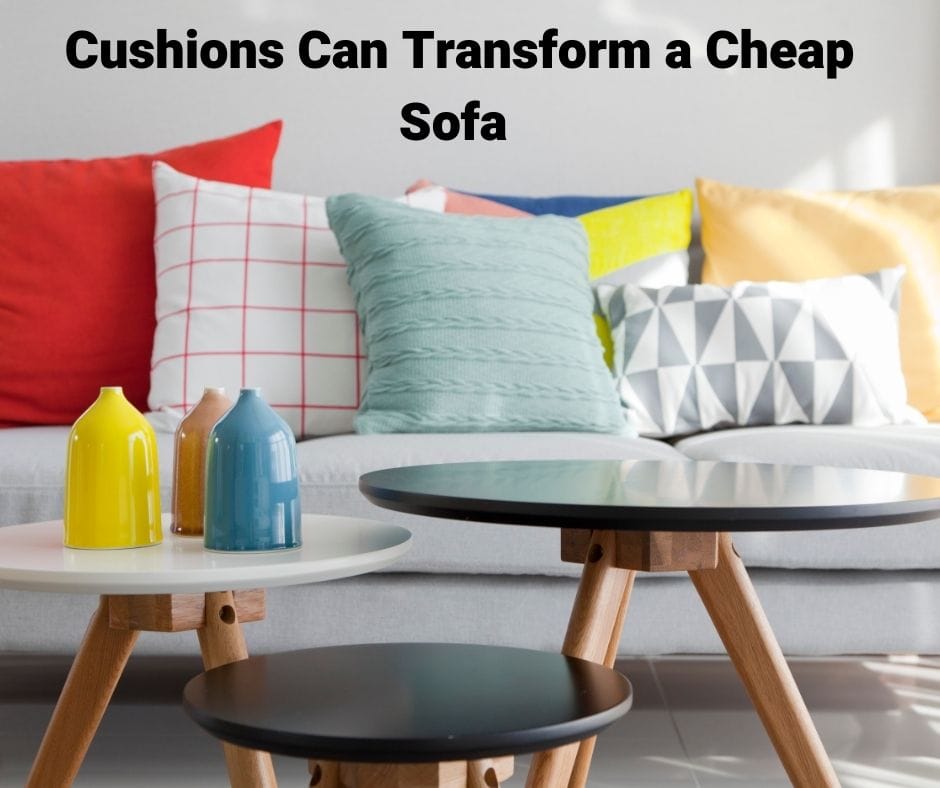 If you use your sofa daily, make sure to fluff your cushions regularly. Prodding and slapping will keep the natural shape and comfort level of the cushions.
Apart from fluffing, flipping will do your cushions good as well. This will help to keep your seating level even.
Tip: Should you go for a 3-seater couch, remember to rotate the center cushion. It's rarely used since most people tend to sit on the sides. Regular flipping will help maintain the uniform look of the sofa
Keep away from sunlight
While the sun's UV rays can help disinfect the surface, it can deteriorate your sofa in the long run. This is especially the case if it is made with leather/leatherette upholstery. Remember to close the blinds when the sun is high up if you can't place your sofa in an area without much sunlight.
Shun the stains
Make sure to apply a protective product on your couch. This is vital if it's not made of stain-resistant fabric. While this will add to your expenses, it will keep your sofa safe from dirt and deterioration.
Vacuum your sofa regularly
No matter how tidy your home might be, your couch will always be at the mercy of dust and dirt. As such, make it a point to vacuum your sofa regularly. This will prevent the dust from penetrating the deeper layers of your couch.
Conclusion
Out of the 9 sofas under $300, the Honbay convertible sofa takes the trophy. It has a sturdy wood frame and serpentine springs that can easily carry a 660-pound load. With its convertible design, you can create multiple looks. It's like having 3 sofas in one!
But if you are on the lookout for a more compact sofa, opt for the Merax multicolor loveseat. Apart from having a foam cushion and wood frame, it comes with a 5-angle reclining control to boot. Plus, we love the retro-chic style!