A sofa bed is one of the smartest furniture investments for any home. It allows for comfy seating in the morning – and some peaceful slumber at night. Versatile yet affordable, they're space-saving too!
We've put some of the best selling sofa beds through rigorous testing to pull together a list of the best sofa beds your money can buy.
Check out our top sofa beds for studio apartments.
In This Article We'll Discuss
The Best Small Sofa Beds for Studio Apartments Reviewed
Best Faux Leather Sofa Bed
When it comes to design and performance, nothing comes close to the Milemont futon. With its faux leather upholstery, it's both durable and stylish. The material is also less likely to peel/crack, helping to maintain its beauty for years to come.
An under-appreciated quality of faux leather is that it is UV and stain-resistant. This is very useful in a sofa bed which has to put up with a lot of abuse – day and night! True enough, it has all the qualities that make this one of the best choices for studio apartments.
The bed itself is a little bigger than a twin bed, allowing you a little extra room to relax. What this means is that it's perfect for a single person, but for two, you may need something a little bigger. And while it's shorter than a typical bed, it can carry a weight capacity of up to 600 pounds.
The mattress is memory foam, adding some extra comfort that some of its competitors lack. Complemented by medium-firm cushions, it provides adequate support for sitting. The foam molds well to your shape, making it a plush bed for sleeping.
With its click-clack mechanism, converting this futon is very easy to do. The same can be said with its assembly – you can put this together in 15 minutes tops!
Most Trendy Sofa Bed
When it comes to chic yet comfy sitting (and sleeping), nothing beats the DHP Emily futon. Its pink velvet fabric is not only stylish, but it's soft and luxurious to boot.
With its split-back design, it offers different positions for lounging. With the flick of a switch, you can adjust the couch for added comfort. And should you decide to nap, you can convert it to a bed easily with its click-clack mechanism.
What's great about the Emily sofa bed is that it's a little bigger than a twin bed. It's 5 inches wider, and as such, makes for a comfortable (and spacious) night's sleep.
As for its seating capacity, it can carry a max weight of 600 pounds. This is more than enough to accommodate you and your family. But, should there be a problem along the way, there's a 1-year manufacturer warranty to help you out.
We found the foam a little on the firm side, making it perfect for those who may suffer with back complaints.
Best Mid-Century Modern Sofa Bed
Traditional yet contemporary – these are just some of the things that describe this futon. With its sleek silhouette and cloud-like shape, it's clearly the best mid-century modern piece in this list.
In terms of frame durability, this product is far superior compared to others. Made of sturdy wood, the Brittany trumps the Emily, which opts for a metal frame. Even with its durability, this frame is covered with a 1-year warranty for workmanship.
More than just being highly-durable, the Brittany futon is very comfortable too. Its cushion, after all, is made with firm, supportive foam, wrapped with plush polyester.
Converting this futon to a sleeper can be done quickly with its simple click-clack mechanism.
Once open, the Brittany futon measures 70.5 by 43.5 inches. Although it is a touch wider than a twin bed, it's a little on the short side. If you have particularly tall individuals staying over, they may find it a little uncomfortable!
Best Small Budget Pick Sofa Bed
Just moved into your apartment and strapped for cash? Well, you don't have to sit or sleep on the floor.
With the Milliard sofa bed, you get an excellent yet basic sofa bed for your new home. The fact that it does the job of a sofa and bed means it can also save you some cash, too!
While it might not be as fancy as the Novogratz Brittany futon, it offers all the functionality you need. Its pull out feature provides you with a twin-sized sleeping space measuring 78 by 38 inches. After use, you can reduce it to a size of 38 by 29 by 14 inches for easy storage.
Despite its basic design, it is made with CertiPUR US-certified foam. That means it's free from ozone depleters, metals, formaldehyde, and phthalates. The basic design also means it may not be suitable for the image-conscious crowd.
An added downside is the lack of a warranty. Still, at such an affordable cost, it's something we are prepared to overlook.
Best Sofa Bed for Super Small Spaces
If you live in a compact studio apartment, then having the usual bed or couch might be an issue. Fortunately, there's the Vonanda adjustable sleeper to save the day.
With its easy-open mechanism, you can convert it to a sofa, sleeper, or ottoman with ease. This makes this product very affordable, as you have 3 different things rolled into 1.
As a bed, it measures 74 by 37 inches. Although it a few inches shorter than a twin bed size, it's longer than most other models on our list.
Made with high-quality materials, the sleeper can carry a max capacity of 440 pounds. While it's sufficient for most uses, if you, or your guests, are on the heavier side, you may need to consider alternatives.
Even with the Vonanda bed's many outstanding features, the best thing about it is its warranty. This model comes with a solid 3-year guarantee, giving you peace of mind for years to come.
Best Contemporary Design Sofa Bed
When it comes to a contemporary style, nothing comes close to the Mainstay sofa bed. With its softened lines and neutral elements, it can add a touch of modern class to your small apartment.
And it's not just the outside that looks good. It's packed with a host of interior features making it a top buy. For one, it has a sturdy plywood frame that supports its high-density foam cushions. As this foam is known to offer back and neck support, the futon is perfect for back and stomach sleepers.
This pull-out sofa bed assumes a measurement of 73.6 by 37 inches when laid flat. It's skinnier than a traditional twin bed, yet longer than most sleepers. It also has a lower weight capacity (500 pounds), compared to Milemont's 600.
Despite these limitations, this model comes with a complimentary classic pillow. It also has a 1-year warranty, which is a nice touch.
Best Fresh Design Sofa Bed
If you love a splash of color, you'll love the fresh design of the Merax sleeper. Upholstered in a dusty-pink velvet fabric, it offers an ultra-comfy lounging/sleeping experience.
Made with high-quality steel, this pull-out sofa can carry a max weight of 500 pounds. With its high-density foam cushions, it can keep your body aligned for better spine health.
We love this particular design choice for a spare room or even an office, where an injection of color may be needed.
In terms of measurement, the Merax futon clocks in at 68 by 50.4 inches, making it the shortest in the bunch. It is, however, more extensive than most, as it is only about 4 inches shy of a full bed's width. With that being said, this is ideal for kids – and the more petite adults.
As with other products in this list, the Merax sofa bed comes with a limited 1-year warranty.
Most Spacious Sofa Bed
If you struggle to fit on most sofa beds, you may be looking for something with a bit more room. Or perhaps you're a couple looking for a space-saving sofa bed for your studio. In which case, we have found the perfect sofa bed for you.
Measuring 77.5 by 70 inches, it makes it 10 inches wider than the usual queen bed. While this is a bonus, it has a downside too. You need a larger doorway to accommodate this product. And although the length is a few inches shy of a queen bed, the difference is negligible – unless you're a very tall person!
Aside from the capacity, the sofa looks very stylish too. The grey hue makes it suitable for most design aesthetics and will work well in most rooms.
Built with a wooden frame, this click clack futon can carry a max capacity of 600 pounds. Combined with the sofa's polyester upholstery, this sofa bed is very durable. Should things go awry, you can refer to the manufacturer's 1-year limited warranty.
Best Value for a Wide Sofa Bed
While the Lexicon Fairbon is a wee bit smaller than its 78-inch brother, it's still wider than most. With a measurement of 77 by 69.5 inches, it's bigger than the usual queen bed. But the biggest selling point is how affordable this sofa is.
And while affordable, this sofa does not pull any punches when it comes to design, comfort and aesthetics. In fact, some of our testers rated this sofa higher than far more expensive models in all 3 categories.
If you're looking to stretch out, give your guests some more room, or accommodate more than one person, a wider sofa bed is a wise choice.
The Fairbon sofa features a click-clack mechanism for easy conversion to and from a bed. It's also made of a wooden frame and polyester upholstery, giving this bed the same 600-lb capacity. To top it all off, it also comes with a limited 1-year warranty for parts and workmanship.
Best Small Sectional Sofa Bed
If you want extra seating space and some added storage, then this Bowery Hill model is perfect for you.
Measuring 86 by 54 inches, this sofa converts to a full-sized bed, ideal for taller users. The light grey material makes it a fantastic choice for the contemporary home.
Even with its pull-out design, this bed is just as comfy as your expensive mattress. Apart from having foam inserts, its cushions also come with supportive coil springs. This helps keep your body adequately supported while seated.
One of the best things about this product is the extra storage room it offers. Simply lift the chaise to keep your pillows, blankets, and whatever junk you need to hide away.
Best Value for a Modern Sofa Bed
Looking for something simple that will get the job done? This modern-looking sofa couch from HomCom has just answered your prayers.
Construction-wise, it comes with a metal frame that can be adjusted to 5 seating positions. The cushions, on the other hand, are made with medium-density foam. While it's not as supportive as high-density foam, it's still comfy and durable.
As a bed, this click clack futon measures 73 by 41.5 inches. While it's longer than the Milemont bed, it has a lower capacity of 330 pounds (compared to the latter's 600).
Now while design-wise, this may not be for everyone, it makes for an excellent choice for an office or spare room. What's more, the sleeper is covered by a 1-year warranty.
Best Sofa Bed For Studio Apartment Buying Guide
How to Choose the Best Sofa Bed for Your Studio Apartment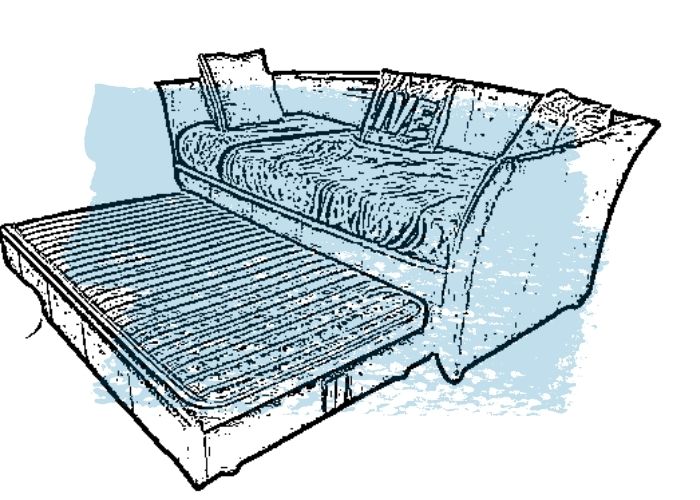 Be sure to keep in mind the following when picking out your next sofa bed.
Style
The style of the sofa bed may depend on many factors. One of which is the size of your apartment. If you're pressed for space, then you are best off with a small sofa bed or futon, such as the Vonanda convertible bed.
If space is not an issue, you can go for a bigger sleeper, such as the 78-inch Lexicon.
Size
The right sized sleeper depends on how much space you're working with – and the intended use of the bed. If you just need an emergency sleeper to cover last-minute guests, any sofa bed on this list will be perfectly adequate. However, if you regularly have more than one overnight guest, choose a larger option, such as the Lexicon convertible queen-sized bed.
Material
Investing in a sofa bed that uses high-quality materials will mean you can use it for many years to come.
For the frame, solid wood such as that used in the Brittany Novogratz is the best choice. Metal frames, such as that of the Milemont and DHP Emily futons, are the next best thing.
Avoid glued or stapled frames as these can break and damage easily.
Functionality
How often do you plan to use your sofa bed? Are you going to sleep on it every day, or is it only going to be used when visitors spending the night? If it's the former, then the Milemont futon will ensure a great night's sleep with its comfy memory foam. As for the latter, a spring sofa such as the Bowery Hill futon is good enough for occasional use.
Operating Mechanism
There are 3 types of sofa bed mechanisms: pull-out, easy-open, and click-clack. All are fairly easy to use, so which to choose is entirely up to you.
What Are The Benefits Of Buying The Best Sofa Bed For Your Studio Apartment?
Buying a sleeper sofa comes with many benefits, such as:
Multifunctionality. True to its' name, this can serve as a sofa – and a bed.
Affordability. It serves two functions – yet the price is just for one!
Compact. Models such as the Vonanda are perfect for studio apartments and lofts as they don't require a lot of space.
Easy to set up and move. You don't need an entire toolbox to set up models, such as the Milemont. Likewise, sofa beds often come fitted with wheels for ease of movement.
Visually pleasing. Sofa beds such as the Merax sleeper come in unique designs that can freshen up your living room or bedroom.
Comfortable. Like the usual bed, sofa beds with memory foam mattresses (such as the Milemont) can keep you comfy, day in, and day out.
How do you use/operate a sofa bed?
This will depend on the product's operating mechanism. Always check the manufacturer's instructions to ensure you operate safely.
Pull-out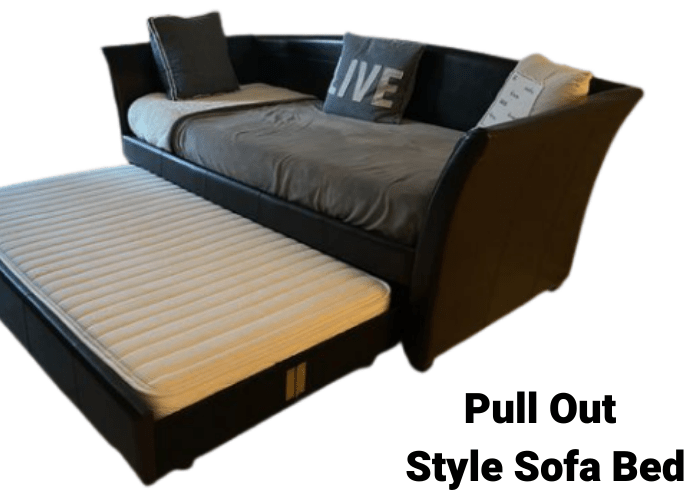 You operate models such as the Mainstay sleeper as the name suggests – by pulling the bed out.
Easy open
Its name is derived from its mechanism. In such models, such as the Vonanda sofa bed, you open it from the back in a fold-over fashion.
Click-clack
The name is inspired by the sound it makes when it's converted from a sofa to a bed. This mechanism is common in most sofa beds, such as the Milemont futon. This requires you to fold the mattress forward until you hear a clicking sound.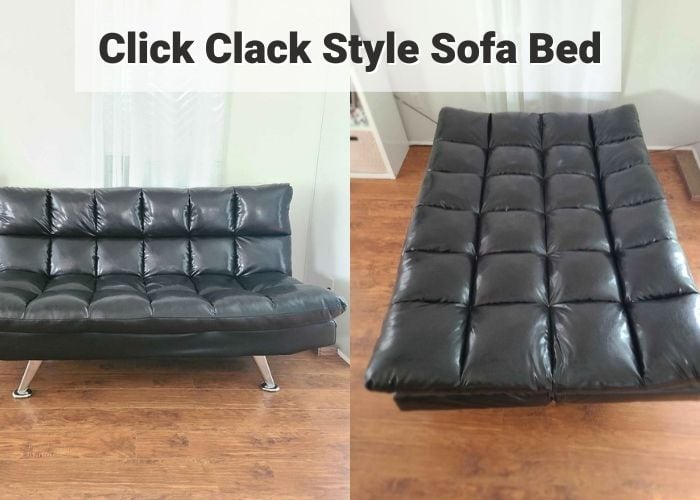 Conclusion
When it comes to size and comfort, nothing comes close to the Milemont futon. For one, this twin-size sleeper is durable enough to carry a maximum of 600 pounds. It's also made with memory foam, making it a comfy surface for sleeping.
Coming in a close second is the 78-inch Lexicon, which is the biggest in the list. While it's only made with polyester cushions, it provides more than ample space for sleeping.