If your bathroom is a bit short on space, finding the right fixtures is easier said than done. Most standard toilets require at least 30 inches of space when installed against the wall, and that's not including the room you need to use the fixture comfortably. Depending on the size of your bathroom, your toilet could take up a significant amount of room.
Luckily, there are smaller alternatives available. The best compact toilets for small bathrooms offer the same functionality and comfort as a traditional unit, albeit in a much smaller footprint. Compact toilets are in a league of their own, so it's important to take some special considerations when you're trying to find the perfect one.
The best all around small toilet is going to be the Horrow HWMT 8733 small toilet. It will fit the needs of most people with its efficient design that can handle tight spaces with an easy installation process. It's sleek design will also fit in with most bathroom decor styles.
In This Article We'll Discuss
Table of Contents
| Picture | Name | Feature | Price | Rating |
| --- | --- | --- | --- | --- |
| | HOROW HWMT-8733 Small Toilet | Best all Around Small Toilet – Budget friendly and aesthetically pleasing. Easy installation. Best bang for your buck. | $$ | 5.0 |
| | Galba Small Toilet | Best Runner Up – This one is a great pick if the HOROW HWMT toilet is unavailable or you prefer this design or are ok spending a little more. | $$$ | 4.8 |
| | Kohler San Souci Toilet | Best Kohler Toilet – If you prefer the brand name and style of this toilet, it's a great option | $$$ | 4.7 |
| | Swiss Madison SM-1T254 St. Tropez One Piece Toilet | Best Thin Tank Design – If you like the visual appeal of an ultra thin tank this toilet covers it. | $$$ | 4.7 |
| | Woodbridge Dual-Flush One-Piece Toilet | Best Low Profile Design – If you need a small toilet that has a low profile this is the best option. For ultra small bathrooms the low design will help keep the space open. | $$$ | 4.6 |
The Top 5 Compact Small Toilets
Features
Color options: White
Dimensions: 25 x 13.4 x 28.4 Inches
Installation Method: Floor Mounted
Material: Ceramic
One look at this compact  toilet from Horow and it's obvious that the fixture was made for tight spaces. The manufacturers put a lot of attention to detail when designing the unit. There are no awkward components that could affect the placement of the toilet. Even the tank lid was engineered to be level with the sides of the tank.
Overall, the toilet is very sleek and modern. It's a one-piece toilet with a thin profile. Plus, it has some nice accents that can complement your bathroom's decor. This includes chrome-covered buttons, discreet bolt covers, and a virtually lipless self-closing lid. Overall, the toilet is barely a foot wide. The small form factor opens up a lot of possibilities when it comes to installation and placement.
Speaking of which, installation is relatively simple. The toilet conforms to standard installation practices in the United States. While it does have a larger trap way to complement the dual-flush system, everything else is done the same as other toilets. Horow includes detailed instructions to ensure that things go off without a hitch.
The toilet is fully glazed and very easy to maintain. Because it's a modern one-piece unit, there are no stubborn spots for bacteria to hide. Inside, the dual-flush system gets rid of waste pretty effectively. With a full flush, it uses only 1.6 gallons per flush. With a half flush, only 1.28 gallons are used. Thanks to this efficiency, Horow was able to keep the tank compact.
Who is this compact toilet ideal for?
This toilet is perfect for someone who wants an affordable compact toilet with a no headache installation. This is the best all around option.
Pros:
Only 25 inches long and 13.4 inches wide
Sleek one-piece construction
Efficient dual-flush system
Soft-close seat
Easy to install
5-year warranty for finish, 3-year warranty for flushing mechanism
Cons:
Must hold down button a bit to get a good flush
Seat is made of thin plastic
Seat hardware makes it difficult to replace with non-Horow products
Features
Color options: White
Dimensions: 24.5 x 14 x 27 
Installation Method: Floor Mounted
Material: Ceramic & Plastic
At only 24 and a half inches long and less than 15 inches wide, the compact toilet from Galba will fit right into small water closets. Like the previous model, this is a one-piece toilet with some modern flair.
The fixture is crafted out of a single piece of molded Vitreous China. The material is very durable. Not only that, but the areas exposed to water and waste are covered in a self-cleaning glaze. This finish is designed to inhibit the growth of bacteria, mold, and mildew. Furthermore, the smooth surface decreases the risk of waste sticking to the sides of the bowl, which makes cleaning a breeze.
Keeping the outside of the toilet clean is easy as well. The skirted design and smooth lines limit the number of spots where dirt and grime can hide. Even the floor bolts are covered with a smooth plastic cover.
When it comes to performance, the Galba toilet doesn't disappoint. It's a dual-flush commode that uses approximately 1.6 gallons for a full flush. Don't let that small water tank fool you. The toilet has a powerful vortex flushing system.
Basically, holes around the rim of the bowl direct water very strategically as you flush. The arrangement of the holes creates a powerful vortex that wipes the sides clean and forces waste down without any issues.
Despite its compact size, the Galba toilet uses an elongated bowl and seat. The extended length of the fixture provides more support as you sit. The elongated shape is also ideal for heavier users and those who need a bit more room to get comfortable.
The dual flush toilet does come with a seat and cover. While the hardware is prone to wiggling, Galba has made it easy to install and remove at a whim. A quick-release mechanism allows you to remove the seat for easy cleaning and maintenance.
Who is this compact toilet ideal for?
This toilet is best for someone who wants the highest quality toilet and is okay spending the extra money. It's a durable toilet with great features that will last. It's the smallest toilet so if you are tight on space it'll get the job done.
Pros:
Only 24.5 inches long and 14.5 inches wide
Modern one-piece
Powerful Vortex Vormax flush
Dual-flush buttons
Quick-release toilet seat
Elongated bowl and seat for comfort
Soft-close seat
Smallest Toilet
Dual Flush
Cons:
Chrome finish prone to oxidation
Toilet seat hardware tends to get loose
Features
Color options: White, Almond, Biscuit, White, Cashmere, Dune, Ice Gray, Sandbar, Thunder Gray
Dimensions: 25.63 x 16.75 x 24.25
Installation Method: Floor Mounted
Material: Vitreous China (durable coating), Ceramic
Kohler is one of the most respected bathroom fixture brands out there. The company is known for pushing the limits on design and functionality. The San Souci toilet is no different. With its distinct style and low-profile design, the toilet  comfort height can make an interesting centerpiece to any small bathroom or powder room.
The thing we like most about this toilet is the unique shape of the tank. For most toilets, the water tank in the bank is a simple rectangle shape. Kohler took a different approach with the San Souci. Not only is it smaller thanks to the efficient flushing system, but it's also curved.
The contours of the tank complement the round bowl. While the curve is purely for aesthetics, you can lean back a bit to get comfortable while you're using the toilet. Because it's a one-piece model, there's no worry about dislodging the tank or causing a leak.
Overall, the comfort height toilet is considerably shorter than some other option on the market. It rises just over 25 inches off the ground when installed.
As we said earlier, the flushing system is quite efficient. It's not a dual-flush unit. But, it only uses 1.28 gallons per flush. So how does it perform with solid waste? Well, the comfort height toilet uses an AquaPiston canister. This Kohler flushing system delivers the tank water to the rim of the bowl. When you flush, the water is pushed out from 360 degrees. This helps to get rid of any waste while keeping the bowl clean.
Who is this compact toilet ideal for?
If you love the dependability of the Kohler brand or love the unique design this one is for you. Also, this toilet comes in more color options than any other. If you want a unique look this is the best toilet. This is also a comfort height toilet which makes it more accessible.
Pros:
Only 24.25 inches long and 16.75 inches wide
Skirted one-piece
Unique shape and design
Available in multiple colors
AquaPiston canister
Soft-close seat with quick-release mechanism
WaterSense seal of approval
One-year limited warranty
Comfort Height
Vitreous China 
Cons:
No dual-flush mechanism
Handle prone to sticking
Flapper chain in the tank rattles loudly with every flush
Isn't the easiest to clean
Features
Color options: Glossy White, Matte Black
Dimensions: 26.5 x 15 x 31
Installation Method: Floor Mounted
Material:  Ceramic
Next up, we have the St. Tropez toilet from Swiss Madison. One of the first things you'll notice about this toilet is its thin tank. The water tank has a significantly thinner profile than what you'd find on a traditional toilet, making the fixture look more like a comfortable dining chair than an actual commode.
With that said, the thin shape of the tank does not affect performance. In fact, this toilet does a pretty good job across the board at getting rid of waste efficiently. Swiss Madison used a Dual Tornado flush system. The dual-flush mechanism uses only 1.28 gallons of water for the full flush. For the half-flush, it uses 0.8 gallons!
So how does it get rid of waste even though it barely uses any water? The system takes advantage of two strong nozzles. They divert water from the tank and send it at an angle through the bowl. This action creates a "tornado" of water, much like a whirlpool.
From a style standpoint, this toilet is top-notch. It's a skirted one-piece toilet that's crafted with modern aesthetics in mind. The entire unit is sleek, smooth, and very easy to clean.
It comes with a soft-close seat. The seat and lid use chrome-covered hardware for lasting durability. There's also a quick-release mechanism to remove the seat in seconds. The only downside with the seat is that it's thin and made of plastic. To provide adequate support, Swiss Madison had to use a thicker rim and durable pegs. Unfortunately, that creates some deep grooves for grime to hide in.
If you can overlook the design of the seat, this toilet is an excellent option for smaller bathrooms. It's beautifully designed, doesn't take up much room, and uses an impressively low amount of water to get rid of waste.
Who is this compact toilet ideal for?
If you're a fan of the comfort an elongated toilet brings this is a great option. It's the shortest toilet that features a longer seat so if a small seat is a deal breaker for you go with this one.
Pros:
Only 26.6 inches long and 15 inches wide
Skirted one-piece toilet
Soft-close seat with quick-release hardware
Dual Tornado flush
Chrome-covered hardware
Elongated bowl and seat
One-year limited warranty
Cons:
Prone to clogging without proper maintenance
Seat is thin and difficult to clean
Can be difficult to install
Low water level in bowl
Features
Color options: Glossy White, Matte Black
Dimensions: 28.5 x 14.5 x 23 inches
Installation Method: Floor Mounted
Material:  Porcelain
If you're on the hunt for an elegant-looking  dual flush toilet, this Woodbridge model may be for you. This is a beautifully designed one-piece toilet that's designed to save space. Not only does it look good, but the absence of hard lines, grooves, and tight corners make your regular cleaning tasks go by pretty quickly.
The seamless design of the toilet does make things trickier during installation. Like most skirted toilets, the floor bolts are hidden within the body of the fixture. For this particular model, they're located behind the wax seal. This can make it difficult to tighten the bolts by traditional means. It can be done, but it may require a few extra hands.
The tank of the toilet is very small. When installed properly, the toilet is a mere 22 inches tall. The toilet is able to get by with a smaller tank because of its powerful flushing system. A standard siphon is used. However, the water is delivered around the rim of the bowl. Water is gravity-fed to the bottom of the bowl as well, attacking the waste from all directions.
This is a WaterSense-certified toilet. The dual-flush mechanism only uses 1.6 gallons of water for a full flush and 1 gallon for a half flush.
On top of the bowl, you'll find a durable soft-close seat and over-sized lid. The lid is slightly bigger than the seat. While this design may look awkward at first, it actually helps to prevent splashing while you flush and keeps more of the seat protected from grime. Complementing the seat are durable stainless steel hinges and chrome-plated flush buttons.
Who is this compact toilet ideal for?
This dual flush toilet has a low profile so it's great for someone trying to keep the bathroom as open as possible. However, it's a bit on the longer side so it's important to take that into consideration. It also comes with a comfortable elongated bowl if you prefer that.
Pros:
About 15 inches wide
Low-profile one-piece toilet
Easy to clean
Chair-height design for comfort
Soft-close elongated bowl seat
Stainless steel seat hinges
Dual-flush toilet
WaterSense certification
Five-year warranty on glazed finish, one-year warranty on flushing mechanism
Dual Flush
Cons:
Can be difficult to install
Seat cover can block some flushing outlet holes when in the "up" position
Lower-quality glaze may lead to waste sticking to sides of bowl
Important Measurements to Consider

Several factors contribute to the overall footprint of your toilet. While it would be nice to be able to tuck a toilet in a corner, there are some building codes that you must follow to keep things by the books. Building codes vary slightly based on jurisdiction, so it's important that you check with your local government before you start moving things in your bathroom around.
One of the most important measurements to consider is the rough-in length. This refers to the location of your drainage hole and plumbing in relation to the back wall. For older homes, toilet waste pipes can have a rough-in measurement between 10 and 14 inches. However, newer buildings generally have a 12-inch rough-in for simplicity.
If you plan on installing your toilet next to a wall, you'll also want to make sure that there's enough room to use the fixture safely. There needs to be at least 15 inches of space between the toilet and the finished wall according to most local codes.
Finally, let's go over the area in front of the toilet. For most states, building codes state that there should be a minimum of 21 inches in front of the toilet. This is enough room for most people to sit and stand comfortably.
With that said, it's considered good practice to provide more room. If possible, the National Kitchen & Bath Association recommends 30 inches of clearance. This is the bare minimum for wheelchair access and accommodation for those with mobility issues.
All of these measurements pertain to how the toilet is going to fit into your home. You can use them to plan your space and find a fixture that's not going to make your bathroom feel cluttered and tight.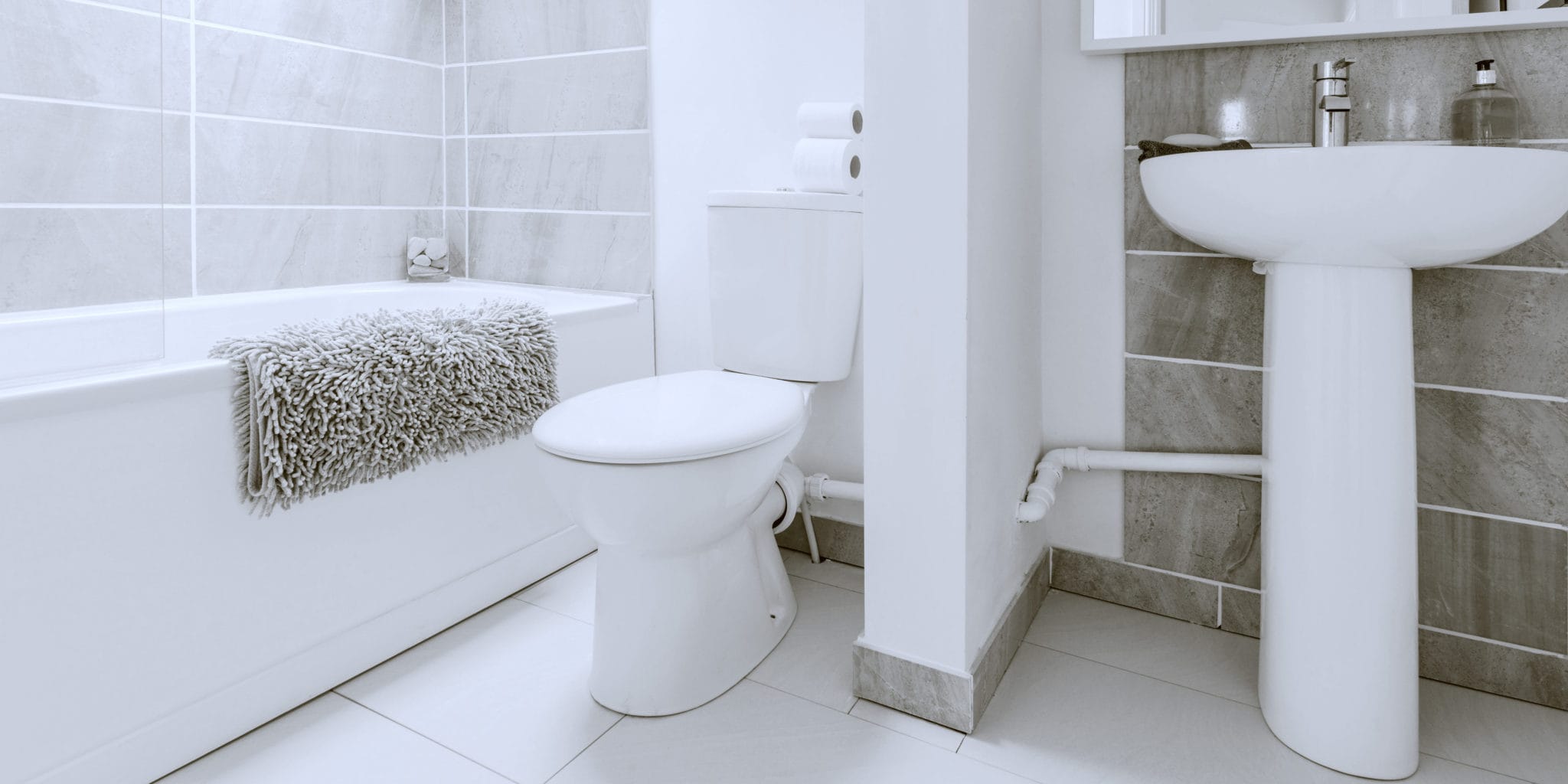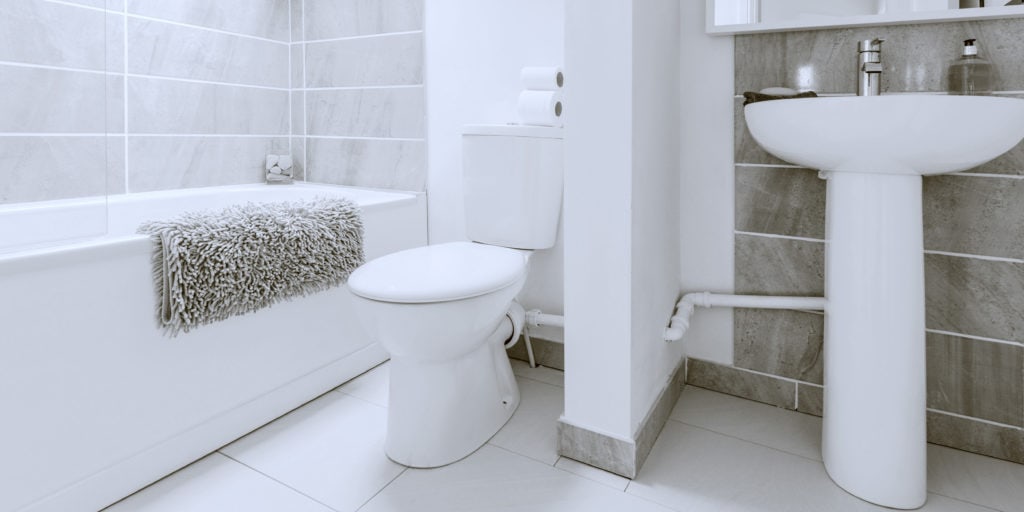 How to Choose One of These Small Toilets For Bathrooms

There's no shortage of toilets for small bathrooms on the market. Many manufacturers have models that are specifically catered to those who don't have a ton of extra space. In addition to paying close attention to measurements, consider how the following factors will affect the overall footprint of your toilet.
One-Piece vs. Two-Piece Units

There are two kinds of toilets available. The primary difference between them is how the tank is arranged on the bowl. Two-piece toilets are the most common. As the name would suggest, these units come in two separate components. The water tank and the bowl can be separated for easy installation.
Typically, two-piece toilets are more affordable. However, they also take up a bit more room. One-piece units, on the other hand, are cleverly designed to save space.
The bowl and tank are integrated into one. While they aren't always smaller than their two-piece counterparts, many big-name toilet brands produce compact one-piece fixtures that look sleek and modern.
There are several advantages and disadvantages to both options. Two-piece toilets tend to be easier to install and repair. However, one-piece fixtures are often easier to clean and last longer.
Shape of Bowl

The shape of your standard toilet bowl is a subtle element that affects its overall size. For most homes, round toilets are used. Round bowls are roughly 16 inches long. Characterized by their circular shape, rounded toilet bowls are great if you're looking to save space.
Elongated bowls are also available. These fixtures are often seen in public restrooms and commercial buildings. From above, the bowl is more oval and egg-shaped compared to traditional round models. The longer bowl, which measures approximately 18 inches long, makes the fixture more stable and comfortable for a wider group of people. While two extra inches may not seem like it would make a difference, the slight modification could affect the rough-in measurement and overall length of the toilet.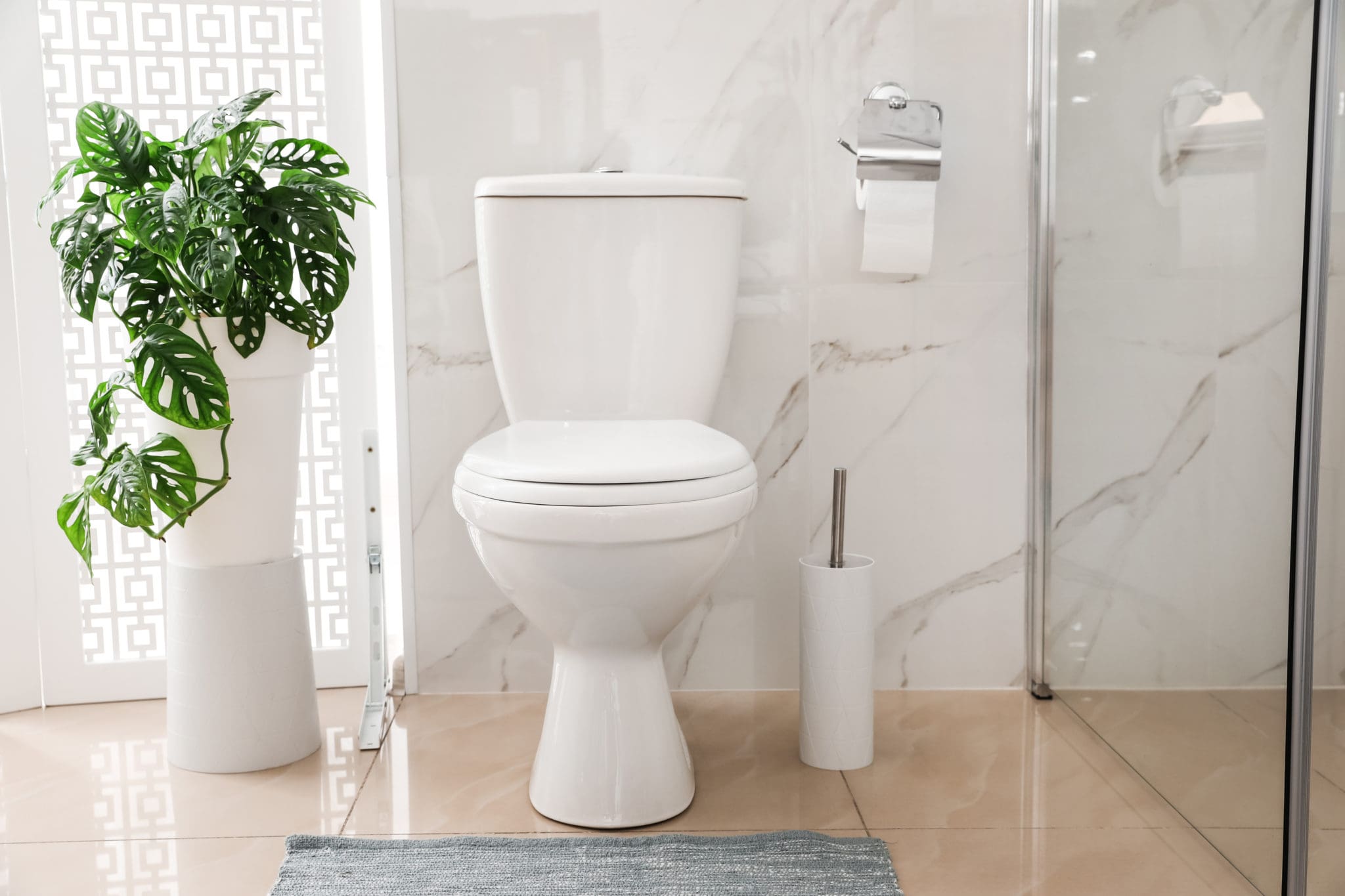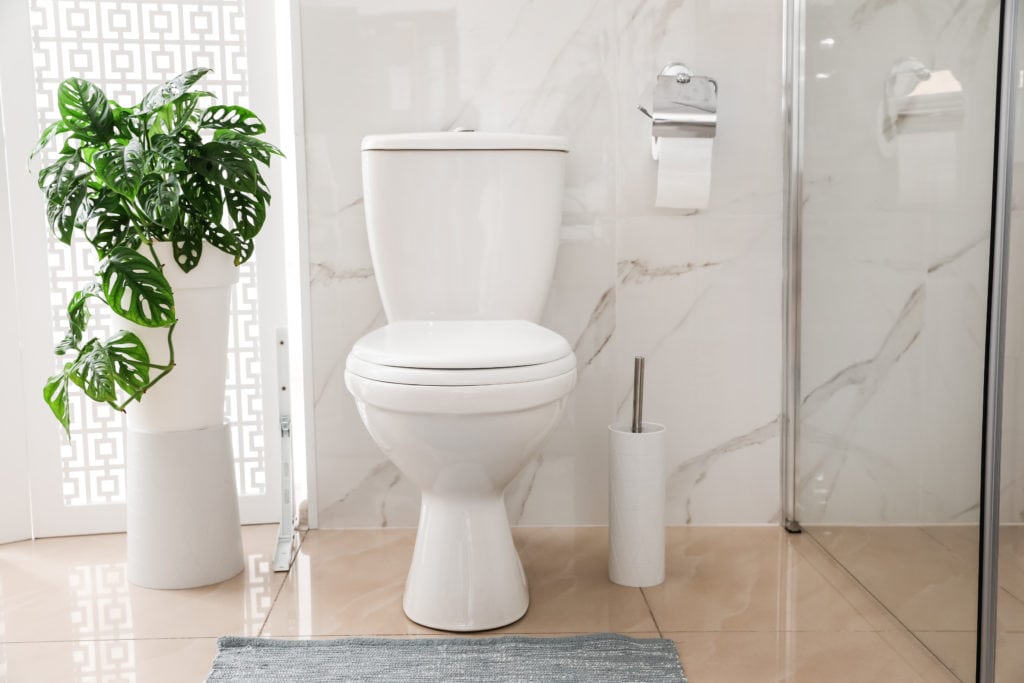 Size of Tank

The size of your toilet's water tank is significant in terms of overall footprint. Older toilets hold upwards of 7 gallons of water in the tank, which requires a ton of room behind the bowl. Luckily, modern fixtures don't use nearly as much water as older units.
Even still, larger toilets have a tank that measures up to 18 inches wide. This doesn't include the thickness of the lid. Depending on the design of the toilet, lids can have an inch or two of overhang.
With toilets for small bathrooms, you can save a few inches of width. Many compact models have tanks that correspond with the width of the bowl. Thus, you can easily find tanks that are closer to 15 inches wide.
Flushing Mechanism

If tank size is an issue, try going with a dual-flush model. Dual-flush toilets use a completely different flushing mechanism than standard models. Instead of requiring upwards of 7 gallons of water that an older toilet uses per flush, dual-flush units can use as little as 1.28 gallons.
It's estimated that dual-flush toilets can save up to 68 percent more water than your average toilet! Most of these fixtures meet EPA WaterSense criteria.
Dual-flush toilets work by taking advantage of gravity. They have a larger trap way, making it easier for water to push waste down when the flushing mechanism is initiated. The cool thing about dual-flush systems is that you can choose how much water you use. A "half flush" is designed to use minimal water while getting rid of liquid waste. Meanwhile, a "full flush" will take care of solid waste without any issues.
Because less water is used per flush, the tank doesn't have to be as large as traditional models. Many manufacturers utilize dual-flush technology in their compact commodes to save even more space.
Best Compact Toilets for Small Bathrooms Conclusion & Winner
As you can see, you don't have to settle for an over-sized toilet in a small bathroom. The best small toilet can help save space in your washroom without sacrificing any comfort or functionality.
All of our picks are great. However, we recommend going with the Horow one-piece toilet. Thanks to its clever design, convenient features, and efficient flushing system, it's the clear winner of this roundup.
The design of the toilet is top-notch. It's a standard round toilet. But, it measures only 25 inches long and less than 14 inches wide. When you consider the clearance requirements you need when installing a toilet, this fixture is all set to work just fine in bathrooms with only 4 feet of wall-to-wall space where the toilet drain is.
As if that weren't enough, the toilet goes above and beyond in terms of aesthetics. This isn't your grandmother's toilet! It has clean lines and an ultra-modern design. Beyond style, the sleek lines of the toilet make it very easy to keep clean.
The Horow toilet excels with performance, too. It may not save as much water as the Swiss Madison toilet, but it still only uses 1.6 gallons for a full flush. Plus, the fully-glazed flush is powerful enough to prevent clogs and unwanted sticking. The same can't be said for the Swiss Madison or Woodbridge toilet.
All in all, the Horow toilet is a good universal option that will look right at home in any small bathroom. It's well-built, beautifully designed, and won't cost you an arm and a leg! What's not to like?