Adding a recliner to your bedroom is a great way to convert it into a multi-use space. But if space is limited, you'll need to pay careful attention to ensure you don't end up overcrowding your room.
Short on time? Check out the Esright, our number one pick.
If you want something from a well known and reliable brand, the Pinnacle recliner from La-z-boy is our top choice.
In This Article We'll Discuss
11 Best Small Recliners For The Bedroom
---
11 Best Small Recliners For The Bedroom
Best Rated Swivel Rocker Recliner Chair
Product Details:
Material: Textile
Dimensions: 32 1/3″(W) x 26 3/4″(L) x 40 1/5″(H)
Color: Grey
If you're looking for a tried and tested recliner, you can't go wrong with the Esright.
Esright takes our number one spot for several reasons. Not only does the wide base and uber plush material make it incredibly comfortable, but this recliner has a ton of loyal fans around the world, making it one of the top-rated small recliners on Amazon.
Not only is this recliner comfortable, but it comes with an excellent massage function, which has 4 designated massage zones for ultimate relaxation. To top it all off, the Esright boasts a soothing massage feature that helps to improve circulation.
The Esright also features a 360-degree swivel function, which is a lovely touch. It also comes with two seat pockets to store a remote control or your favorite book. Movie buffs will love the built-in cupholders, and while the recline is manual, relaxing in this chair is almost effortless.
As well as being soft and comforting, its upholstery is effortless to clean, so an excellent choice for a bedroom and family home.
---
Best Leather Swivel Rocker Recliner Chair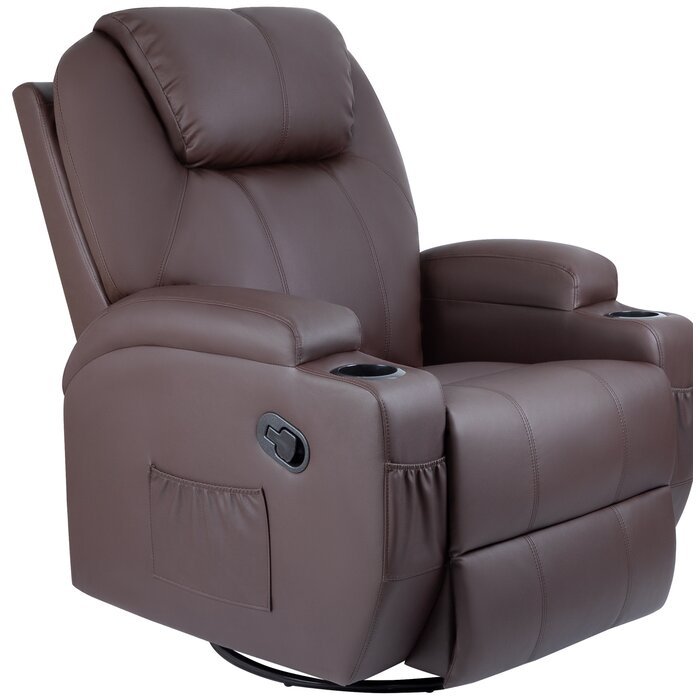 Product Details:
Material: Metal / Steel / cotton / Coil Spring
Dimensions: 29.5″ H x 20.5″ W x 22″ D
Color: Grey
In the market for a leather accent recliner for your bedroom? We have just the chair for you.
There's no doubt about it – leather exudes class. If you're looking for something a little special for your small bedroom, we think you'll love what the Abbotts recliner offers.
Although the chair is faux leather, it is far from the cheap-looking imitation common in other recliners. The PU leather Wayfair have used in the Abbott is both high-quality and breathable, helping to keep you cool in the warmer months.
The chair also features a wonderfully comfortably sponge filling, all built around a solid wooden frame, which helps boost its durability. When you're looking to dial up the comfort, simply switch on one of the chairs' 8 massage modes, which you can adjust the intensity to your preferences. If that wasn't enough, the added heat function could help keep you warm on a winter's day.
Like the Esright, the Abbott chair offers a 360-degree swivel function coupled with a manual recline. We found that the massage function was a little noisy, so worth keeping that in mind if you plan to install your recliner in your bedroom.
---
Best Lazy Boy Swivel Rocker Recliner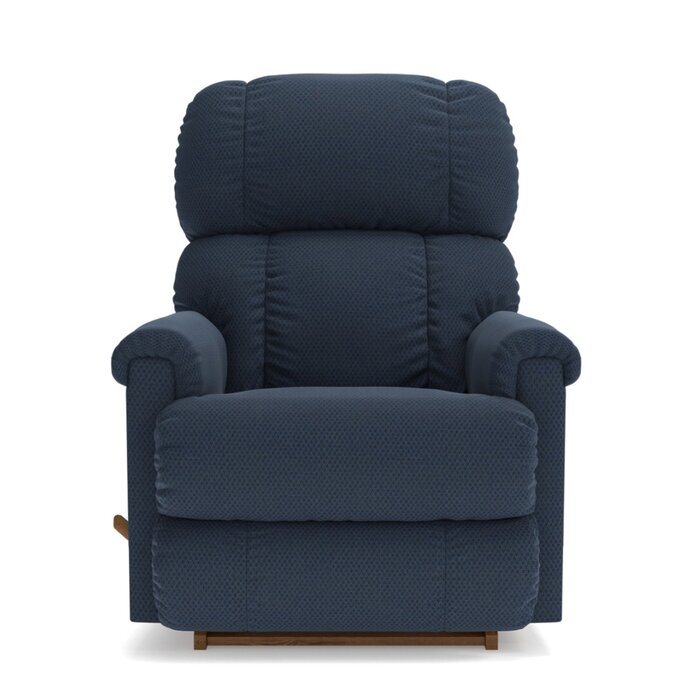 Product Details:
Material: 100% Polyester; Synthetic Fiber / Solid + Manufactured Wood/ Coil Spring
Dimensions: 42″ H x 33″ W x 38.5″ D
Color: Frank Cream, i-Sun Dance Charcoal, Frank Brown Sugar, Frank Coffee, i-Sun Dance Chocolate, Frank Sage, i-Sun Dance Vermillion, Frank Burgundy, Frank Flannel, i-Sun Dance Sable, i-Sun Dance Silt.
The best swivel recliner from one of the biggest names in the industry.
If there is one thing the La-Z-Boy brand is known for, it's their high-quality recliners – needless to say, the Pinnacle is no different.
The thing that sets the Pinnacle apart from the other small recliners we reviewed so far is that it can come with a powered option. To recline your chair, simply push the button, and away you go. As you lay back, you'll get to experience the full comfort of the chair as you slowly sink into its overfilled back. The back is fairly tall, which makes it a great choice for taller folk, and comes with an increased weight capacity.
Fans of this chair praise its small and compact design. Where some recliners can be overbearing and take over your bedroom, the Pinnacle is somewhat understated. In fact, you may not even realize it is a recliner when you first look at it.
La-Z-Boy also offers the Pinnacle in a whole host of different colors, which would work well in any existing color scheme. Fans of La-Z-Boy love the fact that they are an all-American brand that proudly makes their furniture right here in the USA to this very day.
---
Best Swivel Rocker Recliner Massage Chair
Product Details:
Material: Leather
Dimension: 33″Lx33.5″Wx41″ H
Color: Black and Brown
Crank up the comfort with this recliner with a built-in massage function.
If you're working with a little extra cash or simply prefer the finer things in life, this recliner complete with massage is one you won't want to pass up.
The Mecor comes with 8-massage nodes, conveniently positioned at points around your body to help stress relief and relaxation. While having a massage, why not enjoy a glass of wine, which can be stored in the convenient cupholders on each of the arms. The added side-pockets can be used to store your smartphone or tablet, ensuring you're only an arms-length away from your social networks.
Although the chair comes in several pieces, the chair is easy to put together and can be assembled in less than an hour. No special tools are required for assembly, making it a great choice for those terrible at DIY.
The Mecor is ergonomically designed and can recline up to 160-degrees. The built-in footrest 'pops-out' to take the weight off your feet, making it a great choice for those who may be recovering from surgery.
---
Best Swivel Rocker Recliner with Heat and Massage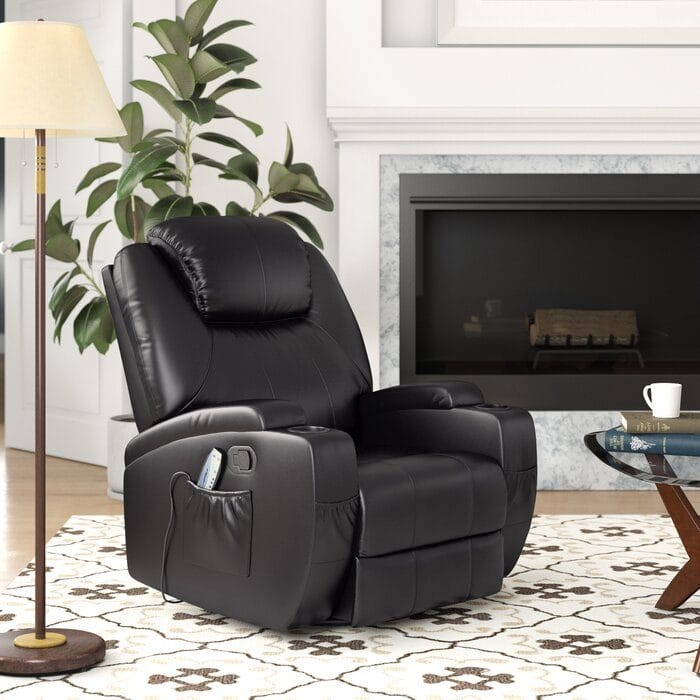 Product Details:
Material: Foam with Faux Leather and wood
Dimensions: 41″ H x 34″ W x 37″ D
Color: Black and Brown
Why choose between heat or massage when you can have both?
Next up is this gorgeous chair from Despain, which looks just as comfortable as it actually is.
The chair features an oversized headrest, which is incredibly important to support the head and neck when reclined. The cupholders in the padded armrests make enjoying a beverage while reclining a breeze.
The standout feature of the Despain is, of course, its indulgent heat and massage function. The massage function itself comes with many different presets, which you can entirely customize depending on your mood. If you're prone to napping in your chair, you can even set a time to turn off after 15, 30, or 60 minutes. The heat is gentle, allowing for a soothing experience.
If we had one complaint about this chair, the massage function can be noisy, especially if you're using it on a wooden floor. Although this is not an ideal feature for a bedroom, this can easily be overcome by placing the chair on specially designed coasters or adding a discrete foam mat below your chair.
---
Best Swivel Rocker Recliner for Small Spaces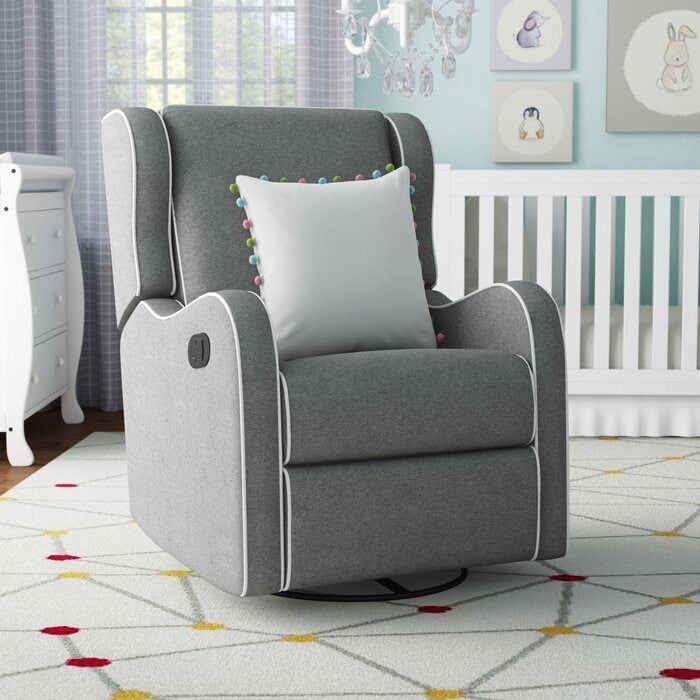 Product Details:
Material- foam fabric and wood
Dimensions: 20" H x 22.5" W x 21" D
Color: Beige/ gray/ dark gray
Ideal for small spaces, this rocker recliner proves good things come in small packages.
Not all of us have the luxury of unlimited space in our bedroom, so will have to make very conscious decisions about what furniture we buy. While recliners are an excellent investment, they do have a reputation for being bulky and cumbersome. Thankfully the wonderful Albie recliner is here to change that.
Designed with the small bedroom spaces in mind, this recliner doesn't hold back on packing in extra features. It's durable metal base supports a 360-degree rotation, which is incredibly smooth. Its recline function follows suit and can be conveniently accessed through the recessed button on the side of the recliner.
Older users will love this chair as the armrests are solid and supportive, allowing you to stand up and sit down easily. Design-wise, the chair is simple yet sleek, with the curved lines of the arms and chair back displaying a contemporary aesthetic, perfect for modern homes.
While the foam on this recliner is high-quality, it's on the firmer side, so those that prefer a softer seat may want to take a look at some of the other options on this list.
---
Best Swivel Rocker Recliner for RV
Product Details:
Material: Textile
Dimensions: 28″(W)x30.3″(L)x42″(H)
Color: Silver Gray
RV owners rejoice, we have found the perfect chair for your space.
ANJ Home has a fantastic reputation on Amazon for providing high-quality pieces of furniture at incredibly affordable prices. Of course, their swivel rocker recliner is no different and is one of the best small recliners for RVs that we can find.
Naturally, in an RV, space is important. This recliner takes up a very small footprint without making sacrifices in terms of comfort. It's a manual rocker recliner that can be reclined up to 150-degrees to meet your demands.
The soft gray upholstery is very comfortable and, combined with the foam in the seat, will keep you comfortable for hours on end. The added benefit of textile upholstery is that it is easy to clean and maintain.
Obviously, this compact recliner doesn't offer the same over-indulgent levels of comfort that you would get with a chair twice the size. Still, this is a fantastic chair for smaller spaces, be it in an RV, motor home, or bedroom of a studio apartment.
---
Best Swivel Rocker Recliner for Nursery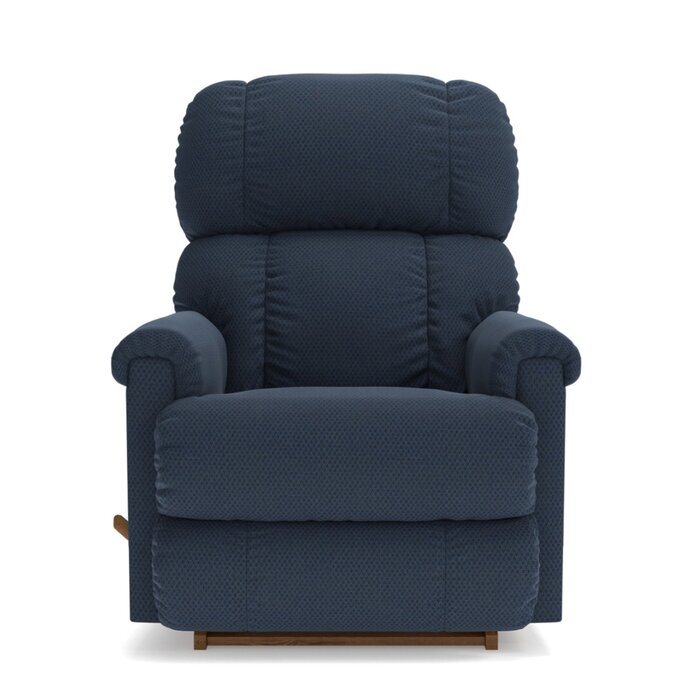 Product Details:
Materials: 100% Polyester, Foam, Larch and Plywood
Dimension: 38.25″ H x 31.25″ W x 37.5″ D
Color: Charcoal, Navy Blue, Slate
Looking for a practical piece of furniture for your home nursery? Check out the Neoma, our top pick.
One of the most useful features of this small rocker recliner is that it can pivot and recline in all directions. If you're a new parent, you'll know the pain of settling down in your chair only to realize you've left the baby's bottle on the table behind you. This chair gives you complete 360-degree access to your bedroom, saving you from having to get back up and disturbing your little one.
The high-quality fabric and durable construction truly make this a piece that will stand the test of time. The fabric is easily cleaned and maintained, ideal for when you are looking after a new baby.
We really love the elegance and simplicity of this design, which is what you come to expect when buying from Wayfair. The recline itself is smooth, quiet, and easily implemented from the convenient side handle. The seat itself is comfortable and accommodating, which makes it a great chair for nursing a newborn from the comfort of your bedroom.
---
Best Swivel Rocker Recliner for Short Person
Product Details:
Materials: Microfiber
Dimension: 37″ D x 30″ W x 41.80 H
Color: Bright White, Cream, Mocha
Petite users will adore this recliner due to its size-friendly features.
Recliners have a reputation for being bulky and overbearing, which is the last thing you want in your bedroom. If you're on the shorter side, recliners can leave you feeling overwhelmed. A manual recliner can also be difficult to operate if you cannot push back with enough strength.
The Naomi Home Odelia offers a simple solution to that problem. It is a small and compact recliner, lever-operated, meaning you don't need to worry about pushing back with enough force to get the most out of your new chair. It also boasts a padded footrest to take the weight off your feet at the end of a busy day.
The chair's squared design gives it a contemporary vibe, but we think it is understated enough to work with most themes. The fabric upholstery is soft and plush, allowing for lengthy relaxation sessions. It also comes with a built-in swivel for convenience.
The Odelia is also effortless to put together, leaving you more time to relax in your bedroom.
---
Best Oversized Swivel Rocker Recliner
Product Details:
Dimensions: 31.2 x 31 x 28.5 inches
Materials: Faux Leather
Color: Black
Oversized but not overbearing, this recliner is ideal for those looking for a larger piece of furniture for their home.
Sometimes less isn't more. If you're looking for an over-indulgent piece of furniture for maximum comfort, we think we have found the right one for you.
The Furniwell boats a ton of extra features that really take it to another level. Not only is it a swivel recliner, but it rocks and has a heat and massage function built-in. It truly does it all.
Furniwell claims that this chair offers extreme comfort, and we tend to agree. Thanks to its accommodating head and footrest, reclining on this sofa is delightful as your whole body is supported from the minute you sit down.
The massage function comes with 5 different modes with two levels of intensity. The convenient swivel motion allows you to position the chair in whichever direction you choose. To top it off, the recliner comes with two built-in cupholders and four side pockets for storage, ensuring your must-have devices are always at hand.
---
Best Lane Swivel Rocker Recliner
Product Details:
Material: Chenille/Linen Weave with Wooden base
Dimension: 39 x 40 x 43 inches
Color: Sand, Merlot
Crazy for Lane Home furnishings? Check out the Cortez.
If you know anything about home furnishings, you'll know the name Lane. Lane has a stellar reputation for providing high-quality furniture, and we couldn't have a top list without one of their fabulous small recliners being featured.
One of the reasons customers love Lane is that all their furniture is made right here in the USA. This means their standards are high, and this is apparent through every piece of furniture they make.
The Cortez is covered in a plush chenille fabric, which is soft to the touch. It's also simple to clean and maintain. The royal zero gravity mechanism that features in this recliner will make you feel like you are floating on cloud 9, as the generous layers of foam support your legs, neck, and head.
Not only does the Cortez come with a 360-degree swivel, but it can also rock. Its size makes it very accommodating and can easily support taller users.
---
Buying Guide
---
How to Determine Which Is The Best Swivel Rocker Recliner for You?
Don't know a swivel recliner from a rocker? Looking for a small recliner for your bedroom but don't know where to start? We have you covered.
Types of Small Recliners
Check out our handy guide below on the differences between the typical recliners on the market
Rocker Recliners
As the name suggests, a rocker recliner not only reclines but rocks at the same time. Many people find comfort in the rocking motion, as it helps lull them into a relaxing sleep. Not only is it great for napping, but if you're a new mother, it's a fantastic choice for nursing your small child.
Lift Chairs
A lift chair is a fantastic option for the elderly or those who have difficulty standing. Using a built-in mechanism, a lift chair helps the user to stand on their feet. Many lift chairs come with an anti-slip upholstery to stop users from falling as the chair raises.
Wall-Hugger Recliners
If you're lacking space in your small bedroom, a wall hugger recliner could be exactly what you need. Wall huggers require very little clearance between the wall and the chair's back to move into a fully reclined position. Instead, they slide forward.
Massage Recliners
One of the most popular features many people opt for when picking a recliner is to add a massage function. Most of the time, a massage recliner also comes with a soothing heating feature. While they work incredibly well to dial up the chair's levels of comfort, they are, as you may expect, more expensive.
If you're working with a small budget, you may decide against a massage recliner.
What Is A Recliner That Rocks And Swivels?
As you may expect, a rocker recliner does precisely as the name suggests, helping the user rock the chair back and forth. Rocking is a fantastic way to increase comfort and works wonders for restless babies.
A swivel chair, on the other hand, is built on a rotating base. The base allows the chair to rotate 360 degrees. This feature turns your chair into a multi-functional piece of furniture that can be rotated in whichever direction the user prefers.
A rocker recliner with a swivel function combines both features for ultimate convenience.
What Is The Best Swivel Rocker Recliner For Short People?
After hours of testing over several weeks, we carefully identified the best small recliners to meet specific needs.
The best swivel rocker recliner for short people is the Naomi Home Odelia Rocker Recliner. This recliner is ideal for petite users as it offers a compact and sleek design. This makes it incredibly comfortable for smaller individuals who may find regular recliners overbearing.
The push-back recline is easy to operate, while the chair itself is incredibly comfortable. If you're on the petite side and looking for a recliner for your home, you can't go wrong with the Odelia.
Can You Add A Swivel To Any Recliner?
If you opted for a regular recliner and are missing out on a swivel, fear not. Most small recliners can be converted to feature a swivel by purchasing an inexpensive swivel kit on Amazon.
This kit attaches to the bottom of your existing recliner to enable it to swivel up to 360 degrees. However, if you have a powered recliner, the cord can present a bit of a challenge. For that reason, we only recommend converting non-powered swivel recliners.
Conclusion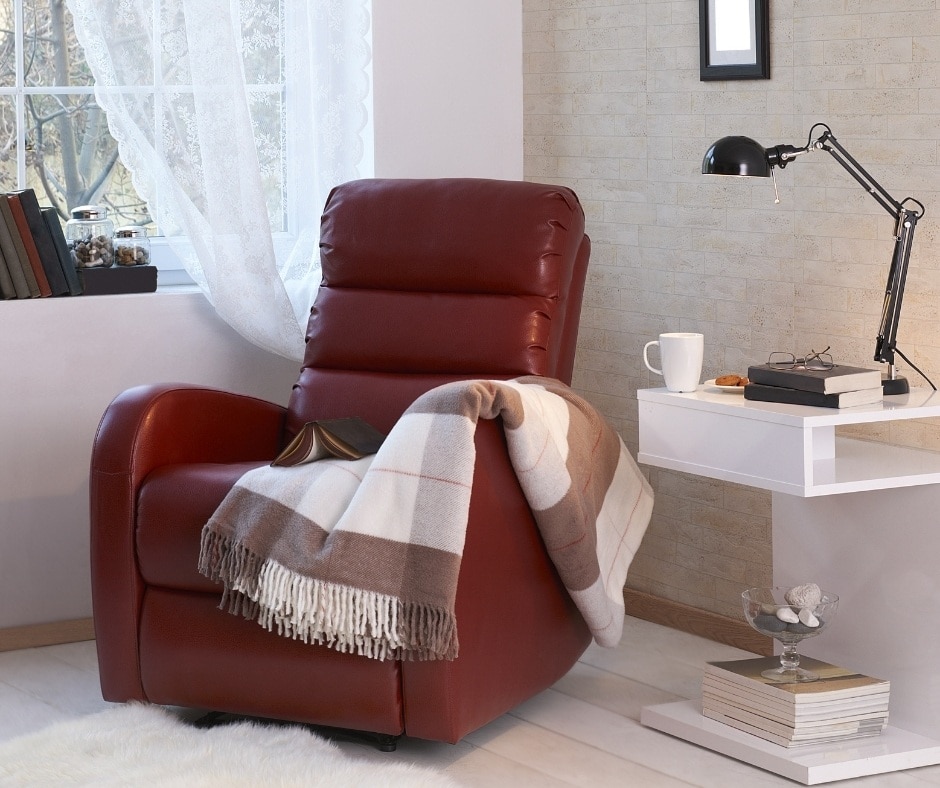 Adding a recliner to your bedroom is a great way to convert your space for multi-use. After all, why should a bedroom be just for sleeping? Hopefully, we have shown you how you that even with small spaces, you can add a wonderful recliner to your bedroom.
The Esright massage recliner is our top choice for the bedroom. Its soothing massage feature and convenient features such as cupholders and side pockets will make a great addition to any room.
---
Frequently Asked Questions
---
Who makes the best swivel rocker recliner?
This is an impossible question to answer, as many brands on the market offer excellent small rocker recliners. Spend some time understanding what you need in your recliner to determine which brand is best for you.
What we can say is that Amazon stocks a ton of unique brands, so you'll be sure to find something there to meet your needs.
Does lazyboy make a swivel rocker recliner?
Absolutely! The Pinnacle recliner (featured above) is one of the most popular La-z-Boy recliners on the market today. If you're looking for a well-known brand for your next rocker recliner, you can't go wrong with anything from La-z-boy.