Chances are when you think of a recliner, you picture a larger than life chair hogging most of your living room. Comfortable yes, but space-saving, definitely not.
The good news is that manufacturers and designers are on a mission to make recliners accessible to everyone. Understanding that we don't all have the luxury of unlimited space, a ton of slimline recliners perfect for compact living areas are hitting the market.
The Homall recliner is our favorite, boasting a slimline design at an unbeatable price point. If you're looking for something for a statement piece, check out the Central Park Power Recliner, with its eye-catching and unique design.
In This Article We'll Discuss
11 Best Slim Recliners for Narrow Spaces
---
11 Best Slim Recliners for Narrow Spaces
Best Overall Slim Recliner
Product Details:
Dimensions: 27.6 x 35.8 x 38.6 inches
Materials: Faux leather
Available Colors: Black, Brown, Light Blue
They say that good things come in small packages, which has never been more true than in the Homall recliner chair.
To begin with, we have to mention the price. Most customers will assume to get a decent performing recliner, they would need to spend a few hundred dollars. This is where the Homall triumphs, coming in at an unbelievable price, less than one hundred dollars (before shipping).
Now for that price, you can't expect any extras like a massage function or heated seat, but Homall does offer incredible comfort levels with its curved arm design and extra padding on the seat and footrest.
When it comes to reclining, the Homall is fantastic for taking a nap or even a fully-fledged sleep. While it doesn't go fully-flat, it does go back to a comfortable recline for a well-supported rest.
One of the best things about the chair is the lifetime warranty Homall offers, which is incredible in a chair at this price point. The warranty covers any damage or missing parts.
Aesthetics wise, there is no arguing that the Homall is a simple design, but for many, this is perfectly adequate. We a confident it will make a fantastic addition to any home.
---
Another Solid Option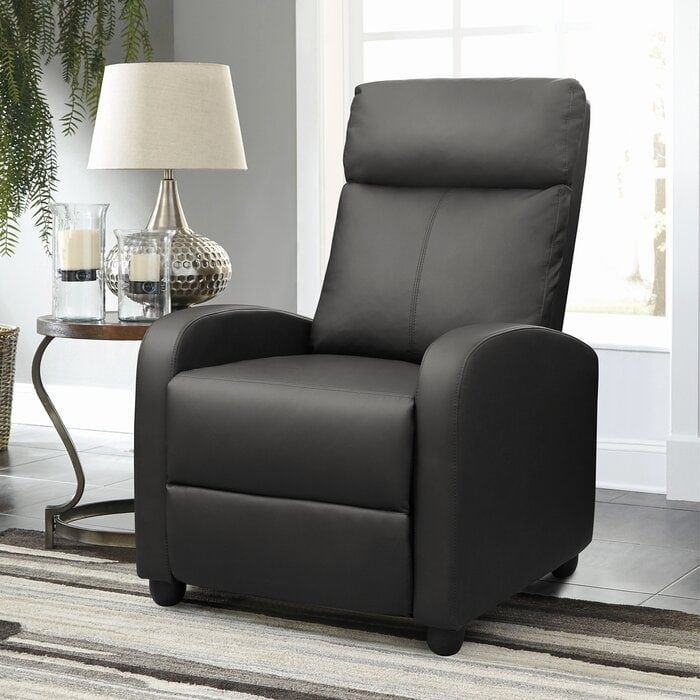 Product Details:
Dimensions: 38.6″ H x 27.6″ W x 35.8″ D
Materials: Faux Leather
Available Colors: Black, Brown, Beige, Gray
Narrowly missing out on the top spot was this wonderful faux leather recliner from Wayfair.
Fans of this recliner tend to like it as it doesn't look like your typical bulky chair, making it very versatile and able to fit into a variety of different rooms. In four different color options, you're guaranteed to walk away with a comfortable recliner that will fit in with your existing aesthetic.
When it comes to durability, this recliner is built to last. With a sturdy frame and high-density foam cushioning, you'll get many years of use from this beautiful chair. Better still, the PU leather upholstery is water, stain, and fade-resistant, ensuring this recliner will look great for years to come.
This recliner is a push-back model, which some like as you don't have to fumble around with switches or buttons to recline to your preferred position. Talking of positions, this recliner can relax into one of three super comfortable options, up to a recline of 150 degrees, perfect for reading, watching a movie, or taking a nap.
A hard to beat feature is a soothing massage function, which will help increase your comfort levels tenfold.
---
Best Leather Slim Recliner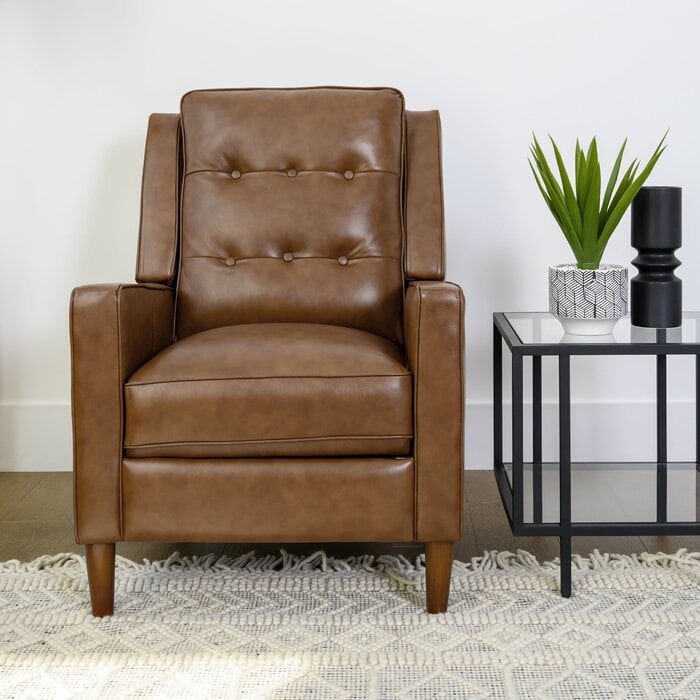 Product Details:
Dimensions: 41″ H x 30″ W x 37″ D
Materials: Genuine Leather
Available Colors: Camel, Gray, Brown
There's no doubt about it. Leather exudes luxury and class, and if you have the budget for it, a leather statement recliner will last you a lifetime.
While we tested a bunch of leather recliners, the Mary recliner from Wayfair really is the pick of the bunch. This manual push-back recliner can comfortably ease you into a choice of two positions, perfect for catching up on Netflix of sneaking in a quick nap.
The chair is made using high-quality, genuine leather. Not only is genuine leather soft, but it's incredibly durable and also helps to keep your body cool during the warmer months. The most common reason people choose leather is for its aesthetic appeal, and this recliner certainly won't let you down there.
One of the downsides is that this recliner is very expensive and is 6 times as expensive as some of the cheaper models on this list. For some, that expense cannot be justified, but for those who can afford to indulge, you definitely won't regret it.
Its solid pine wood frame completes the appeal while ensuring this recliner will last almost a lifetime.
---
Best Slim Swivel Rocker Recliner
Product Details:
Dimensions: 32.3 x 39.4 x 40.9 inches
Materials: Hardwood frame, microfiber upholstery
Available Colors: Beige, Brown, Dark Beige, Dark Grey, Navy
Looking for something more than a simple recline? Check out this swivel rocker from Ravenna.
Swivel recliners are great for gamers but can also come in handy in your living room, helping you reach switches to turn off lights or simply pick up your drink resting beside you. The Ravenna provides a 360-degree swivel for ultimate control.
What's great about the Ravenna is it's easy to clean, microfiber upholstery is both durable and breathable. If you do have any accidents, a wet cloth should take care of most issues.
The foam cushioning on the seat is on the firmer side, providing adequate support helping to alleviate aches and pains in the back. Taller users will also find this recliner much more accommodating than other models due to the headrest's more elevated position.
Assembly of the Ravenna is incredibly simple and will take less than 15 minutes from unpacking, ideal if you're not too adept at DIY.
---
Best Slim Recliner for the Elderly with Power Lift
Product Details:
Dimensions: 36.6 x 28 x 39 inches
Materials: Non-slip material
Available Colors: Blue Green
Looking for a gift for your grandparents? Look no further.
The ERGOREAL is a real powerhouse when it comes to recliners. And while we have nominated this chair as the perfect option for the elderly, its features make it a fantastic chair for any user.
First up, the ERGOREAL is an infinite position chair, meaning you can completely customize your recline to suit your needs. The most significant selling point is that the chair includes not only massage but also a soothing heated function. The massage and heat functions can be set on a 10 – 30 minute timer to switch off once you're (hopefully) snoozing away, helping you reduce energy consumption. The silent motor can comfortably recline the user up to 150 degrees.
One of the reasons we think the ERGOREAL makes a fantastic choice for the elderly is its covering, made from a non-slip material. This reduces the chances of any accidents when using the power lift feature, which can help elderly users get to their feet.
Although this chair can support users up to 330 pounds, it is genuinely a slimline option. This means it may not be suitable for larger users, who may find the seat space relatively narrow.
Some other added bonuses include a USB charging port and a one-year warranty.
---
Best Slim Mid Century Modern Recliner
Product Details:
Dimensions: 34.25 x 38.7 x 38.7 inches
Materials: Textile
Available Colors: Grey, Purple, Slate, Cream and 12 others
If you're looking for a mid-century recliner, look no further. Available in an incredible 16 different color choices, the Macedonia is a must-have chair for your living room.
The Macedonia modern recliner will look great in any contemporary living space. What's more, its incredibly slimline silhouette means it won't dominate your room. In fact, Macedonia doesn't look like a typical recliner at all. It's button-tufted back is a classy touch that increases the appeal. At the same time, the extra cushion in the seat helps make it one of the most comfortable slim recliners we tested.
As with most affordable recliners, the Macedonia is a push-back model, meaning you have to push your back into the seat for it to recline. We found this seat a little stiff at first, but we are certain it will loosen up after extended use.
---
Best Slim Contemporary Recliner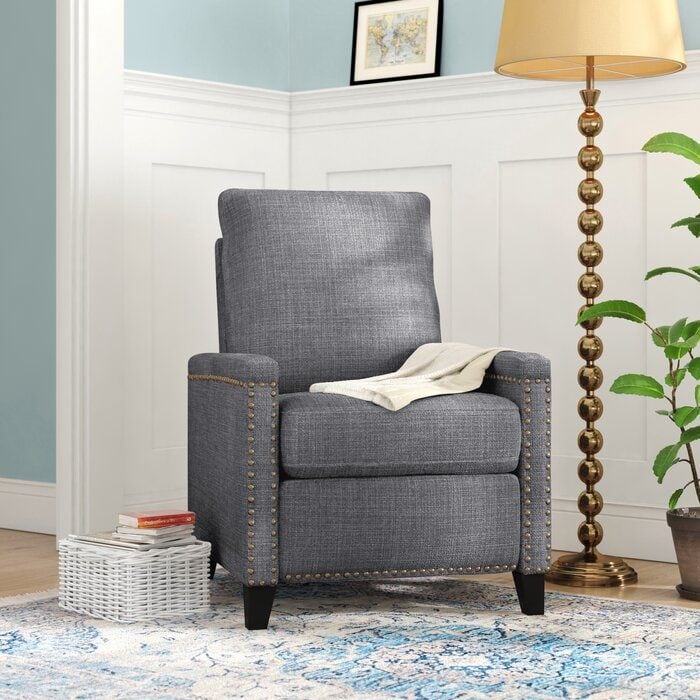 Product Details:
Dimensions: 39″ H x 28″ W
Materials: Microfiber/Microsuede; Polyester Blend
Available Colors: Blue Gray
The Hallam Manual Recliner is one classy looking chair. From its sleek silhouette to its brass button embellishment, this is one contemporary recliner you won't want to miss.
Once again, Wayfair has managed to produce a recliner that doesn't actually look like a recliner. Thanks to its discrete push-back design, your guests will be none the wiser until you let them know the levels of comfort hidden inside.
Once reclined, the comfortable footrest raises to add support to your legs and feet as you sink into the 145-degree recline.
We feel that this recliner would work best in a bedroom, and it's incredibly space-saving design will make sure it will fit into even the smallest of spaces. Although some assembly is required, it can be put together in just a few minutes, leaving you ample time to relax afterward.
---
Best Unique Design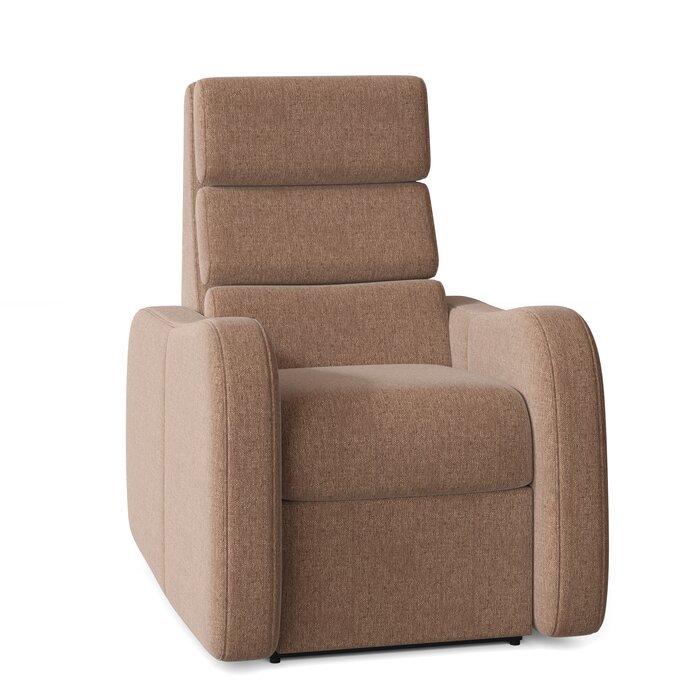 Product Details:
Dimensions: 39″ H x 28″ W x 35″ D
Materials: Textile
Available Colors: Over 70 choices, including black, cream, and brown.
Why follow the crowd when you can have a wonderful attention-grabbing chair in your home.
This is definitely a love it or hate it type chair, and honestly, we couldn't make our mind up. While the design could almost be part of the Starship Enterprise, its extra features persuaded us to include it on the list in the end.
There are several great features of the Central Park Power Recliner. As the name suggests, it's a power recliner, so no more fumbling around with levers or buttons, and no need to push back on stiff seatbacks to get into your preferred position.
The chair also comes in over 70 color options, all handmade right here in the USA. We love the versatility of this chair, but if you're the kind of person to not make a decision quickly, you may spend too much time trying to find a color that works best.
Comfort-wise, this chair is up there with the best of them. Wayfair has used multiple densities of foam to create unbeatable comfort levels, contoured to fit the shape of your body.
Whether this is a chair for you, only you can decide, but it ticks all of our boxes and would make a great addition to any home.
---
Best Slim Recliner by Lazyboy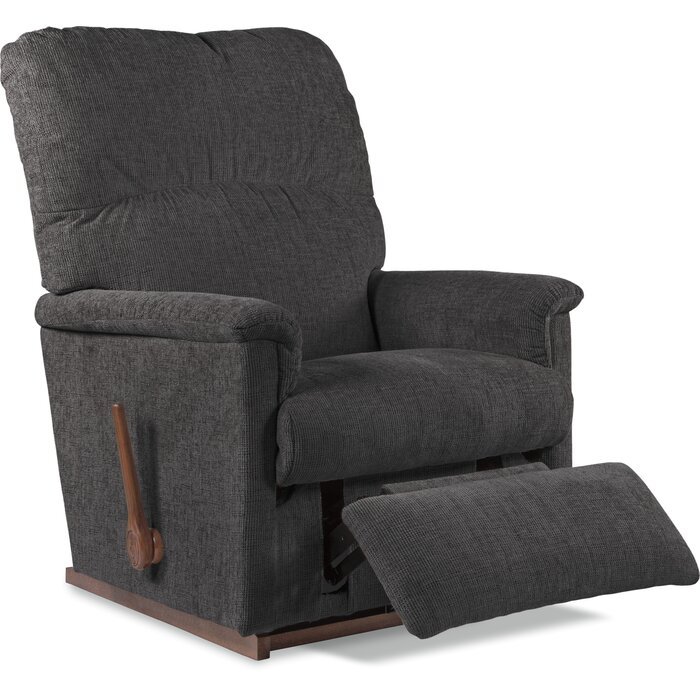 Product Details:
Dimensions: 39.5″ H x 29.5″ W x 36″ D
Materials: 100% Polyester
Available Colors: Flannel, Brown Sugar
The Collage rocker recliner from La-z-boy ticks all the boxes in terms of comfort and design.
Next up is a brand that needs no introduction. La-z-boy is one of the most well-known brands globally when it comes to high-quality furniture, and the Collage definitely doesn't let the team down.
Looking at this recliner, you can immediately tell that it's going to be comfortable. Its corduroy-type covering looks warm and comforting, while its overstuffed seat cushions help seal the deal.
And not only does this recliner recline, but it rocks too. This makes it ideal for new parents looking to rock their newborns to sleep.
Although it's not a powered recliner, the easy access lever makes reclining a breeze. At the same time, the footrest gently raises your feet to take the load off at the end of a busy day.
Now La-z-boy manufacturer their products in the USA, so this is definitely not the cheapest option. Still, if you have the money and are not keen on a leather recliner, the Collage recliner certainly takes some beating.
---
Best Slim Swivel Recliner with Ottoman
Product Details:
Dimensions: 44.5 x 33 x 41.2 inches
Materials: Leather
Available Colors: Black, Brown, Beige, Palomino
Perfect for a home theater, the Flash Furniture modern recliner comes complete with a handy ottoman.
Flash Furniture has made a name for themselves on Amazon by offering some of the best value for money recliners. This contemporary swivel recliner is no different, and the inclusion of a separate ottoman is a unique selling point indeed.
Now because of the affordable price point, this chair doesn't offer a massage or heat function. Still, the swivel feature is probably the main reason you would pick this one up.
A swivel recliner is an excellent choice for those looking for a bit more maneuverability in their chair, and we think this chair would look great in a game or movie room. Its eye-catching vintage design would make a real statement piece to any living space.
The chair comes in a choice of four shades, including black, brown, beige, and palomino. In our opinion, the brown is by far the star of the four options. To complete the look, the seat rests on a mahogany wood base that supports the aesthetic and increases its durability.
---
Buying Guide
---
How To Pick A Slim Recliner For Small Spaces?
Choosing a slim recliner for your home may seem like a simple task. But if you don't take your time considering all the variables, you may end up with an unsuitable chair that you do anything to avoid.
Check out our top list of things to consider before buying.
Things To Consider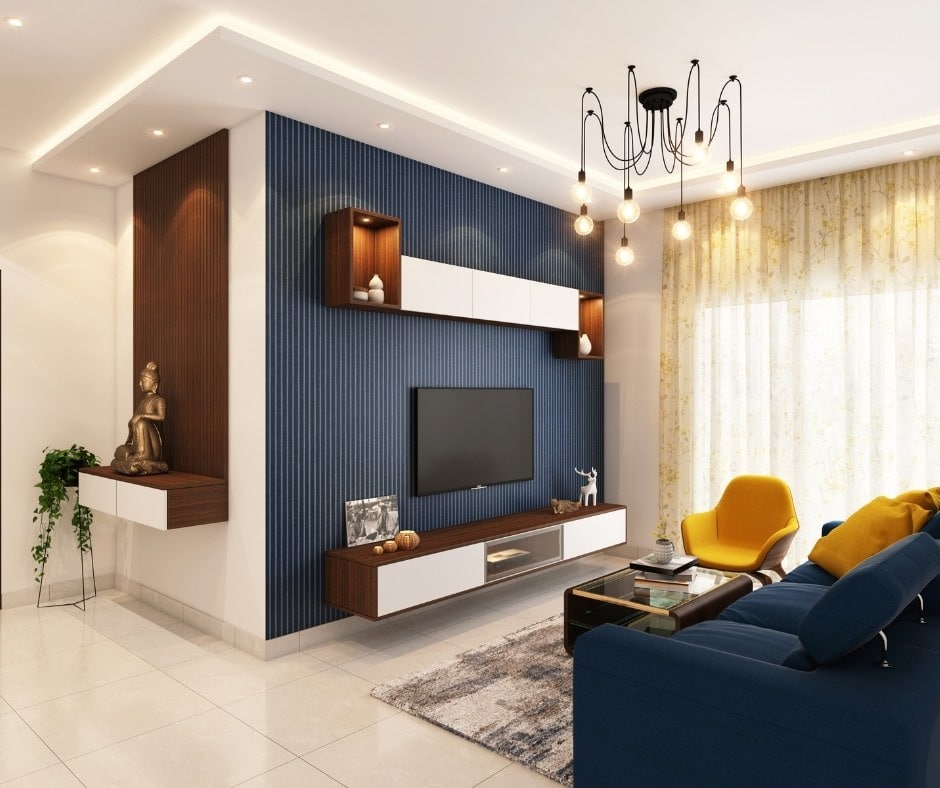 Size up your living space – If you're looking for a slim recliner, chances are you're working with a smaller than average living area. Or perhaps you're hunting for something for your spare room, study, or even motorhome. Spend some time at the beginning measuring your space to determine exactly how much room you are working with. You may find it helpful to mark out on the floor using tape the area the recliner will occupy. Ensure you can comfortably maneuver around the room without bumping into other furniture.
Check your recliner's dimensions – Going hand in hand with the size of your room, check the dimensions of your new recliner carefully before purchasing. Don't be tempted to buy something bigger than you planned, as a recliner can become overbearing in a small room if it is too large. Remember to consider the reclined height to ensure there is enough clearance when fully flat.
Look for Comfort – It goes without saying that you should prioritize comfort. Understand the materials your recliner is made from before buying and opt for one made from high-quality materials. Materials such as memory foam are a good choice but can be expensive.
Durability – Well-made recliners can last for decades, but if the manufacturer uses inferior quality materials, it's likely to last less than half of that. Solid wood and steel frames are the best your money can buy and will ensure your recliner will last for years to come.
Extra Features – If you've got a bit more cash to spend, adding on features such as an in-built massage function or heater is an excellent way to dial up comfort levels.
Go with the classics? – It can be easy to become overwhelmed with all the choices available. If you're unsure, you can't go wrong with picking a classic design. Timeless designs will not go out of fashion even as trends come and go, so you're recliner won't end up looking dated or aged.
What Are The Dimensions Of A Slim Recliner?
Dimensions of a slim recliner can vary by brand, so always double-check the manufacturer's details.
Check below for a rough guide of the dimensions you can expect in a typical slim recliner
Average Dimensions of a Slim Recliner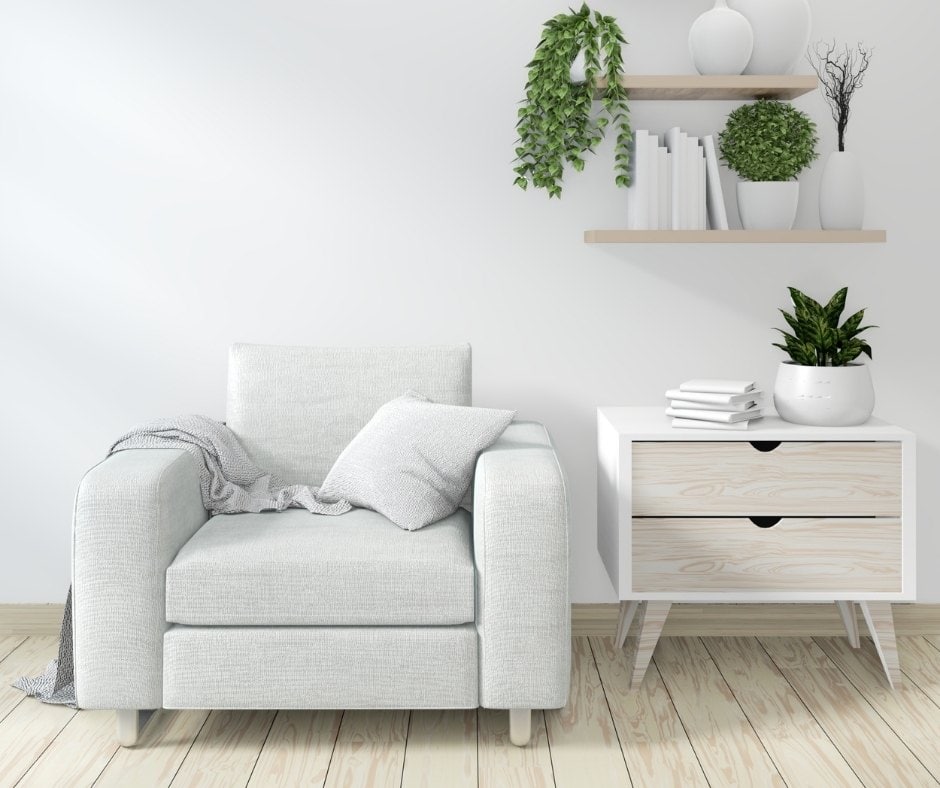 Width (W): 29″ – 30″
Depth (D): 33″ – 38″
Height (H): 39″ – 43″
Remember that there should be at least a five-inch clearance between the recliner's headrest and footrest and the room surroundings when fully reclined.
Conclusion
Working with small spaces may seem like a struggle, but we love it as it forces us to be creative with our choices. Recliners such as the Homall are now more accessible than ever and can look fantastic in a room, large or small.