Sewing machines allow you to construct garments in a flash. However, there are a lot currently on the market! In this guide, we'll break down the very best sewing machines for upholstery. By the end of the article, you'll know exactly which one is right for you.
If you're not sure what you're looking for in a sewing machine, consult our Buying Guide below before beginning. Once you know what type of machine you want, we can jump right into the list! Let's take a look at the best sewing machines for upholstery!
In This Article We'll Discuss
5 Best Sewing Machines for Upholstery
---
5 Best Sewing Machines for Upholstery
---
Best Overall
Product Details:
Comes with a huge range of accessories
15.5 x 6.25 x 12 inches in size
Comes with 32 built-in stitches
Motor is 60% stronger than other machines
Stainless steel bedplate
Automatic needle threader
If you're looking for the best overall sewing machine for upholstery, this is for you. Singer has produced a fantastic sewing machine with a diverse array of features. You'll easily be able to make elegant garments from the comfort of your home.
The machine comes with 32 built-in stitches. Of these, there are 6 basic, 7 stretch, 18 decorative, and one full automatic 1 -step buttonholes. The huge variety of stitches allows you to easily sew crafts, clothing, home decor, and more!
The machine has an automatic needle threader. After you follow the threading path, the threader will thread the needle. This will easily complete a frustrating task for you. Alongside this, you'll also be reducing the strain on your eyes.
The machine measures 15.5 inches x 6.25 inches x 12 inches. It has a maximum sewing speed of 1,100 stitches per minute, meaning that you can sew incredibly quickly. The motor is an additional 60% stronger than normal sewing motors. That means that you'll be able to work with heavyweight fabrics.
The machine has a stainless steel bedplate, which will help you move the fabric. It will smoothly flow across the machine, without skipping. The top drop-in bobby is always easy to insert and remove.
Alongside all of this, this sewing machine comes with several accessories. You'll receive a non-stick foot for vinyl and leather. You'll also get a 5-pack of size 16 needles, and a clearance plate. This plate will help you with thick seams.
The machine also comes with several smaller, but must-have, accessories. These include a zipper-foot, button sewing foot, seam ripper, quilting guide, and needles. On top of this, you can also get a spool pin, auxiliary spool pin, screwdriver, bobbins, lint brush, and a dust cover.
As you can see, this is one of the best sewing machines on the market. Not only is it amazing, but you get a huge range of accessories.
---
Best for Professional Work
Product Details:
Measures 17.8 x 8.6 x 13.8 inches
1500 SPM
Has LED lights
Has an automatic needle threader
Low vibrations due to aluminium die cast arm and bed
Extension table included
When working at a professional level, we recommend the JUKI TL-2000Qi. This sewing machine is fantastic for professional work and works at a high level. It measures 17.8 inches x 8.6 inches x 13.8 inches.
The machine has LED lights and can operate with one pedal. What makes this a great choice is that it works at 1500 SPM. This makes home decor and fabric construction a breeze.
The product includes an automatic needle threader. This will take care of the difficult process of threading the needle. This feature will also reduce your eye strain over time as you won't have to focus on the needle.
JUKI Tl-2000Qi has an aluminium die cast arm and bed. Due to this, the machine has very few vibrations. This means that you can easily sew without making any mistakes due to the machine's movements.
The side extension table will allow for wide work area. This will help you if you're sewing a large garment or need extra space.
---
Best for Budget Pick
Product Details:
17 x 13.9 x 10.3 inches
37 built-in stitches
Automatic needle threader
Several accessories
Versatile free arm
Lifetime support
Are you looking for a sewing machine on a budget? If so, be sure to check out this machine by Brother! The fantastic sewing machine is the cheapest on this list, while still packing a punch. It measures 17 inches x 13.9 inches x 10.3 inches.
The Brother Sewing Machine GX37 comes with 37 built-in stitches. These also come with an auto-size buttonhole feature! The automatic needle threader pushes the thread through the eye of the needle. Never again will you have to strain your eyes trying to focus on them.
There is also a drop in top bobbin location. This is jam resistant, making your sewing experience as easy as possible. It also comes with several accessories. You'll receive six sewing feet, bobbins, an instructional DVD/manual, and needle set.
The versatile free arm allows you enough range for all everyday sewing projects. You'll be able to work on any form of project, from beginner to advanced. Both sewing and quilting projects will be at your disposal.
Alongside all of this, the sewing machine comes with Brother support. This support extends into technical support. This includes live chat or phone calls for the lifetime of your machine.
---
Best for Small Craft Projects
Product Details:
Great for small craft projects
Measures 10.43 inches x 9.06 inches x 7.48 inches
Contains two speed settings, "Slow" or "High"
Comes with a large sewing kit of 42 individual pieces
Helpful for beginners
When working on small craft projects, a smaller machine is needed. This Magically Mini Sewing Machine is perfect for the job. It comes in three colors: blue, white, and pink. It is an electrical machine that measures 10.43 x 9.06 x 7.48. With the foot pedal, it is easy to start any sewing job.
You can choose from high or low control settings. By using a double thread design, the stitching is even stronger. Due to this, you can end sewing without tying up the thread. Alongside this, there is a speed option where you can choose "High" or "Slow" depending on what you need.
The sewing machine also comes with a huge sewing kit. You'll get 42 individual pieces of sewing tools. You will get 36 bobbins, 5 needles, 1 scissors, a tape measure, a threader, and an extension table.
The machine comes with threading direction, helping beginners to learn quickly. Considering this is a mini size, it can cover all of your at-home sewing demands. If you need a Christmas or birthday gift, this is a great option.
---
Best for Sewing and Embroidery
Product Details:
Computerized screen lets you preview your designs
Has 103 built-in sewing stitches
710 SPM
4 x 4 inches embroidery screen
Total size of 21.18 x 15.51 x 16.54
10 different auto-size button holes
80 built in designs
Automatic needle threader
Brother makes the list again with this truly incredible sewing machine. If you need a machine for detailed skills such as embroidery, this is the machine for you. The product comes with over 80 built-in designs. This will allow you to embroider letter fonts to personalise any of your projects easily.
The automatic needle threader will ensure your eyes never tire. This stops you straining your eyes. The machine will thread needles for you. It is also jam resistant, letting you work without a hitch. You'll be able to drop bobbins in from the top of the sewing machine.
There are over 100 built-in sewing stitches with this machine. You can pick from 103 sewing stitches. These include 10 different styles of auto-size buttonholes. The max sewing speed is 710 SPM.
One of the best features of this project is that it has a large cooler touchscreen. The computerized aspect of the machine featured a 3.2 inch LED touchscreen. This will provide a small preview of any design before you commit to it.
There is a 4 inch x 4 inch embroidery field. This also comes with an embroidery arm, hoop, and 7 sewing feet. The total size for the machine is 21.18 inches x 15.51 inches x 16.54 inches.
---
Buying Guide
---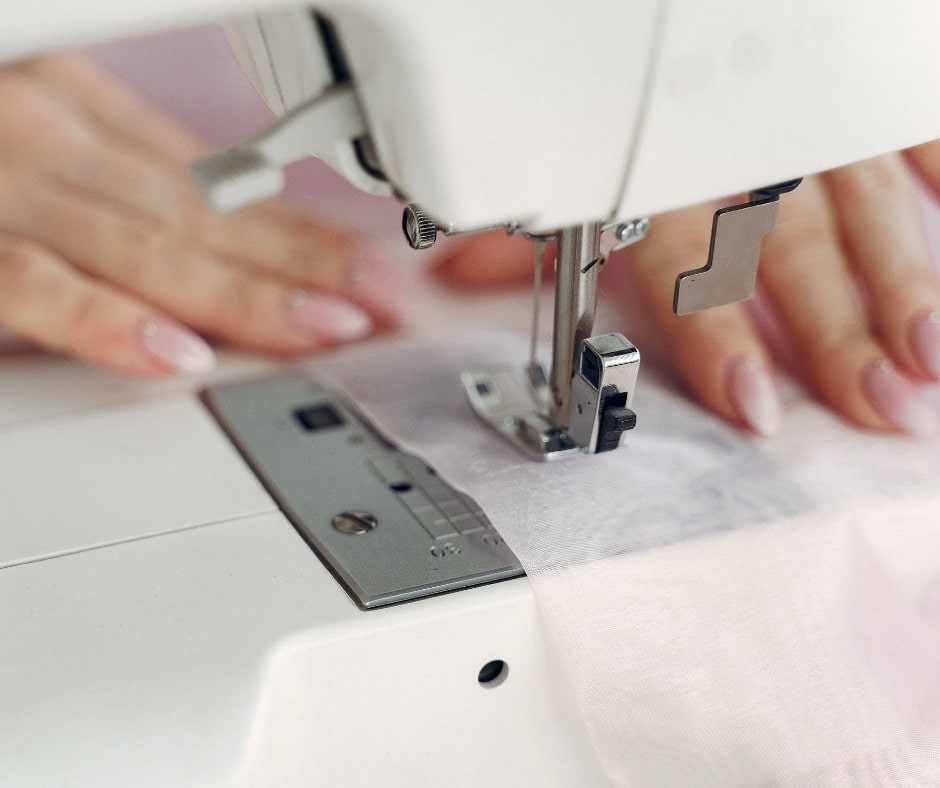 When buying a sewing machine, there are several factors that you should take into account. You need to consider things like Speed, Power, and Design Options. Let's take a look at these three categories. By working through them, you'll know exactly what you're looking for in a sewing machine.
Speed
In the sewing world, they use SPM for speed measurement. This stands for Stitches Per Minute. If you're working in a fast industrial environment, you're going to need a machine with a high SPM. In that case, I would recommend that you take a look at one of our professional machines.
However, if speed isn't really a concern of yours, then opt for a slower machine. This will save you money, while also meaning that you can work leisurely.
Power
When working with heavy-duty materials, you will put strain on your sewing machine motor. Depending on the resistance and power of this motor, it might eventually give out. This is incredibly frustrating, and will need a fix.
If you know that you will be working with heavy-duty materials, I recommend a heavy-duty machine. From this list, Singer is the best heavy-duty sewing machine. It has a motor that is 60% stronger than others, allowing you to work on heavy materials.
If you are only working with light materials, power is not something you need to take into account. Due to this, you can opt for one of the machines on the cheaper end of the spectrum.
Design Options
The final question you need to ask yourself when buying a sewing machine is 'Why?'. Are you going to use this machine for detailed sewing ornamentation? What about just putting simple garments together? If you don't need a lot of detail, then you should go for a simpler machine.
Alternatively, if you know you need a lot of detail, then go for a more complex machine. On this list, the Brother SE600 has fantastic design options. If you want to embroider, make sure you get a machine that can help make that process easier.
Conclusion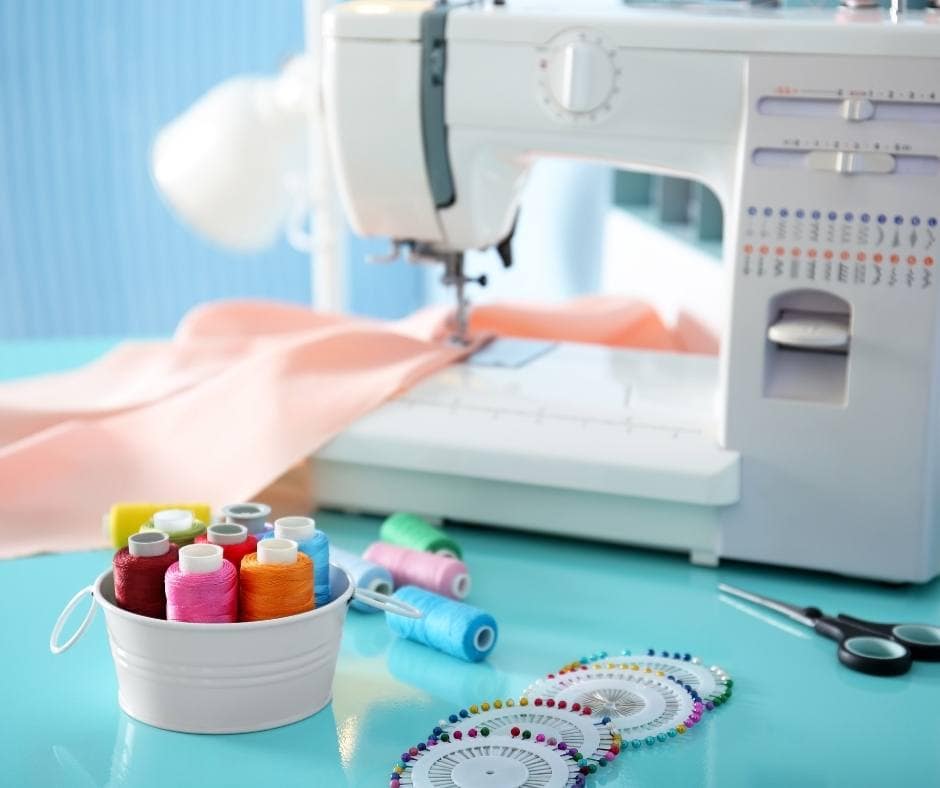 These sewing machines are the best for upholstery on the market. They all bring something special to the table. If you want to know which is best for you, consult our buying guide. You'll walk away with the best sewing machine for upholstery for you in no time! Best of luck on your search.