Slogging through your working hours on a terrible chair is not only demotivating but also harmful to your health.
Bad desk chairs will not push you in the right sitting posture, so after long periods of sitting, your spine will suffer from a lot of pressure. This could potentially cause back pain and other conditions.
The best reclining desk chair will give you the flexibility to change positions as often as you need, whether that's every hour or every five minutes. With an ergonomic design and a flexible reclining mechanism, you can stay comfortable at work as you focus on your tasks.
In This Article We'll Discuss
8 Best Reclining Desk Chairs
---
8 Best Reclining Desk Chairs
---
Best Overall from Duramont
Product Details:
Material: Mesh
Type: Office recliner chair
Features: Lumbar support
Our top pick from a well-respected brand.
Duramont pushes the boundaries of comfort with this industry-leading ergonomic office chair that has been specifically designed to help you stay active, improve posture, and feel more comfortable during your workday. With a focus on back support and adjustable armrests, it keeps you from slouching — reducing back pain while encouraging a healthy spine.
The chair comes with a fully adjustable ergonomic design that provides its user with the utmost level of comfort. The lever-activated saddle slides, allowing you to easily find the sitting position that best suits you. The seatback is also height-adjustable, letting you find the most comfortable angle possible no matter your size and shape.
To support your lower back, the chair features a lumbar support pillow and an adjustable headrest. The best part is that you can move this lumbar support up and down at will, allowing you to completely customize your back support to fit your height.
The backrest is made from high-quality mesh, which not only offers top-tier comfort but also great breathability, making sure that you stay comfortable even on hot days. The chair is also very easy to install, requiring no special tools or DIY skills.
---
Best Office Style Chair
Product Details:
Color: White
Material: Mesh
Indoor usage
A top-tier office-style chair for the home.
Ergonomics is the science of designing products to fit the human body, and a good ergonomic office chair can maximize comfort while minimizing pain for both a full-time desk worker and an occasional visitor to the office. This model's contoured back supports your back and spine, providing an improved level of comfort over traditional office chairs which commonly fail to support the back properly.
Comfort is the name of the game for this ergonomic office chair. It features a high-density foam seat and lumbar support that keeps your back in great shape while you work. Its headrest provides extra support to your neck and shoulders, relieving any pressure on them while they're busy helping you type up reports or writing tweets for your brand's social media campaign.
This chair is designed to help you work hard, no matter how long the day may be. Its sturdy frame can support up to 250 pounds, and its stylish design fits any modern space.
---
Best Ergonomic
Product Details:
Color: Black
Material: Nylon
Top-notch ergonomic benefits ideal for office workers.
The Hbada Ergonomic Office Recliner Chair is an elegant, contemporary chair that offers you the comfort you deserve. It features an ergonomic design with a mesh backrest, padded armrests and seat to provide unbeatable support during those long office meetings. Its solid metal base is designed to stay stable on wood or tile floors, so it won't move across the floor while you're working.
Features like reclining backrests and adjustable height make this ergonomic chair more comfortable than most other office chairs. The simple design of its construction makes it easy to adjust the backrest, tilt, and height to your personal preferences. It has a mesh backing, making it cool and breathable; you could sit on this chair all day without feeling any discomfort – even during the hottest of days.
With a highly durable steel frame construction, this recliner can withstand a total weight load of 250lbs.
---
Best with Footrest
Product Details:
Color: Black Upgraded
Material: Faux leather
When you need to rest your feet after a long shift, this chair is the answer.
Good chairs are famously indispensable for working comfortably for long periods, but if you struggle to take breaks, it might be hard to stay productive. That's where the smart features of this ergonomic chair come in: the backrest has a layer of soft elastic cotton and a comfortable sponge that will help you relax your body and rejuvenate your mind — ensuring that you will return to work fully productive.
The seat and the armrests are filled with a high-density sponge material, ensuring that more comfort is offered to users. The footrest can be adjusted to fit your height, letting you stretch out and rest easy.
The luxurious PU leather of this chair is designed to impress and please. This material is strong enough to stand the test of time and last you through years of luxury at home. Whether it's you or a guest, they'll appreciate the effort put into providing a top-notch comfort experience.
This model has a pneumatic seat height adjustment system that changes your chair's height quickly. With a load capacity of 275 pounds, it's comfortable for almost anyone that sits down.
---
Most affordable
Product Details:
Color: White
Material: Faux leather
Form: Recliner
Excellent balance between price and the performance.
This sophisticated computer gaming chair offers the epitome of comfort, and it can keep your posture upright for long hours of work. With an adjustable recline angle, a headrest pillow, and adjustable armrests, this chair is designed to make you feel like you're floating on air.
This ergonomic office/gaming chair has a bucket seat, which envelopes the body and relieves tension in the spine. With a fully adjustable backrest and flexible lumbar support, it adheres to the body's curves, improving blood circulation while reducing pressure on your back. The built-in headrest is specially designed to promote a healthy posture and decent neck-back alignment, allowing you to work without discomfort.
The steel frame has a maximum weight capacity of 250 lbs and is designed to endure tough conditions. The chair's legs are BIFMA-approved for high-grade performance, guaranteeing that it can withstand a lot of wear-and-tear without wearing down quickly.
---
Best with Lumbar Support
Product Details:
Color: Grey
Material: Faux leather
Form: Office chair
The best in back support.
The Downix is the ultimate gaming and office chair. Its ergonomic design keeps you comfortable through hours of sitting, features a reclining backrest that can be set within a 90-180° range, and comes with an embedded massager to help you relax during long breaks. The Downix's high-quality build ensures durability, keeping your investment safe for years.
The innovative design of the backrest enhances the comfort that you experience from this chair. The winged design allows for easier armrest placement, which helps to balance out the pressure you feel from the body. Placing your arms on the sleek side wings will allow you to rest your legs in a more comfortable position. Overall, this creates a wonderful sitting experience for people of all shapes and sizes.
This chair is built to last thanks to the durable steel frame and the high-density foam used in the seat. Even better, it's eco-friendly, made using faux leather. With a load capacity of 350lbs., it can comfortably accommodate just about any body type.
---
Best with Massage
Product Details:
Color: Black
Material: PVC
When you are tired and the muscles are sore, sit back, relax, and let this top-tier gaming chair massage your pain away.
Luxurious and supportive, this chair has a design that goes beyond looks and provides the ultimate comfort for gamers and office workers alike. It comes with a lumbar support cushion that takes stress off the lower back. And, it's made from a breathable material, making it perfect for long days at work.
A massage is a natural way to ease muscle tension and stress. This advanced ergonomic chair comes complete with a built-in massaging feature, saving you the cost of a separate massage chair or having to hire someone to come into the office once every week. Instead of investing in pricey supplies like massage oils or lotions, all you need is this one chair. It also comes with a wide range of other amazing features, such as an extendable footrest and comfortable armrests. The chair can recline within a range of 90-135 degrees, making sure you can steal a quick nap at the office easily.
With a strong steel frame, the chair can withstand plenty of beating before weathering. The chair's high-density sponge material helps it to provide even more comfort. The chair features artificial leather upholstery, which makes it a good and stylish addition to any office setting.
---
Best High Back for Tall People
Product Details:
Color: Black
Material: PVC
The best recliner for taller folks.
This recliner chair is specially designed for tall people. With its wide range of reclining angles, it lets you recline at your own pace. Whether you want to sit back with a book or want to rest after a long day at work, this chair will provide you with the comfort you deserve.
With an adjustable headrest cushion and a lumbar support pillow, the chair will give you unparalleled comfort while you're working throughout the day. The contoured design keeps you free from back pain or any other discomfort, and it ensures your posture remains straight and comfortable. The retractable footrest allows you to sit back and relax during the breaks between shifts, making sure that you will always have the energy to start feeling refreshed
The chair features a very strong and durable heavy-duty base, which allows it to take on an impressive weight capacity of 350lbs with ease.
---
Buying Guide
---
Though most reclining desk chairs do share a lot of similarities, it can be quite difficult for you to decide which reclining desk chair will be the right choice for you, especially if you are flying blind.
This short buying guide answers the most important questions that people tend to ask when they buy reclining desk chairs. With it, you will be able to buy your reclining desk chair with ease.
How To Pick The Best Reclining Desk Chair?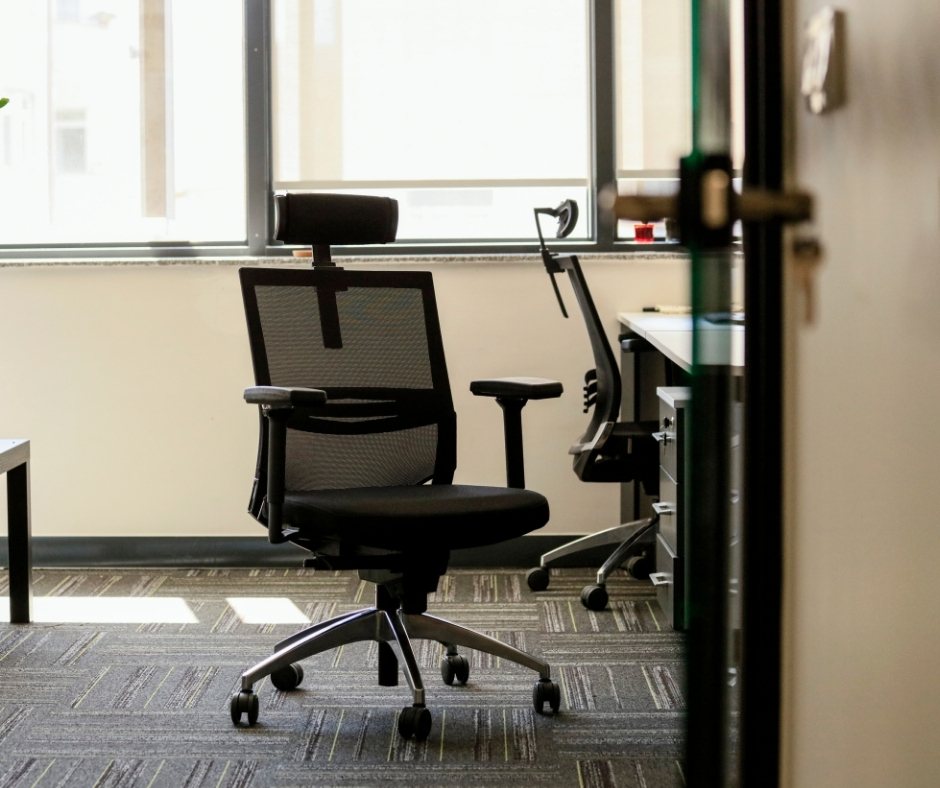 The very first thing you should keep in mind is the height of the chair. As a general rule of thumb, your chair should feature a backrest that is at least as tall as your back. This is so that the backrest can support the full size of your body with ease, and that you can stretch out. You should also consider the height of the desk as well. If the chair is too tall for your desk, it can be quite difficult for you to stay comfortable throughout the working hours. The trick is to find the right balance.
Of course, you want to be comfortable when you're lounging on the recliner, so you should make sure that it has the right amount of adjustability. Some recliners can be adjusted just by pressing a button — making it easy to switch between sitting and lounging positions. Others are manually operated.
It's worth considering ergonomic features, such as a retractable footrest and adjustable seat angle, to ensure that you'll be able to sit comfortably and work for long periods — even on days when you're not feeling 100%.
What Is The Best Reclining Desk Chair?
Everyone has their own opinion about their reclining desk chair, but the best model is typically the one with good adjustability and ergonomic features. The more adjustable a reclining desk chair is, the wider the range of users who can enjoy the comfort it offers. The ergonomic functions are there to not only provide more comfort to the users, but they will also prevent conditions such as back pain or neck pain.
We think Duramont ticks all our boxes, so it gets our vote.
Is It Worth It To Buy A Reclining Desk Chair?
If you have to sit in one spot for a long period, a reclining desk chair is a must. Although these chairs can be expensive, their versatility and comfort are unparalleled. Many reclining configurations are available, including chairs that recline back up to 180 degrees and those with heat and massage functions. Additionally, they can help unlock your creative energy by allowing you to move around the office more easily.
Can A Reclining Desk Chair Also Be Ergonomic?
The answer is a resounding yes! Reclining desk chairs can feature plenty of ergonomic functions such as a retractable footrest or comfortable armrests that move along the backrest. These ergonomic functions will make the chair considerably more comfortable to sit on. Some ergonomic functions also push you into the right sitting posture, keeping you healthy even when working long hours at the office.
Conclusion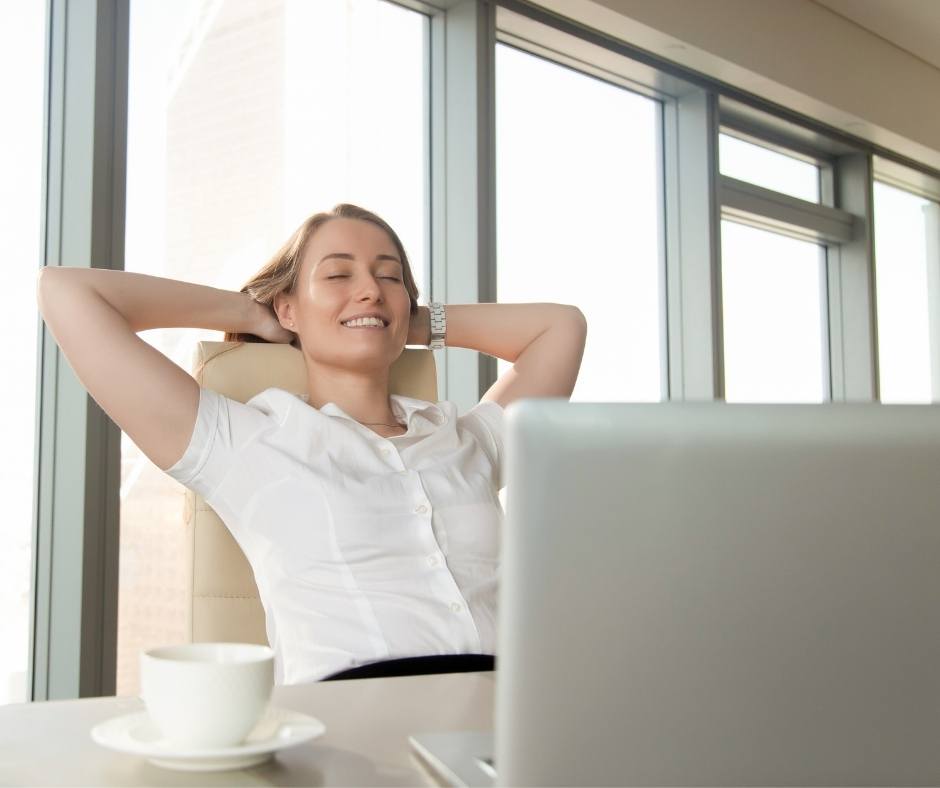 Reclining desk chairs are some of the best choices for office workers and gamers. Their high mobility and ergonomic design will help to alleviate back pain and neck pain, which are especially common among these populations.
If you're on the lookout for a new reclining desk chair, we highly recommend checking out our top pick from Duramont. However, any of the top office chairs that made our list is guaranteed to put a smile on your face.