If you're under 5'4, you're officially classed as 'petite.' While being small comes with some perks, such as extra legroom on trains and flights, there are plenty of downsides. One of which is finding furniture to suit your frame.
It can be tough to find something that works, as the options out there are pretty limited. And when it comes to buying a recliner, you need to put in the work to find something comfortable as well as relaxing.
Well, lucky for you, we have you covered.
Our top recliner for shorties, the Ravenna Oakesdale, is our number one choice because of its high-quality construction and comfort. Always dreamed of owning a la-z-boy? We have something for you, too.
In This Article We'll Discuss
Best Recliners for Short People With Short Legs Reviews
Best Rated Small Recliner for Petite Person with Short Legs
Ravenna Home is Amazon's very own furniture brand, so you know you can rely on its quality. One of the standout pieces of furniture in the collection is the Oakesdale Contemporary Recliner, which is simple yet comfortable. In fact, it's one of the most comfortable recliners for small people.
This is genuinely an eyecatching piece, which we know would look very elegant in the living room.
It's perfect for smaller people as it is 35.4 inches wide x 36.6 inches long and 39.8 inches tall. And not only for small people, but small places too. Because of its compact frame, the recliner makes for an excellent addition to studio apartments and RVs.
We love this recliner because it is easy to assemble and takes only fifteen minutes to put it together. That means you can spend less time building and more time relaxing.
The recliner has an iron frame, making it incredibly durable and long-lasting. The upholstered fabric seat is exceptionally comfortable, which is arguable the most important factor. This makes it the perfect choice for kicking back after a busy day and binging your favorite TV show on Netflix. Just be careful to sit on the seat correctly to prevent tipping.
The recliner itself is easy to clean and maintain. If you happen to spill something, simply wipe it down with a wet cloth to keep it looking good as new.
One thing worth noting is that this recliner is manually operated. While it is straightforward to use, it comes without all the bells and whistles of other models we tested. It doesn't have cup holders, magazine pockets, or an electric recline. So, if you're looking for those features, this isn't the one for you.
● Dimensions – 35.4″W x 36.6″D x 39.8″H with a seat depth of 20.9″
● Weight capacity- 300 pounds
● Colors – Buff, Gray, Red-brown, Taupe
● Material for upholstery and cushions – Polyester
Anderson Power Rocking Recliner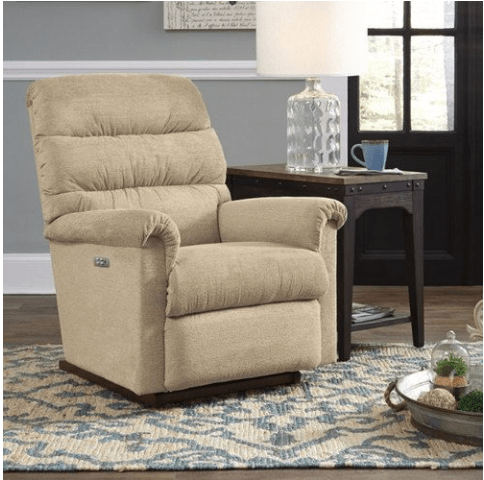 Owning a la-z-boy was always a dream of ours. If you're looking for the best lazy boy recliner, the Anderson Power Rocking Recliner is a perfect choice.
Best Lazy Boy Recliner for Short Person
The name la-z-boy automatically conjures the image of a plush recliner. And to be fair, that's exactly what you get here.
We love the comfort level of this la-z-boy. This recliner has soft, padded arms and a plush seat – it's so comfortable that just might fall to sleep in it. The footrest works to take the weight off your legs at the end of a busy day. In combination, the channel-stitched back offers generous lumbar and body support.
The best part of this chair is that it's available in hundreds of color choices. This means you are guaranteed to find something that will complement your existing decor. Trust us, this chair will quickly become your favorite seat in the house. Oh, and it's size means it is fantastic for short people.
The most outstanding feature, though, is that it is a power recliner. Instead of fumbling around for a lever or button, you can simply recline at the push of a button. It also comes with USB ports that power your tablet and phone.
Even better, this chair doubles as a relaxing rocker. This feature makes it an excellent breastfeeding chair for new moms.
The la-z-boy uses high-grade foam on the seat cushions to give you the utmost levels of comfort. It comes with a double-picked blown fiberfill that helps with retaining the shape through repeated use. You don't have to worry about wear and tear on the upholstery as this recliner comes complete with premium grade fabrics.
For added peace of mind, you get a limited lifetime warranty, which covers all major defects.
All in all, it's one of the best recliners on the market.
● Dimensions – 35″W x 40″D x 32″H with a seat depth of 20″
● Weight capacity- 300 pounds
● Colors – Several customizations available
● Material for upholstery and cushions – Depends on the model.
Best Power Lift Recliner for Short Elderly Person
Mcombo offers a high-quality yet comfortable recliner, offering an ideal solution for the elderly user.
This chair is so useful because it comes with a power lift assist that helps you stand up without placing stress on the knees or back. It's excellent for those with arthritis and chronic back pain.
In terms of the lift function, it is easy and smooth to operate. This is especially important for those not too confident with technology.
The recliner comes with overstuffed pillow arms and a padded backrest. These plush features make you feel like you're sitting amongst the clouds.
When it comes to added features, you get two cup holders and USB ports for all your devices. This helps to recharge your devices as you recharge yourself. The under-seat features a durable metal frame that offers ample support for your body weight. This feature makes it incredibly durable.
Notably, the recliner is fitted with an anti-tip mechanism. This feature ensures the chair won't topple over when getting up or sitting down, which is a safety feature that most recliners don't have.
Keep in mind you may need to help your loved ones putting this together, as it's not the simplest recliner to assemble.
The McCombo recliner features a one-year warranty on the electronic parts, frame, and reclining mechanism. All in all, it's one of the best small reclining chairs for the older users or those who are not so confident on their feet.
● Dimensions – 37″W x 33.5″D x 40″H with a seat depth of 22.5″
● Weight capacity- 320 pounds
● Colors – Brown Light Gray, Medium Gray
● Material for upholstery and cushions – Polyester
Best Leather Recliner for Short Person
The recliner has a modern and minimalist design, which makes it a perfect choice for most homes. Although it is more suited to a contemporary abode, it compliments rustic, traditional, and chic interiors just as well. This leather recliner looks incredible in the living room and will quickly take center stage in your home.
Now let's talk about the leather. The bonded leather upholstery gives this recliner a premium look and feel. When it comes to the cushioning, it comes with a soft foam filling that gives you a heavenly lounging experience.
That's not all, though. This recliner is built to last. It has a steel frame and wooden support, making it a heavy-duty and reliable choice.
With this recliner, you can say goodbye to back issues as the padding on this recliner is thick and comfortable. The recliner features an adjustable backrest from which you can choose between 110-degree and 140-degree incline. This makes for an uber-comfortable experience for the tall and short. You'll be able to have comfortable naps or enjoy your Netflix marathon with minimal fuss.
One downside is that we found the footrest can be a little awkward to get into place, but this isn't a dealbreaker.
For added peace of mind, ANJ offers a one-year limited warranty on this recliner. You also get a one-year coverage on the upholstery.
● Dimensions – 29.7″W x 30.1″D x 41.7"H with a seat depth of 22.5″
● Weight capacity- 300 pounds
● Colors – Coal Gray, White Linen
● Material for upholstery and cushions – Polyester
Best Recliner for Short Heavy Person
A little on the heavier side? This URRED recliner is just the right choice for you if you are looking for something sturdy and comfortable. The recliner features an ergonomic design for the unbeatable levels of relaxation.
This recliner chair has an impressive 330-pound maximum weight capacity. This is due to its solid construction featuring a steel frame. Even better, the high-density sponge offers heavenly levels of comfort that will see you glued to your chair all afternoon.
If that wasn't good enough, this chair's unique feature is that it comes complete with a beautiful massage function.
The recliner features eight massage zones placed at tactical points to help reduce tiredness after a long day at work. This truly makes it worth rushing home for.
The remote control allows you to adjust the seat according to your needs. It also comes with three predefined positions to help you choose the perfect posture for watching TV, reading, or lounging.
There's also a heating function that helps you stay warm, comfortable, and cozy during winters.
What's more, is that this chair is easy to assemble and comes with a comprehensive manual. Perfect if you're not the handiest around the home.
● Dimensions – 35″W x 29″D x 39.8″H with a seat depth of 28″
● Weight capacity- 330 pounds
● Colors – Blue, Brown, Brown PU, and Gray
● Material for upholstery and cushions – Suede
Best Reclining Sofa for Short Person
Sharing is caring. And for that, this beautiful reclining sofa from Signature Design by Ashley Clonmel is the right one for you. The sofa has a comfortable and thick padded back for the ultimate shared relaxation experience.
The contemporary style will complement most existing aesthetics and bring a modern style to your home. The seating is spacious, so you won't feel cramped when sharing.
What we like the most is that the recliner is already assembled when delivered. This is perfect for those that aren't as handy with DIY.
It also comes covered with microfiber upholstery, which is your best friend when it comes to dealing with mess. Spilled a drink or dropped some food? No problem. All you need is a damp cloth, and you can just wipe it all away. The benefit of this upholstery is that it is resistant to stains.
If you're looking to replicate an at-home cinema experience, this recliner is ideal. The attached seat cushions supporting your back are the cherry on the top for what is otherwise an outstanding purchase.
● Dimensions – 39″W x 393″D x 40″H with a seat depth of 22″
● Weight capacity- N/A
● Colors – Chocolate
● Material for upholstery and cushions – Polyester
Best Reclining Loveseat for Short Person
This Christopher Knight loveseat is comfortable and sturdy, yet big enough to fit two petite people. This chair is ideal if you have back issues, as it has somewhat stiff back support. It'll help you correct your posture even while you're lounging in the comfort of your living room. Say goodbye to back pain once and for all.
This is a manual recliner, which makes it very versatile. Although powered recliners are fantastic, with a manual recliner, you don't have to worry about plugging it into a socket. The compact silhouette means it's the perfect size for a home office or nursery. The loveseat doesn't take a lot of space, which is great if you live in a small apartment.
The reclining function is as smooth as possible, while the strong metal frame helps ensure it is durable and will last for many years to come. Although the design is somewhat simplistic, it's one of the most elegant recliners out there.
This recliner comes with durable padded upholstery that's easy to clean and maintain.
● Dimensions – 35″W x 47″D x 39″H with a seat depth of 20.5″
● Weight capacity- 320 pounds
● Colors – Blue Gray, Light Gray, Tweed, Muted Blue
● Material for upholstery and cushions – Polyester
If you're an expecting mom, the Babyletto Kiwi Electronic Power Recliner is one of the best small chairs you can buy. After all, you'll be spending a lot of your time nursing the baby, and you deserve something comfortable and of the highest quality.
The recliner comes with a cushion for lumbar support, which can helo you feed. It is an electronic power recliner, so reclining won't be a hassle, especially when you have your baby in your arms.
One particularly useful feature is that this reclining chair swivels up to 270-degrees and rocks back and forth. Thus helps you gently lull your bundle of joy to sleep while maintaining your own comfort.
The light yet supportive foam on this chair will keep you comfortable when you're feeding the baby in the middle of the night. You can even take a nap while you're at it. It's exceptionally comfortable. This is one of the best recliners for new moms.
And new moms will know the importance of having an easy to clean sofa. One of the most essential features of this recliner is that it's also easy to maintain. You just have to wipe it using a light foam cleaner.
● Dimensions – 39.5″W x 29″D x 39.75H with a seat depth of 22.5″
● Weight capacity- 300 pounds
● Colors – Coal Gray, White Linen
● Material for upholstery and cushions – Polyester
Best Recliners for Short People With Short Legs Buying Guide
Here are a few things to keep in mind when hunting for recliners for the shorter person.
How to Pick Out a Recliner for a Petite Person
Height
Ensuring that your new recliner is no more than two to three inches taller than your height when reclining is important. Any more than this and you may have trouble getting off.
So, if you're 5'0″ (60 inches) tall, go for a recliner that's less than 63 inches. Obviously, avoid recliners that don't support your head or neck.
Forget everything else – that's all you need to know about height when it comes to picking a recliner for small legs.
Weight Capacity
This is one of the most essential recliner features you need to consider.
If you're picking a recliner for a short heavy person, you must keep an eye on the weight capacity. Make sure that the recliner can take your weight to prevent damage or accidents. We've mentioned the capacity of each recliner in this review. So, you'll be able to filter recliners by weight.
A durable frame is the key to support an increased weight capacity.
Make sure to keep in mind the width as well. If you're heavier, a 35-inch wide recliner may not be comfortable for you. Although added space is excellent, having something too big can feel less cozy.
Rocking Feature
If you're picking a nursery recliner for a short mom, make sure it comes with a rocking feature. Not only is it comfortable, but it'll help put the baby to sleep in no time.
We recommend looking for small recliner chairs with lumbar support and padded arms for added comfort.
As a new mom, you'll know the importance of catching up on sleep when you can.
Reclining Mechanism
Let's talk about manual recliners vs. power recliners for short people.
Manual recliners are usually cheaper, but arguably less convenient. If you're on a budget and don't mind the manual function, go for it.
A power recliner makes things much more comfortable. It's easy to recline, and it's much smoother, unlike manual recliners.
In Conclusion: Recliners for Short People
The Ravenna Home Oakesdale Contemporary Recliner is the best overall choice if you're looking for something basic and cheap, yet does the job incredibly well. We like how easy it is to assemble and it's high levels of comfort.
On the other hand, the Anderson Power Rocking Recliner is a superb electric recliner that's easy to use.