As you grow old, it's a wise choice to invest in a recliner that offers the best comfort while providing adequate support, particularly for the back. But finding the right chair can be quite a hassle. After all, how can you find a recliner that will suit your needs and give you the ultimate relaxing experience?
The good news is, we have eliminated that hassle by doing the research for you. We have compiled a list of the best recliners in the market that will be best for you or an elderly relative.
Ashley's signature Design is our best pick of all for comfort, power lift, fabric, movement, assembling, and size. It has the best rating on Amazon, proving it's a gem to many.
In This Article We'll Discuss
10 Best Recliners for Seniors or Elderly
---
10 Best Recliners for Seniors or Elderly
Best overall
Product Details:
Material: Faux Leather
Color: Saddle, Black
Dimension: 40 x 35 x 42.63 inches
Ashley's Signature Design is the best recliner for anyone looking for a luxurious, comfortable, and posture supportive chair.
Ashley's Signature Design is a perfect model for any kind of home and living room. Its versatile color scheme blends with any style and décor.
This recliner has a smooth brown saddle fabric that looks like leather but is actually a thick poly-fiber that is both cozy and soft to the touch. Faux leather is excellent for when you want to save a few dollars, as it is far less expensive than the real thing.
The signature design makes use of a dual motor to effortlessly recline. To use it, gently press the button, and the power lift eases you back and elevates your legs for the perfect reclining experience.
The design is comfortable and has a high back, thick cushions, and a sturdy corner-block frame to enhance stability.
The signature design recliner reclines slowly, making it perfect for seniors, the elderly, or people with disabilities.
Assembling this recliner is easy; just follow the manual on the box, all the hardware and tools are included.
---
Best small recliner
Product Details:
Materials: Leather
Colors: Black
Dimensions: 39.8 x 27 x 34 inches
This recliner chair for the living room is expertly designed for small spaces.
This wonderful recliner is a sleek, classic, and modern chair that is expertly crafted to deliver a unique centerpiece to your living room. Not only that, but it can also be used in offices and communal spaces, thanks to its versatile design.
This recliner's main selling point is its 8 function massage mode, with 3 modes of intensity, offering you a completely customized massage experience.
This chair has a dual function foot extension and a reclining back that helps you unwind and destress after a busy day. Better still, installing this recliner is easy, it's fast to assemble, and no tools are required.
Cleaning the recliner is easy, thanks to its durable upholstery. The upholstery is waterproof, making mopping up spills a breeze. The legs and the frame are made from solid hardwood that provides added stability and durability.
The best part? All of these features are wrapped up in a small package, making it ideal for smaller homes.
---
Best lift recliner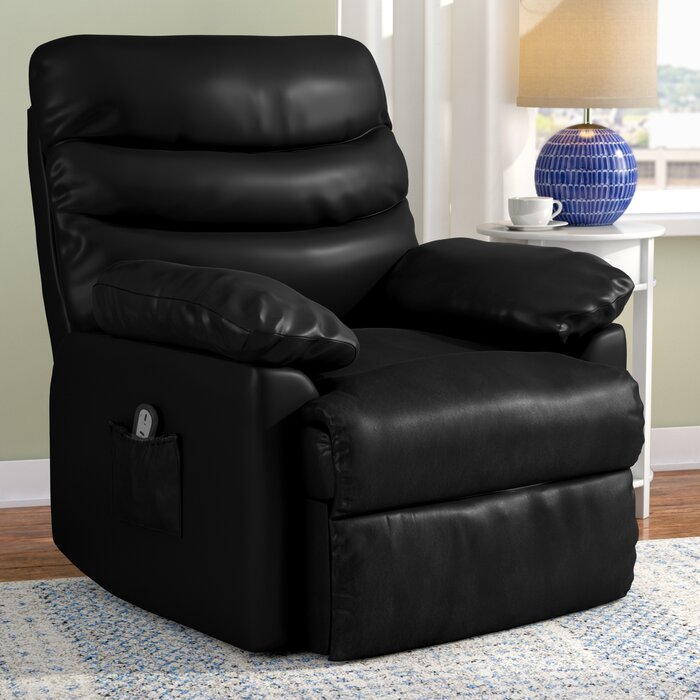 Product Details:
Material: Leather
Color: Black, Brown & Cream
Dimensions : 39.75 H x 37.5 D x 34.75 W inches
The Enedina power recliner is perfect for people for those who need a little extra help to stand.
This beautiful recliner from Wayfair is our top pick when it comes to chairs that offer an extra lift. If you want to save your body from the stress of getting up, this Enedina power recliner is the perfect recliner for you. This recliner controls and raises the seat to ease the transition between sitting and standing, making it ideal for seniors. All of this is made accessible with its convenient remote control.
Thanks to the chair's leather upholstery, cleaning this chair is a breeze. You can spot clean with a mild solvent, an upholstery shampoo, or by using a mild detergent form.
This recliner comes in three gorgeous shades – black, brown & cream, making finding something to fit your existing décor easy.
Fans of the Enedina praise it for its stylish appearance and oh so comfortable cushioning. To top it off, it comes with a generous weight capacity of 300 lbs.
---
Best heat and massage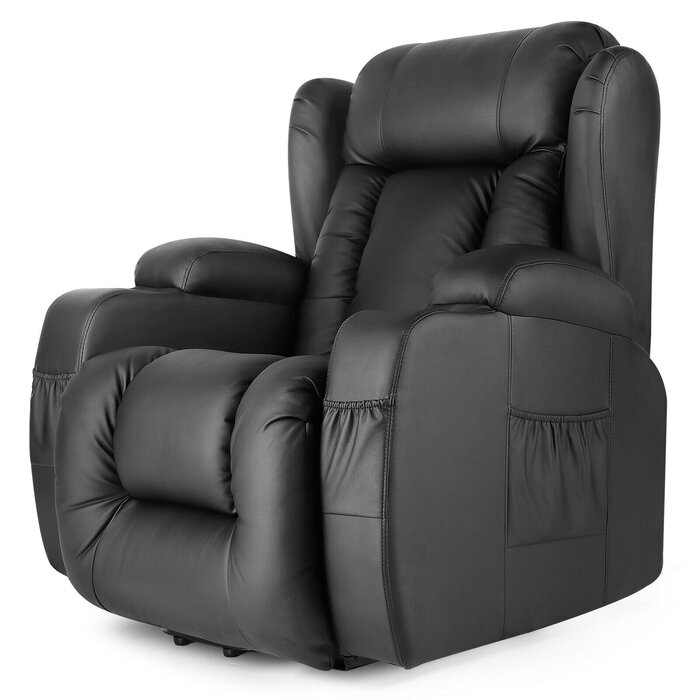 Product Details:
Material: Faux leather
Color: Black / Brown
Dimensions: 43″ H X 34″ W X 39.3″ D
This indulgent recliner comes with added levels of luxury. Come home and relax at the end of a busy day in the Beniamino, with its built-in heat and massage function.
This faux leather chair from Wayfair is our top choice for those looking to add heat and massage into their recliner chair.
While this electrically powered chair can lift you smoothly and safely to a standing position, it offers the wonderful benefit of a soothing massage and heated seat when seated. With eight massage points, it's perfect for melting away stress.
Now, what's great about the faux leather material is that it is stain-resistant and waterproof. Not to mention it is much more affordable than the real thing. The durable frame construction means it can support up to a whopping 440lbs – one of the highest capacities on our list. Transportation is a breeze, thanks to wheels that will help to move the chair around your office and living room.
One really great feature for seniors is that the upholstery is anti-slip, while the chair is designed so that it won't tip or buckle. This will help keep you or your loved ones safe in the home.
Of course, adding such fantastic features does increase the price a little bit. But is it worth it? You bet.
---
Best heat, lift and massage for the elderly
Product Details:
Materials: Textile
Colors: Brown, Blue
Dimensions : 33.3″ L X 28.3″ W X 41.3″ H
The Esright Power Lift Chair is highly crafted with non-toxic materials, making it the best option if you need an environment-friendly seat.
If you're looking for something that does it all and is eco-friendly to boot, you can't go far wrong with the Esright electric recliner.
This recliner combines heat, massage, and a smooth lift function to be the best all-rounder on this list.
What's great is that the Esright power lift recliner is effortlessly silent. When you want to stand, the lift function elevates the chair, helping you stand up easily without adding stress to your back or knees.
The chair reclines up to 50 degrees, while the convenient remote allows you to extend or retract the footrest and backrest simultaneously. This recliner comes with four massage areas (thighs, shin, lumbar, and head) and five modes (pulse, press, wave, auto, and standard) massage. The chair has a convenient USB charging port that allows you to charge your favorite device at the same time.
Those interested in their environmental impact will favor the Esright. The woods featured in the frame are formaldehyde-free and sustainably sourced, meaning it is comfortable to use and won't negatively impact your health or the environment.
Assembling this sofa is a cinch; just follow the instructions on the manual. No tools are required during installation.
---
Best power recliner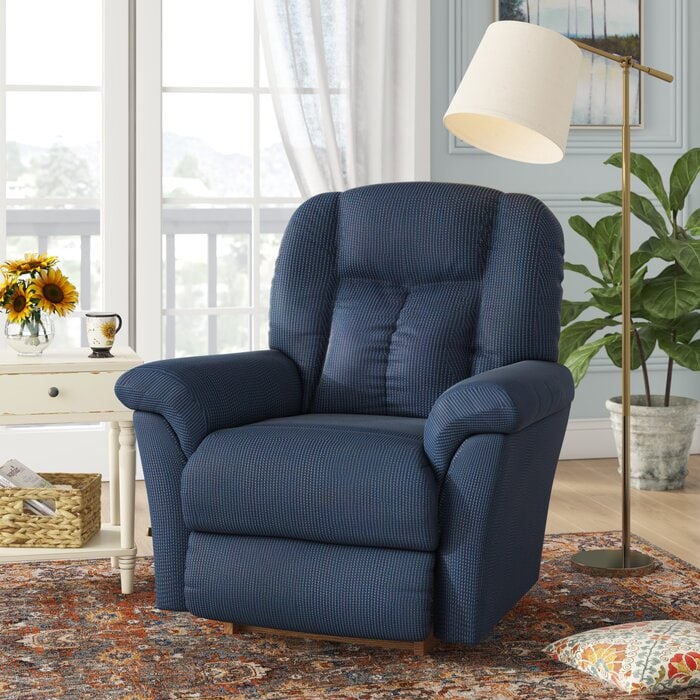 Product Details:
Material: 100% Polyester
Colors: Coffee, Flannel, Cream, Vermillion, Charcoal & Others
Dimensions: 42″ H X 40″ W X 38.5″ D
The Jasper Rocker Recliner is an incredibly comfortable power recliner you won't regret bringing into your home.
The Jasper rocker recliner is one of Wayfair's best sellers – and for a good reason. The Jasper chair is made by one of the most well known and loved recliner brands in the world today – La-Z-Boy.
La-Z-Boy is known worldwide for creating high-quality pieces of furniture, and the Jasper is no different. It features plush cushioning with stain-resistant upholstery, ensuring it will look great for years to come.
The Jasper comes in two styles, either a rocker or wall hugger. A rocker recliner is excellent for added comfort, where the rocking function can help you get off to a restful sleep. A wallsaver recliner is excellent for homes that are lacking in space.
Featuring an ultra-plush chaise seat that forms a continuous reclining surface for big-time comfort and added leg support.
While this recliner is manually operated, you can add a powered recline for added convenience for a small additional cost.
---
Best leather recliner
Product Details:
Material: Faux leather
Color: Taupe, Grey, Dark Brown, Buff
Dimensions; 35.4 x 36.6 x 39.8 inches
The Ravenna Home Oakesdale Contemporary Glider Recliner is one of our favorite (faux) leather recliners on the market.
The Ravenna Home Oakesdale recliner is one of the brand's bestsellers, and it's easy to see why.
This sofa has a cozy upholstery, making it increasingly comfortable while reclining. It's also simple to maintain, and the durable upholstery will mean it will look great for many years to come. The Ravenna has a built-in rocking feature, which can be used to aid a restful night's sleep. At the same time, the comfortable recline helps the user relax in complete bliss.
Another reason to love this recliner is how affordable it is. It comes with many features you would expect in a chair, double the price. Its overstuffed back, arm, and leg rest make reading, watching TV, or simply resting a complete joy.
Assembling this sofa is so easy, taking just 10- 20 minutes to build. No tools are required during installation; just follow the instructions in the user guide.
---
Best swivel recliner
Product Details:
Materials: 100% Polyurethane
Color: White, Brown & Grey
Dimensions: 31.9 x 24.8 x 19.7 inches
This recliner creates a lavish look in your living room or office to help you relax after a long hectic day.
If you're after something a little more stylish than what typical recliners offer, we have just the chair for you.
This futuristic design makes the JC Swivel chair an eye-catching addition to any living room. As well as being a recliner, this wonderful recliner also swivels, allowing you to access your entire living space.
When it comes to reclining, the chair features easy to access side levers that can dial up the comfort. The recliner features a comfortable footrest to elevate the feet and legs, helping to reduce soreness and swelling.
The JC Home is also a top seller on Amazon, with customers praising its comfort, ease of assembly, and value for money.
---
Best recliner for the elderly
Product Details:
Materials: 100% Polyester
Colors: Walnut, Lark, Café, Wine, Chocolate
Dimensions: 40 x 44 x 48 inches
This sizable comfortable recliner has a mechanism with seven gauge steel, foam, and bolt-on arms for added strength and durability.
Your senior relatives will adore this chunky, oversized sofa from Lane Home Furnishings.
One thing that fans love about Lane is that it is made right here in the USA, guaranteeing quality. It features a hardwood frame mortise and tenon joints for incredible durability. The steel recliner mechanism offers superior and long-lasting performance, one that will last for many years to come.
Lane home furnishings wallsaver is 100% polyester, which is comfortable and easy to clean. It features a larger than life capacity, supporting users up to 500lbs, making it the perfect choice for big men or women.
Although it is not a powered recliner, the Lane Home Furnishings wallsaver can easily be reclined using its convenient side handle.
---
Best contemporary design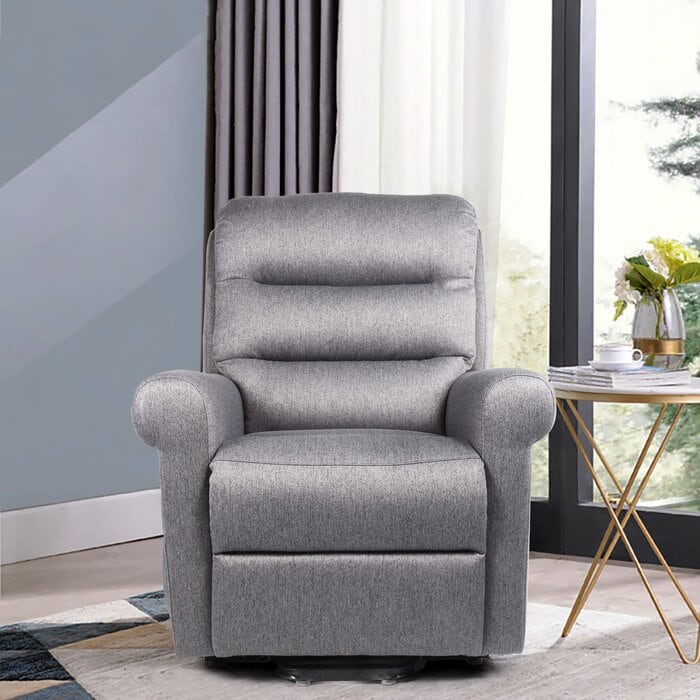 Product Details:
Materials: 100% linen
Colors: Gray
Dimensions: 41.3″ H X 32.2″ W X 28.7″ D
With its modern design and comfortable upholstery, the Ajan power lift recliner would make an excellent addition to contemporary homes.
Last but by no means least is this beautiful recliner from Wayfair. This recliner features an overstuffed backrest and seat cushions to offer incredible comfort during reclining. A soft upholstery makes this recliner chair a real please to use, especially after a long day.
In some recliners, design can often be an afterthought. However, Wayfair has really focused on creating a stylish and modern chair, a welcome to change to many other chairs on the market.
This chair comes with a counter-balance lift mechanism that pushes the entire chair up, helping seniors stand up efficiently, relieving them from stress from the back or knees.
The sturdy metal used in the construction of this sofa offers stability and safety. This allows the chair to support up to a weight of 250 pounds.
The seat is mounted with wheels on the base to allow easy movement of the recliner.
---
Buying Guide
---
How to pick a recliner for an older adult?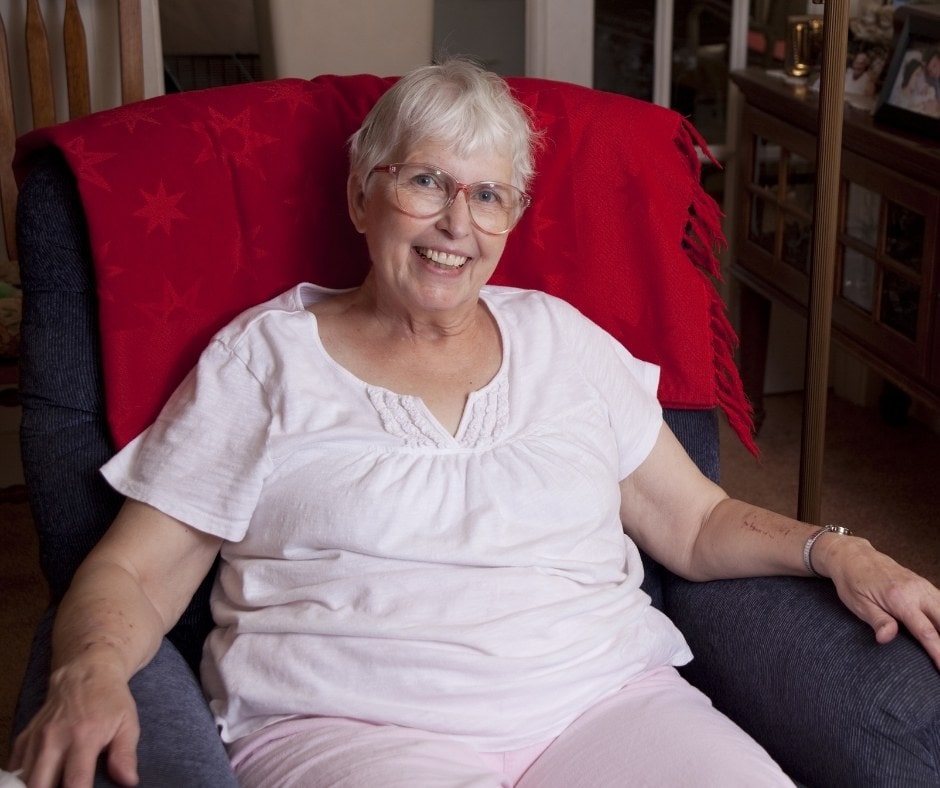 Picking a recliner for the elderly cannot just be done at random. Some key features need to be considered before purchasing.
As a new buyer, always look for:
Size
The recliner's size should be able to fit your room comfortably but should also accommodate the users' measurements.
The reclining chair's seat should be wide enough to accommodate your hips and allow your arms to rest comfortably on the armrest.
Single Motor or Dual Motor?
As the name suggests, a dual motor means there are two different motors in the chair. In contrast, a single-motor model means there is only one motor in the recliner.
With the dual motor, one controls the backrest while the other controls the footrest, allowing you to move both independently. A single motor recliner moves in one fluid motion, which offers less flexibility.
Fabric
Which fabric you choose is probably one of the most important decisions you make. The material should be easy to clean yet look stylish.
Faux leather is an excellent choice as it is an easy-clean upholstery. However, one of the most important things to consider for an elderly user is an anti-slip coating. This will prevent any falls when using the chair.
Key Features of Recliners for Elderly People
The best recliner for the elderly should:
Deliver great comfort
Be safe to use
Relieve pain through comfort, heat, or massage.
Be easy to use.
Are Lift Recliners Worth the Money?
Absolutely! Recliners offer increased comfort and can significantly improve elderly users' quality of life, helping them achieve back their independence.
Conclusion
If you are still having a tough time making your decision, we recommend that you go with Ashley's signature design recliner. Not only does it offer better comfort and relaxation to the elderly, but it also features some unique additions that make it simple to operate.
An alternative to our best pick is the Jasper Rocker recliner – incredibly comfortable and made specifically for the elderly.