Dealing with a disability can be challenging at the best of times, but owning the right furniture can make your life a lot easier. If you're looking for the best recliner for a handicapped person, you're in luck because we've spent the past weeks putting the best mobility-friendly recliners to the test.
However, it's not a one size fits all approach. Depending on the situation, what you need from your recliner could be very different. For example, you might need assistance getting up or perhaps require heat to manage pain.
Either way, we are sure this article will help you find a recliner to suit your needs.
In This Article We'll Discuss
What Is A Recliner For Handicapped?
A reclining chair for the handicapped is basically a chair that can help with mobility. They are commonly used for standing up or sitting down without causing injury. In most cases, reclining chairs for the handicapped look like normal armchairs but are equipped with special features like lifting mechanisms.
Some recliners can change seating positions so users can recline comfortably for napping. Recliners are also available for shower or toilet use, and there are even those that can double as wheelchairs.
Different disabilities require different kinds of reclining chairs. We've done our best to cover a wide range of chairs to help you find one most suitable for your circumstances.
10 Best Recliners for Handicapped
---
10 Best Recliners for Handicapped
Best Overall
Product Details:
Faux leather materials
Powerful lift assistance for easy lifting without stress
Can lift up to 320 lbs.
Full body vibration with lumbar heating
Extended backrest with a deeper seat
USB charging port and cup holders
With an impressive weight capacity and packed with extra features, the Mcombo scoops our top prize.
Mcombo's reclining chair for seniors and those with disabilities is our top choice for the best all-around recliner. What's great about this recliner is that it looks like any normal piece of furniture. However, the true magic lies underneath, as the robust build quality gives the chair a lifting capacity of up to 320 lbs.
Aside from powerful lifting capabilities, the chair is also full of features that will make your senior or disabled person feel comfortable day to day. Our favorite feature is the heated lumbar support that can relieve stress on the lower back. It also has a full-body vibration mode to soothe aches and pains away.
Mcombo's lifting assistance mechanism is gentle and lifts and descends slowly to prevent injury to the back and knees. It also extends to a full reclining position for comfortable afternoon naps.
Even better, it also has USB charging capabilities and a cup holder so that there is very little need to get up once you sit down.
---
Most Popular
Product Details:
Smooth upholstery that looks like leather
Power lift and tilt feature
Slow but powerful movement
Hand control buttons for position adjustment
Generous sizing
Upholstered in a luxurious leather-like covering, this recliner by Ashley Yandel makes standing a breeze.
The Ashley Yandel Power Lift Recliner is a firm favorite of ours and features on many of our top lists across various categories. It comes in a wonderful brown and black upholstery that resembles leather that can easily blend into your living room. Our favorite feature in this chair is that the motor is ultra-quiet, making it perfect for a living room or bedroom.
This is a good choice for seniors as well as people with limited mobility. For example, seniors who had knee replacement surgery will appreciate the gentle and slow way the chair will lift you to your feet so that you can stand up without causing further injury to the knees.
The seat also looks wider than your typical recliner, making it a good choice for those needing something roomier.
---
Best For Small Spaces
Product Details:
Counterbalanced lift mechanism
Small design for small spaces and people
High-quality faux leather upholstery
USB charging port with dual side pockets
Sit in comfort, enjoy gentle lifting, and comfortable reclining with the Mcombo Small SIzed Electric Power Lift Reclining Chair.
Mcombo realizes that not every home has an abundance of space and has designed this chair with those small spaces in mind. Whether it's a dorm room, a small apartment, or even an RV, this petite powerlifter is a game-changer when it comes to small recliners.
The Mcombo is a great seating solution for seniors and those who have limited mobility or those recovering from surgery. People with chronic back pain will also love this recliner as it comes with a heated lumbar massage function for pain relief and relaxation. The chair also has 8 vibrating points to relieve muscular tension and stress.
The USB ports can charge small devices, while the pockets can store magazines, newspapers, and other small items.
---
Best Name Brand
Product Details:
Contemporary design
High resilience cushion
One-touch power control
Chenille-feel upholstery
Enjoy strategically placed pillow support, chenille upholstery, and powerful lifting motors with this reclining chair by Ashley.
The Ernestine sports a stylish contemporary design that supports your body comfortably thanks to the high resilience foam cushions.
It comes with a one-touch power control so you can adjust positions easily thanks to a very powerful motor. It can easily lift and recline so that you can adjust positions effortlessly. Best of all, the motor is very quiet.
Our favorite feature is that although the motor is clearly powerful, it can gently ease you to a standing position. There is no jarring motion so that your joints are well protected as you stand up. The Ernestine is a good choice if you want something that looks very attractive but can lift you gently (and quietly).
---
Most Affordable For An Average Sized Person
Product Details:
Faux leather
Heated massager
Power-lift function
2 Remote controls
Magic Union has made life a bit easier and more comfortable for the elderly and disabled thanks to this wonderful massage recliner.
This chair comes with all the important features you could need for a comfortable life: lift assist, massage function, and heating.
But our favorite feature has to be the massage function. It has 4 different areas of focus: leg, thighs, lumbar, and back. You can even choose different massage types like wave or pulse so that you can get the relief you need from achy or sore muscles.
It also features a powerful but quiet motor so that you can change position from sitting to reclining to full reclining and standing very easily and gently. The chair is well padded and sports a faux leather upholstery with side pockets for storage.
---
Best Budget Pick For Petite Person
Product Details:
Soft fabric
Heavily padded
Vibration massage function
User-friendly remote control
Cozy fabric and extra padding, the Giantex is one of the comfiest recliners on this list.
Giantex's recliner chair is a user-friendly chair that can lift seniors without adding stress to joints. It features a counterbalance lifting mechanism so that seniors and the disabled can easily stand up without the risk of the chair toppling over.
The Giantex has a 4-point massage system that can target different points of the body with 8 modes of vibrating massage. The retractable footrest and adjustable backrest are perfect for reading, sleeping, and napping.
Designed using ergonomic principles, the chair can support the arms, neck, legs, and back at the correct angle so that you can fully relax and rest. This might be our budget pick for petite people, but the chair can support up to 300 lbs!
---
Best Dual Motor Option
Product Details:
Soft fabric
Heavily padded
Vibration massage function
User-friendly remote control
Dual motors allow you to adjust the Devaise to your perfect position.
If you're looking for fantastic seating, look no further than this chair from Devaise Okin. This is a great option for people who suffer from back pain as it can help them stand up without adding additional stress and strain to the back.
Made with 2 independent Okin motors, one motor controls the backrest while another one can be used for the footrest so that the user can adjust them separately for a truly customized reclining or sitting position.
The breathable soft PU leather finish with padded cushions will add comfort to the user. At the same time, the remote control and USB charging point make charging and storage more convenient.
Thanks to reinforced steel construction and Anti-back-tipping chair base design, this chair can support up to 450 lbs.
---
Best With USB Port
Product Details:
Powerful lift assistance
Full body vibration with lumbar heating
Comfortable and durable upholstery
USB charging ports and cup holders
Charge your gadgets with ease, thanks to the Mcombo recliner's built-in USB ports.
Stand up, recline or sit down with just a push of a button. This chair was specifically designed to assist people suffering from chronic pain or those that have mobility issues.
Not only that, but it features dual USB charging ports so that you can easily charge your smartphone and other gadgets without getting up. Full body vibration and lumbar heating can help relax muscles and relieve stress, which is activated from the convenient remote control.
You can sit and recline in comfort thanks to the overstuffed headrest and the built-in springs on the back and seat.
It can support up to 320 lbs and has 2 side pockets and cup holders. While generously sized, it also comes in a larger model for more space and heavier individuals.
---
Best For Big and Tall
Product Details:
Tall back for tall people
Supports up to 450 lbs for heavy people
Powerlifting abilities
Comfort coil seating with comfor-gel
Big and tall folks are often overlooked when it comes to recliners – but not by Catnapper.
Catnapper is one of the most famous brands in the recliner space, associated with high quality and comfort. The mega power lift recliner certainly lives up to its name.
Big and tall people will love the Mega Power Lift Recliner from Catnapper. Designed specifically for larger individuals, this recliner features a tall yet comfortable backrest and can support up to 450 lbs.
The Catnapper has everything you need in a recliner, including a true "lay flat" capability for the best sleeping and napping experience. The seat features premium padded bonded leather comfor-gel for extra comfort while sitting down.
---
Best Wall Hugger
Product Details:
2 button power recliner for easy operation
Ergonomic support
Durable and breathable leather
Short on space? Check out this convenient wall hugger recliner.
Wall hugger recliners are a fantastic choice when you don't have much space in your home. Instead of a typical recliner moving backward, wall-hugging recliners slide forwards, allowing them to 'hug' the wall. This chair from Domesis Olathe does a great job in helping the elderly and mobility impaired sit and recline, saving space at the same time.
And forget about confusing buttons. The chair only has 2 buttons for the recliner control: up or down. This makes operation easy and smooth for seniors. The recliner is plush and generously padded for added comfort. At the same time, the Renu leather gives it breathability and a premium look.
---
Buying Guide
---
Here are some features you need to consider when looking for the perfect recliner:
Lifting capacity is important because some people are heavier than others. You want a motor that can fully lift the user without causing strain or injury to the neck, knees, or back.
Sizing should also be at the top of your list. Some chairs are bigger or smaller than others. Aside from the weight, also consider the height of the user since chairs with shorter backs or of a smaller size can cause discomfort.
The fabric should be easy to maintain with a simple damp cloth. Those suffering from mobility issues may find complicated maintenance procedures difficult.
Ergonomic design can add more comfort to the user. Find a chair that can support the back and legs properly to prevent discomfort or injury.
Gentle lifting action is needed to prevent injury to backs and knees of seniors or disable people (especially those recovering from an operation).
Also, consider the design of the chair. It should be able to blend with your current furniture without standing out.
Extra features like USB, massage and heating, cup holders, and storage pockets can make sitting on the chair more convenient.
Conclusion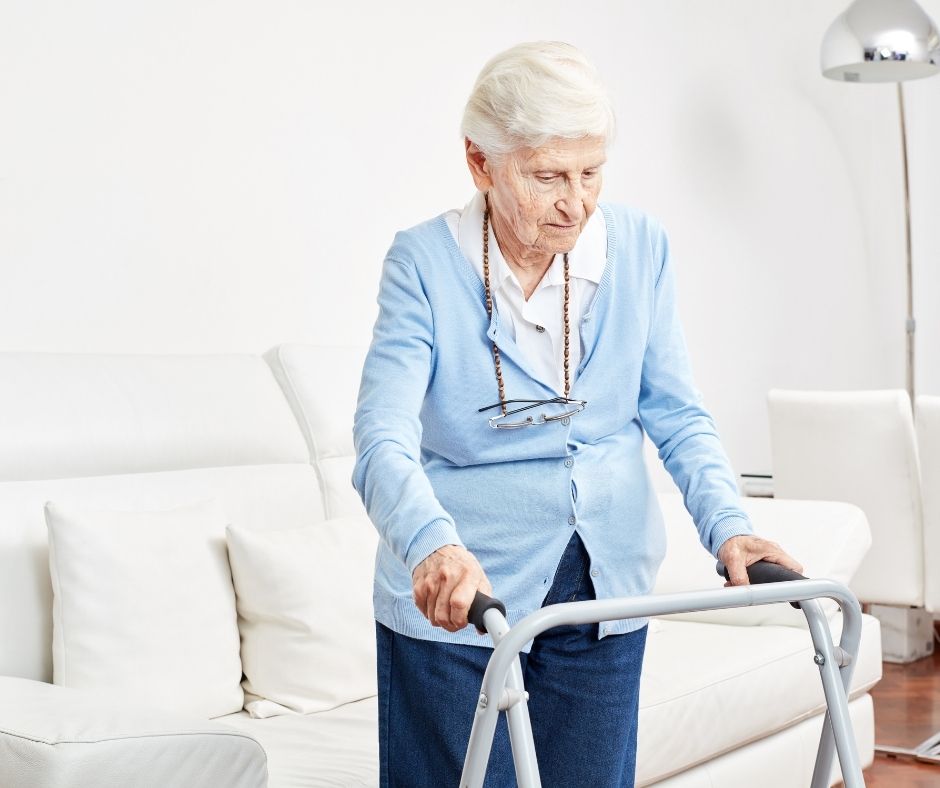 Recliners can help the disabled and elderly regain some of their independence. The best recliner can help them change position easily or find a more comfortable position while sitting.
When choosing the best reclining chair for your needs, don't just look for the cheapest or the most expensive chair. It's important to pay attention to who will be using the chair, to ensure you get something that is fit for purpose.
We love the Mcombo Large Power Lift Recliner, which is most comfortable and convenient for handicapped users. Check out the Domesis wall hugger recliner if you are short on space.