Are you looking for a heavy duty recliner for big and tall users? You've come to the right place. We've put these recliners through their paces over the first month to provide you with an unbiased review, helping to save you time and cash in the process.
We love the Lane Stallion Big Man Recliner with its huge weight capacity and tall back, perfect for the big and tall amongst us
Alternatively, if you're a fan of La-z-boy, you won't want to miss what we have to say about the Randell recliner chair.
In This Article We'll Discuss
9 Best Recliners for Big and Tall Users Reviewed
---
9 Best Recliners for Big and Tall Users Reviewed
Best Overall Recliner For Big And Tall
Product Details:
Materials: Steel
Colors: Blue
Dimensions: 44 X 40 X 48
Weight Capacity: 500 lb
Comfortable, plush, and accommodating, the Stallion takes the crown as our top pick.
Our top pick for the best overall recliner for big and tall men and women is this wonderful recliner from Lane.
The Stallion Big Man recliner is appropriately named for big individuals. It features generous seating (44 inches) and a tough frame that will comfortably support users up to 500 pounds. These features alone make it one of the top choices for big and tall men and women.
Despite being durable, it's incredibly comfortable too. It comes complete with a plush backrest and indulgent pillows to offer one of the most comfortable recliners we have tested.
A great feature of the Stallion recliner is its wall-saver function. This means that the recliner requires very little space to slip back into a comfortable recline. For that reason, it's a great choice for small spaces, including RVs, motor homes, and studio apartments.
Reclining the chair is very convenient, and you can slip back into a comfortable position by pulling the lever on the side of the chair. An added bonus of this Stallion recliner is that it can help with snoring and sleep apnea, two common issues faced by big and tall men and women.
---
Best 500lb Weight Capacity Recliner For Big And Tall
Product Details:
Materials: Tailored Tweed Chenille
Colors: Brown, Cocoa, Steel, Mocha, Chianti, Espresso, Pewter
Dimensions: 46 x 44 x 49 inches
Weight Capacity: 500 lb
Looking for a big man recliner with a big man capacity to match? Check out the Parks wallsaver.
If you've read any of our reviews, you'll know we are huge fans of Lane Home Furnishings. Not only do they offer a huge range of affordable furniture, but all of their products are made right here in the USA with exceptional quality.
The Parks wallsaver, as the name implies, is a space-saving recliner, making it ideal for small spaces. Instead of reclining backward from a sitting position, the chair glides smoothly forwards before gently reclining.
The tweed chenille upholstery makes sitting on this recliner heavenly, as it is incredibly soft to the touch. The chair is constructed from 7 gauge steel covered in high resiliency foam, making it incredibly durable. These features help the recliner to support an incredible 500 pounds, ideal for big and tall users.
The Parks wallsaver comes in a range of different colors, so you can easily find something to fit in with your existing design choices.
---
Best Lazy Boy Big And Tall Recliner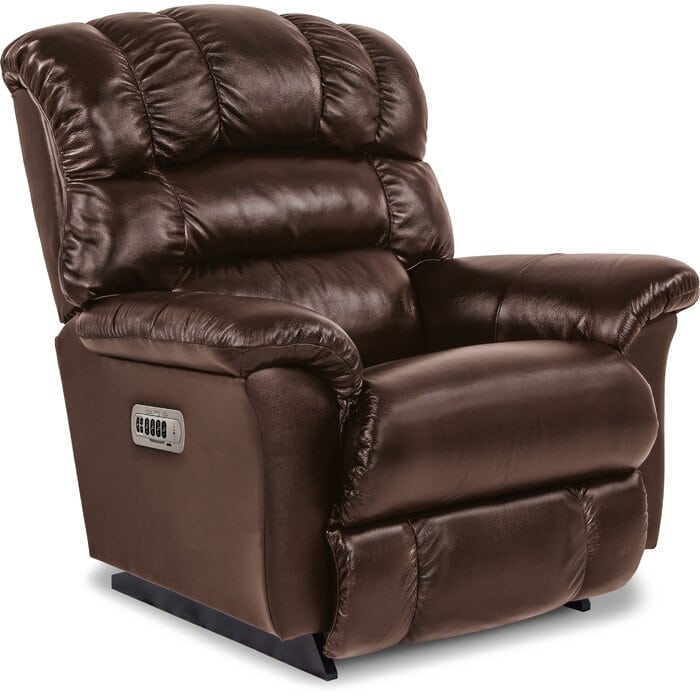 Product Details:
Materials: Top Grain Leather
Colors: Harvest
Dimensions: 46″ H x 45.5″ W x 43.5″ D
Weight Capacity: 300 lb
Have your heart set on a La-z-boy? We don't blame you. The Randell offers exceptional levels of comfort for big and tall users.
La-z-boy is one of the most well-known brands in the recliner game, but if you're a big and tall guy, you need to make sure you pick the right recliner. With an enhanced weight capacity and generous seating, the Randell is a perfect choice.
Fans love the Randell as it comes with a rocking feature as well as a recline. This makes it a great choice for napping, but also for nursing little ones as the rocking function is soothing and comforting.
Unlike the Lane recliners, the Randell is powered, making reclining as simple as pushing a button. The chair comes with a convenient wireless remote control, as well as USB charging ports to keep your devices powered up. When you're done reclining, press the chair's home button to smoothly return to an upright position.
The recliner is covered in luxury top grain leather, which is soft yet durable. Add to that, it's breathable, keeping you cool in the summer months and warm in the winter. Leather is also stain and fade-resistant, ensuring your recliner will look great for years to come.
---
Best Heat And Massage Big And Tall Recliner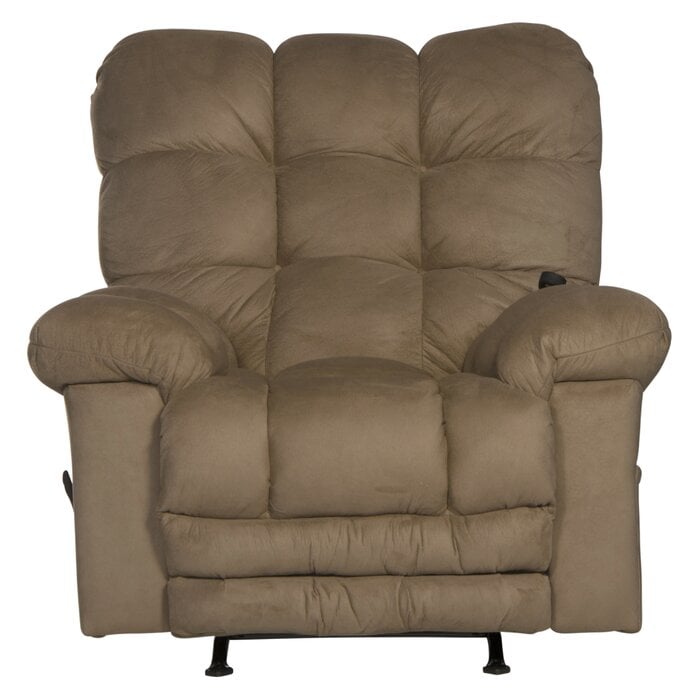 Product Details:
Materials: 100% Polyester, Metal, Foam, Synthetic Fiber, Plastic, Metal
Colors: Saddle, Merlot, Sage, Hazelnut and Mossy Oak New Breakup
Dimensions: Overall 46″ H x 48″ W x 44″ D
Weight Capacity: 250 lbs
Looking for a comfortable recliner with all the bells and whistles? We have you covered.
The Magnum from Catnapper is the perfect recliner for big and tall users looking for something a little more from their recliner. Not only does it come from a smooth recline, but it features a soothing heat and massage function too.
The Magnum is ideal for big and tall guys due to its large seat, extended footrest, and tall back. The seat itself features individual coils covered in plush foam, which are then topped in memory foam for incredible levels of comfort. This is one of the features Catnapper is most known for, and many customers compare the feeling of sitting on a catnapper recliner to that of a high-quality mattress.
This catnapper recliner comes with the brand's famous omega reclining mechanism for a silent recline. The mechanism itself is built from durable steel, which guarantees your big man recliner will stand the test of time.
One of the best features of the Catnapper recliner is its soothing heat and massage functions. When you're ready to dial up the comfort and relax into a peaceful slumber, simply switch these modes on as you switch off.
One thing we love about Catnapper is that they are family owned and manufactured here in the United States. Their factories create jobs for over 1,500 Americans, creating some of the highest quality recliners your money can buy.
---
Good Big and Tall Recliner from Wayfair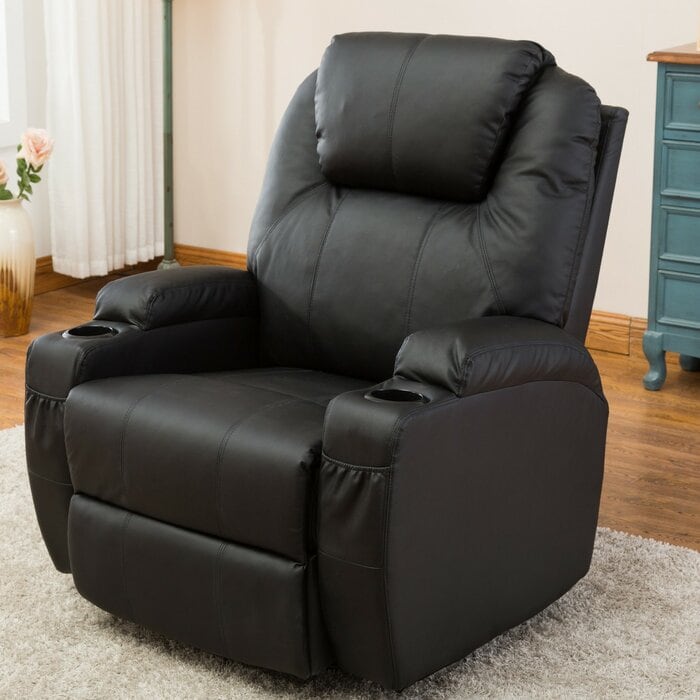 Product Details:
Materials: Faux Bi-cast leather, Metal, Manufactured Wood, Foam, Polyester
Colors: Black Faux Leather, Brown Faux Leather, Creme White Faux leather and Red Faux leather
Dimensions:
Overall 41″ H x 30.7″ D
Seat 20.5″ H x 22″ W x 20.50″ D
Weight Capacity: 350 lbs
Recline with ease with the Thirza power chair.
Wayfair is one of the best retailers around for purchasing high quality furniture. Offering fast delivery, excellent customer service, and an unrivaled selection, it can be hard to find a reason to look elsewhere.
This incredible power recliner is our tip pick for big and tall guys. Covered in stylish faux leather, this chair is incredibly sleek and would work well in any room in your home.
The Thirza recently underwent a full redesign and now includes an indulgent massage function and soothing heat applied to where it is needed most. The powered recline is incredibly convenient, making relaxing in comfort as easy as pushing a button. It features 8 relaxing vibrating modes and 4 different vibration intensities to help you wind down after a busy day.
If you're a tall person, you'll love the plush layers of sponge that the Thirza comes with. As well as being comfortable, this helps ensure the chair looks great for years to come.
---
Best Catnapper For Big And Tall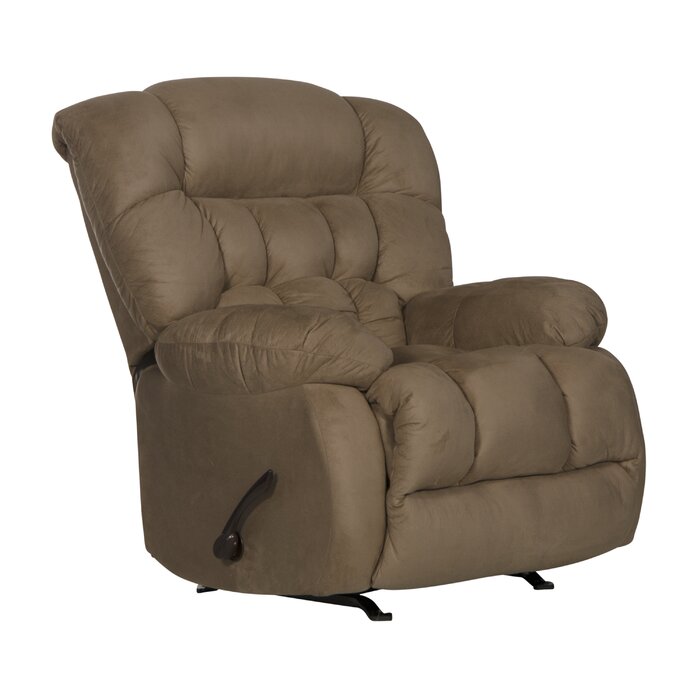 Product Details:
Materials: Microfiber/Microsuede
Colors: Saddle, Graphite
Dimensions: 43″ H x 40″ W x 42″ D
Weight Capacity: 250 lbs
If the mention of Teddy Bear doesn't conjure comforting images on your mind, we are sure one glance at this chair will. The Teddy Bear recliner from Catnapper gets its name from your favorite soft cuddly toy, thanks to its tufted back and overstuffed arms.
Covered in a soft brown micro-suede fiber, this Catnapper recliner replicates the feeling of genuine suede. But don't be put off by this synthetic material as it boasts a ton of useful features that make it worthwhile, such as being water and stain-resistant.
The biggest downside of the Catnapper Teddy Bear is that it is manually operated by pulling a lever. While this may be a deal-breaker to some, it does mean you are not constrained to placing the recliner close to a power outlet. The Teddy bear recliner also does not lay completely flat, but it offers 3 comfortable positions perfect for resting or catching up on some sleep.
One bonus is this recliners swivel feature, which makes accessing things around your room effortlessly simple and straightforward. As with all Catnapper recliners, the Teddy Bear is made here in the USA, guaranteeing quality workmanship.
---
Best Leather Big And Tall Recliner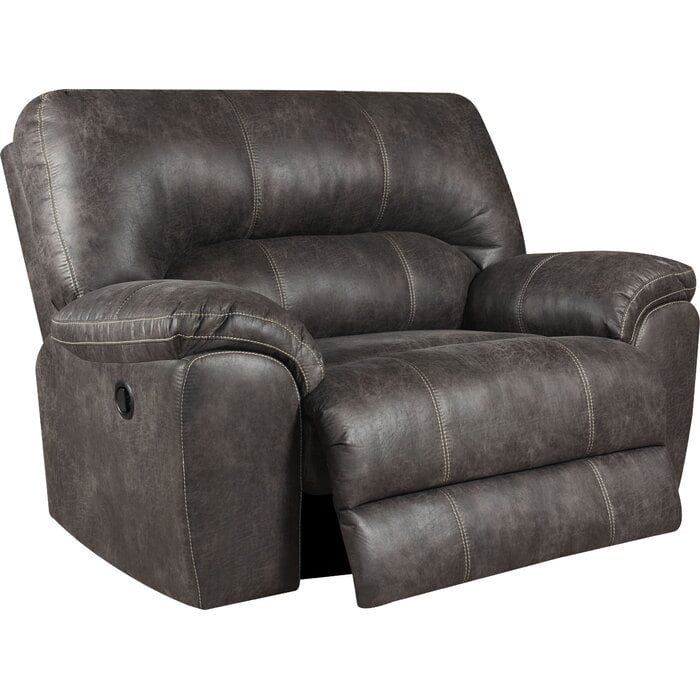 Product Details:
Materials: Wooden Frame / Polyester Upholstery
Colors: Stallion Gray
Dimensions:43″ H x 54.5″ W x 37″ D
Weight Capacity: 400 lbs
Leather exudes luxury and class, and if you're looking for a leather recliner for the big man in your lift, you can't go far wrong with the Stolle. As well as looking great, leather is incredibly durable and easy to maintain, which means it will look great for years to come.
The Stolle offers one of the most generous seat sizes we have reviewed and is wonderfully comfortable to boot. The smooth recline function and cushioned footrest make relaxing, effortless, just what you want after a busy day or week. While it is limited to just one color, we are big fans of stallion gray, which we think can work exceptionally well with almost any design choice.
One of the best things about the Stolle is that it gets delivered to your door fully assembled, meaning you can relax in complete comfort as soon as it arrives.
While this is definitely not the cheapest big man recliner on the list, we think with the features it offers, it is more than worth it.
---
Another Good Big And Tall Recliner By Lane
Product Details:
Materials: Wooden Frame / Padded Chenille Upholstery
Colors: Charcoal, Otter, Pewter, Seal, Taupe, and Saddle
Dimensions:43 x 39 x 45 inches
Weight Capacity: 300 lbs
Pull out all the stops with this wonderful Lane recliner.
This surprising affordable recliner from Lane is a wonderful alternative to the Parks recliner. The Boston recliner chair for big and tall users features wonderfully comfortable pocket coils, helping to dial-up comfort and extend durability. The scooped seat is a beautiful feature that embraces the user as they sit down, like a soft, warm hug.
Like most Lane furniture, the Boston features Lane's famous zero-gravity mechanism that almost feels like you are floating on the clouds. It's relaxing rocking function helps you to drift off to sleep with minimal fuss.
The silent, easy-glide mechanism makes reclining a breeze, at the same time offering unlimited reclining positions for complete control over your relaxation experience. Better still, the Boston is manufactured in the USA using superior hardwood and advanced joinery techniques, which makes this chair one that will stand the test of time.
Big and tall men love this chair for its tall backrest, which can help alleviate aches and pains, perfect for use after a hard day at work.
---
Another Good Big And Tall Recliner By Lane
Product Details:
Materials: Polyester
Colors: Chocolate, Sage, and Camel
Dimensions: 42 x 44 x 45 inches
Weight Capacity: 250 lbs
Catnapper recliners are so great we couldn't limit our list to just one.
This oversized recliner from Catnapper is an excellent alternative to the Magnum Chaise.
The Cloud 12 rocker recliner comes with a fully powered recline mechanism. When you're ready to relax, simply recline into a lay-flat position with the push of a button. If you're looking for a recliner for your bedroom, the Cloud 12 is a solid choice given its whisper-silent operation.
The Cloud 12 rocker recliner features a Steel Seat Box frame and high-quality upholstery. It also comes in a choice of earthy that fits nicely with many design choices.
Cloud 12 recliners are, as the name suggests, extremely comfortable. We often joke that sitting in this chair is like sitting on a cloud, but it is genuinely true. The only downside of this recliner is it doesn't have the most significant weight capacity – something to watch out for if you're on the heavier side.
---
Buying Guide
---
How To Pick The Right Big And Tall Recliner
Hunting for a comfortable recliner suitable for big and tall users? You'll want to take into account the following to ensure you make a wise decision.
Measure Up
Many ignore their measurements when buying a recliner, or at most, consider it as an afterthought. The truth is, no matter how plush your recliner is, if it's ill-fitting, you won't find it comfortable at all. Even worse, inadequate support for the back, neck, and shoulders can make aches and pains even worse.
Double-check your height, ensuring that your new recliner will accommodate you comfortably. All of the recliners in our review are specially designed for big and tall men and women, so they are a great place to start.
Check the Weight Capacity
Don't forget to check your new recliner will be able to support your weight comfortably. Don't forget that weight capacity works on understanding the weight is spread equally over a chair. Not so important in a recliner chair, but it is essential to understand when buying a sofa.
Quality
You may be tempted to opt for a cheaper recliner to save a few bucks. For big and tall men, this is a mistake. Recliners that use inferior quality materials or construction will simply not stand the test of time when used frequently by big and tall users. For that reason, we always recommend making a more significant investment upfront.
Look for frames made with hardwood over metal, as metal can often bow or snap. For upholstery, choose a durable material such as leather, which will last far longer than cheaper, human-made alternatives.
Brand
If you have a bit more cash in your back pocket, a quick way to guarantee quality is to invest in a well-known brand. One of the main benefits of investing in a household name is that you can often fall back on generous warranties should something go wrong. Although they often come at an extra cost, for big and tall men where quality is paramount, the investment is usually worth it.
What Is The Best Big And Tall Recliner
Our testers rated the Lane Stallion big man recliner the best recliner for big and tall users.
Which Big And Tall Recliners Have The Highest Weight Limit
The following big and tall recliners have enhanced 500-pound capacities making them the top picks for larger individuals:
Conclusion
Hopefully, you're now in a much more informed position to decide which big and tall recliner would be best for you. If you're still undecided, we recommend looking at our review of the Lane Stallion again, as we think it is the best pick for big and tall men and women.