Recliners cover can be expensive, and with kids/pets around, they may start showing signs of wear and tear much earlier than you hoped.
To keep your favorite recliner looking great and one fantastic option is to invest in a recliner cover. That way you can stop worrying about stains and dirty paws on the sofa and spend more time relaxing.
In this comprehensive article, we have tested some of the best recliner protectors for you. Our top pick is the 'H.VERSAILTEX Super Stretch Couch Cover' thanks to its uber stretchy fabric. Keep reading to find out more.
In This Article We'll Discuss
9 Best Recliner Covers
---
The Best Recliner Covers Reviews
Best Overall Stretch Cover
Product Details:
Materials: Polyester & Polyester Blend
Colors: Chocolate, Black, Teal, Dove, Dusty Blue, Taupe, Wine, and a few more.
Dimensions of suitable recliners: 78″-88″ (around back), 29″-37″(height), 24″-37″(width)
A super soft and stretchable cover with a textured check pattern to upgrade the aesthetic décor of your recliner.
The 'Super Stretch Couch Cover by H.VERSAILTEX is incredibly versatile and can fit both electric or manual recliners. It's a great choice if you wish to protect your recliner from children, pets, or accidental spills.
This recliner slipcover is made from a superior quality fabric that is 85% polyester and 15% spandex knitted jacquard fabric. It comes with a neat textured check design. Not only is this sofa slipcover 4-way stretchable but also easy to clean just pop it into the machine and you are good to go.
What's great about this furniture protector is its 2 elastic loops in the back corners that allow it to git a wide range of recliners with ease. It also prevents the cover from slipping it's a problem that many other recliner covers failed to solve. The cover also comes with pleats at the front corners so that you can wrap the cover beneath the couch for a perfect fit.
The H. Versailtex scooped our award for the best recliner cover thanks to its unique look and versatility. What's more, installation is a breeze.
---
Best Quilted with Side Pockets
Product Details:
Materials: Polyester
Colors: Burgundy, Blue, Sage
Dimensions of suitable recliners: 34″Width x 86.5″ height (can fit most jumbo size recliners)
The perfect cover to protect your recliner from stains and spills with the added benefit of additional storage.
An attractive recliner slipcover from Collections Etc.. the Diamond-shape Quilted Stretch cover is a must-have for anyone who wants to increase the life of their expensive recliner. The cover exhibits a beautiful diamond pattern print similar to a quilt which is quite appealing to the eye.
The fabric feel is soft and comfortable plus it's machine washable. The biggest selling point is that you can also store any books, remote controls, or small items in the side pockets for easy access.
Whether your recliner is XL or small in size, this product is good for all. The elastic straps on the circumference of the cover can be tucked away under your chair for a true 'one-size-fits-all' design.
Get this recliner cover with confidence as it comes with a convenient 60-day return policy in case anything goes wrong.
---
Best Strap on Waterproof
Product Details:
Materials: Polyester & Polyester Blend
Colors: Brown, Black, Dove Grey, Taupe
Dimensions of suitable recliners: Seat Width 22″
A top-rated recliner cover with unique technology and waterproof fabric to keep your recliner safe from any spills.
Another attractive-looking protector is this second offering from the brand H.VERSAILTEX. Boasting a 100% water-resistant coating and this useful cover will protect your chair from any liquid stains, spills, or whatever else your kids and pets can throw at it.
There is a wide strap that will easily secure the slipcover around the back of the chair, making it useful for a variety of shapes and sizes. This quilted slipcover features premium quality upholstery.it is made of 5-layer fabric with a cotton-like soft feel – perfect for a modern makeover of your room.
Another advantage of buying this furniture protector is that it is easy-to-clean and machine washable. The cover can fit any oversized recliner, and if you are worried about keeping it in place, then don't, as it has a unique silicon rubber puppy paw design to keep it secured.
We recommend this recliner cover for all types and styles of recliners. It's available in a bunch of different colors, so you could even buy a few and switch them up depending on your mood.
---
Best for Pet Owners
Product Details:
Materials: Comfortable fabric upholstery
Colors: Chocolate/Beige, Green/Beige, Dark Grey/Grey, Smoke Blue/Beige
Dimensions of suitable recliners: Recliner oversized 25″-30″ (seat width), 51″ (back height), 31″ (arm cover)
Change the look of your recliner whenever you want with this reversible 2-sided recliner cover. This stunning slipcover is from the much-loved AshleyRiver brand and can fit an oversized recliner easily.
The sofa slipcover is multi-faced or reversible, so you can change the look and feel of your living room whenever required. One side is darker in color, boasting a chocolate shade, while the other side is a light beige tone.
Another feature of the AshleyRiver protector is its oversized side pockets that can help you store magazines, remote controls, newspapers, or any other smaller items so you can access them easily while lounging on the sofa.
Cleaning this recliner cover is a breeze; you can machine wash it on a cold setting, and it's also suitable for the tumble dryer too. We think the AshleyRiver is perfect for pet lovers as it will keep your chair free from everyday pet mess such as dirty paws, pet hair, and drool.
The only downside of this sofa is that it is not entirely waterproof, so be sure to clean up any spills right away.
---
Softest
Product Details:
Materials: Polyester
Colors: Peacock Blue, Dark Grey, Light Grey, Camel, Chocolate, and a few more.
Dimensions of suitable recliners: Seat width can be 23″-35″
Refresh your recliner's aesthetic with this beautiful jacquard recliner cover.
This Stretch Recliner Sofa Cover by Easy-Going is a wonderful choice for those who want a perfectly huggable slipcover. This chair cover is stretchable and comes with elastic bands to secure it to the recliner tightly. So much so that it almost doesn't feel like a cover at all.
The upholstery of this protector is made from soft jacquard material – a combination of softness combined with luxurious comfort at the same time. Moreover, it's machine washable and easy-to-maintain which can be a time saver for people with children and pets.
The sofa comes in a wonderful Peacock Blue which is aesthetically pleasing but dark enough to hide small stains.
The sofa slipcover comes in 4 different pieces for covering the chair's backrest, footrest, and arms, so some assembly is required.
---
Best Reversible Design
Product Details:
Materials: Fabric
Colors: Dog/Chocolate, Navy/White, Diamond/Charcoal, Black/Grey, Chocolate/Beige, and a few more.
Dimensions of suitable recliners: Seat width stretched to 28″
Transform your old and boring recliner into something new and exciting with this dog print recliner cover.
This adorable reversible sofa cover with a cute dog print on one side and chocolate-colored print on the other side is ideal for those looking to liven up their living space. If you are fed up with the endless boring prints online then the Sofa Shield may be for you.
This furniture protector is stylish yet functional, complete with a classic strap to fix the cover in place. This slipcover is generously large enough to fit most recliners, plus the fabric is super soft and plush for ultimate comfort.
This gorgeous furniture cover is machine washable and requires minimal care. We love the fact that it is easy to put-on or pull-off the chair for a quick wash.
The Sofa Shield is a durable yet lightweight cover, perfect for protecting your couch for many years to come.
---
Best Printed Design
Product Details:
Materials: Polyester & Polyester Blend
Colors: Charcoal, Beige, Burgundy, Chocolate, Navy, Smoke Blue
Dimensions of suitable recliners: Seat width stretchable to 40″
Protect your recliner sofa with this extra soft and lightweight slipcover with an attractive printed design.
Those looking for a beautiful slipcover at an affordable price will love this Printed Twill Recliner Cover. Available in a variety of color options. This recliner cover can elevate your chair's aesthetic with ease.
The slipcover will shield your couch from dirt, stains, spills, wear, and tear so that you can enjoy lounging on your favorite recliner without worrying about damaging it.
This is a strapless slipcover that will fit most recliners (up to 40 inches wide). It comes with elastic sewn at the bottom of the cover so that you can stretch the fabric and fit the slipcover around your couch to prevent it from slipping.
The fabric is made of high-quality Polyester and Spandex to make it super light and comfortable, plus you can machine wash it as many times as you wish without worrying about fading.
The best thing about this slipcover is its remarkable 3-year warranty which makes it hard to resist.
---
Best Faux Leather
Product Details:
Materials: Leather, Fabric, Faux Leather
Colors: Wine, Beige, Black, Taupe, Dark Gray, Greyish Green, Peacock Blue, Navy, Coffee
Dimensions of suitable recliners: Seat width is 29″-30″
Bring convenience and class into your life with this easy-to-clean and waterproof leather recliner cover.
If you are a leather lover, then this one's for you. A beautiful solid color faux leather Recliner Protector by Easy-Going Furniture is a great slipcover and complete with stretch fit technology that will transform your recliner into something elegant.
If you haven't got the budget to invest in a leather sofa then this recliner cover is a much more affordable option.
The slipcover works great to protect your sofa from liquid stains as it is 100% waterproof which means spills won't seep into the fabric.
Another great feature of this slipcover is its thoughtful design and complete with side pockets to conveniently store small items such as mobile phones and remote controls.
The cover comes in 4 pieces, each with a separate elastic strap to prevent the slipcover from slipping or sliding around.
In a variety of different color combinations, you'll certainly find something to blend in with your existing decor or add a wonderful accent piece to your living space.
---
Best Strap on Faux Leather
Product Details:
Materials: Polyester, Faux Leather
Colors: Grey Upgrade, Denim, Chocolate, Burgundy, Beige
Dimensions of suitable recliners: Seat Width is 23″
If you are looking for style and utility then this slipcover is the perfect option for you. This Recliner chair cover by StoneCrest is a well-designed faux protector with double straps to keep it rooted in place.
It comes with side pockets on either side to store everything from books to ipads, helping you relax safe in the knowledge that everything is within arm's reach.
Not only is the cover water-resistant but it's also durable and helping to protect against wear and tear, spills, and stains. This cover also works perfectly against pet hair as it repels fur and fluff which allow it to brush away easily.
The cover fabric is high-quality, soft, and durable. It's machine washable for ultimate convenience.
The elastic strap can extend from 12" to approximately 24″ inches easily, meaning it can easily fit a variety of different sized recliners.
---
Recliner Cover Buying Guide
---
What to look for in a recliner cover?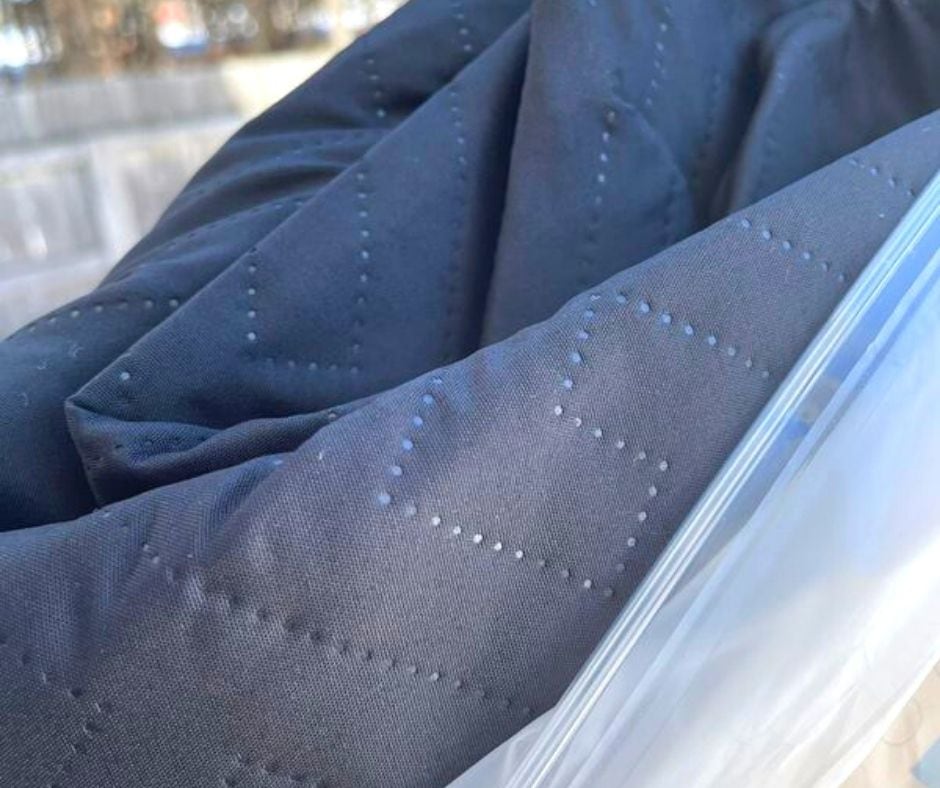 This is all down to personal preference. While comfort should be your main focus, you should pay attention to material, color, measurements, and price to make sure you get something suitable for your home recliner.
Can you slipcover a recliner?
Yes, you can easily add a slipcover to most recliners. Ensure you pick up the right-sized slipcover by making sure you consider the size of your recliner.
What is the best recliner cover?
The 'H.VERSAILTEX Super Stretch Couch Cover' is our top pick. It is made of high-quality fabric, which is durable and will last you for a long time.
How to know if your recliner cover will fit?
You should carefully measure your sofa and note down the width, height, and length plus the footrest and armrest dimensions. Compare these measurements with the measurements provided by the slipcover manufacturer before ordering the cover.
Conclusion
Recliner covers are a great choice if you wish to shield and protect your expensive recliners from everyday wear and tear.
We recommend the 'H.VERSAILTEX Super Stretch Couch Cover' is the best option due to its comfort and durability. However, if you're after a faux leather cover, then check out the 'STONECREST Recliner Chair Cover,' which is hard to beat. Not only is it comfortable and soft, but elegantly classy to boot.