Summers are for fun and relaxation, but they're also a time for hot weather, high humidity, and high electricity bills. One of the best ways to stay cool without putting a dent in your wallet is by installing a ceiling fan. They circulate air around the room and cool you down with just the touch of a button.
DC ceiling fans are a great way to reduce energy consumption and cooling costs. Over the past few weeks, we've been researching the best-rated models. Here are our top picks.
In This Article We'll Discuss
7 Best Rated DC Ceiling Fans
---
7 Best Rated DC Ceiling Fans
---
Best Overall
Product Details:
Blade Length: 52 inches
Indoor/Outdoor Use: Indoor
Extra Features: Dimmable LED lights, remote control, timer
Our top pick.
The Reiga 52-in Ceiling Fan has several features that make it an attractive choice for any room in your home. Its wide coverage area and low noise level make it perfect for cooling off larger rooms. In addition, the six cooling speed options allow you to customize the airflow.
This fan is a gorgeous addition to any home. Its contemporary design and timeless aesthetic allow it to fit in with either modern furnishings or rustic charm.
The remote control is convenient and lets you change the fan's settings without getting up from your seat. You can use it to change the oscillation direction and wind power. And, you can set the fan to shut off automatically after a certain period.
The Reiga ceiling fan is easy to assemble and it comes with step-by-step instructions.
---
Best Farmhouse Style
Product Details:
Blade Length: 52 inches
Indoor/Outdoor Use: Indoor
Extra Features: 3 Color Dimmable LED lights, remote control, timer
A very close runner-up.
The Reiga DC Motor Ceiling Fan is a wonderful alternative to our top pick. It's a vintage oak fan that will look stunning in farmhouse-style homes.
Reiga offers the sleekest, most modern line of ceiling fans on the market. With curved blades and oak wood design, Reiga is among the more luxurious, modern fan companies. But, their products are a fraction of the price of their competitors. So, with Reiga's professional design and exceptional quality, you can save some money while keeping your place looking great.
You can control this fan from a distance with the included remote control. You can use it to set the 1/2/4/8-hour timer or turn it on/off.
Also, you can choose from three different color temperatures. White light will create a relaxing and inviting atmosphere, cool white is great for getting work done, and full light makes it easy to read.
---
Best Color Options
Product Details:
Blade Length: 60 inches
Indoor/Outdoor Use: Indoor
Extra Features: Many color options, remote control, modern design, Wi-Fi enabled
Style it your way with Minka's color options.
Minka-Aire's DC ceiling fans, inspired by the classic form of vintage aircraft propellers, have a universal appeal. With an extremely efficient DC motor and expansive 60 in. blade span, this fan delivers style for both residential and commercial spaces alike.
The Minka-Aire is a smart ceiling fan that can also integrate with your favorite smart home system. You can connect the app-enabled device to Amazon Alexa and Google Assistant with its built-in Wi-Fi. This will allow you to adjust the temperature, lighting, and more from anywhere in the house.
With an array of stunning colors, the Minka-Aire ceiling fan is the perfect way to add a touch of style to your space. Choose from a variety of elegant finishes and add a unique ambiance to any room in your home.
---
Most Affordable
Product Details:
Blade Length: 47 inches
Indoor/Outdoor Use: Indoor
Extra Features: Remote control, reversible
Our favorite DC ceiling fan for smaller budgets.
Sofucor's 47-inch LED ceiling fan will create an industrial feel in any living space. And, it has six speeds and built-in LED lights, so you'll save energy as soon as you install it.
The modern design of the white glass lampshade isn't just aesthetically pleasing, it's also a practical feature. The lampshade holds the LED bulbs in place and creates an even lighting effect.
In addition, you can adjust the ceiling fan to fit your personal preferences. It has three different sleep timers, six different wind strengths, and adjustable lighting. Also, you can set the timer to turn off after 1, 2, 4, 8, or 12 hours. And, the instant wind knob control allows you to switch wind speeds at any time. The built-in LED light bulb is dimmable so you can set the mood for whatever atmosphere you want to create.
If you're looking for a deal on a high-quality DC ceiling fan, the Sofucor LED Ceiling Fan is the best value for your money.
---
Best Color Changing
Product Details:
Blade Length: 48 inches
Indoor/Outdoor Use: Indoor
Extra Features: Remote control, timer, colored lighting
Switch up the mood with this color changing ceiling fan.
The Ovlaim 48-inch DC Motor Ceiling Fan is easy to assemble and lightweight. This beautiful 4-blade fan stands out from its competitors because of its sleek and contemporary design. So, it will go well with almost any home décor.
You can barely hear this fan when it's on. Also, it's simple to install and easy to use. It also comes with a simple-to-use remote control that allows you to choose from six fan speeds or three levels of light.
In addition, you can control the ceiling fan's light with a color-changing or white LED remote. The fan also has a reverse function for cool air circulation.
---
Best For Large Spaces
Product Details:
Blade Length: 65 inches
Indoor/Outdoor Use: Indoor/Outdoor
Extra Features: 8-blade design, voice-controlled
Cooldown big rooms faster than ever.
The Minka-Aire F896-65-CL Xtreme Ceiling Fan is a powerful 8-blade fan with a fast and efficient DC motor. It can cover large areas with its 65-inch blade span and 9-degree pitch. And, you can finish off the stylishly modern design with 4 color choices: Flat White, Brushed Nickel, Coal, and Oil Rubbed Bronze. So, you can make sure it will match with your decor.
The fan also comes with a remote control that allows you to adjust its speed and lighting level. With the Minka-Aire F896-65-CL Xtreme, you'll be able to control the summer heat.
This fan provides excellent cooling both indoors and out. If you're looking for a way to beat the summer heat, consider this industrial-strength fan that moves a lot of air while keeping noise levels to an absolute minimum.
---
Best Made In USA
Product Details:
Blade Length: 68 inches
Indoor/Outdoor Use: Indoor
Extra Features: Remote control, 8-blades, Summer/Winter modes, 6-speed
The best DC ceiling fan made in America.
The Westinghouse 68-inch Damen indoor ceiling fan can cool very large rooms with its 8 slender blades. Not only does this fan look sleek and stylish, but it also allows for premium performance that will keep your space cool all summer long. It's available in a nickel luster, which will go well with either a modern or industrial style.
Westinghouse fans cool your room and optimize air circulation. In the summer, the blades run counter-clockwise to create a cooling effect. In the winter, they rotate clockwise to circulate the warm air around the ceiling area to heat up the room.
Westinghouse is a trusted brand that has been on the market for over a century. Its products are built to last and will always deliver the high-quality lighting you need. The best part, they're made right here in the USA.
---
Buying Guide
---
How To Buy The Best Rated DC Ceiling Fan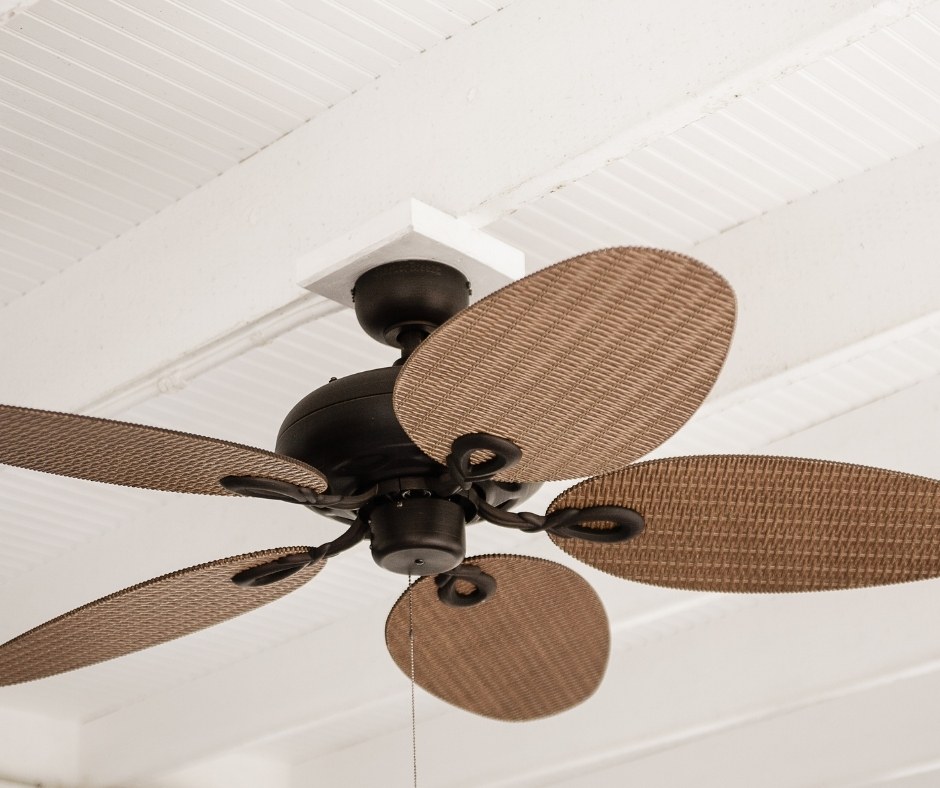 Check out our guide for buying the perfect DC ceiling fan for your room.
Fan Blade Length
To figure out your fan blade length, you need to measure the diameter of the circle that encompasses all the blades. In simpler terms, it's the distance from the tip of one blade to the tip of the blade directly across from it. In general, ceiling fans with larger blade spans tend to be more powerful because they have greater wind power potential.
Fan Blade Pitch
Pitch is measured in degrees (°) and refers to the angle of the fan's blades. Higher blade pitches move more air, which is given in cubic feet per minute (CFM).
The blade pitch will determine the effectiveness of your ceiling fan. For optimal circulation, ceiling fans should have a 12-15 degree blade pitch. This creates optimal airflow that will distribute cool air through your entire living space.
Size of the Room
When you're purchasing a ceiling fan, make sure to get one that's designed for your room. For small rooms like kitchens or bathrooms, we recommend small fans with 29″ blades. For rooms up to 75 square feet, you'll want a fan between 36″ and 42″. Larger bedrooms and living rooms can accommodate 50″ to 52″ fans.
Features
When buying a ceiling fan, you can either choose a fan that has built-in lighting or purchase a separate lighting kit. The ceiling fan you choose will depend on the look you want to achieve in the room.
Warranty
When deciding on a ceiling fan, you should consider the length of the warranty that comes with it. The longer the warranty period, the more likely it is that your new fan will last for many years to come.
What Is A DC Ceiling Fan?
A DC ceiling fan is a ceiling fan that has a direct current as opposed to an alternating current as the power source.
A DC fan typically runs from a power source connected to a transformer. The transformer raises the voltage of the energy and converts it to direct current. As a result, you use significantly less power than with an AC fan. DC fans are becoming increasingly popular because they deliver high levels of power with low energy consumption.
Are DC Ceiling Fans Better?
DC fans are known for being ultra-efficient, very quiet, and stable. Because they are so quiet, they're an excellent choice for rooms where noise could be a nuisance.
While DC motor ceiling fans are known to be more expensive, this difference is made up by their longer lifespan. In addition, you can precisely adjust their speed, which is a feature you can't enjoy with regular AC motors.
While traditional AC fans are rapidly losing their appeal, DC fans are gaining more popularity because of their efficiency. Compared to AC fans, DC fans are much more efficient because they consume up to 70 percent less energy when providing the same output.
An AC fan will generally cool a room faster than a DC fan, but this comes at the cost of higher energy use.
Conclusion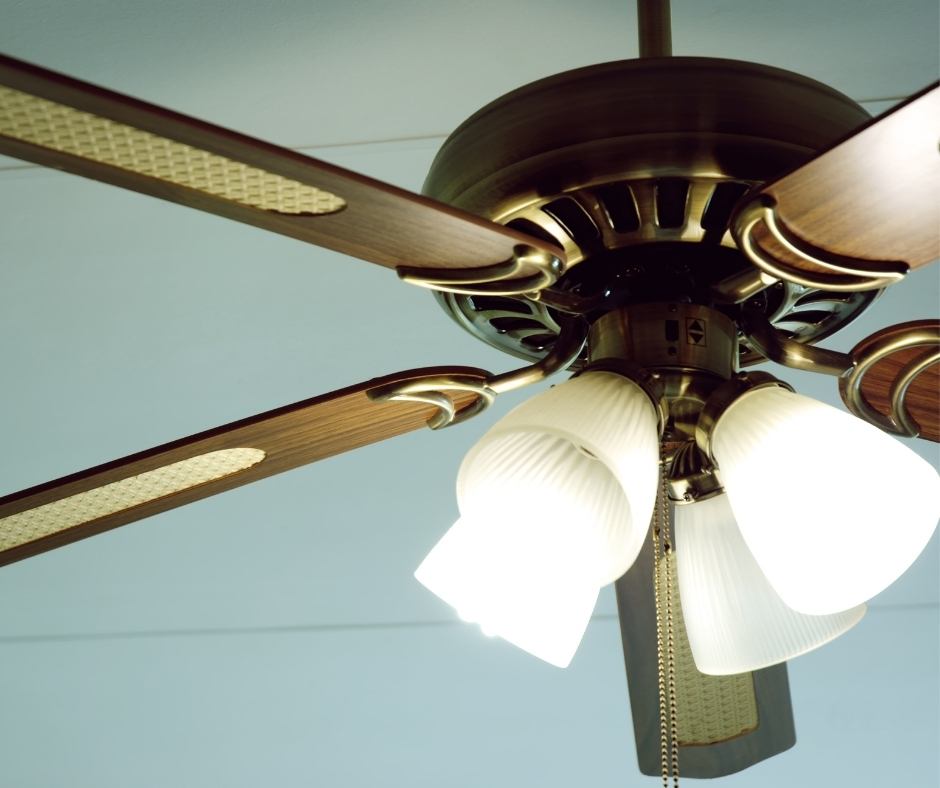 Ceiling fans are a great way to keep cool during the hot summer months. Of course, you can opt for an expensive air conditioning unit, but with the right ceiling fan, you won't need it. Plus, ceiling fans add a touch of decor.
The Reiga 52-inch ceiling fan is our top pick for the ultimate fan for summer. With its large blade length, you'll be able to cool down any room, while saving both time and energy.