Reclining sofas are known for their ability to offer a relaxing and calming experience to the user. As you sit back and lounge, you can't help but feel rested by the softness and comfort of the sofa.
In this article, we have picked some of the best recliner sofas available on the market today. We will guide you through step by step, explaining the features and the differences between each choice to help you make better buying decisions.
From the 9 best options, our top pick is the Signature Design Reclining Sofa by Ashely furniture. Its many unique features, such as its faux leather upholstery, ultra-padded cushions, and convenient LED lights, make it a unique and popular choice.
If you are looking for a recliner that is comfortable, unique, and worth your money, Party Time Power Reclining Sofa is a must buy.
In This Article We'll Discuss
9 Best Power Recliner Sofas
---
9 Power Recliner Sofas
Best Power Reclining Sofa with Adjustable Headrest
Product Details:
Materials: Polyurethane
Colors: Black, Chocolate, Grey
Dimensions: 37.6 x 85.5 x 43.63 inches
A popular choice for anyone looking for an elegant sofa, the Party Time Contemporary Faux Leather Power Reclining Sofa is a must-have for any cozy home.
The Party Time is a beautiful recliner that combines comfort with ease of use and unique style. The sofa has ultra-padded cushions for lumbar support and adjustable headrests for your neck so that you can view your TV at a personalized angle.
Another great thing about this sofa is its dark-colored polyester upholstery, which gives a dramatic effect when combined with the in-built, stylish LED lights.
The Party Time's comfort level shines through thanks to the quality of the material and the reliable and durable construction. It features one-touch power control, USB ports, and a drop-down table with flip-up overhead lights. The middle console is a convenient option to charge your laptops or mobiles.
The sofa will undoubtedly be a hit for your family and guests alike.
---
Mid-Century Modern Power Recliner Sofa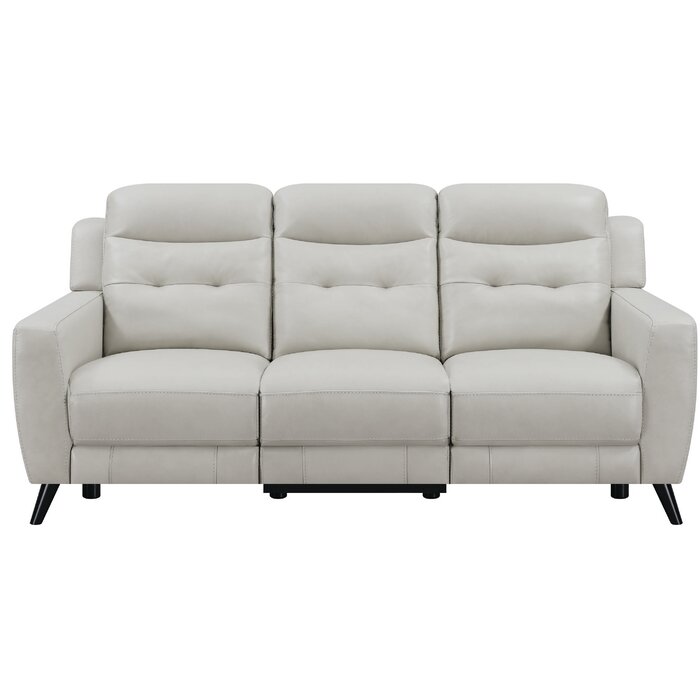 Product Details:
Materials:
Frame Material: Solid Wood
Upholstery Material: Genuine Leather, Faux leather, Polyester Blend, Upholstery Material
Colors: Beige, Charcoal
Dimensions: 40″ H x 83″ W x 39″ D
Add a glamorous touch to your living room with this Mid-century modern power recliner sofa.
This sofa features a unique modern design with exquisite textured leather material available in 2 beautiful colors. Laden with a built-in switch panel, it also comes with a USB port so that you can charge your electronic devices as you relax.
The Massengill is a sturdy piece of furniture but quite hefty (1125 lbs), so you'll probably not want to be regularly shifting it around.
The memory foam topper made with Certi-Pur certified foam is installed in the seats, which adds to the comfort level and the recliner's overall puffiness. You can add a matching loveseat for more convenience and ease.
Overall, it's a good pick for anyone who wishes to add a stylish sofa to their home without compromising on the comfort.
---
Modern & Sleek Power Recliner
Product Details:
Materials:
Upholstery Material: Chenille; Genuine Leather; Microfiber/Microsuede; Velvet; Faux leather; Polyester Blend; 100%
Frame Material: Solid + Manufactured wood
Colors: Santa Rosa Serenity, Milano Coal, Alfresco Marsala, Surreal Regatta, Maximus Caramel, Alfresco Beach, Surreal Brie, Maximus Sand, Ambition Cream, Surreal Graphite, Alfresco Gunmetal, Milano Slate, Alfresco Hickory, Alfresco Toast, Milano Coffee, and a few more.
Dimensions: 42″ H x 83″ W x 40″
The Marvel Wide Pillow Top Arm Reclining Sofa is a modern piece of furniture that will give your living space an added flare.
The Marvel recliner is a power recliner with both seats able to recline individually. The recliner isn't noisy like many other alternatives available in the market, thanks to insulated mechanism springs. Even better, you can choose from over 30 colors to fit in with your existing furniture.
What's comforting is that the Marvel comes from a highly acclaimed brand that ensures the highest quality and standards. The mechanism is tested for 25,000 rounds, while the seat frames are all made of kiln-dried hardwood with 4 metal seat braces. The attention to detail in the french seamed boxings in the front arms and the lower bustle backs is commendable.
A little on the expensive side, but a guaranteed centerpiece of your living room for many years to come.
---
Wide and Comfortable
Product Details:
Materials: Polyester
Colors: Bark, Teak
Dimensions: 41 x 81 x 41 inches
Another incredible reclining sofa by Ashley is the Boxberg Sofa, complete with a dual-sided recline feature and a convenient love seat.
Accompanied by plush soft cushions and featuring scooped stitching, this loveseat presents modern form and functionality. At the same time, the brown-toned faux leather upholstery gives it a charming touch.
The loveseat has a lift-top storage compartment and two cup holders for a perfect snack time while watching TV and relaxing on the recliner. Its one-touch power allows for infinite reclining positions.
Ashley's Boxberg is very comfortable, with plenty of space for 2 people to lounge and unwind in a relaxing manner. The sofa back is soft and provides good posterior support.
What's great about this sofa is the ease of assembly. You won't need any special tools to put together the two sections. The faux leather upholstery offers most of the benefits of the real thing without the heft price tag.
The only downside is that it's on the bulky side, not ideal for small homes. If you are on the taller side, your legs might hang over the footrest, so make your decision wisely.
---
Widest Power Reclining Sofa
Product Details:
Materials: Artificial Leather
Colors: Brown, Grey
Dimensions: 40 x 91 x 42 inches
The Austere Contemporary Faux Leather Power Recliner is a must-buy for those who desire extra comfort combined with ultimate luxury.
This sofa is a well-engineered piece by Ashley Furniture and boasts elegance from every angle. It is a sturdy and durable piece of furniture made from high quality materials, including a wooden frame with metal reinforced seats and footrests.
What's more are its extra-wide and spacious recliner seats, which are thickly cushioned for added comfort. The back is designed high and will suit even the tallest of people. You can find one-touch power controls on both sides of the couch for easy access.
The Austere Recliner is an excellent option for family spaces. It features a handsome style with jumbo stitching, nailhead trim, and a weather-worn effect on the upholstery, which is easy on the eye.
Thanks to the remote control, you can play around with multiple reclining positions without moving an inch. Its adjustable headrest is perfect for you to relax after a tiring day.
---
Contemporary Power Recliner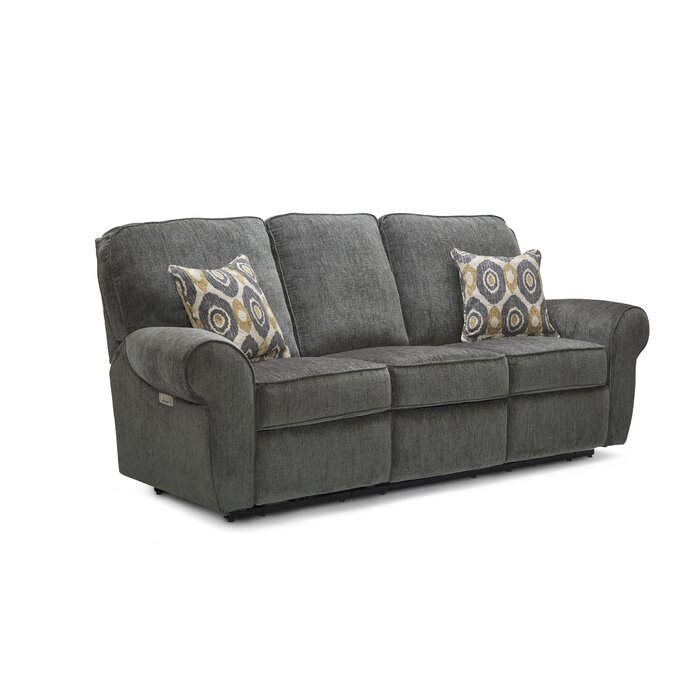 Product Details:
Materials: Upholstery Material:100% Polyester, Frame Material: Solid + Manufactured Wood
Colors: Gray
Dimensions:40″ H x 90″ W x 41″ D
The Shaunta Round Arm Sofa is your traditional recliner in a beautiful gray hue.
With its luxurious contemporary design, the Shaunta is perfect for comfortable evenings on the couch. The arms are round in shape and welted, effortlessly comfortable for evenings in front of the TV. The upholstery material is made out of polyester, which is soft and comfortable. Polyester is also easy to maintain, you can clean it with mild soap and water, and it will be as good as new.
What's lovely about this piece of furniture is that it come with plush back cushions combined with extra toss pillows to give you additional back support. Moreover, the seating cushions contain C3 pocket coils inside the foam for added posterior support.
The Shaunta features hardwood frames and provides superior durability. Although it may come in only one color, it doesn't mean that the Shaunta isn't attractive. On the contrary, it's a perfect decoration piece that's also a real head-turner.
Traditionally styled with maximum comfort, this reclining sofa features welted roll arms, boxed seat cushions, and plush back pillows. All the while providing additional support and comfort from the enhanced seat cushion thanks to the C3 pocket coils in the seat.
---
Square Arm Power Recliner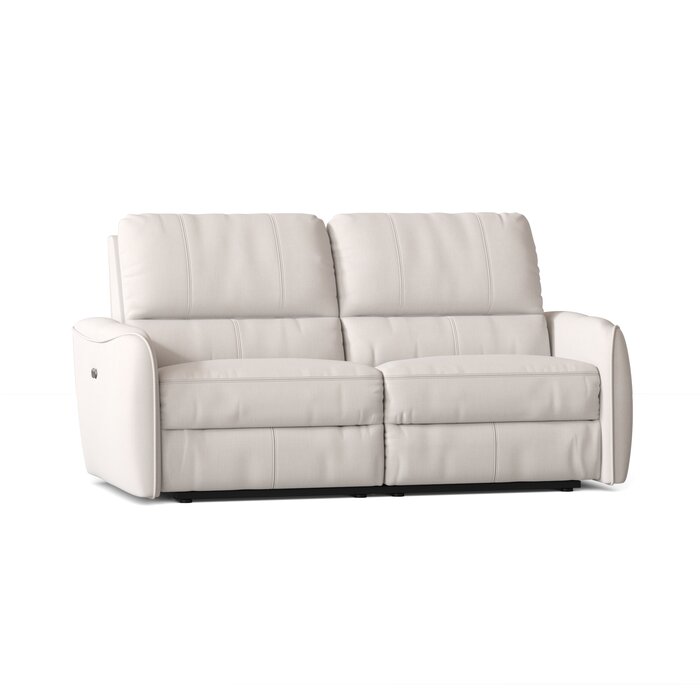 Product Details:
Materials:
Frame Material: Solid + Manufactured Wood
Seat Fill Material: Foam
Upholstery Material: Genuine Leather; Faux leather; Polyester Blend; 100% Polyester
Colors:
Leg Color: black
Fabric color: Ambient Cream, Rein Basalt, Ambient Acorn, Ambient Chocolate, Ambient Graphite, and 102 more.
Dimensions:39″ H x 76″ W x 41″ D
The Lina Square Arm Sofa is designed for those people who live in small spaces or open-concept homes.
This sofa can easily fit into tight spaces because of the slim square arms, which offer a sleek silhouette. However, Lina does not compromise on seat width, so you won't feel stuck in your seat when using.
One great feature of the Lina Recliner is that it's available in 100 plus colors. So you can choose your favorite fabric without upsetting any existing style choices.
The Lina upholstery maybe faux leather, but it's almost as good as the real thing. It's still able to provide you with the same style and class as genuine leather, but for the price, that's much easier on your wallet. Moreover, faux leather is so easy to clean with upholstery shampoo or a dry cleaning solvent.
Buy this sofa if you want an elegant and comfortable recliner with the guarantee of subtle curves, thick welt details, long-endurance, and endless comfort.
---
Cozy Fabric Recliner
Product Details:
Materials: Polyester
Colors: Coal
Dimensions: 40 x 80 x 42 inches
If you are looking for a beautiful sofa but with additional features, you might want to check out the Coombs Double Power Recliner By Ashley Furniture.
At first glance, the Coombs looks like a typical recliner, but that's not true. For added convenience, it has a center console with two cup holders and a storage compartment. This means you can enjoy cold drinks and chips while lying down on the Coombs and watching your favorite movie.
The Upholstery material is sumptuously soft with deep channel tufting for clean-lined flair. You can easily sleep over this sofa as it boasts a nearly flat reclining position as well.
Moreover, it comes with a USB port to charge your devices. The power buttons are situated on the inside of the armrest and can be operated by a single touch.
As well as a comfortable sofa, the Coombs Recliner is spacious as well. The footrest is wider than many other couches you will find at this price point.
---
Microfiber Power Recliner
Product Details:
Materials: Microfiber
Colors: Brown
Dimensions: 84 x 38 x 40 inches
You can add a luxurious touch to your space with this modern Elton Collection Microfiber Reclining Sofa by Blackjack Furniture.
This classic recliner by Blackjack Furniture is a must-buy for those who wish to enhance the look of their living room. The brown color is subtle and soothing for the eyes. It makes for the perfect centerpiece for your home and will blend in with other items easily.
The sofa is flawlessly crafted with durable plywood and solid wood and measures around 168 lbs. Once arrived, it only requires minimal assembly with no tools and little hassle. You will be surprised how fast it will come together in just a matter of few minutes.
What's terrific about this recliner is its plush Microfiber Upholstery. The breathable fabric is easy to spot clean and requires only minimal maintenance. The seats are comfortable to sit upon, and the softness of it will make you feel relaxed in no time.
The reclining mechanism operates with minimal effort, and the recline can help alleviate back pain.
---
Buying Guide
---
Who makes the best power reclining sofas?
We think that Ashley Furniture leads the way mong the leading power recliner manufacturers. The fabric used by them is of the highest quality, guaranteed to stand the test of time.
Ashley makes beautiful pieces, but the best part is that these are affordable too. What adds value to Ashley's furniture is the uniqueness of the stitching and sewing details on the couches for a luxurious look.
Ashley furniture adds an extra touch to their power recliners with built-in storage compartments (hidden, flip-up), power switches, and cup holders.
What is the best quality reclining sofas?
The best quality reclining sofa, in our opinion, is the Signature Design (our top pick) manufactured by Ashley Furniture.
It comes in a beautiful midnight color that is appealing to the eye. The LED light option is a unique feature that you won't find elsewhere. The console location is so accessible that you can eat snacks, charge power appliances, and watch TV all very easily.
Moreover, hidden compartments in the armrests are another great feature which we are sure everyone will love.
We love the comfort of its faux leather fabric, which is so soft that you would want to fall asleep in no time.
Are power reclining sofas worth it?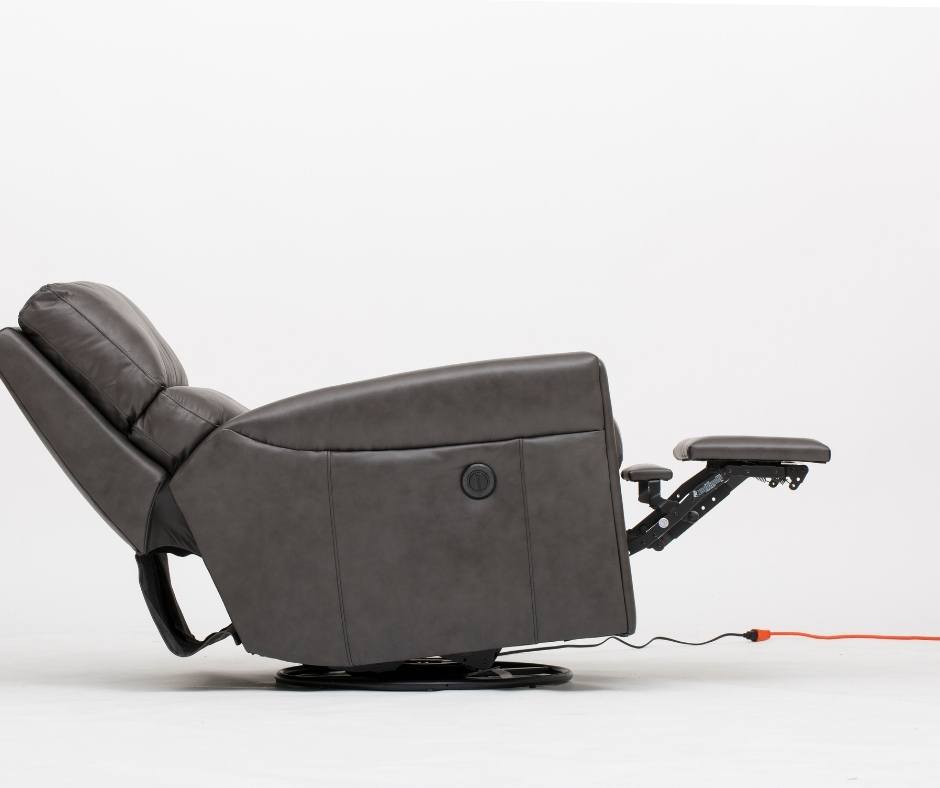 Yes, buying a power reclining sofa will be worth every penny you spend. The reason is that recliners combine comfort with luxury so that you can rest and watch TV after a long, tiring day.
Unlike traditional couches, Power recliners have movable backs, headrests, and often footrests as well. Some even combine storage compartments, cup holders, or USB ports for ultimate convenience.
Probably the best thing about this style of recliner is that you can move to an infinite number of comfortable positions with just a touch of a button. Available in a variety of styles and fabrics, you can choose whichever option appeals to you most.
Conclusion
Still not decided? Take another look at our top pick from Ashley Design.
If you're working with a smaller budget, why not pick the Boxberg Contemporary Faux Leather Reclining Loveseat. Its features are similar to that of the Signature Design but at a much more wallet-friendly price point.