Reclining sofas are popular choices for people who need assistance when it comes to standing up or sitting down. People who benefit most include the old and the elderly, those recovering from surgery, or those with mobility issues.
After thorough research and study, we have carefully selected some of the best power lift recliners on the market today, narrowing the choice down to ten outstanding power lift recliners.
In this comprehensive guide, you will understand the different lift recliners and their features to help you make better buying decisions.
From the 10 best lift recliner chairs, our top pick is the Esright Power Lift Chair. Its many outstanding features, such as the durable frame, soft fabric, and multiple vibration modes, make it a unique and popular choice among other recliners.
In simple words, if you are looking for a recliner that is comfortable, unique, and worth the money, Esright Power Lift Chair is a perfect choice.
In This Article We'll Discuss
10 Best Power Lift Recliner
---
10 Best Power Lift Recliner
Best Overall
Product Details:
Materials: Textile, Alloy Steel
Colors: Fabric Blue, Fabric Brown
Dimensions: Sitting: 33.3″(L) x 28.3″(W) x 41.3″(H), Reclining: 59″(L), Seat: 21.25″(W) x 22″(D)
An electric Lift Chair made with eco-friendly materials and designed with the elderly in mind.
The Esright Power Lift Chair works with a powerful mechanism, allowing any person to stand without placing added stress on the knees or back. What's more, you can conveniently control the movement from the right-armrest, helping you to customize the recline to your preferred position. With the advanced silent lifting system, you can set the recliner to three different postures (sitting, reclining, or standing) very easily. It is a perfect piece of furniture to sleep, nap, or read without compromising on comfort level.
An extra feature of this chair is its ability to provide an indulgent massage. Featuring 5 different modes, 2 intensity levels, and 8 points of contact, the chair will work wonders on sore and tired bodies. Not only this, but it also has a lumbar heating property for soothing comfort.
This amazing power recliner is made of high-quality fabric, which is soft and padded to give you the cozy feeling you deserve.
You can easily store important stuff in the side pockets or charge your phones/laptops using the convenient USB charger.
---
Budget Pick
Product Details:
Materials: Textile
Colors: Grey, Blue Green, Brown
Dimensions: 36.6 x 28 x 39 inches
A durable Power lift chair that is comfortable and affordable.
The ERGOREAL Power Lift chair is designed with 100% Pet and Human safe materials – it is formaldehyde-free and arsenic-free. It is a superior quality furniture option that is surprisingly affordable to boot.
As an added bonus, you can receive a comfortable massage to your lumbar region, back, thighs and leg by clicking the buttons on the user-friendly remote. If you are feeling lazy or require special support, then this power recliner can lift you to your feet or recline up to 150 degrees with ease. You can also store small objects, such as the controller, your phone, or iPad, in the convenient side pockets.
Apart from all these advantages, probably the most notable is that this power recliner is soft and comfortable with specially designed cushions that are tested to the highest standards. The multi-layer fillings with high-density foam and over-stuffed cotton will provide added support to your body and are perfect for long resting naps.
---
Best power lift recliner with heat and massage
Product Details:
Materials: Faux Leather
Colors: Black, Creme White, Dark Brown, Light Brown, Red
Dimensions: 36.7 x 34.6 x 41 inches
A classy Power Lift Recliner made with high-quality faux leather, with a large side pocket for extra convenience.
This classic Power Lift Recliner by Mcombo Furniture is a must-buy for those who wish to enhance their living room's look. The charming brown color is versatile while being pleasing to the eyes. One of the benefits of this recliner is that it can easily be matched with wooden home furniture. A perfect centerpiece for your home, it will blend in with other items with ease.
The lift recliner is flawlessly crafted using Faux Leather fabric for ultimate relaxation. It is easy to clean and just requires a damp, lint-free cloth without the need for any oil or waxes. The armrests are over-stuffed, while the headrest is padded for maximum comfort.
What's wonderful about this chair is its full-body vibration and lumbar heating system that will massage 8 different body points. The sofa works on a smooth mechanism to lift you up or recline in any preferred position that is controlled using the remote.
This sofa is a bit on the pricey side, but its features help justify the increased cost. It has dual USB outlets for charging devices such as your iPhone or iPad and dual side pockets to keep smaller items within reach. The addition of two cup holders on both sides of the armrests is a nice little touch, perfect for enjoying a movie or the game.
---
Best for tall person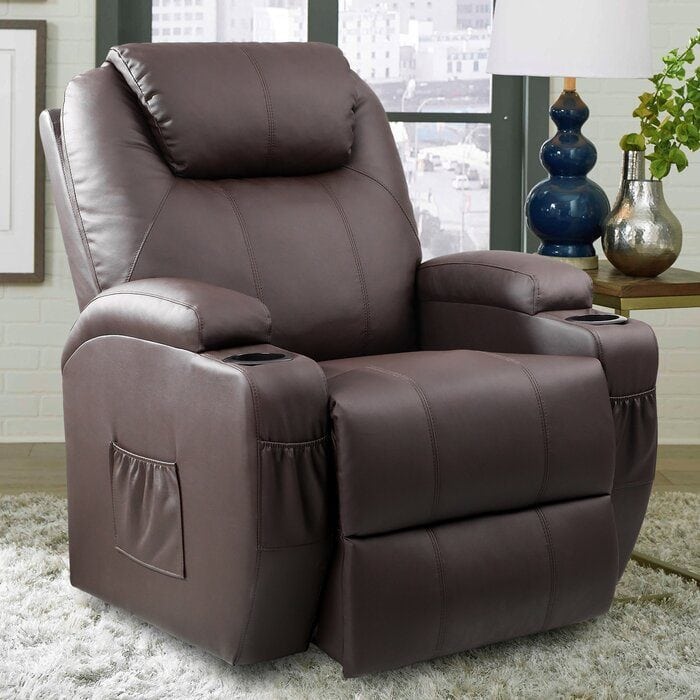 Product Details:
Materials: Upholstery: 100% Cotton, Filling(Seat, Back): Foam, Leg: Metal
Colors: Gray, Brown
Dimensions: Overall: 45″ H x 32″ W x 28″ D, Seat: 21.5″ H x 21″ W x 20.5″ D, Full Reclined: 64.5″ D
A top power lift recliner ideal for taller individuals.
Taller folks can often struggle to find an adequately sized chair. Overhanging feet or poor support for the neck are just some of the problems poorly sized chairs can create. The good news is that the Aairah looks to solve those issues, with a chair specially designed for those on the taller side.
At first glance, this lift recliner may look like a regular chair, but that's not true. It has four storage pockets, two cup holders, and a padded headrest for comfort and convenience. This is a durable and sturdy massage chair that doesn't hold back on the comfort, thanks to its zero-gravity feature and comfortable footrest.
It can be a life-saver for those who have had a hectic day and want a good massage when they come home. The chair provides multiple massage points and lumbar and armrest heating functions. You can switch between high and low vibration intensity with just the click of a button.
If you decide to buy this chair, you will be happy to know that it comes with a 6 months warranty. It also comes with comfortable toss pillows, which can be added and removed as necessary.
---
Best for a short person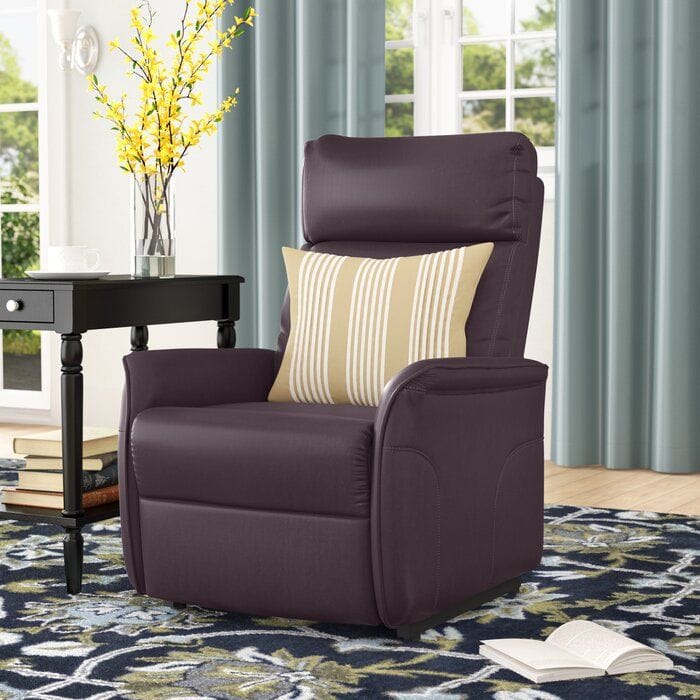 Product Details:
Materials: Upholstery: PU+PVC leather, Seat and Back: Sponge
Colors: Black, Beige, Mauve
Dimensions: Overall: 39.5″ H x 28″ W x 35″ D, Seat: 17.5″ H x 20″ W x 20″ D, Full Reclined: 61″ D
The Bolyard Power Recliner is perfect for shorter folks or those looking for a slimline seating solution.
One of the best features of the Bolyard recliner is its space-saving features. This sofa can fit into tight spaces easily because of its slim design. On the flip side, if you're taller or wider than most, you may find this chair a little uncomfortable since the seat width is only 18.5 inches, which is less than most recliners.
One great feature of this lift recliner is that it's available in a classic black color, which can uplift your home aesthetic. After all, black always remains in fashion. If black is not to your taste, you can also choose between two other attractive color options (beige and mauve).
The Bolyard Power recliner is a great option for the elderly who need assistance in standing up or lying down. The chair is also designed to be as ergonomically friendly as possible. It works to support your legs, neck, back, and arms, ensuring they remain at the right angle to provide utmost comfort.
Additionally, you get to choose between 8 vibration modes and a 4-point massage system. You can control all functionality from the remote control very easily, without leaving your seat.
This chair does everything chairs double the price does, so it's definitely excellent value for money.
---
Best for heavy person
Product Details:
Materials: Faux Leather
Colors: Brown
Dimensions: 33.5 x 37 x 41 inches
If you are looking for a power lift chair to upgrade your living room, bedroom, home theater, or even your office, the Devaise is an excellent option!
The Okin Power Lift Chair is a wonderful recliner that combines comfort with ease of access and style. The sofa has 2 exclusive Okin Motors that help recline the chair to infinite positions. At the same time, the double motor allows you to adjust the backrest and footrest separately. These motors are incredibly quiet and provide efficient performance.
The Okin's comfort level is increased thanks to the soft PU leather Upholstery and extra-thick sponge padding for optimal relaxation. It also features a high back and wide armrest, a remote controller, and dual USB charging ports, plus side pockets for storing stuff conveniently and for quick access.
On this chair, you can easily lay fully flat at 180 degrees to fall asleep or adjust angles to watch TV or read a book on a lazy day. Its lifting mechanism is perfect for older people and other individuals who need help standing up without placing stress on the back or knees. However, the best part of this chair is its sturdy construction and steel structure to support 450 lbs.
If you are looking for a piece of furniture that is both strong and visually appealing, then we recommend you buy the Okin Dual-motor Power lift chair.
---
Best for sleeping
Product Details:
Materials: Polyester
Colors: Gunmetal
Dimensions: 41 x 36 x 42 inches
A masterpiece by Ashley furniture, this sofa combines fashion with functionality to provide a chair you'll struggle to stay awake in.
If you are a fan of rustic style, then we recommend you this Ballister Power Lift Recliner. Not only has this chair got a traditional design, but it also boasts a modern look and feel. You can upgrade your living room, bedroom, or office with this gorgeous gunmetal colored sofa to achieve a trendy aesthetic.
This recliner chair comes with 4 independent areas that you can control using a remote control – the headrest, the backrest, the leg rest, and lumbar support.
Ashley has a reputation for providing some of the comfiest sofas to its customers, and this one is no exception. Prepare to indulge in the foam cushions wrapped up in supple polyester when you sit or sleep on this sofa. Perfect for naps, you can recline back to relax in complete bliss.
The sofa also features side pockets for easy access and a USB port for charging up your phone and other electronic devices.
You can certainly buy this sofa with confidence if there is an elderly person in your home who needs support to stand up or lie down. Although it lacks a heated function, we're prepared to overlook that, given that it ticks all of our other boxes.
---
Best in Leather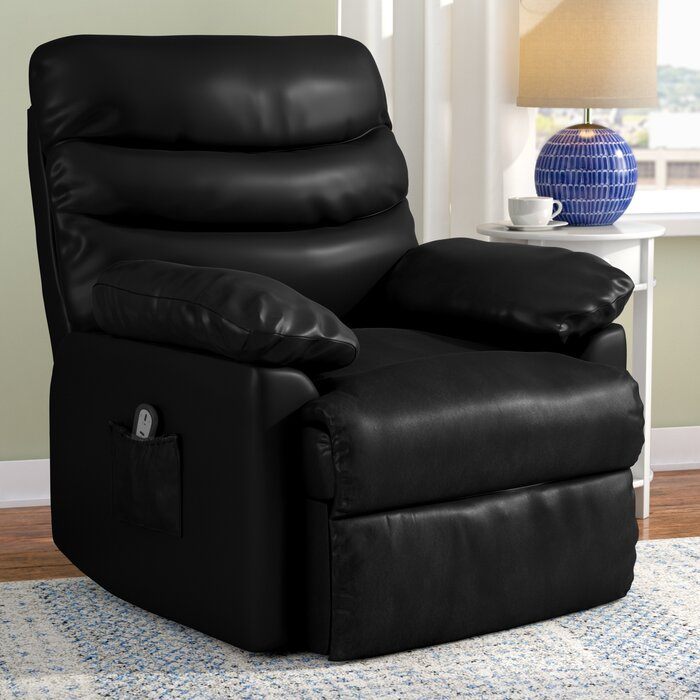 Product Details:
Materials: Leather Fabric
Colors: Black Renu, Coffee, Cream
Dimensions: Overall: 40″ H x 34.75″ W x 37.5″ D, Seat: 20″ H x 17″ W x 21″ D, Full Reclined: 26.5″ H x 64″ D
Made of high-quality leather, the Enedina Power Recliner provides maximum comfort and convenience.
This power lift chair is the only chair from all our choices that are made of genuine leather – and the reason why it comes with a hefty price tag.
Despite the price, this chair can be a life-saver for senior citizens, people with mobility problems, or patients recovering from surgery. The chair can help to transition from sitting to standing using its powerful lifting mechanism. Moreover, it has a steel reclining system along with a full chaise pad for additional leg support. All of the systems can be controlled at a push-of-a button using the remote control that comes with the chair.
What's wonderful about this chair is that the leather fabric upholstery plus the inside fiber-filled seat/back, and the sinuous springs all come together for lasting support and optimal comfort so that you can enjoy hours of resting.
When you spend so much on a sofa, you deserve the peace of mind that it will be your companion for many years to come. The Enedina is made from durable hardwood and strong metal along with independently wrapped pocketed coils to last you for a long time indeed.
---
Best contemporary design
Product Details:
Materials: Textile, Plywood
Colors: Brown, Cream, Navy
Dimensions: 34.25 x 38.58 x 40.55 inches
The Amazon Brand Ravenna Home Recliner Chair is a modern piece of furniture that will give your living space an added contemporary flair.
The Ravenna Home is a power recliner plus lifter designed for elderly people, helping them stand up comfortably without adding stress to their backs or knees. The reclining/lifting mechanism can be adjusted to a range of positions very easily.
It's incredibly sturdy and firm compared to other chairs in this price range, as it stands on a robust plywood frame with a German motor installed for better performance. What makes it great for the elderly is that the chair movements are very slow, making it less likely for accidents to occur. However, if you want to use the chair for daily use, then the slow pace might be a little frustrating.
Apart from that minor downside, the chair is aesthetically pleasing and boasts a contemporary look that will add color and class to your living room. The cherry on top is the cushiony soft feeling it provides, plus the fabric is easy to clean and maintain. The recliner includes a pocket on the lower right side of the seat to store a TV remote or a phone, which keeps everything within arm's reach.
---
Most Comfortable with cup holders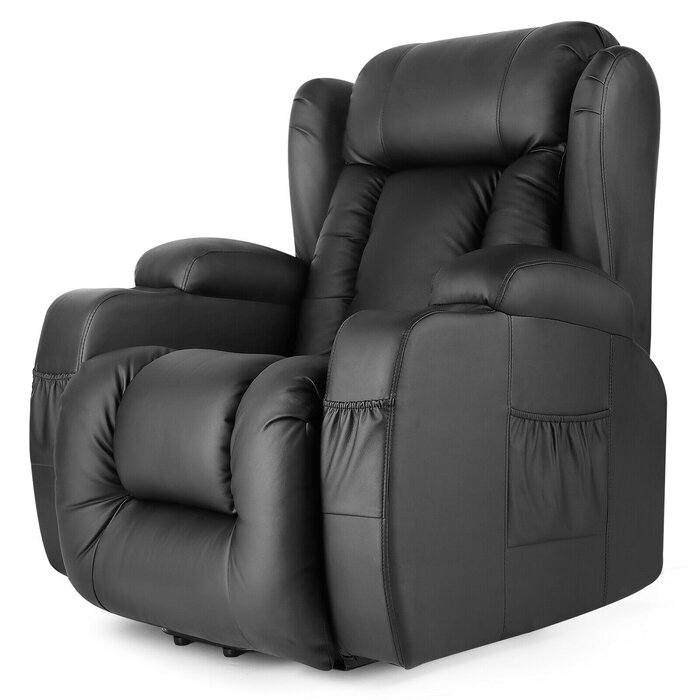 Product Details:
Materials: Faux Leather
Colors: Black, Brown
Dimensions: Overall: 43″ H x 34″ W x 39.3″ D, Seat: 19.68″ H x 21″ W x 21.2″ D, Full Reclined: 33″ D
The Beniamino Faux Leather Recliner combines extreme comfort plus convenient cup holders to create a chair that takes some beating.
This massage chair uses 8 massage points and a heating function to take care of your relaxation needs after a busy day. It reclines up to 160 degrees, which is the perfect angle for reading, napping, or watching TV. It uses an upgraded motor for quieter operation and a longer lifespan.
The sofa is perfect for the elderly, sick, and those with medical needs as the sofa's electrically powered lift mechanism helps lift you up smoothly and safely. The chair is durable and stable with a strong metal frame construction to support weights up to 440 lbs, so you feel safe and well protected. What's more, the unique 'u-shape' design of the recliner's back can relieve you from back pain and neck pain.
We absolutely love that the chair includes a remote control for easy operation, cup holders for quick access, and side pockets for convenience. The leather material used is not only stain-resistant but also water-resistant. The only downside with this chair is that it is a bit on the pricey side, but if you can afford it, the experience is worth every penny you spend.
---
Buying Guide
---
How To Pick A Power Lift Recliner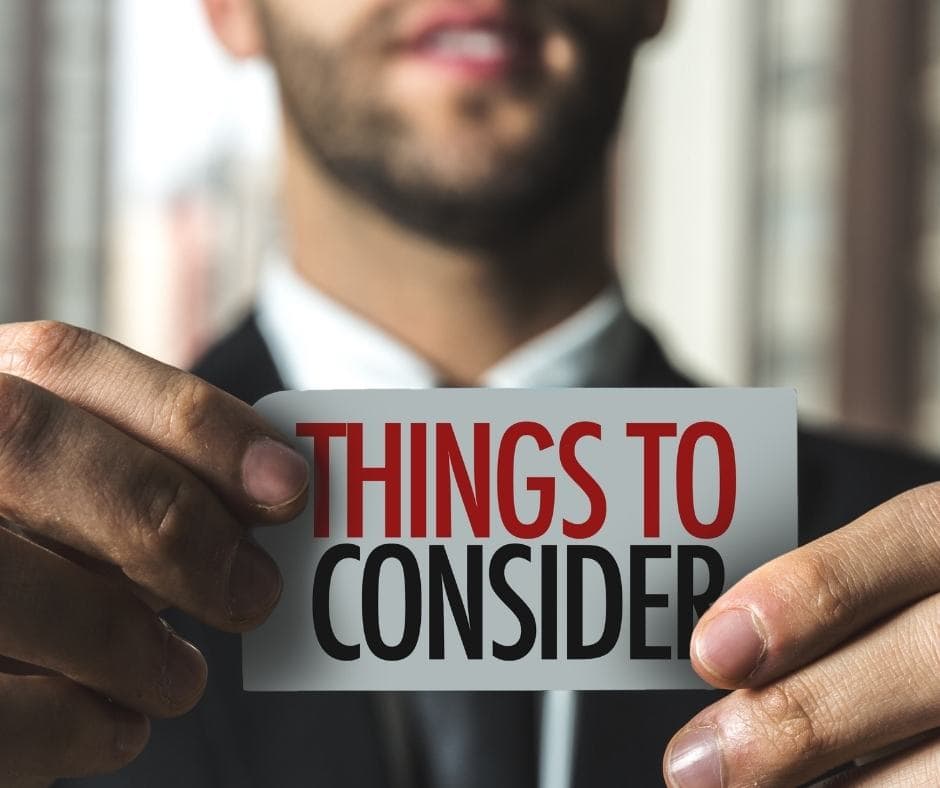 To pick a power recliner, you must first understand the basics.
Why are you buying a power lift recliner? Do you want to buy the chair for an elderly or less able person, or simply for added convenience around your home?
What features do you want in your chair? This is an entirely personal preference and will depend on If you want one that simply does the job compared to one packed with additional features, such as a massage function.
What color scheme? Most of the time, you'll want to make sure your chair blends into its existing surroundings, so picking a color that won't look out of place is important.
Where will you be placing the sofa? Living room, dining room, bedroom, or office? Each room may have different requirements (such as space available, for example) so having an idea of where you want your new recliner to go is essential.
What price are you willing to pay? There are many affordable options on the market, so you can immediately rule out recliners that are above your budget.
Once you have answered all of the above questions, the next step is to do your research and pick a sofa that ticks all of your boxes.
How Much Should You Expect To Pay For A Power Lift Recliner?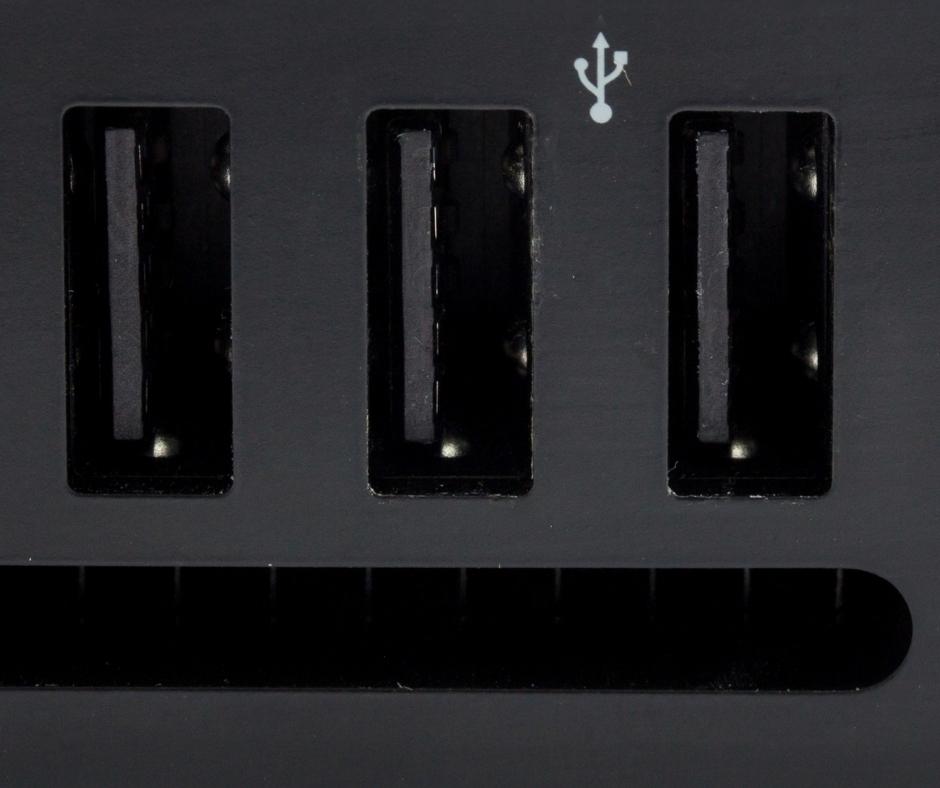 A power lift recliner can be a little expensive since the chair itself comes with more features than a normal recliner. The price may vary depending on the fabric you chose and the extra features you want in your new chair.
If you buy a basic power lift recliner such as the Ergoreal Power Lift Recliner or the Bolyard Power Recliner, it will cost you around $350 – $400.
If you choose heating and vibrating chairs such as the Esright Power Lift Chair or the Mcombo Recliner, you can expect to pay between $450 to $550.
However, for luxury leather seats, prices can reach into the thousands.
Which Features Are The Most Important In A Power Lift Recliner?
A power lift chair fulfills the basic functions of a chair while adding some extra features for added comfort and convenience.
Which features you prioritize will depend on your personal circumstances, but some of the most common features of power lift recliners include:
Easy cleaning and durable upholstery
Wide capacity
Silent lift motor
Cozy and soft seating
Easy assembling
Adjustable headrest and footrest
Reliable warranty
If you have a little more money to spend, you can take advantage of these extra features:
USB ports
Cupholders
Heat & Massage function
Fully flat recline
Side pockets
Powered recline
What Is The Best Overall Power Lift Recliner?
According to our research, the best power lift recliner is the Esright power lift chair for the elderly. This power lift chair comes with all the options you need in a good functional lift chair, plus added features for more luxury.
The Esright has an inbuilt vibration system, lumbar heating option, as well as offering infinite reclining positions. It is durable with a strong steel frame, which will last you a long time. USB charging ports, cup holders, and side pockets are added for extra convenience.
However, our favorite part about the Esright chair is its beautiful fabric color available in 2 shades: blue and brown. Whatever shade you pick, it will add a trendy look to your living room, bedroom, or office.
Conclusion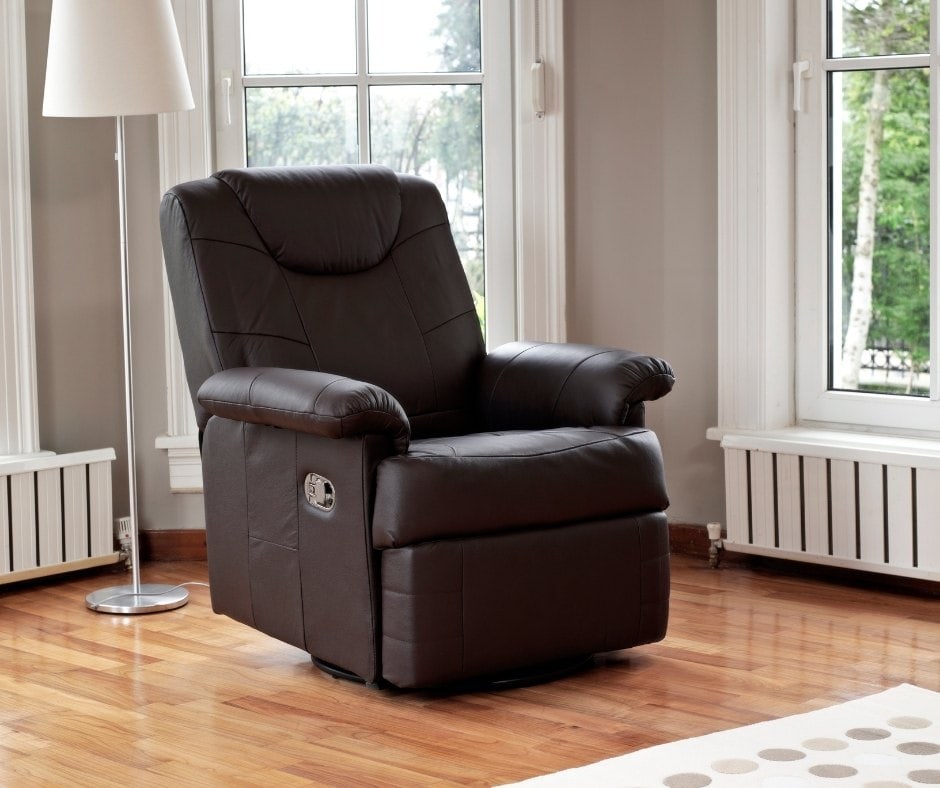 We believe that power lift recliners are an amazing piece of modern technology that can help those who suffer from mobility issues. While these sofas can be a bit expensive, the price tag is more than justified because of the comfort and convenience they provide.
Our top pick is the Esright Power Recliner with basic as well as advanced options. If you're working with a bigger budget, consider the Beniamino Faux Leather Power Lift Assist Recliner with cozy massage and heating functions.