It's official — moving day has arrived, and you're at a bit of a loss. How do you pack up your worldly possessions in the most efficient way possible while also making sure nothing gets broken in transit? The best method is to hire a professional moving company. But if you're doing it yourself, plastic wrap for furniture is one of the most economical ways to protect your wood, leather, and other fabrics. Putting stuff into storage? Wrapping your furniture in plastic is an excellent way to protect your furniture from moisture and stains.
Want to cut to the chase? Check out our number one choice from Modern Innovations. Looking for a lot of coverage? The bumper pack from PackageZoom should have you well covered.
Let's take a look at the best plastic furniture wrap to keep your prized possessions secure.
In This Article We'll Discuss
5 Best Plastic Wraps for Furniture
---
5 Best Plastic Wraps for Furniture
Best Overall for ease of use
Product Details:
Length / Size: 15″ Wide / 1,000 Feet
Handle: Yes
One roll to cover all the bases.
This heavy-duty stretch wrap from Modern Innovations is perfect for wrapping and securing heavy, oversized items during shipping, storage, or on-site. This value pack comes in an easy-to-use 1,000 foot roll that will give you plenty of coverage.
Made with high-quality plastic, this plastic wrap offers industrial strength and durability and is designed to fit some of the heaviest objects. With a high tensile strength, it can be used for wrapping up large items like suitcases and couches with no problem.
Whether used around the home or in a more industrial setting, this stretch film is ideal for moving and transporting goods. Due to its transparent, lightweight material, it's more cost-effective and user-friendly than similar wrap materials.
Included is a specially designed, easy-to-use stretch wrap handle which makes wrapping products easier than ever. Simply insert the handles into either side of the stretch wrap roll and begin wrapping. Using the handle in combination with the plastic wrap roll, you can wrap and seal your items in a fraction of the time.
---
Most affordable
Product Details:
Length / Size: 18″ wide / 1,200 Feet
Handle: No
Best for small budgets.
If you're looking for something inexpensive yet gets the job done, International Plastics Co. offers a flexible, lightweight material that can be used for moving boxes, storage, and protection for all your home items. They're able to offer killer prices as you are buying directly from the manufacturer, cutting out the middle man.
Despite being the same weight as most other plastic rolls, this wrap comes with an extra 200 feet. How is this possible? These eco rolls are a slightly lower thickness than usual, without sacrificing durability.
This wrap itself is stretchy and durable, unlike some other wrap which has a tendency to tear and fray under strain. In fact, the more you stretch it, the more adhesive is activated – it can even stretch up to 500% without showing any signs of stopping.
International Plastics Co. wraps are American-made, using high-quality plastic that is clear, without the cloudiness that comes with some other wraps. Perfect for use around the home or in the workplace.
---
Best multi-purpose
Product Details:
Length / Size: 20″ Wide / 1,000 Feet
Handle: Yes
Use it all around the home.
We love Duck Brand as it's hugely versatile. You can use this heavy-duty plastic wrap to protect and package items while moving, in storage, or even when shipping.
This self-adhesive shrink wrap is a great way to protect your furniture and other items from moisture and scratches. The wrap can be easily applied to your furniture, then peeled away once it's done its job without leaving a sticky residue.
To make it easier for you to wrap your items, this plastic wrap comes with an easy to use handle for effortless application. This handle makes it perfect for protecting and securing larger items such as mattresses, large boxes, storage bins, and blankets.
Duck brand products are one of the best in the biz when it comes to moving supplies, so you can rest assured your furniture is well protected from the elements, damp and damage caused by movement.
---
Best for small furniture
Product Details:
Length / Size: 5″ Wide / 1,000 Feet
Handle: Yes
Keep your small furniture well protected.
Looking for something to keep your smaller items well protected? This furniture wrap from uBoxes is the perfect pocket-sized companion and will keep your items in pristine condition and looking good as new.
The size of this product makes it a great alternative to tape, offering a quick and easy way to wrap up smaller items such as furniture legs, helping to keep them together in transit.
It's not just useful for moving either. Stretch wrapping has long been a popular way to package one-of-a-kind, fragile gifts. When you are working with smaller objects, the uBoxes mini wrap makes it easy to bundle up items and store them in your storage box or shipping container.
Perfect for storing in tight spaces, mini rolls are a great alternative to traditional furniture wraps, especially in homes strapped for space.
---
Best value pack
Product Details:
Length / Size: 20″ Wide / 4 x 1,000 Feet Rolls
Handle: Yes
Removals are a piece of cake with this bumper pack.
PackageZoom furniture wrap is a strong and efficient shrink wrap film that is incredibly effective at keeping your products stable and secure when in transit. It is ideal for protecting fragile items such as shipping boxes, orders, or large pieces of furniture.
The strong and durable packaging is easy to use without the need for specialist skills, making it an ideal choice for use at home or even an online business. This premium film also stands up to heavy wear and tear and is suitable for shipping.
Like some of the other options, PackageZoom comes with a handle that allows for a practical and functional application of the film. The handle makes it easy to pick up, carry, roll, stretch, and cut, letting you do things faster and more efficiently.
The best part? This value pack comes with 4 rolls of high-quality furniture wrap, making it the perfect choice when moving house or in commercial settings.
---
Buying Guide
---
How Do You Pick Plastic Wrap For Furniture?
Deciding upon the right plastic wrap for furniture is not a difficult task. If you are buying a plastic wrap to cover furniture, you will need to keep in mind the size, thickness, and the material that the furniture is made up of. The size of the furniture will determine the size of the plastic wrap you need.
Consider which goods or furnishings you want to wrap before purchasing shrink wrap. While shrink-wrapping many things are possible, it is neither required nor cost-effective to cover everything.
You may save money on shrink wrap by carefully selecting the goods you want to cover. This way, you won't waste it on furniture or goods that would be OK without it.
Typical items you may consider shrink-wrapping include:
Couches / upholstered chairs. Shrink wrap will prevent them from getting dirty/dusty.
Furniture with doors/drawers. Shrink wrap will seal these closed and prevent them from opening or swinging out mid-move.
Power Cables. Wrapping these will keep the wires from dragging across the floor and tripping people.
Rolled rugs & mats – To keep them firmly rolled.
Does Shrink Wrap Damage Furniture?
If your furniture is protected by shrink wrap, you can breathe a sigh of relief. The material used in shrink wrap is very thin and should not cause any damage to your furniture. However, if you do have shrink wrap in your home, remove it when you are not using it. It is very easy for it to get caught on something and rip, causing damage to your furniture or even other items in your home.
Can You Wrap Furniture In Plastic?
If you want to prolong the life of your furniture, you should consider wrapping it in plastic. This will help to prevent dust, dirt, and any other airborne particles from settling on your furniture.
Conclusion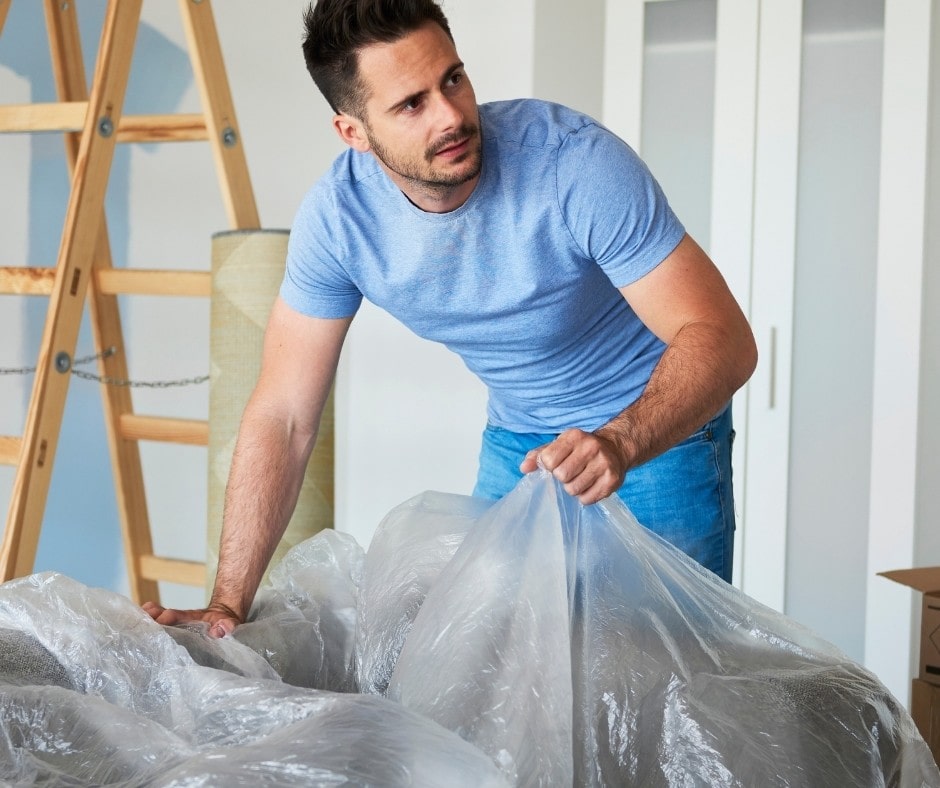 Whether you're in the process of moving home or simply putting loved pieces of furniture into storage, covering your items in a protective layer is a wise move. Not only will it help prevent scratches, dings, and dents, but it can also keep out moisture.
If you're looking for something simple that does the job, our top pick from Modern Innovations is a no-brainer. Inexpensive, lightweight, and durable, your furniture will be well protected from anything you can throw at it.