The best plastic couch covers can keep your furniture protected from unruly kids, excited pets, dust, and water. We all know that sofas are expensive so protecting them and making them last is a worthwhile investment.
Today we are taking a look at the top 9 plastic furniture protectors on the market. Our favorite couch cover, the KEBE, is a great all-rounder suitable for most furniture in your home.
Here are our recommendations for couch plastic covers that can help keep your furniture looking food as new.
In This Article We'll Discuss
9 Best Plastic Couch Covers
---
9 Best Plastic Couch Covers
Best for Most Purposes
Product Details:
Material: Vinyl, Polyethylene terephthalate, plastic
Color: Clear
If you want to protect your sofa from your daily activities or even make sure that it stays paint-free during renovations, then this product from KEBE is our recommendation for multi-purpose use.
KEBE's clear plastic cover for couches is made from thick vinyl, polyethylene terephthalate, plastic with 0.17mm thickness. This gives your couch protection against cat claws, dust, pet hair, water, paint, chemicals, and other substances that can mark your sofa.
The best part is that it is incredibly easy to add and remove, so you can quickly whip it off if you are expecting guests. Easily wipe off liquids and other debris with a damp cloth to keep your sofa looking fresh and new.
---
Most Affordable
Product Details:
Material: Plastic
Color: Clear
Plastic couch covers don't have to be expensive. Uboxes' Sofa Protective Poly Covers are heavy-duty, tear-resistant, waterproof, and easy on the wallet. Made from clear plastic material, it can protect your furniture from dust and spills.
This product is very easy to use. Simply drape it over your sofa and keep it in place with stretch wrap or tape. This is the perfect sofa cover for your couch when in transit or to cover your sofa when in storage.
The sofa cover is lightweight, so it is easy to put on, pull off and store for future use. It can be used for couches as long as 152 inches with a max height of 45 inches.
---
Most Affordable
Product Details:
Material: Plastic
Color: Clear
Opting for a well-known brand is a good way to guarantee you're buying a high-quality item. While you may be more familiar with Scotch and their sticky tape, they also manufacture an excellent plastic furniture cover.
Praised for its durability, this sofa protector from Scotch can cover most chairs and sofas up to 8 feet long. Made from clear plastic material, it can protect your sofa from the dangers involved during storage and transport.
The Scotch plastic furniture cover is designed with transportation in mind, so it has a strength that you can rely on. It slides on and off your sofa with ease, making it a truly low-hassle product we think you will love.
---
Best For Moving
Product Details:
Material: Polyethylene Plastic
Color: Clear
U-Haul has always been the king of moving, so it makes sense to rely on them to keep your furniture looking great with their U-Haul branded plastic cover. Using their product can get your sofa from point A to B in its original condition.
But their moving and storage dust cover is versatile and not only for couches. It can also be used for dining room tables, rugs, and other furniture that need protection from moisture, mildew, dust, and dirt.
Measuring 10' x 20', it can be used to protect furniture when moving, for storage, or during a home renovation.
---
Best For Storage
Product Details:
Material: Plastic
Color: Clear
This plastic furniture cover from Cresnel is perfect for keeping your furniture protected when in storage. For one, it's extra-thick and won't tear, so your furniture is protected from dust, dirt, moisture, and insects. It is made from premium-grade plastic, making it highly durable ideal for long-term use.
This product measures 92″(Width) x 42″(Depth) with an extended length to completely cover the whole sofa with a double-overlap end flap. Use packaging tape to seal the plastic cover to ensure everything stays neatly in place and your cover is well protected.
---
Best For Sectional
Product Details:
Material: Plastic
Color: Clear
Sectional sofas are awkwardly shaped, so you need a specially designed couch protector to cover your sofa. With the QEES Plastic Waterproof Couch Cover, you can ensure that every inch of your sectional is covered and protected.
The largest size offers full-size protection that makes it an ideal plastic furniture cover for beds and other large furnishings like dressers and coffee tables. The protector comes in a range of sizes suitable for all your household furniture.
Best of all, the plastic is tear-resistant, waterproof, and durable. You can also use it to protect sections of your house and furniture during renovation and painting.
---
Best Heavy Duty Vinyl
Product Details:
Material: Vinyl
Color: Clear
Famed for its "tougher" Plastic, Covers For The Home's clear Vinyl Furniture Protector is ideal for protecting against dust, dirt, spills, pet hair, pet claws, and kids. Its no-tear properties and extra thick material make it perfect for long-term storage or for moves.
This product comes in various sizes and is easy to use. Choose an appropriate size to fit your armchair, love seat, sofa, or large sofa. Just unfold it over your couch, and it will protect against damage and spills. A quick wipe, and it's good as new.
---
For Pets
Product Details:
Material: Vinyl
Color: Clear
Don't get us wrong, we love our pets. But cleaning up their hair or mucky paws from the sofa can be a chore. Luckily Besti has the right plastic couch cover for you.
This heavy-duty tear-proof sofa plastic cover has durable seams that are designed to withstand your furry friend's claws.
This anti-pet scratch device comes in 3 sizes so you can provide protection for your large couch, love seat, or sofa. Enjoy protection right down to the base for a clean and fresh-looking sofa.
---
Best for Outdoor Furniture
Product Details:
Material: 420D Oxford Cloth
Color: Gray
Outdoor or patio furniture also needs care and protection against pollution and the elements. Extend your outdoor furniture's life with this product from ClawsCover.
This plastic couch cover is made from 420D oxford woven polyester fabric and is waterproof and tear-resistant. It also features handy loops at the base of the cover that you can use to secure it and prevent it from being blown away by the wind.
Best of all, this outdoor sofa protector is all-weather and all season. It offers UV protection, anti-aging, and anti-scratch to keep your patio furniture protected when you're not using it.
---
Buying Guide
---
Before buying a plastic sofa cover, you need to consider a few things in order to make the right purchase.
Fit
Fit is the most important consideration when it comes to buying a couch cover. You want a plastic furniture cover that will provide protection for the whole sofa or furniture and not just the areas you sit on. A good fit will ensure that all areas of your couch are protected against dust, dirt, and moisture.
Before buying a plastic couch protector, measure your sofa first, making sure that the whole sofa will be covered.
Ensuring total protection is important, especially during transit, renovation, or storage, because we can guarantee the area you leave unprotected will be the one that gets marked.
Material
Most furniture protectors are made from plastic. However, there are other sofa covers that are made from vinyl, oxford cloth, or even fabric. It is important to consider the kind of material used because not all of them can protect against moisture, pet claws, or the weather.
Cloth furniture covers are light and easy to care for. However, they cannot resist moisture, humidity and don't provide as much protection against your pet's claws. Plastic, on the other hand, is more versatile but is not ideal for outdoor use because it does not offer UV protection.
The best kind of material for your couch is the one that will suit your purpose.
Price
Price is obviously an important consideration. Expensive is not always best, and cheap is not always reliable. Before buying a plastic furniture cover, spend a little time comparing what you can get at different price points.
If you need something tough and reliable, consider buying a more expensive plastic furniture cover since it will be more durable and will probably last longer. This means you can reuse it for the next time you move or renovate, saving you money in the long term.
Conclusion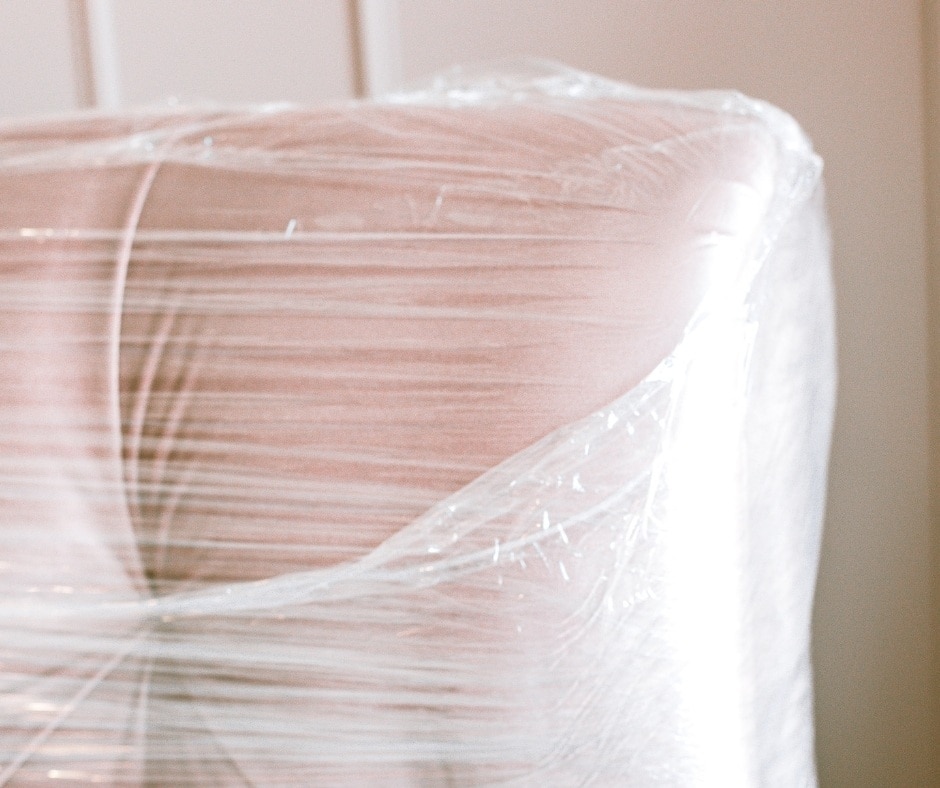 The best way to keep your couch protected during transit, storage, or day-to-day use is by adding a plastic cover. We love the KEBE as it is incredibly versatile and can be used on most furniture with little fuss. If you have pets in your home, consider the Besti, which can help protect your couch against sharp claws.