If you're a crafter or woodworker, you know how hard it is to work with fabrics and canvas. There are many ways to adhere these materials to a surface, but the wrong adhesive can wreck your project.
Whether you are a professional, a DIY'er, or just an average consumer who wants to get a few small projects done around the house, you should know that adhesive spray is an amazing thing. Not only is it incredibly simple to use, but it will also save you a lot of time and effort – not to mention that it's very affordable.
Today we're taking a look at the top 5 permanent adhesives on the market worthy of your money. Short on time? Check out our top pick from 3M, our favorite permanent adhesive for fabric work.
In This Article We'll Discuss
5 Best Permanent Spray Adhesive for Fabric
---
5 Best Permanent Spray Adhesive for Fabric
---
Best Overall
Product Details:
Compatible Material: Wood, Foam, Fiberglass, Leather, Paper, Plastic, Metal, Fabric
Type: Can
3M Super 77 Multipurpose Permanent Spray is the only spray you'll ever need.
3M Super 77 Multipurpose Permanent Spray Adhesive Glue is the perfect choice for sticking paper to cardboard, fabric to cloth, foam to foam, and just about everything else you can think of — whether it be outdoors or in.
3M Super 77 spray adhesive is a fast-curing, versatile adhesive that combines the properties of quick tack and aerosol adhesives. It is ideal for use in precision jobs where a lot of adjustments are required during the application process, such as finicky arts and crafts projects.
3M adhesive has been certified for its eco-friendliness by the California Air Resources Board, a government organization that gives out certifications for products that don't pollute the environment. That means that you can trust that the 3M adhesive you use will not damage the Earth.
This glue can hold anything, from the heaviest of materials to the flimsiest of threads — it's no wonder it's commonly used in construction and industries around the world. Whether you're fixing furniture or a broken shoe, this glue can handle any job you throw at it.
---
Best for Crafts
Product Details:
Compatible Material: Fabric
Type: Spray Pump
Make sure your next project goes without a stitch with Aleene's.
Specially formulated to work with fabric, Aleene's Fusion Spray Pump Adhesive is the clear adhesive for crafts that will not yellow or stiffen fabrics as other craft adhesives do.
Aleene's Fusion Spray Adhesive is perfect for all your DIY and crafting needs. It's the best adhesive for fabric, because it dries clear, won't yellow fabric, and doesn't leave a mess. Plus, it's acid-free and archival safe for scrapbooking or any other crafty project you can think up.
Aleene's Fusion Adhesive Spray is perfect for the craft and home. It dries clear to allow you to add embellishments without changing the look or feel of your project. The easy-to-use pump style spray can allows you to spray on one-handed for easy application while keeping your other hand free to hold your project in place until the adhesive sets.
---
Best Quick Dry
Product Details:
Compatible Material: Wood, Foam, Glass, Paper, Leather, Plastic, Metal, Fabric
Type: Spray Can
No more waiting thanks to Loctite.
When it comes to gluing, Loctite General Performance Spray Adhesive offers fast-drying, durable results you can count on. Whether you're gluing fabric or wood, this premium quality adhesive dries clear and is easy to apply. It's specially formulated for superior adhesion to a variety of surfaces and materials.
It forms transparent bonds and is ideal for use with wood, metal, glass, ceramics and many plastics. Use Loctite General Performance Spray Adhesive for quick repairs or for permanent bonding. Just spray on and set in place with clamps or weight to create a strong bond.
It's water-resistant, high-strength formula dries translucent, for the perfect finish every time. With Loctite, you can make fast bonds that are permanent or temporary, making it ideal for embellishing fabrics.
---
Best Low VOC
Product Details:
Compatible Material: Wood, Plastic, Metal, Fabric
Type: Spray Can
Ideal for use in the home.
Scotch Super 77 Multipurpose Adhesive Spray offers a strong, durable bond that won't let you down. Great for use on wood, metal fabric, and other materials, this fast-drying glue is perfect for crafting, home repairs and so much more. Its non-toxic formula is safe to use around the house or even with family pets.
Formulated with ultra-strong adhesives, it bonds in seconds and dries quickly to create a durable and long-lasting bond. Even better? It has no nasty fumes or smells like traditional adhesive products making it safe for the whole family to use around the house.
Scotch Brand adhesives are trusted by artists, crafters, and professionals alike. The Scotch Brand is synonymous with reliable adhesives that are proven to do the job every time. From craft projects to professional jobs, Scotch Super 77 Multipurpose Adhesive Spray is a must-have for any home or office.
---
Best Water Resistant
Product Details:
Compatible Material: Wood, Veneer, Metal, Plastic, Laminate, Paper, Upholstery, Foam & More
Type: Spray Can
DAP Products Weldwood Contact Cement Spray is a water-resistant contact cement that provides an exceptional bond with a variety of materials. The water-resistant formula dries clear so you can use it on fabrics with no worries about the finish flaking off in the wash.
Whether you're planning to sew a patch on your backpack or apply leather patches on your jeans, DAP Weldwood Contact cement spray is the right tool for the job. It dries clear, has a non-crusty finish, and offers water resistance. Plus, it comes in an ergonomic bottle that allows you to control the spray pattern for precision applications.
DAP is a perfect solution for your home and craft projects. Because DAP Weldwood Contact Cement is water-resistant it's ideal for outdoor as well as indoor projects.
---
Buying Guide
---
How To Pick The Best Permanent Spray Adhesive For Fabric
There are many spray adhesives available on the market. Each one has its own strengths and weaknesses. You have to choose the one that is going to work best for your project. Here are some things to consider when looking for the best spray adhesive for fabric.
What Fabric Are You Working With?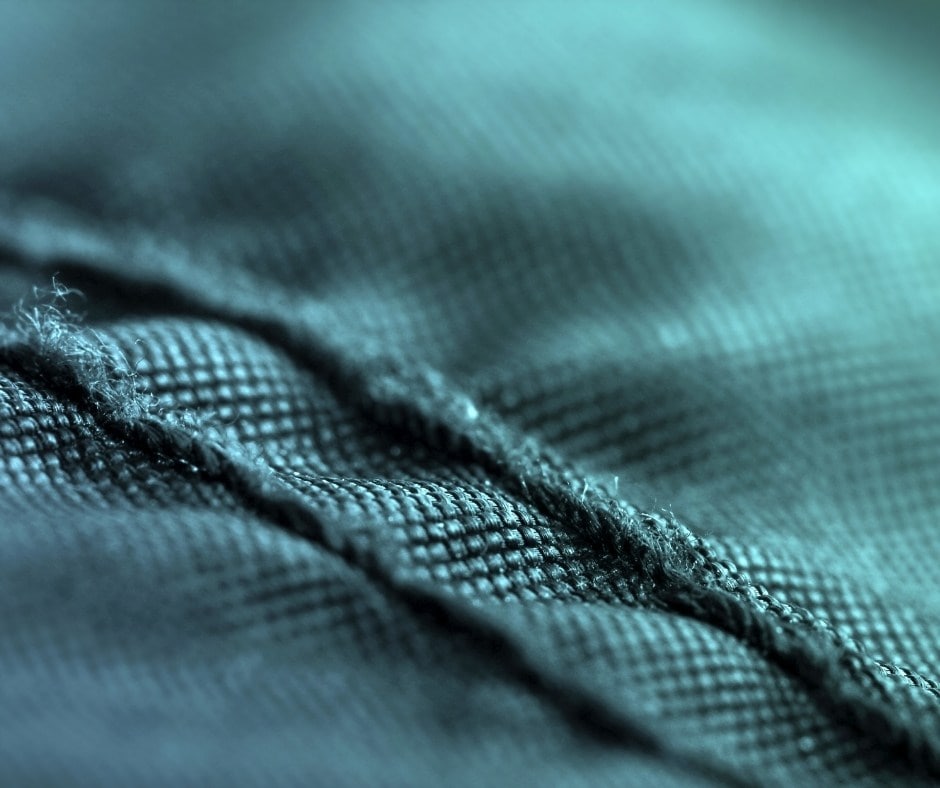 When you're working with lightweight polyester or nylon fabrics, you'll need glue that will dry clear. On other types of fabric, a non-crusting adhesive might be better suited to your project.
If you need a strong and durable bond between leather and fabric, using an industrial-strength adhesive such as contact cement may be ideal. On the other hand, if you're working with paper or felt, a weak adhesive may not be sufficient to hold it together.
Inside or Outside?
For your outdoor project, you'll want a water-resistant (or waterproof) adhesive to ensure the patch and fabric withstand rain, wind, and other weather. For indoor projects, you'll want an adhesive with low VOCs so as not to cause any toxic fumes indoors.
What Is The Best Spray Adhesive For Fabric?
3M Super 77 Multipurpose Permanent Spray Adhesive Glue is the ultimate fabric glue — strong, fast-drying, and with an easy-to-use spray applicator. It's our top choice for a good reason!
Is Adhesive Spray Good For Fabric?
Absolutely, providing you use the right type of adhesive spray.
The best way to decide if a product is right for your specific project is to test the product first. In this case, you could spray a little adhesive on your fabric and see how it performs. If the fabric is still too sticky after it dries, then you'll have to come up with a different solution.
What Is The Strongest Glue For Fabric?
We've compiled a list of the best permanent fabric adhesives on the market. If you're wondering about the best adhesive for your next project, the list above has got you covered.
Conclusion
So there you have it, our complete guide to the best permanent spray adhesives for fabric. Whether you're working on a project inside or out, this list should have exactly what you need to make your next project a success.
3M Super 77 Multipurpose Permanent Spray Adhesive Glue is our top choice for good reason. This adhesive has a non-flammable, clean formula that keeps your work surface safe from dangerous vapors. It doesn't clog or dry up, and its wide range of applications makes it ideal for use on any fabric project.