A great paint sprayer should work quickly and offer fantastic coverage. In a few minutes, these tools can replace hours of brushing by hand.
Although this method is more expensive than traditional painting, products like the HomeRight Super Finish Max make it all worth it. With its smooth application and rapid painting speeds, DIY furniture painting has never been easier.
After reviewing the best paint sprayers for furniture currently on the market, we've made this list of our top 5 recommendations.
In This Article We'll Discuss
5 Best Paint Sprayers for Furniture
---
5 Best Paint Sprayers for Furniture
---
Best Overall
Product Details:
Three spray patterns
6 nozzles
Flow control wheel
39-ounce capacity
450-watt power source
Quality coverage
This HomeRight product will efficiently paint furniture in seconds. And, you can customize the Super Finish Max to use this paint sprayer however you'd like.
The product comes with three unique spray patterns: bound, vertical, or horizontal. Also, the six interchangeable nozzles will let you adjust the thickness of your paint. You can also change the width of your spray range and how much one second of spraying will cover.
The control wheel on the side of this product allows you to control the spray speed. You can turn it down for precision spraying or put it on max to cover areas quickly. The finish is also more compact than other designs, ensuring there are no gaps in your paint layer.
The large capacity point container can hold up to 39 ounces! So, you can spray for longer without needing to replace your paint canister. With 450 watts of power in the motor, you'll be able to produce thick, high-quality paint sheets!
This tool is a DIY essential because you can paint furniture in minutes. You'll never go back to a brush after using it!
---
Best Budget Pick
Product Details:
Most economic on the list
5 nozzle sizes
3 spray patterns
High-quality materials
Rear foam pad
6.6 ft. power cord
YATTICH is a great paint sprayer for furniture if you're on a budget. It comes with 3 spray patterns and 5 nozzle sizes. This will allow you to adjust your sprayer to fit any job you're doing. Also, you can choose from the 1.2, 1.5, 1.8, 2.5, and 3.0mm nozzle.
YATTICH makes its products with their users in mind. That's why they made it detachable. And, you can easily spray paint, control the output, and adjust the flow. There's also a control knob that will allow you to quickly change how it sprays. The 6.6ft power cord provides more than enough room to move around while you're working.
The product uses high-quality materials. The nozzles are copper which can withstand more pressure than traditional plastic nozzles. They're also less prone to clogging during extended use. With double layer insulation, you'll never have to worry about your safety when using this product.
This paint sprayer also comes with a rear foam pad. This will stop paint from flowing backward when you're using the power spray function. It concentrates the spray into a more uniform beam, helping you cover your furniture equally. The rear foam pad also guards against dust and moisture build-up, which increases the product's longevity.
This product comes with 1 user manual, 1 spanner, 1 nozzle cleaning needle, 1 cleaning brush, 5 nozzles, 1 100ml paint container, 1 paint sprayer, 1 viscosity cup, and 1 lid pot.
---
Best for Professional Work
Product Details:
16 L x 9.5 W x 12.5 H inches
25 lbs
25 ft. hose
1.3 mm air cap
Rear situated handle
1,400 Watts
For professional work, we recommend this product from the Fuji Spray Store because it's the most effective option. It weighs 25 lbs and measures 16 L x 9.5 W x 12.5 H inches. There are three main components to the Semi-Pro 2: a hose, a spray gun, and a turbine.
The Fuji air hose is one of the best hoses available. It's 25 feet long and is flex free, so it won't snap or wear over time. It also comes with a quick connect cufflink and an air control valve. The valve lets you adjust the inlet pressure going to the spray gun.
The spray gun itself is an 'M' model and it has a 1.3 mm air cap set. It also has a real situated handle, which will protect your hands while you use it. It helps you avoid paint splatters, while also keeping your hand away from the high-pressure paint stream.
The HVLP turbine is one of the most powerful in the Fuji range. It offers a 1,400-watt capacity, working at around 5 psi of pressure at full speed. This will allow you to quickly cover large areas with paint. The quick-change filter on the side of the turbine makes it easy to change the paint out.
This product comes with a detailed user manual, a cleaning brush, a gun wrench, and a viscosity cup.
---
Best for Large Projects
Product Details:
Yellow and black design
20 ft. hose
18.5 L x 12 W x 12 H inches
11 lbs
60-ounce paint container
Adjustable speed and coat thickness
For large-scale projects, we recommend Wagner's Spraytech 0518080. This product works with low pressure and high volume technology to quickly cover large areas. It atomizes materials into small, fine particles which creates an incredibly smooth finish.
The spray function makes it easy to paint surfaces or whole walls, and it will keep everything neat. You can adjust the settings of the spray gun to change the pressure and speed. Also, you can change the nozzle pattern to round, horizontal, or vertical.
The spray gun has a 20-ft. hose, so you'll have enough room to reach the corners of any room. The lightweight 11 lb design also ensures that your hands won't get tired. The paint sprayer measures 18.5 L x 12 W x 12 H inches.
The 1.5-quart cup holds enough paint to complete large jobs in one go. So, you won't have to waste time constantly changing your paint cup. Also, you can adjust the air power to choose the paint's thickness. This will also affect how quickly you use up your paint.
---
Best for Touch up Projects and Accent Work
Product Details:
1.2mm nozzle
Air pressure control
Fully atomizes paint
Cleaning brush
1-year warranty
If you're working on more intricate designs, then you may want to try the Master Pro. The tip is only 1.2mm, meaning all the paint you spray will be incredibly precise. The air regulator gauge will also let you control how quickly the paint sprays. You can easily touch-up small areas with this product.
Master Airbrush makes these products with professional artists in mind. It's best for those working on projects with subtle details and precise measurements. It fully atomizes the paint before it sprays, which keeps it uniform. Also, it comes with a cleaning brush to keep the hole from clogging.
Master Airbrush offers a 1-year warranty on the product.
---
Buying Guide
---
How to Pick the Best Paint Sprayer for Furniture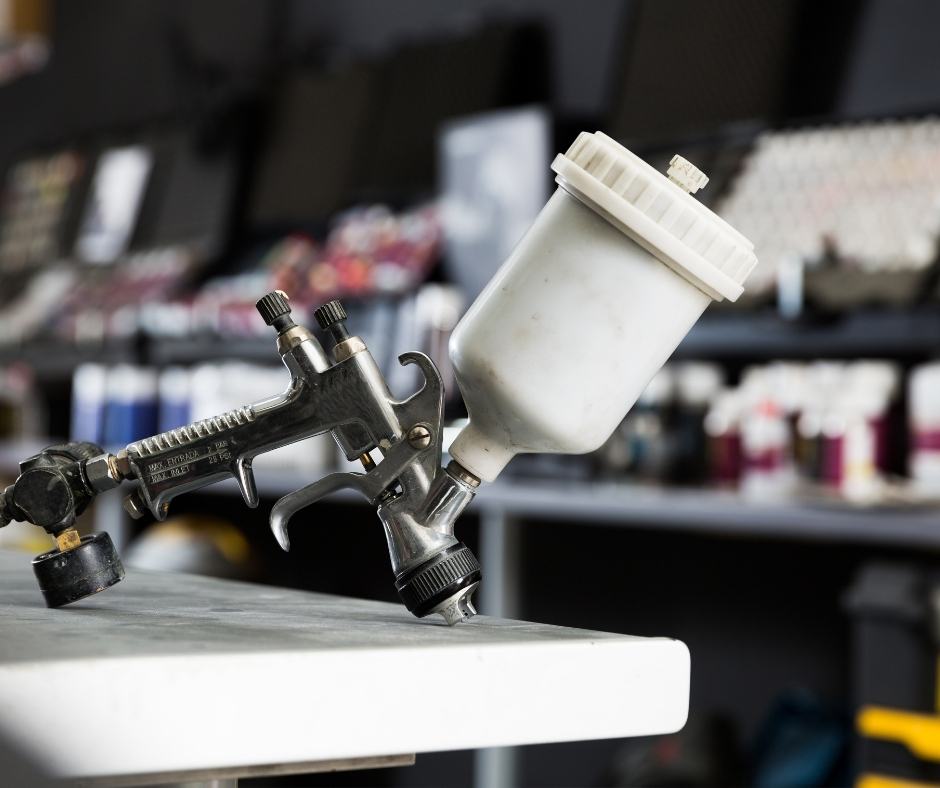 There are three factors to consider when looking for the best paint sprayers for furniture: functionality, cup size, and practicality.
Functionality
Different sized pieces of furniture need differing levels of accuracy. For example, large surfaces will need a larger nozzle. However, once you get onto smaller chair legs, you'll need a smaller nozzle for more precision.
Before buying your paint sprayer, you'll want to ensure it comes with nozzle sizes appropriate for the task at hand. This will keep you from wasting paint and will ensure you don't accidentally paint something other than the piece you're working on!
Cup Size
The paint cup sizes on this list vary greatly. For example, the Wagner product has a 60-ounce cup, while HomeRight has a 39-ounce cup. If you're working on a large piece of furniture, you may have to consider upgrading your paint cup if you have a smaller size.
If you don't want to refill your paint cup during the process, then opt for a larger cup. If you're working on large projects, try to opt for the biggest cup possible.
However, if you're only working on smaller furniture like tables or chairs, a smaller cup won't be an issue.
Practicality
When using a paint sprayer, you need to make sure you'll be able to work with the tool. There are two main things to consider when discussing practicality: weight and cord length.
If the cord length of your paint sprayer is too short, you may have to stop working to move it. This could cause uneven layers.
Before starting your project, measure your piece of furniture. If it's particularly big, make sure you buy a sprayer that can accommodate its size.
You'll also want a paint sprayer that you'll be able to hold for the duration of the task. Some of the sprayers on this list are bulky, so you might have to stop to rest while you work. Be sure to opt for a lighter model if you feel this will be an issue for you.
Are HVLP paint sprayers the best for painting furniture?
HVLP stands for Higher Volume, Lower Pressure. This describes how the sprayer disperses the paint. With an HVLP, more paint reaches the surface with less paint spillage of. This can save you paint over time and improve the accuracy of your sprayer.
While HVLP paint sprayers are slower than normal sprayers, they make up it in accuracy. Since furniture is often smaller than the surfaces we usually paint, like walls, this accuracy comes in handy. We recommend choosing an HVLP sprayer so you can coat your furniture without wasting paint.
Although both traditional and HVLP paint sprayers work well, an HVLP will save you money and provide greater accuracy when painting furniture.
Is it good to use a paint sprayer for furniture?
Absolutely! Paint sprayers will let you quickly and efficiently paint furniture. The only downside is that you'll be using up a lot of paint. To get around this, opt for the smallest nozzle you can.
Be sure to put a lot of painter's tape around the furniture because the process can get messy!
What are the benefits of paint spraying furniture vs brushing?
There are pros and cons with each painting method. Let's look at some of the main benefits of spraying over brushing:
With spraying, you'll finish faster. Even if you're painting a whole wall, it should only take a couple of minutes. A similar sized wall would take 5 – 10 times longer if you were using brushes.
When spraying, you usually only need one coat. If you have the spray on the right thickness, it should completely coat the surface. So, you won't have to go over the wall multiple times.
Also, you won't be left with roller marks when you use a sprayer. If paint brush and roller marks frustrate you, then spraying is a great alternative. It always leaves a brushless finish that looks great.
Finally, you can reach farther with sprays. If you're trying to paint somewhere that's hard to reach, sprayers are great.
Pros of spraying:
Faster
Only one coat
Smooth finish
Great on hard-to-reach areas
Although spraying paint can be quicker and more even, there are some downsides:
First, a paint sprayer takes longer to setup than a brush and bucket. While you only need to pop the lid to get started with a brush, spraying has several steps. You'll need to decant your paint, ensure you connect all the parts, and check that they're ready to go. This can take a while, so spraying isn't great for small jobs.
Spraying also uses considerably more paint than brushing. While more paint means you'll only need to apply one coat, it can also be more expensive in the long run.
Finally, sometimes paint that you spray doesn't adhere to the surface well. That's because it doesn't have that extra force from you pushing the brush down. So, it may not stay as well. This could cause your paint to fade or wear over time!
Cons of spraying:
Longer to set-up
Uses up more paint
Doesn't adhere as well
Conclusion
Now you've seen the five very best paint sprayers for furniture that are currently on the market. We looked at some budget options, as well as industrial and domestic products. No matter what you're searching for, there is sure to be something on this list for you!
Our overall pick for the best paint sprayer goes to HomeRight. This product balances efficiency, price, and convenience in a way that no other brand can. If you want a paint sprayer that will get the job done, we can't recommend this brand enough.