When looking for a ceiling fan for your nursery, you want to make sure that it cools down the room while also not disturbing your newborn. That's why the fans on this list have a silent or muffled motor, keeping them totally quiet. We've also included a range of fans with additional features so you can find the perfect fan for your nursery.
Our overall recommendation goes to the Hunter Fan Company 51315 Aerodyne. At 52-inches, this fan produces a high-quality airflow that will easily cover medium and large nurseries. It also has several speeds and an LED plate that you can use as a light source. You'll even be able to use Wi-Fi to connect the fan to home services like Google Assistant and Alexa. Finally, the matte grey aesthetic gives it a timeless look, which will surely fit into any nursery.
If you're looking for something with more accessories, you won't find a more versatile fan than the NUTCRUST Retractable Glass Ceiling Fan. At 42-inches, it's one of the smaller fans on this list, but it packs a lot into its small structure. With this fan, you'll also be getting a lighting kit that has 7 colors, a Bluetooth speaker, retractable blades, and a silent motor. The chandelier design will also look great in your nursery.
Our list includes different styles, sizes, and accessories. Take a look through these 6 fans to find one that suits what you're looking for. If you're not too sure, then check our Buying Guide for some FAQs on buying fans for nurseries.
In This Article We'll Discuss
6 Best Nursery Ceiling Fans
---
6 Best Nursery Ceiling Fans
---
Best Overall
Product Details:
52-inches
Dimmable LED kit
Three speeds
Connect to Wi-Fi services
This is the only fan on this list that comes with an adjustable downrod. This 52-inch Hunter Fan Company model is great if you're looking for a powerful fan that will also save space. It is completely matte grey, with five blades connected to the central motor.
The motor also has an LED kit with energy-saving bulbs, so you can use your lights for longer without them burning out. Considering the LED fixture is dimmable, you're also able to create the perfect lighting for your nursery, no matter what time of day it is.
In addition, the fan is Wi-Fi compatible, letting you pair to services like Apple HomeKit and Google Assistant. Once connected, you'll be able to use voice commands to change the light intensity and fan speed.
---
Best Quiet Ceiling Fan
Product Details:
44-inches
2,993 CFM
Two 9.8W LEDs
Remote control
One of the most essential features of a nursery ceiling fan is the ability to be completely quiet. You don't want the fan waking up your newborn. This fan has a WhisperWind engine, meaning the fan is completely silent – even at top speed.
At max, this fan can reach 2,993 CFM (cubic feet per minute of air displaced), even though it is only 44-inches. With its size, this fan would be best for small or medium-sized nurseries.
You'll be able to change the direction of the airflow since the fan has a reversible motor, letting you decide if you want to cool down or heat up the room. The fan also has a central LED panel with two 9.8W LED bulbs. These LEDs are not dimmable, which is a downside of this fan compared to others on the list.
The fan comes with a remote control that lets you control both the fan and the light source.
---
Best Simple Table Fan
Product Details:
Tabletop fan
16-inches
Three speeds
Oscillates
If you're looking for a simple tabletop fan, then this 16-inch model is perfect. It's a base fan with three blades that are enclosed by a wire cage. The fan has three speeds so you can get the ventilation you need.
The fan oscillates on its central pillar, creating a strong current that moves around the room. Also, you won't even need tools to assemble this fan and the whole process only takes a few minutes.
---
Best Music Playing
Product Details:
42-inches
7 color changing LEDS
Bluetooth
Chandelier style
If you're looking for a fan with a wide range of additional features, this 42-inch model is for you. You'll be able to play music directly from the fan and its speaker connects to your devices via Bluetooth.
The fan also comes with 7-color changing LEDs, which you can control from your Bluetooth-linked device. The fan has retractable blades that move inside a chandelier structure that has high-quality glass covering the motor. The motor is also silent, so you can use the fan without disturbance.
The fan is 42-inches in diameter, with a height of 17.7 inches. The fan comes with a remote control and an installation video to make the process easier for you.
---
Best for Small Nurseries
Product Details:
42-inches
White
Quiet Motor
Dimmable LEDS
Chain-controlled
If you have a small nursery, then you'll need a smaller fan – which is where this 42-inch model comes in. With five white blades and a central light, this fan has everything you need for a small nursery space. Its WhisperWind engine allows you to run the fan on full power without making a sound.
In addition, the LED light kit is dimmable so you can choose the lighting intensity in the room. One downside to this fan in comparison with other fans on this list is that this fan has a chain control. You'll need to physically pull the chain to change the speed or to turn the light on or off, which is different from the remote-controlled fans on this list.
The neutral white color of the fan will fit into the majority of nursery aesthetics.
---
Best Rustic Design
Product Details:
42-inches
4" downrod
Rustic design
Silent and reversible motor
Dimmable LEDs
This contemporary design has a black motor, white LEDs, and three dark wood blades. This creates a rustic design and the 42-inch fan will look great in modern homes. The fan has a quiet and reversible motor, so you can use the fan to silently cool down or heat up your nursery.
The blades are dual-reverse, so you can flip them upside down to move from a wood design to a matte black shade. One advantage of this fan is that it only has a 4-inch downrod, meaning it won't take up much space in your nursery.
In addition, the fan's LED kit is dimmable, so you can move through 20%-100% intensity. The lightly frosted glass covers two E26 bulbs.
---
Buying Guide
---
How to pick the best nursery fan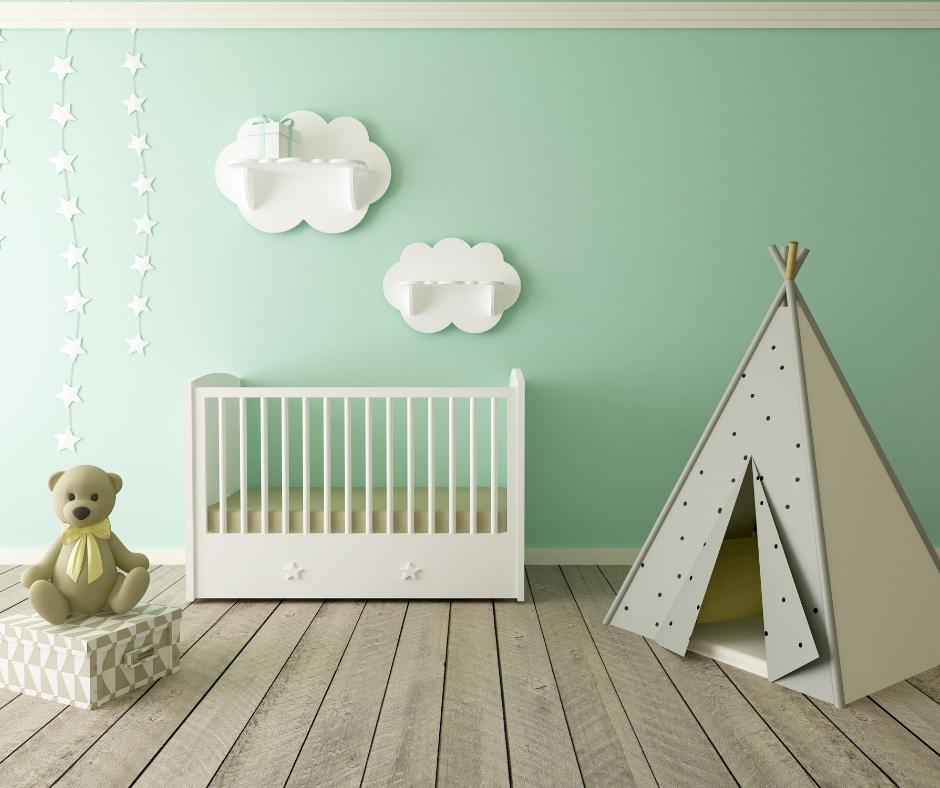 When picking a nursery fan, there are three main things that you should consider. The first is the size of your room since that will affect the diameter of the fans that you can buy.
Second, you should make sure your fan has all the accessories that you'd like for your nursery.
Finally, consider the general aesthetics and styles of the ceiling fans to make sure the one you choose will fit into your nursery.
Size
Generally, if you have a large nursery, you're going to need a larger, more powerful fan to efficiently circulate air. There is a correlation between fan diameter and fan power. Therefore, when looking for the correct size fan, consider the following measurements:
Fans of 30-45 inches – small rooms
Fans of 45-55 inches – medium rooms
Fans of 55+ inches – large rooms
While these are only generalizations (since fans of the same diameter can have different power levels), this is a great place to start.
Accessories
We've included fans that come with flashing lights and Bluetooth speakers, as well as basic fans that only control air circulation. Before committing to a fan, it's a good idea to decide what sort of accessories you may want on your fan.
Aesthetic
You want your fan to match the aesthetic of your nursery. Try to pick a fan that fits into the same color scheme that you currently have in your room. There are several multipurpose fans on this list that will fit with many different aesthetics.
Once you've considered all three of these things, you'll have a better idea of what kind of fan you're looking for.
Is it good to have a fan in a nursery?
It's been reported that having a fan in a nursery is a fantastic idea. Babies sleeping in a room with a fan (better ventilation) have a lower risk of SIDS (Sudden Infant Death Syndrome). Fan use, of course, needs to be in conjunction with prevention tactics like placing babies to sleep on their backs.
SIDS, although not completely confirmed, is considered to be caused by a buildup of carbon dioxide in the baby's environment. With a ceiling fan, air is constantly circled and refreshed, ensuring this doesn't happen.
What fan is best for a baby's room?
The fan that's best for a baby's room is the one that will work efficiently without waking them up. That's why we've made sure that the fans on our list come with muffled or silent motors.
You'll also want to make sure that the fan fits in the room because the best fan for you will be one that's the right size. That's why we've provided a range of sizes on the list.
Should a baby's room have a ceiling fan?
While your baby's nursery doesn't have to have a fan, it is a good idea to keep air moving and refreshed.
Conclusion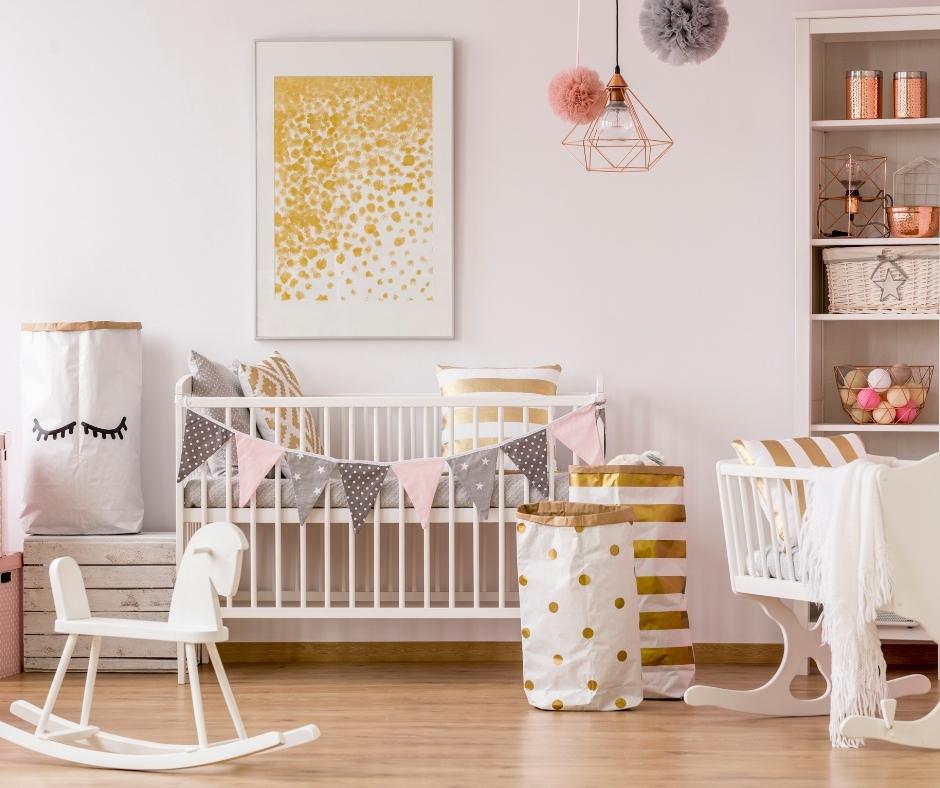 These are the top 6 ceiling fans for nurseries currently on the market. From different styles, sizes, and accessories, we've included it all. Be sure to check the buying guide before you start searching in order to work out exactly what you need.
Our number one recommendation is the Hunter Fan Company 51315 Aerodyne. Since this fan comes in a matte grey, it will fit into a whole host of nurseries. Additionally, the 52-inch model will easily manage both medium and large nurseries. The central LED fixture also allows you to use the fan as a light, giving it more than just one function in your home.
This list contains a range of fans that have different styles, as well as a variety of additional accessories. You'll be sure to find something you're looking for by skimming through our summaries.