Many recliners lack adequate support for your head, which can lead to stiffness and soreness in the neck, especially if you spend prolonged periods sitting.
But it doesn't have to be that way. One thing you can add to improve your seating experience is an inexpensive neck support pillow to provide extra support and enhance comfort levels.
The Body Prop adjustable pillow is our top pick, available in various colors, its natural buckwheat hull filler is hypoallergenic and homegrown in the USA. Got a bit more cash to spend? Check out the Zyllion Shiatsu Back and Neck Massager, with an in-built massage function.
In This Article We'll Discuss
Best Headrest Neck Pillows for Recliner Chairs Reviews
Best Overall Neck Pillow For Recliner Chair
Dimensions : 26 x 12 x 5.5 inches
Materials : 100% Polyester
Available Colors: Black, Charcoal, Light Sand, Red, Brown, Sand
One of the pillow's most significant benefits is the natural buckwheat hull filler, which is both hypoallergenic and thermodynamic. These properties make it an excellent choice for those with allergies and a perfect choice for those hot summer months. Buckwheat also adds extra levels of support, which works to keep your head and neck in a comfortable position.
The buckwheat filler is also removable, meaning you can adjust the filling level to suit your needs. Prefer something with a bit more cushion? Simply remove some of the filling, simple as that.
Now the downside of buckwheat is that it does carry an earthy smell. Still, it's not unpleasant, so we won't say this is a dealbreaker. If you're a restless sleeper, the filling can be a little noisy – especially if you're prone to tossing and turning.
One of the best features of this pillow is that it is compatible with almost any chair, including office seats and lazy boy recliners.
Snorers among us can also breathe a sigh of relief, as the pillow can promote a better posture when sleeping or napping. This keeps the airways open and reduces snoring.
Best Recliner Neck Pillow With Heat and Massage
Dimensions : 26 x 12 x 5.5 inches
Materials : 100% Polyester
Available Colors: Black, Charcoal, Light Sand, Red, Brown, Sand
If you're looking for something that goes beyond a simple pillow, the Zyllion could be a perfect match. Ergonomically designed, this slimline pillow is multi-use, meaning you can use it to support the upper and lower back, as well as for neck support.
Arguably the best feature is the massage and heat function, consisting of 4 powerful massage nodes and overheating protection for added safety. The power cord also comes with an adapter that fits the cigarette lighter in your vehicle for ultimate portability.
The adjustable strap can help secure the cushion to your favorite chair, ideal for use at home or in the office.
We think the Zyllion makes a fantastic gift choice, perfect for a loved one who spends too much time in their recliner.
Best Pillow For Sleeping In A Recliner
Dimensions : 11.5 x 7.7 x 3.8 inches
Materials: Memory Foam with Cotton Cover
Available Colors: Black, Gray, Blue, Dark Gray
The Twist wins its spot on this list for its incredible design, with flexible joints that can twist and bend in unlimited ways for complete customization. This level of customization means it can be used for various purposes, not just to support the neck. If you suffer from lower back pain, you can twist the pillow into shape and use it for back support.
The pillow is constructed from high-quality, breathable jersey fabric, which is machine washable. If it does get dirty, simply chuck it in the wash, and it's as good as new.

Twist has really thought of everything when it comes to convenience. By adding buttons, the neck pillow can be fastened together for added support around the neck. It also makes it far easier to carry and transport when not in use.
If we were to have one criticism, it would be that sometimes the bendable rod inside the cushion can be felt through the pillow itself, which can be a little uncomfortable.
Best Recliner Chair Neck Pillow For Elderly
If you're of a certain age, you'll be all too familiar with aches and pains and how they can torment you. This neck pillow from Desk Jockey, filled with 100% premium grade memory foam, works wonders for neck and lumbar support.
Memory foam works with your body heat to mold to the contours of your body, helping to provide firm support to vulnerable areas such as the neck, back, and head. The downside of memory foam is that, to some, it can appear quite hard. If you're used to a soft and plush cushion, you may want to give this one a miss.
The dog bone design promotes perfect posture, which Desk Jockey claims can provide back pain relief by ensuring your spine and head are aligned. It also comes with a free adjustable strap that can fit any chair, be it a recliner, car seat, or office chair.
The easy to remove washable cover keeps it looking fresh for years to come as a bonus.
Best Recliner Neck Pillow For Support
Dimensions : 11.02 x 4.33 x 4.33 inches
Materials: Memory foam
Available Colors: Black, Beige
This memory foam car neck pillow is specifically designed for use in the car. While its design is relatively simple, the shape helps provide comforting neck support. Used in the car, it can make long journeys more bearable, especially if you're the driver.

Even though it's marketed for car use, the pillow comes with an adjustable strap that can fit airplane seats, office chairs, and your favorite recliner. Used in the car, it can provide support while driving, but should you be unlucky enough to have an accident, it can help to prevent strains and injury caused by sudden braking.
Now this pillow is definitely on the softer side, so if you prefer a stiff pillow with extra support, you'll want to check out something like the Twist memory foam neck pillow.
Best Leather Recliner Neck Pillow
If you own a leather recliner at home, adding a leather neck pillow is an obvious choice for extra comfort. The Octane comes covered in high quality, top-grain brown leather, which will help maintain the classy look of your recliner, which some other neck pillows may struggle to do.
The high density fiber filling provides exceptional levels of support for your head and neck, while the non-slip backing ensures the pillow stays in place while being used. It's also incredibly versatile and will fit chair backs up to 36 inches. Better still, the pillow can also double up as an armrest.
Like the Zyllion, you can remove some filling in this pillow to adjust the loft to meet your needs. An obvious drawback of this neck pillow is its cost. Because it is made with some of the highest quality leather available, it is more expensive than some of the other choices on this list.
Best Recliner Headrest Pillow In Blue
This flexi-pillow from Dot&Dot bears a striking resemblance to the Twist memory foam pillow. However, the most significant advantage that Dot&Dot has is that it comes in a variety of colors, including a wonderful midnight blue.
The Dot&Dot pillow is incredibly durable, covered in comforting cotton. This cover is breathable and machine washable, ideal for everyday use. Like the Twist, the Dot&Dot features an inner bendable rod, allowing you to mold it to whichever shape you choose.
While we love the blue cover, it also comes in black and two shades of gray, so you're bound to find a color choice you like.
We noticed a faint chemical smell during testing, which would be a little off-putting in use. Still, given the cover is machine washable, that's something that can quickly be taken care of.
Buying Guide: How To Pick The Best Neck Pillows For Recliner Chair?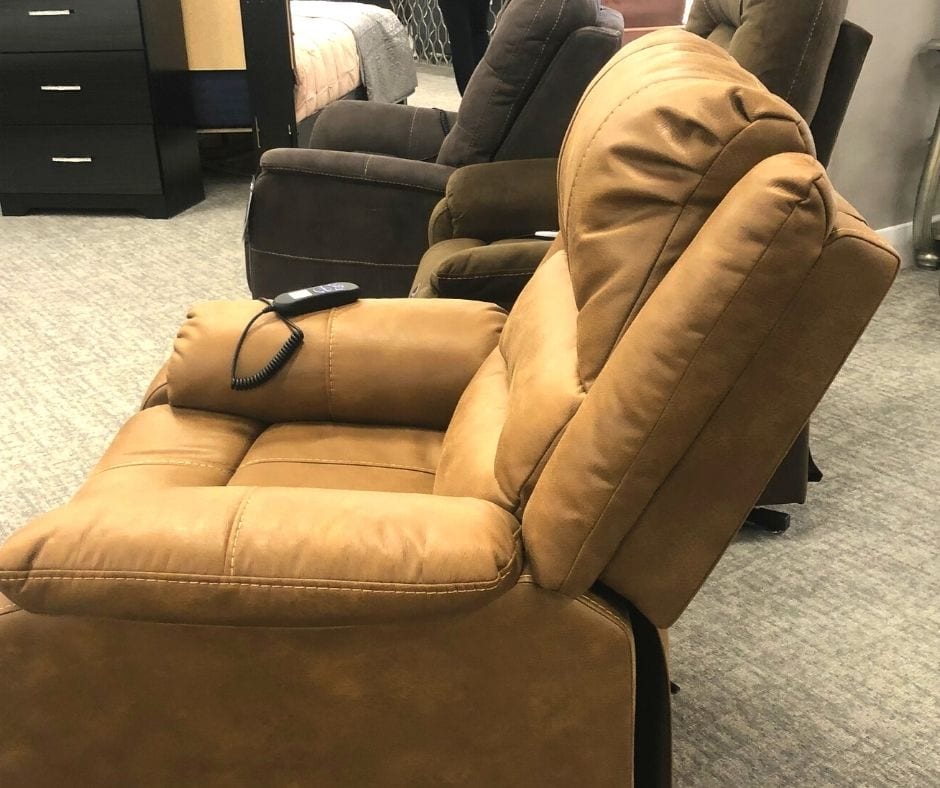 Picking your new headrest can be tricky, especially as there is an overwhelming number of choices on the market.
Understanding the different types of headrest pillows available and what features they come with is a good place to start.
Things To Consider
Size – The size of the pillow is essential to achieve a comfortable fit. The good news is that most neck pillows are fully adjustable. Still, it's always best to double-check before purchase. Choosing a pillow which is slightly larger than your neck is better than selecting one which is slightly smaller
Filling – The filling of the pillow will determine the type of support it offers. Medium-firm fills, such as memory foam, tend to be the preferred choice by most customers. Foam and shredded foam are a cheaper alternative but offer less in terms of support.
Removable Cover – A removable cover allows the headrest pillow to be washed in the laundry without worry about disturbing the pillows filling. A removable cover also allows the user to adjust the pillows' height by reducing or adding to the filling.
High Density Filling – A high density filing is preferred by most, as it offers much more levels of support than one with a low density.
Fully Adjustable – A fully adjustable pillow usually comes with a strap that allows you to fit it to most chairs. This means you can use your new headrest pillow with your office chair, car seat, or even on an airplane.
Durable – Prioritizing well-made pillows that use high-quality materials guarantees your product will stand the test of time. Cheap alternatives can be attractive, but they often sacrifice the quality of materials used, decreasing their useful life.
Portable – One of the handiest features of a neck pillow is the fact it is portable. Not only can you take it with you anywhere you go, but you can also move it between seats and chairs.
How To Make Sure A Neck Pillow Will Fit On Your Recliner Chair
To ensure your new neck pillow will fit on your chair, double-check the specifications of the pillow to check the max size of the chair it will fit.
While some chairs do list this measurement within their specifications, most don't, but that doesn't mean that you shouldn't consider buying. Unless you're talking about a very oversized or uniquely shaped chair, most neck pillows on the market come with adjustable straps that allow it to fit chairs large and small.
Different Types Of Recliner Pillows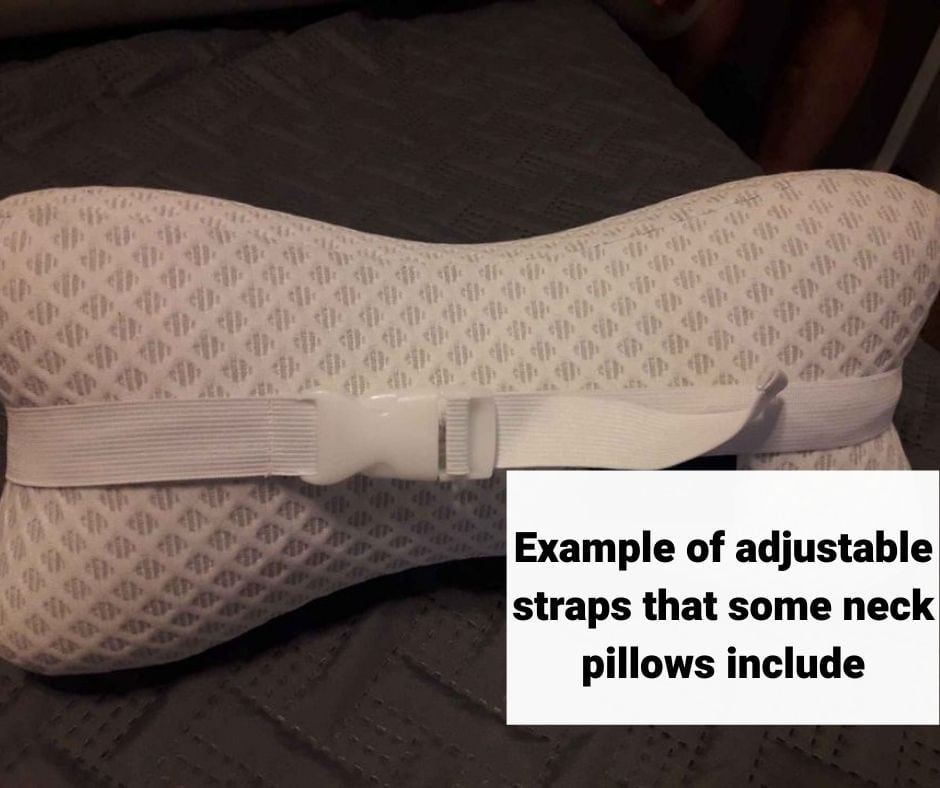 There are plenty of different recliner pillows on the market. Some of the most popular include:
These recliner pillows are incredibly versatile as the adjustable strap means they can fit (almost) any chair.
Bamboo is the new kid on the block in terms of material for neck pillows, praised for its hypoallergenic and cooling properties. If you're living in a warm climate, bamboo is an excellent choice for neck and back support.
A memory foam neck pillow is a popular choice for neck pillows due to its comfort and ability to mold to the body's contours. This helps it provide superior support levels to users, although it can be a little costly.
Long gone are the days of the uncomfortable inflatable travel pillow. Built for portability, u-shaped travel pillows can provide comfort while you're on the move, be it by train or by plane.
Offering the ultimate relaxing experience, a neck pillow with a massage or heated function is the perfect way to wind down after a busy day in your favorite chair.
These neck pillows are identified by their long, thin shape, often containing clinical grade memory foam. Specifically designed to support neck alignment and reduce pressure on your spine. These pillows are often recommended to those with severe back/neck pain or those recently recovering from surgery. The roll can even be used as a lumbar support pillow.
Wrapping up The Best Neck Pillows for Recliners
Headrest neck pillows are a fantastic way to increase the comfort of your trusty recliner chair. But more than that, they are hugely versatile and can be taken with you on the move. Whether you're looking for a new pillow for extra comfort or for pain relief, you can't go wrong with any of the pillows on this list.
That being said, the Zyllion Shiatsu pillow is our top choice and is definitely one you won't want to pass up!