Nailheads are an integral part of furniture design. Not only do they increase the durability of a piece of furniture, but they also boost its appeal. An aesthetic nailhead can transform a piece of furniture. In this list, we've found the best nailheads for upholstery.
We'll take you through a range of designs. By the end of the article, you'll know exactly which is the best nailhead for upholstery for you! Let's jump right in!
In This Article We'll Discuss
7 Best Nailheads for Upholstery
---
7 Best Nailheads for Upholstery
---
Best Value
Product Details:
300 pcs
9/16 x 13/16 inch in bronze
Easy to install
90 day warranty
Will respond to you within 12 hours if you need assistance
If you're looking for the best value railheads for upholstery, we recommend these. The Keadic 300pcs Antique Upholstery Tacks are an assortment kit. They come in bronze 9/16 inch x 13/16 inch. They look fantastic for furniture decoration. Alongside looking more beautiful, the product will also be much more durable.
They are incredibly easy to install. All you need to do is clamp with a set of pliers. While holding the nail, use a hammer to drive the nail in. It's best to use these on cork board or the edge of the sofa. Remove your fingers from near to the hammer to ensure you don't get hurt!
You can also use these small nails in plenty of situations. You can use them to secure paper to a cork board, to decorate, or on DIY projects. What's more, the brand also offers a warranty. You'll have up to 90 days to return the product if you don't find them up to scratch. The seller will respond to you within 12 hours if you need assistance.
---
Best Crystal Design
Product Details:
Head diameter is 7/16 inch
Shank length is 5/8 inch
Smoke diamond color
Top grade materials
Are you searching for a beautiful crystal nail design? If so, the decotacks crystal upholstery sofa nails are for you! These nails have an incredibly crystal design on their head. They attempt to emulate real crystals, giving a magnificent impression.
The head diameter is 7/16 inches. The shank length is 5/8 inches. Don't worry about scratches on the head, they never scratch. Due to the use of top grade materials, they remain shiny and bright. The diamonds are smoke color, resembling a dark gray diamond.
It's best to use a set of pilers to catch the nail before hammering. This will ensure you can remove your fingers from the area before using the hammer. Additionally, hammering free hand may cause bending.
---
Best Color Selection
Product Details:
5/8 Inch head and shank
Come in 5 colors
Durable and uses high quality steel
Easy to install
If you want a larger selection of colours, ComfortStyle is the brand you should go to! These nails come in 5 distinct colors. You can pick from dark colors, Dark Natural, Dark Antique Brass, and Black Pearl. Or opt for lighter colors, like Pewter Nickel or Antique Pewter. The large selection gives you all the customisation options you could need!
The brand offers premium grade nails. They measure 5/8″ at the head and 5/8″ in shank. ComfortStyle has offered these nails for years. Even before they commercialised, ComfortStyle was a key brand in the private industry.
The nails have a beautiful finish. If you want to update your furniture, these provide an easy way to do so! They make them from high quality steel, making a very durable nail. While strong, ComfortStyle maintains the authentic look of the nails. Considering the high grade steel, they bend less often.
ComfortStyle nails are also very easy to install. You can use a rubberized tack hammer and a spacer tool. Alternatively, you could use some nose pilers. Either of these options will easily and swiftly get the nail into your furniture.
ComfortStyle recommends that you use the nail on a range of products. You could use them for craft projects, headboards, loveseats, chairs, benches, and more!
---
Best Antique Style
Product Details:
7/16 inch head
5/8 inch shank
Overhang head of 1/2 an inch
High quality steel and very durable
Easy to install with a pair of pliers and hammer
500 in a pack
Are you looking for an antique style tack? If so, these by decotacks will suit all of your needs! Coming in a box of 500, you get a huge quantity of nails for an incredibly low price. Each of the nails is 7/16 inch at the head, with a shank on 5/8 inch. There is an overhanging cap which is 1/2 inch.
German machines make these tacks. They use high quality steel. There is also a double layer of electroplated brass. This brass is antique, with a French Natural finish. These nails are incredibly strong and are heavy from the material they use. Because of this, they are very durable and will last a long time.
If you want to install them, it's best that you use a set of pilers. These will help you prevent the nails from bending. Alongside this, you won't accidentally hammer your fingers when you use the hammer.
These nails stay beautiful and bright for an extended period of time. Try to avoid any contact with chemicals as this may impact the finish. If you need to clean them, a dry piece of cloth will suffice.
---
Best Silver Finish
Product Details:
500 pcs in a pack
Silver plate design looks beautiful
5/8 shank
7/16 head
Overhanging head of 1/2 inch
Use pilers to install
When looking for a silver finish nail, decotacks once again makes the top of the list. These nails are fully crafted with a silver coating. They electroplate the bright silver finish onto the product. The final finish is bright, nickel shaded silver and looks fantastic. Each pack comes with 500 silver finish upholstery nails.
The nails measure 5/8 inch in shank. The head is 7/17 inch, while there is an overhang of 1/2 inch. German machines use high quality steel to make these nails. The material provides durability and strength, ensuring they last a lifetime.
When installing these nails, decotacks recommends that you use pilers. That is mainly due to two reasons. First of all, pliers make sure that your fingers are out of the way when you use a hammer. Second of all, pliers ensure that the nail doesn't have an opportunity to bend when you strike it.
When cleaning the product, avoid harsh chemicals. If you need to clean them, simply use water or a dry cloth.
---
Best HoneyComb Design
Product Details:
100 in a pack
Head is 7/16 of an inch
Shank is 5/16 of an inch
Space under lid is 1/2 an inch
Honeycomb design
Antique brass finish
High quality steel
decotacks once again prove that they are at the top of the upholstery nails industry. If you need a honeycomb design, decotacks once again is the brand for you. Each of these nails has an intricate honeycomb design on the head of the nail. There are 100 in a pack and use antique brass to get the honeycomb finish.
The measurements of these nails are as follows. The shank is 5/8 of an inch. The head is 7/16 of an inch. Finally, there is space under the cap of 1/2 inch. Using electroplating, German machines use French Natural brass to finish these nails.
The high quality steel in the product makes sure that they are strong and durable. Not only will these last a lifetime, but they'll also look beautiful doing so. The antique brass gives a rich effect to the product.
When applying these nails to a piece of furniture, be sure to use pliers. When hammering, pliers will make sure the nail doesn't bend or snap. Additionally, pliers mean that you can remove your fingers from the danger area.
If you ever need to clean your nails, be sure to use a dry cloth. Heavy or harsh chemicals can interact with the metal and ruin them.
---
Best Floral Design
Product Details:
Beautiful floral design
50 nails in each pack
1/2 inch head
7/17 inch shank
Brassy antique Color
Strong and durable
4.6/5 on Amazon
When decorating furniture, you want to give the piece the most beautiful nails. This floral design by UNIQANTIQ takes the cake in this category. You'll receive 50 nails in a pack from this seller.
The nails have 1/2 an inch head, giving lots of space for the intricate design. Alongside this, there is a 7/16 shank.
The Oxford antique steel has a brassy color and is very durable. Not only will these last for a long time, but their design will continue to shine. These are especially effective when used for upholstery. You can also use them on leather, fabric, or vinyl.
The metal is strong, making them easy to apply with a hammer.
---
Buying Guide
---
When buying nails or tacks, there is only one main question you need to ask yourself. A range of manufacturers use the same high quality steel in their products. Due to this, the strength and durability of the nails doesn't vary much. At the end of the day, once in, a nail does the same thing.
Due to this, the main thing you need to think about is design. You can break down design into two separate categories. One is color and one is intricate design. When deciding color, take a look at the furniture you're going to use the nails on.
If you have a dark piece of furniture, you want to opt for a nail color that will match or complement. These darker colors will suit your furniture well. Try and select a color that will add to the aesthetic of the piece.
Additionally, you want a design you like. When browsing through this list, try and think of what style you want. Perhaps a floral design? Perhaps a honeycomb? Whatever you like, be sure to look at the head of the pin before buying.
Once you've considered color and design, you're ready to take a look at our list!
Conclusion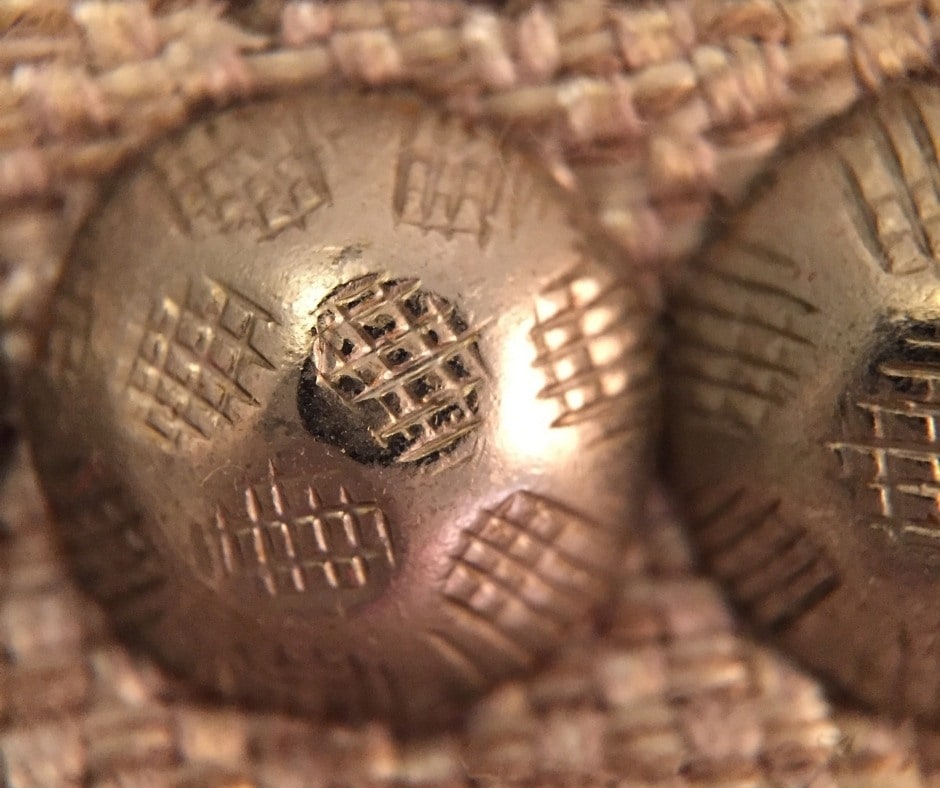 This list has some of the most beautiful and best nailheads for upholstery. From floral to honeycomb, silver to brass, we've got it all. This list will help you find exactly what you're looking for. Consult our buying guide and then check out each of the products. You'll find the best nailhead for upholstery for you in no time! Best of luck!