Classy, compact, and oh-so-comfortable. These are but some of the traits that describe a loveseat sofa. Ideal for the living room – or even the dining room – a loveseat can provide you with the extra seating space you need.
In this in-depth review, we've tested some of the most popular loveseats, so you don't have to! Short of time? Check out our top pick, praised for its elegant design and superior comfort. The Zinus Josh Loveseat is our top choice for budgets under $500. At that price, you can't go wrong!
In This Article We'll Discuss
Best Most Comfortable Loveseat Sofas Reviews
Most Comfortable Loveseat Sofa Under $500

If you're working on a tight budget, you may be preparing yourself to have to make some sacrifices. Well, we're here to tell you it's not necessary with the Zinus Josh Loveseat!
This stunning 2-seater couch came out top of the pack in our testing. We loved it for its plush cushions and spacious seating. It also comes with an impressive 500-pound weight capacity. This is possible with its wooden frame, which, if you know much about sofa construction, allows for extra durability. It also comes with a 1-year limited warranty to boot!
More than being sturdy, the Josh loveseat provides a comfortable lounging experience. For one, it has supportive foam cushions that promote good posture. Covered with polyester fiber, it's protected against sun exposure and day to day wear and tear. This makes it very easy to clean, as well!
We were blown away by the quality of this couch and could hardly believe it was selling for such a low price. Pick up this couch if you're not willing to break the bank on a new piece of furniture.
Size/dimensions: 56.3"L x 29.3"W x 32.3"H
Materials: Polyester Fabric With Foam and Fiber Cushions
Color Options: Beige
Frame Material Used: Wood
Weight capacity: 500 pounds
Best Budget Pick Loveseat Sofa
Lifestyle Solutions' Grayson is one of the most affordable loveseats on this list. While it's very reasonably priced, it in no way sacrifices any extra features.
For one, it's made of a sturdy wooden frame, which accounts for its respectable 528-lb capacity. It also promises plush lounging with its serpentine strings and bounce-back cushions.
The dark material (black and grey) makes for a very contemporary aesthetic. These colors also work to hide any stains through daily use. While we love a darker couch, keep in mind that they can make dark rooms feel a bit dingy.
Another great thing about this medium-sized loveseat is its microfiber upholstery. It's water and stain-resistant, which makes clean-up a breeze. Assembly is fast, too, as you can put this couch together (without tools) in under 20 minutes.
This couch is ideal for a student apartment where cost is a major consideration.
Size/dimensions: 57.87″L X 32″W X 32.68″H
Materials: Foam Cushions, Polyester Upholstery Microfiber
Color Options: Black, Dark Gray
Frame Material Used: Wood
Weight capacity: 528 pounds
Most Comfortable Mid-Century Modern Loveseat
What do you think of when you imagine a comfortable sofa? A huge, squishy piece of furniture, with larger than life cushions and minimal structure?
Well, it doesn't need to be this way. The Rivet Sloane Mid-Century Modern Loveseat makes for a very fashionable sofa indeed. Its curved silhouette and hand-tufted buttons make for a stunning focal point in your home.
Engineered with a hardwood frame, it's very durable, guaranteeing many years of comfort. Elegant beech wood legs support the fame, which adds to the mid-century aesthetic.
Made with semi-firm cushions, the Rivet Sloane allows for relaxation after a hard day in the office or looking after the kids. The seat depth supports more 'upright' seating, so you may find it a little tricky to fully recline on this one.
Size/dimensions: 64.2"L x 35.8″W x 33.1'H
Materials: Semi-firm cushions
Color Options: Denim
Frame Material Used: Hardwood
Weight capacity: N/A
Best Faux Leather Loveseat
If you're after the beauty of leather – but don't have the budget to do so – then opting for faux leather is an excellent solution. The Flash Furniture Hercules loveseat, made with PU leather, is our top choice. It is soft, supple, and very fashionable.
Leather can immediately introduce a sense of class to any environment. The look and feel of this sofa make it particularly suited for an office or workplace. Still, it would also fit in amazingly well in a living room or hallway. As a bonus, it has flame-retardant cushions that make it a very safe choice.
The only downside is that it features a stainless steel frame. While perfectly adequate for most situations, you can't beat the durability of hardwood. It also means it can only support weight up to 300 pounds.
Size/dimensions: 52"W x 29"L x 29"H
Materials: Fixed CA117 Fire Retardant Foam cushions, Leathersoft (leather and polyurethane) upholstery
Color Options: Black, Brown, Gray, Cognac, White
Frame Material Used: Stainless Steel
Weight capacity: 300 pounds
Most Comfortable Loveseat Futon
Are you looking for a versatile yet compact loveseat? Then you best set your sights on the Best Choice convertible futon. In a few steps, you can turn this stylish loveseat into a super comfortable bed.
While this loveseat is best known for its futon feature (which is very handy, by the way), it's only the tip of the iceberg. For one, it has 3 adjustable positions for effortless reclining. It also has 2 cup holders, which means fewer chances of spills.
Although the loveseat does look a bit 'blocky,' the neutral color options mean it can fit in easily with any existing design aesthetic.
Size/dimensions: 66"W x 30"L x 30.5″H
Materials: Linen upholstery
Color Options: Beige, Black, Gray
Frame Material Used: Chrome Metal
Weight capacity: 300 pounds
Best Small Comfy Loveseat
Next up is the most comfortable loveseat sofa for tiny lofts and apartments. While it's a few inches bigger than most smaller loveseats, it weighs a mere 61 pounds. This is especially useful if you're living in an apartment with no lift access. Pivot!
Even with its small stature, the Pawnova is big on quality. After all, it's made with a high-density foam, which keeps its form even after repeated use. It also helps you maintain a good posture, which is good for your neck, hips, and spine.
Size/dimensions: 55"L x 29.5"W x 36"H
Materials: High-density foam cushion, Soft upholstery fabric
Color Options: Blue, Black
Frame Material Used: Wood
Weight capacity: N/A
Most Spacious Loveseat Sleeper
If you've read any of our other articles, you'll know we are big fans of the Novogratz Brittany.
For those who entertain overnight guests often, being able to offer your visitors a spacious space to sleep has obvious benefits. And with its sturdy-constructed, wooden frame, it can comfortably support 2 people.
Sturdiness aside, it is one of the comfiest, many thanks to its polyester foam cushion. It's lightweight, flexible, and hardwearing, even with daily use. It's also resistant to mildew, which is good news for households with young families.
Size/dimensions: 81.5″L x 34.5″W x 31.5″H
Materials: Polyester and foam cushion, Linen upholstery
Color Options: Mustard, Gray, Green, Navy Blue, Dark Gray, Light Blue, Light Gray, Orange, Pink
Frame Material Used: Wood
Weight capacity: 600 pounds
Best Modern Design Loveseat
Breaking the design mold is the Kingway Gilan, an ultra-modern loveseat. Unlike the minimalistic design of the Zinus Josh loveseat, it has a futuristic style. Thanks to its two-toned faux leather upholstery, it offers a unique look – not to mention easy cleaning!
Looks aside, the Kingway Gilan is one of the most comfortable loveseats in this list. With its foam-padded cushions, it's easy to lose a few hours lounging!
We did find the Kingway one of the more complicated models to assemble, so if you're not so confident on the DIY front, you may need help with this.
And while we love the design, we appreciate it is not for everyone. If you're looking for something simple and understated, you're better off picking something else on the list.
Size/dimensions: 61″L x 32″W x 35″H
Materials: Foam cushion, Faux leather upholstery
Color Options: Black, Black & Gray, Black & Red
Frame Material Used: Chrome Metal
Weight capacity: N/A
Most Comfortable Loveseat Sleeper Sofa Bed
Memory foam adjusts to your weight and body heat to support its natural posture. Supported by pocketed coil springs, this medium-sized loveseat doesn't play around when it comes to comfort. It's also a dream to convert to a sleeper, with an easy to use mechanism for ultimate simplicity.
Apart from being cozy, this loveseat sleeper is also very durable. For one, it is engineered with a plywood frame that can accommodate up to 500 pounds.
The polyester upholstery makes cleaning a breeze, which is great for households with children or pets. Rather uniquely, this loveseat comes with a free e-book on home furnishings to help design your dream home.
Size/dimensions: 57″L x 37″W x 31″H
Materials: Memory foam cushion, Pocket coil springs, Polyester upholstery
Color Options: Gray
Frame Material Used: Plywood
Weight capacity: ~500 pounds
Best Loveseat Recliner
We love a recliner, but we don't love the amount of room they can take up. If you want a not-so-bulky option, then this Divano Roma loveseat is for you.
When reclined all the way, the Divano Roma can reach a depth of 64 inches. This makes for comfy lounging, and trust us, it will be hard not to fall into a deep slumber.
Covered with matte bonded leather, it is an environmentally-conscious choice for upholstery. The matte finish also avoids horrible sticky, sweaty situations in the warmer months.
We love the fact that each side of the loveseat can recline independently, allowing you to take a nap. At the same time, your partner catches up on their daily dose of TV drama.
Size/dimensions: 56″L X 29″ W x 39″ H
Materials: Bonded leather upholstery
Color Options: Brown
Frame Material Used: Fine Grain Wood
Weight capacity: ~500 pounds
Most Comfortable Loveseat for Small Spaces
You don't have to abandon your recliner dreams because of your small space. With the Christopher Knight Calliope, you can relax with ease. All you need to do is pull the toggle at the side and voila – napping position unlocked!
The footrest is a neat addition that can take the weight of your feet after a busy day. With its polyester cushion, you can make the most out of its good insulative properties. Polyester can keep you warm during the winter months – and cool during the summer season.
The disadvantage of this model is that it's a single recliner. This means you'll need to fight it out with your partner to decide the position (top tip: always let them win!)
Size/dimensions: 47"L x 35"W x 39"H
Materials: Polyester cushion, Fabric upholstery
Color Options: Light Gray Tweed, Black
Frame Material Used: Plastic
Weight capacity: ~300 pounds
Most Comfortable Loveseat for RVs and Trailers
One of the biggest problems our RV owner customers state is that they can't get the sofa of their dreams through their door. Well, the RecPro Charles has that problem solved. Since it comes unassembled in smaller pieces, you'll have no issues.
Another one of its highlights is that you only need 3 inches of clearance to operate this recliner. In a compact space such as a mobile home or trailer, you can place it close to a wall while still being able to enjoy the reclining function.
For comfort, this loveseat doesn't cut any corners. We found the plush seating extremely cozy – and hard to get up from!
Size/dimensions: 58" L x 36" W x 38" H
Materials: Polyurethane cushion, Faux leather upholstery
Color Options: Chestnut, Mahogany, Putty, Toffee
Frame Material Used: Metal
Weight capacity: ~550 pounds
Best Most Comfortable Loveseat Sofas Buying Guide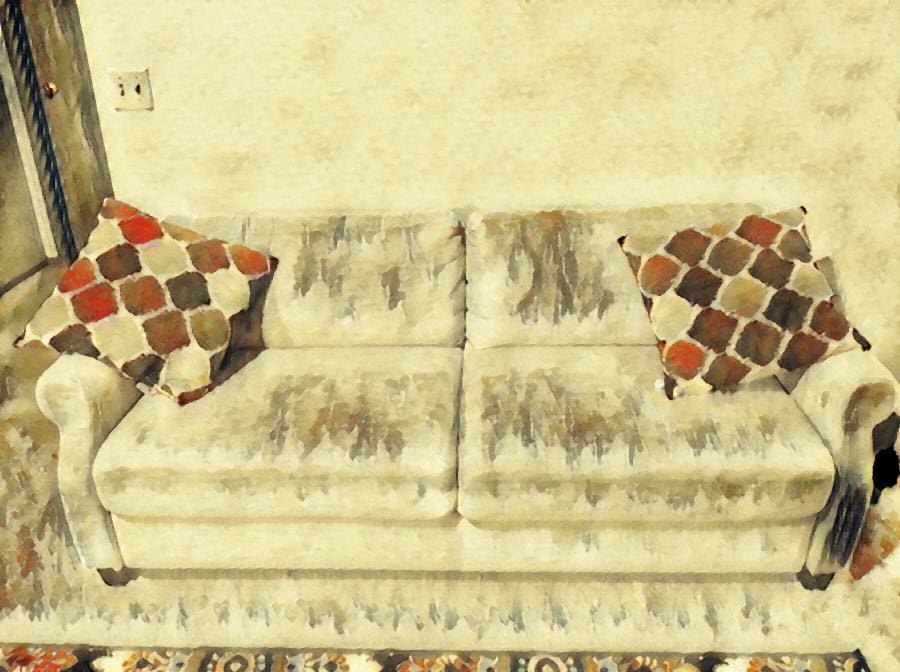 Where To Buy A Comfortable, Affordable Loveseat?
Without a doubt, the best place to buy loveseats is online through Amazon. Not only do they have a vast, unrivaled selection, but you can pick up comfortable seats at very affordable prices. Shipping is fast and free (for Amazon Prime members) too.
What Is A Loveseat & Why Is It Called A Loveseat?
A loveseat is a small sofa that can accommodate 2 people. It was invented in the 17th century, designed for women wearing bulky petticoats and many layers of clothing.
It didn't get its name until the 18th century when fashion paved the way for manageable dress sizes. The chair now had more space, and as such, became the go-to couch for lovers. In a time when prudence was expected, the seat provided privacy for romantic conversations – hence the name.
How Long & Wide Is A Loveseat & What Size Is A Loveseat?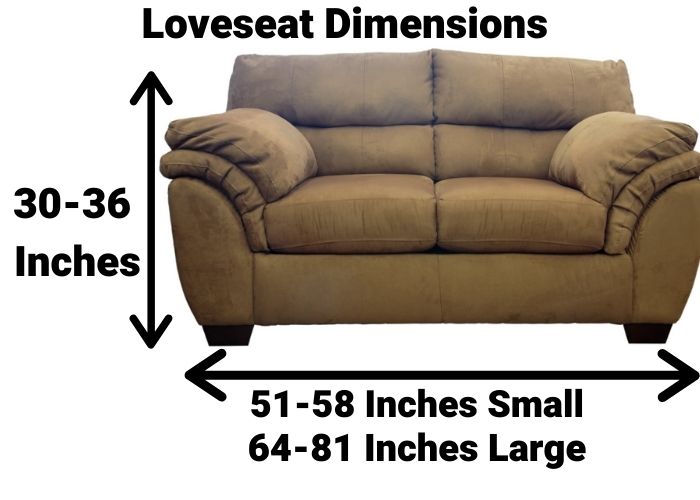 Loveseats are classified according to arm-to-arm length. Measurements start at 52 inches (small). An excellent example of this is the Flash Furniture Hercules. A medium-sized sofa, like the Lifestyle Solutions Grayson, measures about 58 inches.
The larger variants, such as the Rivet Sloane, measure 64 inches (full size). There are also more spacious loveseat sofas that measure 72 inches. However, there are bigger models, such as the Novogratz Brittany (81 inches).
There's also a smaller compact loveseat, such as the Christopher Knight Calliope. Such models measure 45 to 51 inches wide.
As for the height, the usual range is from 30 to 36 inches.
How To Arrange A Loveseat In The Living Room
Here are some loveseat decoration ideas depending on room space:
Small Areas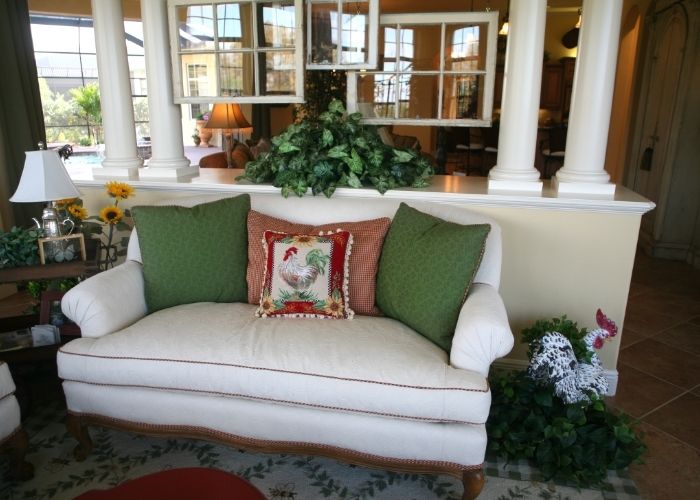 Arrange your loveseat at least 10 feet away from a focal point. This could be a window, fireplace, or any other architectural stand-out.
To get a sense of openness, you could place it with your sofa in an L-shaped configuration. Leave ample room so you can move easily around the furniture.
Looking to mix things up? You can also use the L-shaped configuration to make a U-shaped one. You could add a small accent table and 2 chairs to complete the look.
Try to make your loveseat and sofa face each other. You can balance the look by placing a small accent table at the end of your loveseat. The distance should be at least 12 inches away.
Add matching chairs to the sides of your face-to-face seating arrangement.
Bigger Rooms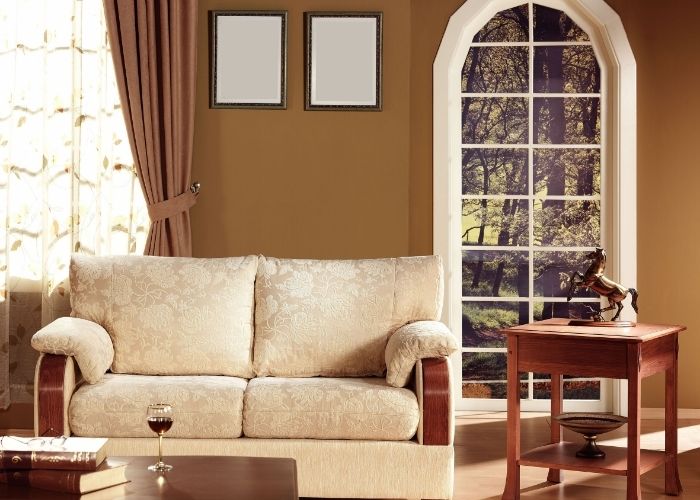 An L-shaped configuration is still good, as long as there is enough space for entry.
For longer rooms, you could place a coffee table between your loveseat and sofa. This accent should be at least 18 inches away from the chairs for fuss-free walking.
Bigger spaces could enjoy a parallel to wall arrangement. Place your loveseat against the shorter wall, and your sofa against the longer one. Add chairs, making sure that you angle them towards the couch. Don't forget to put a coffee table between.
Conclusion
When it comes to space-saving loveseats, the Zinus Josh is the clear winner. After all, it comes with foam and fiber cushions and a durable wooden frame. It's also very affordable (under $500), which is perfect for budget-conscious buyers.
For comfort, opt for the Pawnova loveseat. Stuffed with plush, high-density foam, it offers superior levels of comfort. Another good option is the loveseat sleeper. It is, after all, made with body contour-hugging memory foam cushions.