Today's article will document the 7 best mission style recliners currently on the market. These designs will take your breath away. Take a look at our list to find the perfect mission style recliner for you!
Before you begin, be sure to look at our buying guide. It will help you decide what you want.
In This Article We'll Discuss
7 Best Mission Style Recliners
---
7 Best Mission Style Recliners
---
Best Overall from Ashley
Product Details:
Measures 34 in x 39 in x 43 in
Measures 64 inches when fully extended
High quality materials
Chocolate finish
Manual recline
Comes assembled
Our overall pick from Ashley goes to this signature design by Ashley Santa Fe. The recliner has a high leg design with a beautiful chocolate-colored finish. The recliner measures 34 in x 39 in x 43 in and weighs a total of 146 pounds. When you fully recline the chair, it will measure 64 inches in length.
Mission style recliners traditionally have high legs and a wooden frame. Also, they tend to have a faux high-grain leather upholstered finish. This particular model has details stitched into the design. You need to lean back in order to recline.
Ashley furniture uses only the highest quality materials. This chair has a metal reinforced seat and a firm back with even firmer seat cushions. Also, the footrest will support your legs. This is an unmatched experience in comfort!
The cushions use a highly resilient foam. Ashley then wraps the cushions in a polyfiber that emulates high-grain leather. Considering the medium size of the recliner, it will make any space more elegant.
When you purchase this product, it will come fully assembled. As long as your doorways are over 32 inches wide, this shouldn't be a problem. Also, Ashley Furniture oversees the delivery of all their furniture. From the moment you buy, to the second it arrives at your door, they've got you covered.
---
Best Barcalounger Mission Style Recliner
Product Details:
Comes in two colors
Weighs 100 pounds
Measures 38 in x 33 in x 42 in
Ornate design
Hand-carved mahogany stained wood
This product is currently available in two distinct colors. You'll be able to choose between Wenlock Fudge and Shoreham Blue. These two shades will brighten up any room. The recliner measures 38 in x 33 in x 42 in and it weighs 100 pounds.
The chair is ornate, it's luxuriously comfortable and it looks great. The BarcaLouncer Mission Recliner has a Leggett and Platt Mech Bullnose tight seat. It uses pocketed coil with a down wrap.
The chair is made with hand-carved mahogany stained wood. It's a manual recliner, meaning you can recline at your own pace. Also, you can get this product delivered right to your door.
---
Most Affordable
Product Details:
Most affordable option on the list
Dark beige polyester
Back support
30.23 in x 28.67 in x 16.58 in
Removable cushions
Machine washable cases
This Baxton chair has a sleek design with a stunning. It also comes with removable cushions so you can easily move it around your home.
The chair has a slatted backrest which provides a lot of support. Also, it has a dark beige polyester finish. The combination of these two features makes this chair particularly beautiful.
The chair has a high back, so it will look elegant in your living room. It measures 30.23 in x 28.67 in x 16.58 in. The removable cushion case is also completely machine washable. That will put your mind at ease in case you spill anything!
---
Best Design
Product Details:
Beautiful finish design
Exposed and carved wood
34 in x 30 in x 42.5 in
Weighs 330 pounds
Leg support
Head rest
This mission style recliner has sleek carvings that make it look sophisticated and its modern contour makes it unique. It also has wood armrests that give the chair an authentic finish. It measures 34 in x 30 in x 42.5 in and weighs 330 pounds.
As you lean backwards in this chair, the footrest will pop up. It will take the strain off your feet as you glide backwards.
As you lay your head back, you'll notice the incredibly comfortable head and neck support. This chair is great for ergonomic support! The base cushion is drop in coil which allows you to comfortably sink into the piece of furniture.
---
Best Plush Padded
Product Details:
41.5 in x 30 in x 30 in
Tension support
Chocolate finish
Incredibly comfortable
Supports up to 250 pounds
Back support
Head and foot rest for complete recline
This design is incredibly bold, comfy and large. It weighs 88.18 pounds and is 41.5 in x 30 in x 30 in.
The design uses a mirror curve which means that the arm rests slope in a convex manner, but the chair itself is concave. Because of that, you'll be able to sink into the chair and still have support for your arms. From head to toe, you'll be as comfortable as can be.
This Elm Lane chair is a push-thru-arm recliner. Also, the tension adjustments are good for your back. Elm Lane balances extreme comfort with back safety and support.
It has a deep chocolate finish which will go perfectly in a mid-century design or in a cozy den. In addition, you can request a swatch of possible fabrics. That will help you match your new chair to any style or room design.
The arms are cherry wood which is incredibly smooth and looks great. The chair holds up to 250 pounds even at full recline.
---
Best in Fabric
Product Details:
Measures 28.21 in x 33.6 in x 24 in
Blue fabric
Dark wood
Durable structure and pillows
High-density foam in pillows
If you're trying to avoid leather, it can be hard to find good alternatives. Luckily, we've come across this excellent design by Madison Park. It has a beautiful blue color that will lighten up any room. It measures 28.21 in x 33.6 in x 24 in and weighs 76 pounds. Also, the cushion is 7.6 in thick.
The design is modern and sleek. Madison Park uses high-density, durable foam that supports you while also letting you sink into the furniture.
This mission style recliner has solid wooden legs with a beautiful dark oak finish. Not only do they look fantastic, but they are also very durable. This recliner will last for years to come.
---
Best with Ottoman
Product Details:
The ottoman measures 19.3 in x 13.8 in x 14.5 in
Guided rocking function
Sturdy supports
High-density foam
Ottoman included
Beige color
15 minutes to assemble
Head and arm support
Curved wood for maximum comfort
Easy to clean
Reclining is one of the most comfortable positions you can be in, and it's even better with an ottoman. This chair is a guided rocker, so you can constantly rock yourself. It's modern, fresh, and would go perfect in any recently renovated room. Also, this product only takes around 15 minutes to assemble and the instructions are very simple.
The base is made with solid and sturdy wood. By using multi-layer boards, YOLENY increases the stability of the product. Also, they add a wooden support in the middle of the base which keeps the chair stable as you rock. The chair also has a long backrest and armrests, so whole body will be supported
Rocking is great for the average person because it's so soothing, but it also helps lull a new-born to sleep. If you sit in the chair, you can steadily rock your baby to sleep. But be careful! You might start to fall asleep yourself!
The chair is thickly padded and YOLENY uses a high-density sponge. This provides support while also ensuring maximum comfort. In addition, the material cover is easy to clean. Just grab a cloth and wipe the chair down.
The ottoman is the same beige as the chair and it is made with cloth, sponge, and wood. It measures 19.3 in. x 13.8 in. x 14.5 in. The neat triangle base gives the chair a unique look.
---
Buying Guide
---
When buying the best mission style recliner, you need to consider things like color, style, padding, and function. We'll walk you through each of those aspects. By the end of this buying guide, you'll know exactly which recliner is best for you.
Each one of the recliners that we've added to this list is great for a different reason. This buying guide will help you recognize which features you like or need. Then, you can quickly browse the 'Summary' section of each of our designs.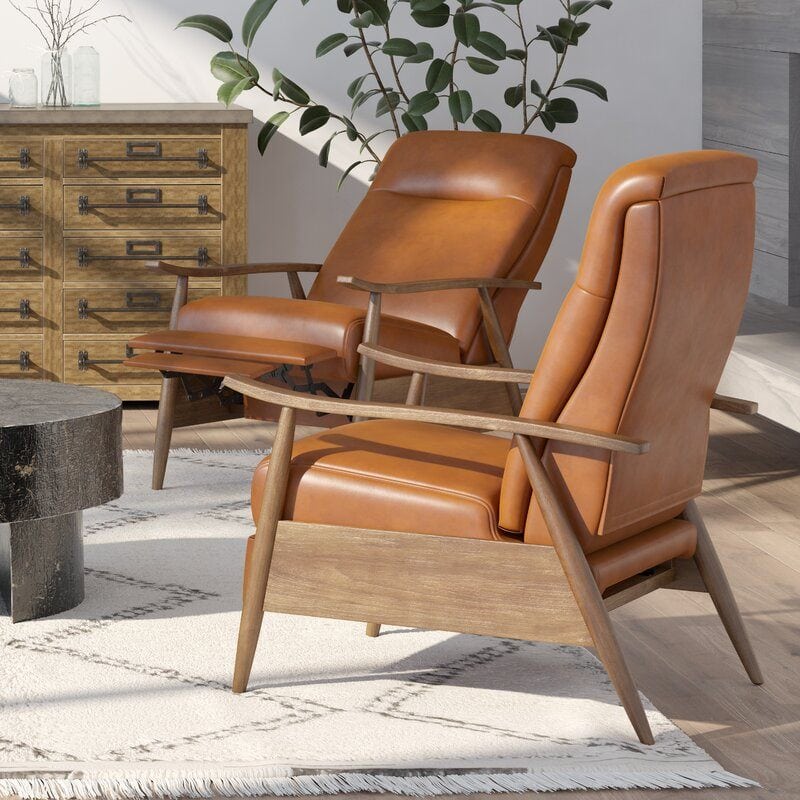 Color
Is your room aesthetic important to you? If so, you may want to think about possible colors before buying. Each of the recliners on this list comes in different colors, so you'll want one that matches the style of your room.
In addition, you should consider depth perspective. Darker colors with deeper hues appear larger, so a darker object will appear to take up more space. If you don't have much room, it's best to choose a lighter color.
Also, take note of which colors are prominent in your room. If you have a specific color theme, then try and select a color that you know will be complementary.
Some of the recliners on this list only come in one color. However, you can often message the company directly and discuss fabric swatches. This will let you select a tone or color that's more suitable for your room. Be sure to discuss directly with the manufacturer.
Style
Next on our list is style! Although all of these recliners are mission style, they're not all equal. In fact, the recliners on this list can come in a wide variety of styles.
Determine which style of recliner you want by focusing on the room you're putting it in. If your room is light and open, you may want a slatted back so light can pass through the recliner. Also, this makes the recliner seem smaller.
Alternatively, if you want a larger, more comfortable recliner, you could look for a recliner that has deep-set cushions. You should keep an eye out for options with high-density foam. These chairs work well in living rooms where you lounge.
Material is another important aspect to consider. While they make most recliners out of leather or faux leather, there are other options. For example, you could opt for a wooden and cushion recliner or a fabric recliner.
Function
The recliner you choose will depending on what you plan to use it for. If you want a recliner to put into a movie room, then go heavy duty. Or, if you want a recliner for reading or watching TV, then it doesn't have to be as heavy duty.
Also, if you know it will get a lot of use, opt for a sturdier material. That will ensure that your recliner lasts as long as you would like it to. If you get a less sturdy recliner that gets a lot of use, it may break sooner.
Size and Weight
When buying a recliner, you need to consider your size and weight. Most of the recliners on this list can hold up to 250 pounds. Only one of them can hold up to 300 pounds. If you need more support, then check out one of the recliners that can hold more weight.
Also, if you're a particularly tall person, some of these recliners may be too small for you. Although they're generally very spacious, you want to be sure you can fit into it before buying. Each recliner has its measurements in the description, so check before you buy!
Conclusion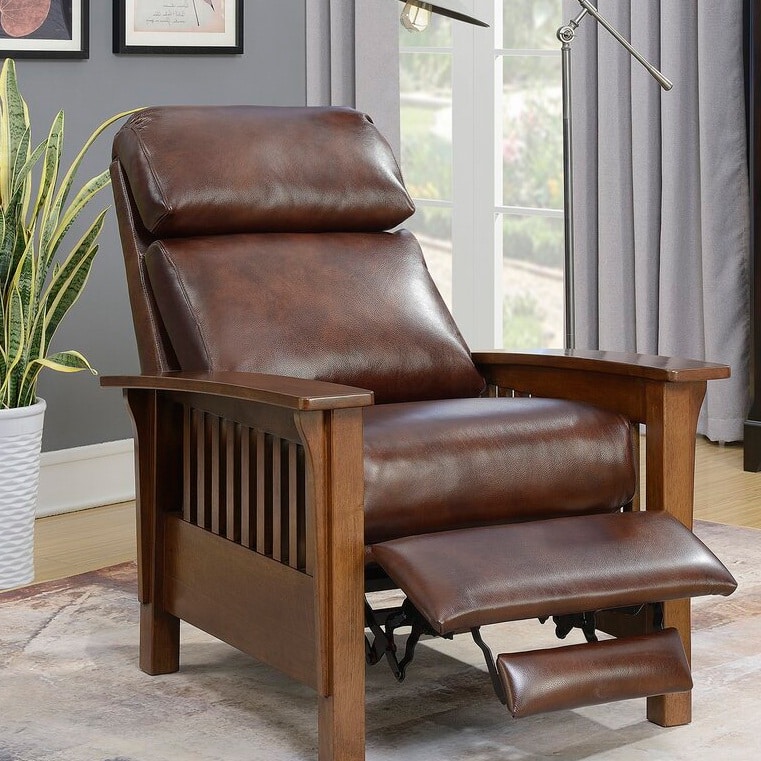 Ultimately, the best mission style recliner is going to be the one that suits you best. Be sure to check out our buying guide because it will help you decide what you're looking for in a recliner. Once you know that, you can easily buy the best mission style recliner for you! Best of luck searching.