Minka-Aire ceiling fans are some of the best fans currently on the market. Whether you're looking for a chic fan for outside or one for your home office, they'll have something for you. We've listed the 9 best fans in separate categories, so you'll be able to see everything that Minka-Aire has to offer.
If you're looking for a modern aesthetic, we recommend taking a look at the F684L-PN Clean 60″ Ceiling Fan. Its polished nickel finish makes it stand out from the crowd and will look fantastic in your modern home. Also, its large diameter allows it to generate a lot of airflow, keeping your home cool.
If you're looking for an outdoor design, then we recommend the F896-65-CL Outdoor Ceiling Fan. It has 8 beautiful blades and a 65″ span that can produce a steady breeze. This will look perfect in any outdoor area and is safe for damp environments.
Each of the fans on this list has the fantastic quality of Minka-Air Products. If you're still a little unsure about which to go for, then make sure to check out our buying guide. That will help steer you in the right direction.
In This Article We'll Discuss
9 Best Minka-Aire Ceiling Fans
---
9 Best Minka-Aire Ceiling Fans
---
Best Simple Design
Product Details:
Simple 3 blade design
6 colors
Four speeds
Reversible motor
Quiet motor
52 L x 52 W inches
6″ downrod from ceiling
If you're looking for a classic three blade fan, then this is a great choice for you. The fan comes in 6 different colors: Driftwood, Coal, Flat White, Graphite Steel, Oil-Rubbed Bronze, and Distressed Koa. The design is contemporary and sleek.
The fan has four speeds, one of which is a reversible option that will warm up your room during the winter months. The motor that powers the blades is conveniently quiet, keeping your room silent even when the fan is on full power.
In addition, you control this fan directly from the wall. It follows a two-wire installation process. The fan has a 6″ downrod from the ceiling, and its diameter is 52 inches.
As an optional addition, you can buy a RCS223 remote control to use on this fan.
---
Best With Smart Home Compatibility
Product Details:
54.3 inches in diameter
Silent motors
Works with smart home devices
RC600 remote control
Factory tested and checked
If you've recently purchased a Google Home, Nest, Ecobee, or Amazon Alexa, then you can pair this fan with that product. By downloading the free mobile app, you'll be able to directly control the fan from your phone.
You'll be able to change the fan speed and control the lights right from the app. Alternatively, the fan comes with an RC600 remote control that you can use. Or, if you want to operate this fan from the wall, you can buy the additional wall control attachment.
This fan has a DC motor, so it's silent when on. Due to the factory testing process each fan goes through, Minka-Aire guarantees that your fan will not wobble, rattle, or click.
The product also has three curved blades and a central 16W LED. The downrod that connects to the ceiling is 6 inches long and the total width of the fan blades is 54.3″.
---
Best Outdoor
Product Details:
65-inch diameter
8 fan blades
Two speeds
30-day parts warranty
One year product warranty
This fan is the largest on the list, and has a diameter of 65″. It has 8 individual fan blades, which come in several colors: Smoked Iron, Oil Rubbed Bronze, Flat White, Coal, and Brushed Nickel.
The fan includes a remote control that allows you to change the speed between low and high. In addition, the size of this fan gives it the ability to cool down any size room. The product is also completely safe to use outdoors and has a Damp-usage safety rating.
Minka-Aire offers a 30-day replacement warranty on parts, which ensures you get everything you need to build the fan. You'll then have a one-year warranty on the product.
---
Best Ocean Design
Product Details:
52″ diameter
RCS213 Remote
Three Speeds
Reversible
Ocean Design
No light
This Minka-Aire fan gets its inspiration from the ocean. This chic design resembles the ocean's waves, creating a tranquil aesthetic. There are three carved wooden blades that meet in the center of the fan.
This fan has three speeds and it's also completely reversible, so you can change how you use the fan depending on the season.
The diameter of the Wave fan is 52 inches and it has a downrod of 6″ from the ceiling. If you want to connect this product with your Amazon Alexa, you'll need to get a Bond Hub connector product.
This fan comes with the RCS213 remote control. You can also opt to add the WC213 wall control as a separate purchase.
---
Best for Small Rooms
Product Details:
Three blades
LED
44″ diameter
Wall control and remote control
Several speeds
White
This is a standard white fan with a light. The fan has three short blades and a central LED, and it has a diameter of 44″. It doesn't have a downrod because the fan attaches right to the ceiling. So, this a very small design.
Therefore, if you need to squeeze a fan into a small space, this fan will work well. It comes with a wall control fixture and a remote control. You can use either of these to change the fan speed and to turn the light off and on.
The fan has a contemporary style and is painted completely white. It is a simple design and will fit into most homes.
---
Most Aesthetic Fan
Product Details:
Modern aesthetic
4 blades
Carbon color
16.78″ from ceiling to lowest point
54″ diameter
This fan balances aesthetics with power. It has a modern design with a central white bulb and 4 wide blades. Each of these blades is flat and painted a carbon tone. In addition, the blades alternate in height very slightly, creating a rippling effect.
The central light is a 16W LED light and the glass around the bulb is etched opal glass. You can turn this on and off using the included RSC213 remote control.
This fan measures 16.78″ from ceiling to its lowest point, and its diameter is 54″.
---
Best All White
Product Details:
Modern, white design
3 flat blades
RC400 remote control
6 speeds
44″ diameter
12.75″ bottom to base
This simple white design has three completely flat blades and no central light. You can add a light, but it's sold separately. The RC400 remote control comes with this fan, and you can use it to choose between 6 different speeds. You can also use it to turn the fan on and off.
The motor is completely silent, even when using the fastest speed. It is also reversible, so you can change the direction of the airflow. The fan has a diameter of 44″ and measures 12.75″ from its base to its lowest point.
The fan is for indoor use only.
---
Best Unique Design
Product Details:
Eight graphite steel blades
6 speeds
Reversible motor
RSC400 remote
Dimmable light
60″ diameter
22.5″ from bottom to base
This fan has eight bent blades that each curve in a distinct direction. This fan's unique design will undoubtedly capture your guests' attention. In addition, the graphite steel gives the design an industrial aesthetic.
The F788L-GS has six speeds and a reversible motor. It also comes with an RCS400 remote that lets you change the speeds with ease. There is also a central 18W LED that you can turn on and off with the remote, and you'll even be able to dim the bulb with it.
The fan has a 60″ diameter, making it one of the largest on the list. It measures 22.5″ from bottom to ceiling.
---
Best Modern Design
Product Details:
Modern
5 flat blades
10W dimmable
RC 400 remote control
6 speeds
Silent and reversible motor
60″ diameter
16.5″ bottom to base
If you're looking for a modern design, then the F684L-PN is for you. This product has 5 flat blades and a central 10W dimmable LED. It also comes with an RC 400 remote that allows you to move between its 6 speeds. The design is clean and sleek, and it has a polished nickel finish.
The motor is reversible, so you can choose how to use your fan. It's also completely silent, letting you use it at night without issue.
The diameter of the fan is 60″ and it measures 16.5″ from the ceiling to the base.
---
Buying Guide
---
What to look for when buying a Minka-Aire Ceiling Fan?
Before buying a Minka-Aire ceiling fan, there are two main things you should take into account: where you're going to put the fan and what the fan's purpose will be.
Location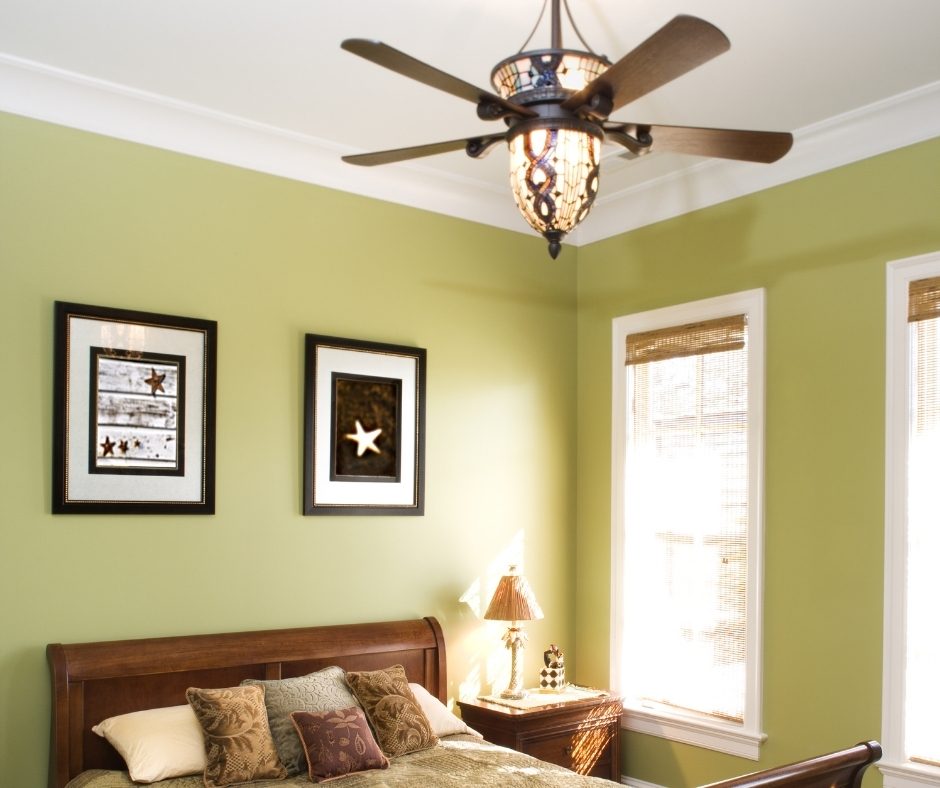 One thing you need to ensure before committing to a fan is that it's going to fit where you want it to go. The fans on this list range in size, so there should be one that fits perfectly in your space. Be sure to check your ceiling dimensions to make sure you'll be able to fit the fan there.
Similarly, if you want to use your fan in an outdoor area, make sure it has the required safety certifications. When looking at Minka-Aire listings, look for the "Damp" certification. We recommend checking out the fan we've chosen as our favorite—the Minka-Aire outdoor ceiling fan.
Purpose
If the purpose of your fan is to cool down a larger room, then you'll need a larger fan. Alternatively, if you're only going to be using it in a small room, it can be smaller.
In addition, if you want to use a fan in your bedroom, make sure to opt for a fan with a silent motor. They won't make any noise, so you'll be able to sleep soundly without interruption.
Conclusion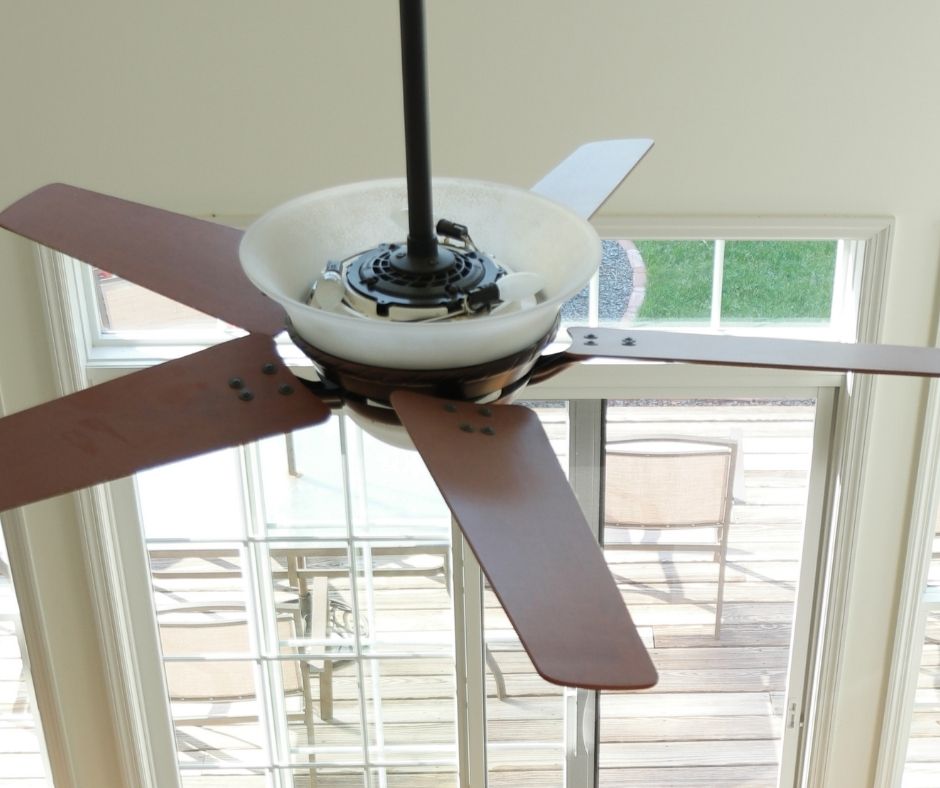 This list has the 9 best Minka-Aire ceiling fans you can currently find on the market. We've chosen these fans because they're all the best at what they do. While some are great aesthetically, others are great for specific rooms or climates.
Any of the fans on this list would be a great choice. However, if you want our overall recommendation, we suggest the F623L-BC/SBR Orb Ceiling Fan. This fan is large enough to cover any space, and its brushed carbon makes it look beautiful.