Microfiber is an exceptional fabric to use for sofa upholstery as it is soft to the touch and incredibly comforting. Not only that, but cleaning is a breeze, which makes microfiber the upholstery of choice for many families. And the choice is plenty. Many companies offer microfiber sofas in a variety of color options and styles.
In this comprehensive guide, we have pulled together 10 of the best Microfiber Sofas to suit a range of budgets and tastes. The Lifestyle Solutions Collection Grayson is our top pick, but you can form your own opinion after reading the reviews below and decide which Microfiber Sofa suits you best.
In This Article We'll Discuss
10 Best Microfiber Sofas
---
10 Best Microfiber Sofas
Best Contemporary Design
Product Details:
Materials: 100% polyester microfiber, wood
Colors: Black, Brown, Dark Gray
Dimensions: 80.3 x 31.5 x 33.9 inches
A popular choice for anyone looking for a modern sofa, the Grayson Microfiber Sofa is a must-have for any cozy home.
The Grayson KD Microfiber Sofa is a well-designed couch with a rock-solid wooden frame and legs, plus tufted back cushions to provide comfort and durability. The supportive cushions will give maximum support to your back, and the foam inside is layered for a 'bounce back' effect for long-lasting support. No matter if you sit, sleep or just relax, this sofa will prove to be your most reliable companion.
Another great feature of the Grayson Sofa is the beautifully designed curved-arms that give it a classy yet contemporary look. Serpentine springs are included within the frame's seat to create long-lasting comfort.
A huge benefit of this sofa is its incredible capacity, supporting up to 790 pounds. This makes it a perfect couch for the whole family – even the dog!
The good news is that this sofa is easy to assemble, so you can waste less time fixing it together and spend more time relaxing.
---
Best Chesterfield
Product Details:
Materials: Microfiber, Birch
Colors: Slate, Dark Brown or Black, Dark Brown
Dimensions: 84.5 x 34.5 x 27.5 inches
With the timeless traditional chesterfield sofa style, this sofa is a charming option to add an air of class to your living room.
The Vita Chesterfield styled sofa is a three-seater, complete with a classic design including traditional button tufting, nail-head accents, scrolled arms, sturdy legs, and deep seating arrangement. It is the perfect statement piece, ideal for adding to your living room or drawing-room, and will surely impress guests and family alike.
The button tufting works to provide a breathing space, helping air circulate between your body and the couch. This works wonderfully to provide you a cool, relaxing feeling while you sit back or lie down. To complement the deep button tufting, nail-head accents on the front part of the sofa arms are carefully placed, which draw your attention and add to the aesthetic.
The use of the scrolled arms is simple; a place to lean against while you relax. Moreover, each seat cushion is well cushioned, keeping your comfort in mind, so that all users can relax equally.
---
Comfortable Loveseat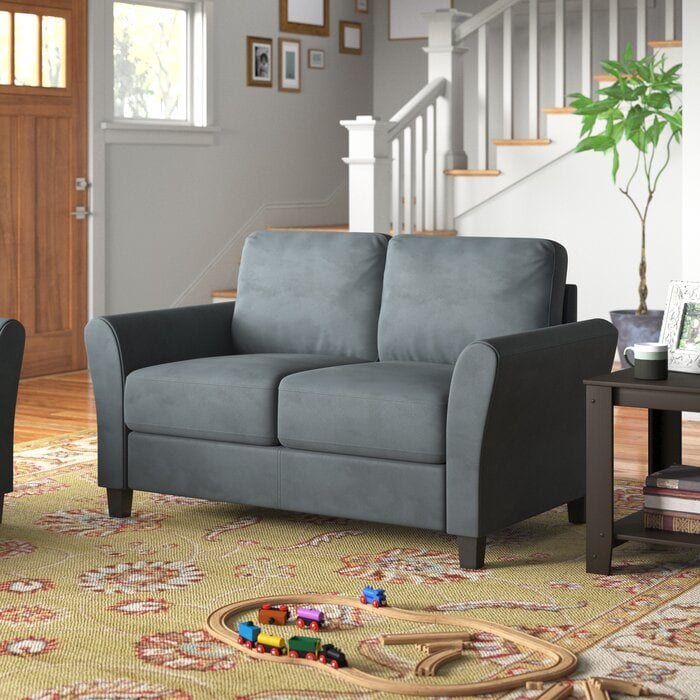 Product Details:
Materials: Microfiber/Microsuede, Solid Wood, Foam, Plastic
Colors: Dark Grey, Coffee
Dimensions: 56.3″ W x 31.5″ D x 33.86″
The Celestia Microfiber sofa ticks all of our style boxes; curved arms, comfortable seat, and stylish presence. A true all in one couch to rest, relax and refresh.
This sofa is the most affordable yet comfortable loveseat from all our ten recommendations. It features premium dark gray or coffee color microfiber upholstery that is both soft to sit and easy to clean.
The sofa is best to fit into smaller rooms and compact spaces; it could be added to your bedroom or even office to provide seating space for two people. The seat is pleasantly comfortable to sit on, while the back is cushiony to give hours of relaxation.
One of this sofa's major selling points is that it's not too deep, preventing you from adopting a lousy posture. It also means you won't require any additional lumbar support, such as pillows or cushions, as this couch will keep you comfortably upright. Its wooden frame and durable legs are not too heavy, so you can easily move it while cleaning.
The Celestia Microfiber strikes an excellent balance between comfort and cost.
---
Sectional With Ottoman Storage
Product Details:
Materials: Hardwood frame, Microfiber Fabric
Colors: Ash, Dark Tan, Slate
Dimensions: 81 x 103 x 35 inches
The Casa Andrea Milano Modern Sofa offers a classic design that will never go out of style. It comes with the convenience of added storage space as well.
If you are working with a larger space in your home, you may be looking for a stylish and useful piece of furniture. For that, you need the Casa Andrea Milano.
The Casa Andrea Milano is a four-piece reversible modern sectional couch with a chaise and a matching ottoman that is comfortable and stylish. You can position the chaise on either side to suit your liking or accommodate an awkward room shape.
We love the fact that the plush microfiber made cushions are firm yet soft and easy to clean and removable. The color choices are subtle and understated, meaning that they fit a wide range of aesthetics and design choices.
Those uncomfortable with DIY fear not! The Casa Andrea Milano is easy to put together, so you'll be relaxing in no time.
---
Best Pillow Top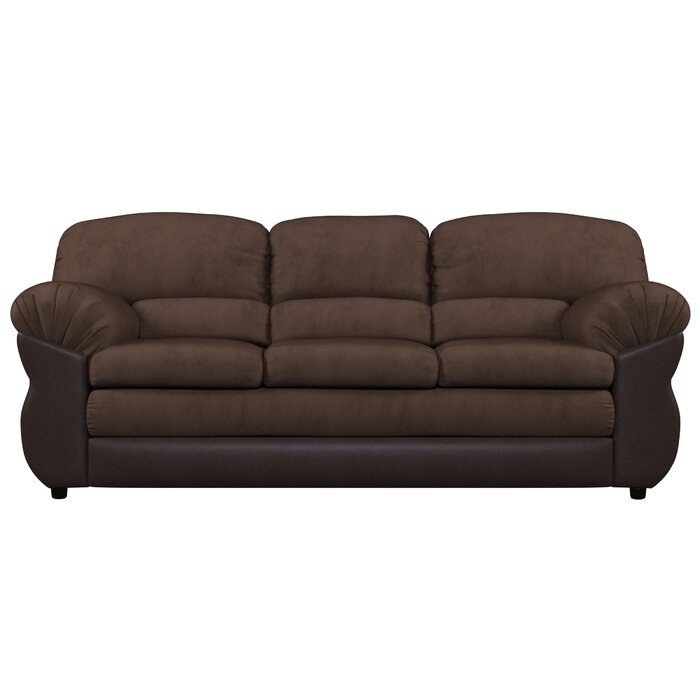 Product Details:
Materials: Hardwood frame, Molded Plastic, Microfiber Fabric
Colors: Bulldozer Cinnamon / San Marino Chocolate and six more
Dimensions: 38″ H x 86″ W x 32″ D
If you are looking to buy a pillow top sofa with incredible comfort levels, then this might be your best option.
A beautiful sofa from Piedmont Furniture, this pillow top couch is a three-seater sofa with a wide array of color options leaving you spoiled for choice. Not only is the seating comfortable, but the best part is the lush pillow top arms that help to support your head while you take a nap.
The upholstery is soft and comfortable and requires minimum maintenance; no need to use liquid cleaners, just soap and water, and it will be looking as good as new.
This sofa will look great anywhere in your home. Be it your TV lounge for long hours of screen time or the study for reading while you lie down: the choices are endless.
---
Reclining Sofa
Product Details:
Materials: Microfiber
Colors: Chocolate Brown Microfiber, Black Leathersoft, Brown Leathersoft, Gray Leathersoft
Dimensions: 64 x 77 x 38 inches
A beautiful microfiber sofa that seamlessly blends style and function with a double recliner function for ultimate relaxation on a stressful day.
The sofa plus recliner from Flash Furniture is an incredible space-saving couch that beautifully blends traditional and modern into one neat package. The recliners are easily moved by pulling the lever on the side of the sofa and are great for neck support, lumbar pain, and most importantly, to relieve stress while comfortably watching TV, reading, or taking a quick nap.
Generously padded seats, plush pillow back cushions, and padded arms are the stars of this sofa, which will cradle you to comfort in no time.
The comfortable fabric is made of leather and polyurethane for extra softness and durability. It is also non-absorbent, so you can easily clean any spilled liquid with a wipe cloth.
---
Exposed Wood Design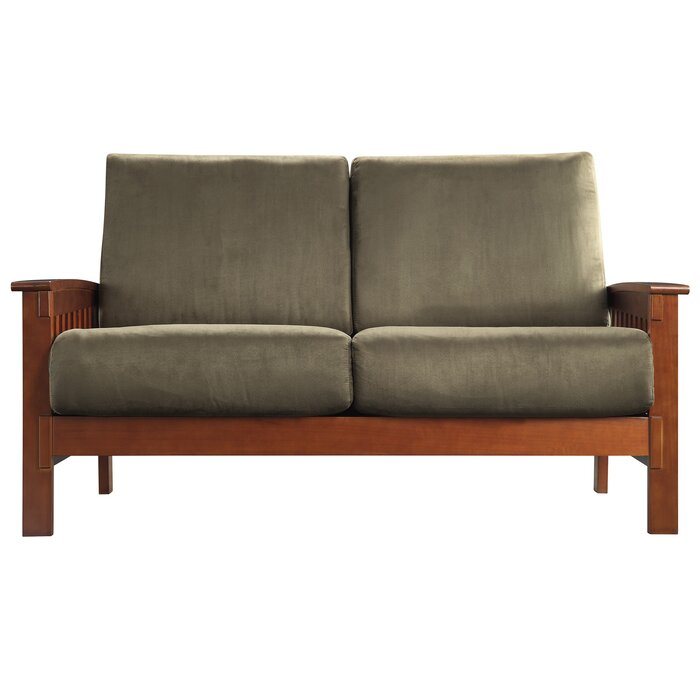 Product Details:
Materials: Solid Wood, Microfiber/Microsuede, Foam
Colors: Olive, Rust
Dimensions: 34″ H x 60″ W x 34″ D
Add a fresh touch to your living space or tight places with this super affordable Microfiber sofa, complete with a stylish exposed wood frame.
Are you looking for a couch for your bedroom, living room, or any small space? The trendy Wydmire sofa is easy on the pocket yet an incredibly stylish piece of furniture.
The microfiber upholstery fabric comes in a range of colors, perfect for a variety of style choices. The sofa is filled with foam for comfortable seating, and the cushion covers are easily removed for cleaning.
The love seat is made from rubberwood, with characteristic vertical lines that are exposed to create a traditional aesthetic that would look great in any home. The exposed wood and durable upholstery make this couch easy to clean, keeping it looking great for years to come.
---
Microfiber Futon
Product Details:
Materials: Microfiber,
Colors: Black, Blue, Grey
Dimensions: 32.5 x 69 x 29 inches
This multifunctional futon is perfect for homes lacking in space.
The most practical sofa on our list is this DHP Sola Convertible Futon, which can transform into three different arrangements; lounger, couch, or sleeper. This multifunctional sofa comes with two storage drawers for extra convenience and is a perfect choice for small studio apartments, condos, or dormitories.
What's great about this sofa is its sleek chrome legs and black microfiber upholstery, which will add flair to any space it is put in.
One downside is this sofa's low height, so it might pose problems for taller people. While the seat is great for seating, after a while, it can get a little uncomfortable. However, that's nothing that can't be solved with the addition of a few throw pillows.
If you often find yourself with overnight guests, this sofa might be your best bet.
---
Microfiber Click Clack Sofa Bed
Product Details:
Materials: Natural hardwood frame, Microfiber fabric
Colors: Mocha, Grey
Dimensions: 85.8 x 35 x 34.1 inches
Give your guests a comfortable microfiber bed with this wonderful sleeper sofa from Pearington.
The Pearington Mia Sofa Bed is a comfortable futon sofa bed that is incredibly versatile, convertible between a lounger, sleeper, or couch.
The frame is made of hardwood and therefore durable, guaranteeing this couch will last for many years to come. The seats are filled with foam and polyester to give a comfortable plush feeling. 2 throw pillows are included, which provide extra lumbar support and accentuate the sofa's overall look.
The best feature of this couch is its large storage space when you lift the seat. It can be perfect for storing pillows, blankets, and even kid's toys. The sofa has a soft microfiber upholstery, which is cozy to lie on, perfect for relaxing and enjoying watching TV or reading a book.
We love the fact that the arms are square-shaped with a wide area, so they can be used to balance all manner of household items; dinner, a drink, or even a baby. The arms are firm and supportive, which can help you to get up easily.
---
Mid Century Modern Sofa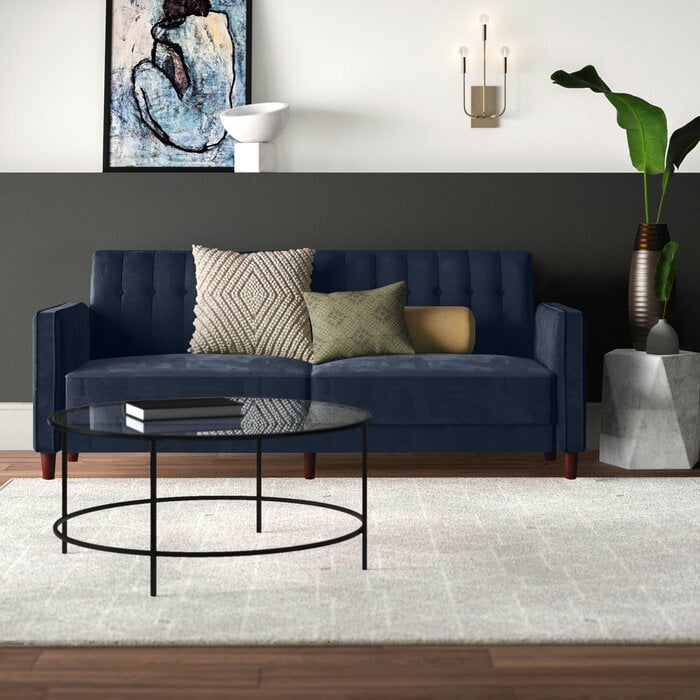 Product Details:
Materials: Solid + Manufactured Wood, Microfiber/Microsuede, Foam
Colors: Upholstery color: Gray, Leg Color: Brown
Dimensions: 34" H x 81.5" W
Going for that mid-century aesthetic? The Imani Sleeper is the perfect addition to add a modern touch to your living space.
The Imani Velvet Square Arm Sleeper is a visually appealing and sleek couch plus sleeper that will add a stylish look to any room it is placed in. Its wooden legs and square arms are iconic in design, while the single cushion seat with tufted detailing brings it all together in a chic way.
The couch turns to a sleeper very quickly, so it can come in handy if you find yourself with unexpected overnight guests. The seats are firm and not too soft, providing adequate support and exceptional comfort to boot.
The bad news is this sofa is definitely on the expensive side, but if you're fortunate enough to be working with a bigger budget, you can't go far wrong with this wonderful couch.
---
Buying Guide
---
What to Look for in a Microfiber Material Couch?
Some things to look out for include:
Color Options
Seat Filling (Foam, Polyester, Etc.)
Frame Material (Hardwood, Rubberwood, Etc.)
Dimensions( Size, Height, And Weight Capacity)
Overall Look And Design.
Is microfiber a good fabric for sofas?
Yes, it is super comfortable, easy to maintain, and comes in an endless choice of colors.
Are microfiber couches easy to clean?
Yes, you can use a damp cloth with mild soap and water to spot clean any spills or stains.
How Long Does a Microfiber Couch Last?
Microfiber is very durable, but it all comes down to how frequently it is used and how well you maintain your couch. The good news is with proper care and attention, your new microfiber couch will last for many years.
Conclusion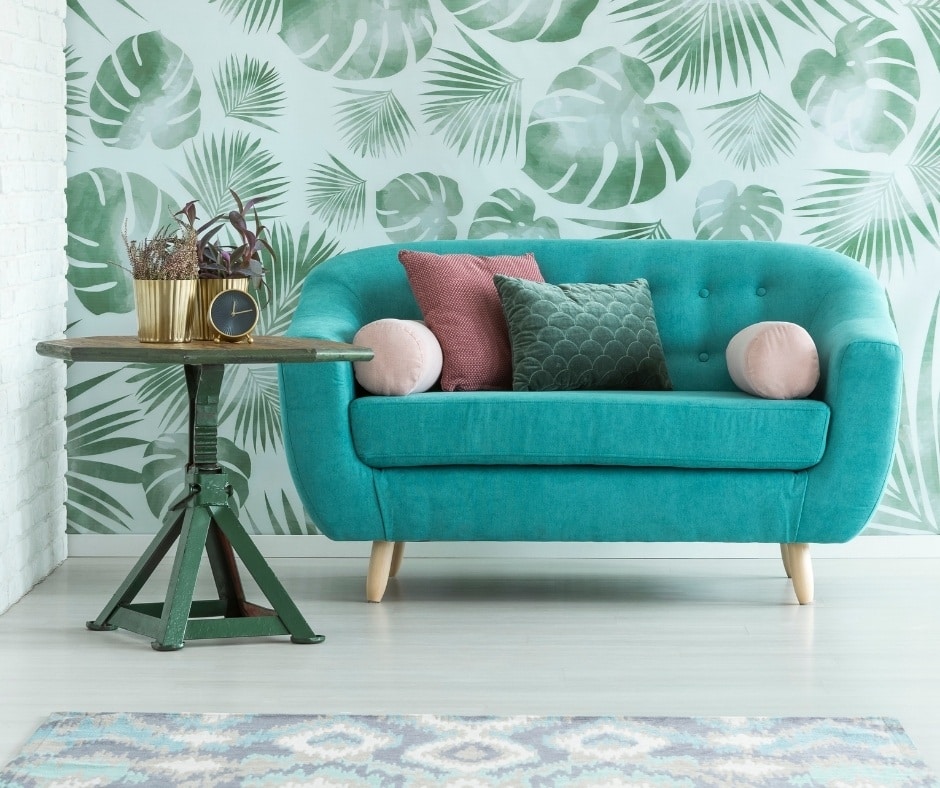 Microfiber is one of our favorite choices for sofas as they are perfect for relaxation and driving away stress. Not only that, but they are very easy to maintain and are much more affordable than other sofa upholstery, such as leather.
The Lifestyle Solutions Collection Grayson Microfiber Sofa is a fantastic couch that is comfortable and functional combined. However, if you desire an alternative option that boasts a modern design, we suggest that you consider the Imani Velvet Square Arm Sleeper.