Many people are lost when it comes to choosing rugs. Should you go bold? Or should the rug be subtle? Is it okay to use a pattern, or should the rug be neutral?
You may be confused when it comes to making the choice of the best rug for your living room. Here are a few helpful tips to consider before choosing the best rug for your space.
In This Article We'll Discuss
Tips for Choosing the Right Color Rug for Your Living Room
How to Pick the Right Color
First, you should consider what colors already exist in your living room space. What colors are your sofa, coffee table, end tables, window treatments, etc.? You'll want to choose a color or pattern that will complement your existing pieces.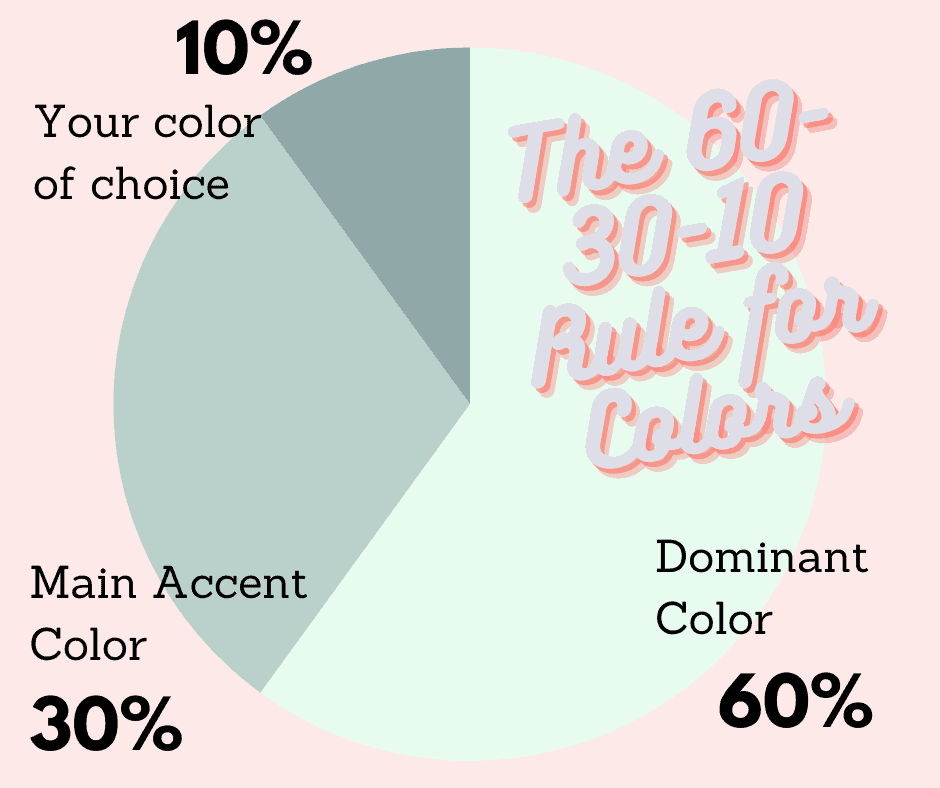 Use the 60-30-10 rule for colors. Your dominant color should be used for 60% of the space, 30% should be your main accent color, and the final 10% should be a pop of any color of your choosing.
How do Certain Colors Make You Feel?
When deciding which color will be best for your rug, remember that colors have power in a space and can control how the space feels. If you are looking to create a serene and calming presence, use neutrals such as beige, gray, and taupe. For a more relaxing look, try accenting with blue, green, or purple.
If you're looking for a more bold, eccentric space, try deep jewel tones such as emerald, eggplant, crimson, and navy. For a modern living room, whites and grays will work great and can be accented with a pop of color. Many modern spaces have brighter shades of teal, yellow, red, and orange.
How Will Your Rug Fit in With the Rest of Your Living Room?
If you already have a focal point in your room, like a beautifully framed landscape painting above your sofa, you will need to make sure the rug complements the painting. You don't want it to take away from the focal piece. However, if you don't have a focal point in your living room, a rug with the right color or pattern could be what you're looking for.
If your sofa or sectional are a solid, neutral color — gray, beige, white or brown— try brightening up the space with a patterned and colorful rug. Determining your focal point will help you decide how neutral or bold you can be with colors and designs.
If you already have a specific theme or design going, try to mirror it in your rug choice. For example, if you have a print on your accent pillows in your living room, you could use the same pattern and colors in your rug.
Consider the Use of the Space
Never forget to consider the surrounding furniture. Do you plan on having a coffee table that goes on the rug? If so, you should steer away from rugs that have a center pattern that would get covered by your furniture. Choose a pattern and color that will coordinate with the style of your coffee table without hiding its design.
Another consideration is your rug size and placement. Are tassels on the end of the rug a tripping hazard? How far out in the room will the rug go? Will the furniture cover a significant part of the design? And, if so, are you okay with that? Remember to consider the rug's size and placement in the room and how the other furniture around it will come into play.
Consider the Room's Traffic
Consider the traffic in the space. If this is a high traffic area that your friends and family will walk through with shoes on, you should choose a rug that will hide dirt and debris well. Aim for darker colored rugs with patterns. If you are confident that it will be an area without a lot of traffic, a lighter color will do just fine.
Popular Living Room Rug Options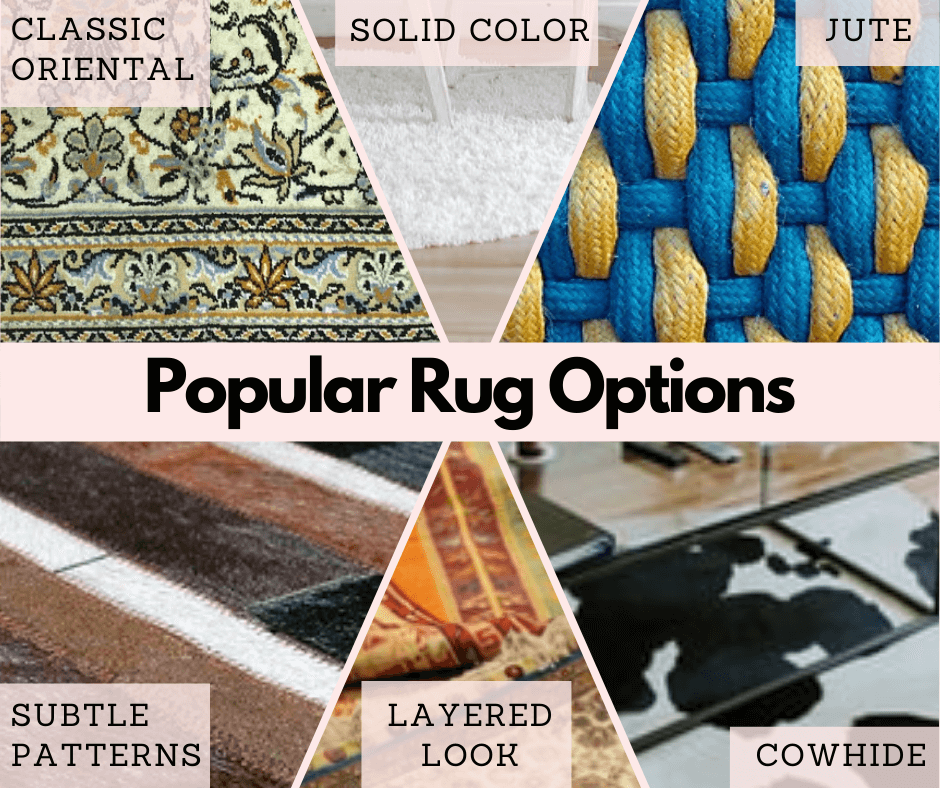 Classic Look
Oriental Turkish style rugs create a feeling of timeless design and wonder. These rugs come in all colors and patterns, and they tend to dress up any room they are in. They provide an ageless feeling of elegance and class. This style rug works well in rooms with vintage and boho decor, as well as rustic spaces.
Solid Rugs
A solid-colored rug will add texture and softness to your living room without drawing anyone's attention away from the focal point of the room. Many solid rugs are shag rugs that will add a lot of comfort and cushion to your space. If you choose a solid shag, the shag will help keep the rug from showing obvious dirt or debris.
Jute
The beauty of jute rugs is in their ability to add an element of nature to an indoor space. Jute rugs are made from a natural resource, so they hold the essence of the great outdoors while fitting in perfectly with an airy design style. This rug style works well in a bohemian or rustic living rooms.
Subtle Patterns
The clean look of a lightly patterned area rug helps add a geometric element while still providing a modest look. Subtle patterns can help tie in a theme you already have in your living room without creating another focal point. Soft stripes or light distress patterns will soften your space with an understated look that still adds color and texture to the room.
Layered Look
Layering is a fun way to add uniqueness and flair to your space. You can create a bold display by layering two seemingly different styles together for an exclusively original focal point.
You can achieve layering by putting a bold patterned rug over a natural woven jute rug. Jute adds texture while the patterned rug adds color and design to the space.
Cowhides
Cowhides are a great way to add an element of nature and rustic design to any space. Their unique shape fits well in many areas, so they're easy to work around your living room furniture.
Since cowhides are natural products, no two are the same. That adds an element of exclusivity and excitement. Cowhides are also fantastic rugs to layer with, adding novel texture and color to your living room.
Conclusion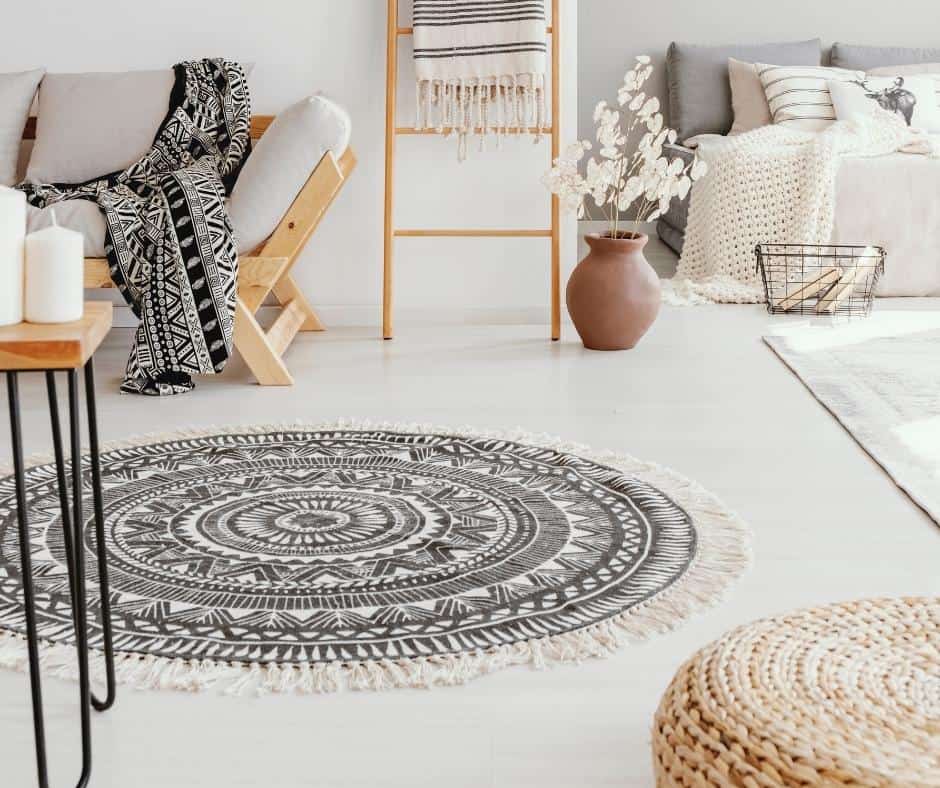 You no longer need to feel overwhelmed when it comes to picking out a new rug for your living room. Take into consideration how you want the room to feel. Are you going for a peaceful look or a more interesting space?
Once you've determined how you want the space to feel, you'll need to decide on the focal point of the room. Then, choose a rug that will complement it or that will boldly take on the role of your living room's focal point.