A dog is a man's best friend. A trusty companion, ready to shower you with love unlike any other.
Unfortunately, it's not the only thing a dog can shower you with. Besides fur, dander, and erherm, some less desirable things, who knows what could be lurking or on their paws. Sadly, your sofa is also at the receiving end of your dog's shenanigans.
Over the past month, we've put some of the best-selling leather couches through their paces to determine which is the best for you and your dog.
In This Article We'll Discuss
Best Leather Sofas For Dogs & Pet Owners
Best All Around Leather Sofa for Dogs
If you want a versatile yet spacious seating solution for you and your dog, then the Poundex F6972 is what you need. With this sectional, you can lounge with friends, family, your pet – heck even theirs!
With its multi-faceted design, you can arrange this as a left or right facing sectional. It also comes with an ottoman that you can use to rest your legs. You can even make it your pet's exclusive throne!
The faux leather means it's a perfect choice for conscious eco-warriors. Although it is not the real deal, faux leather is tough and puncture-proof. It's also resistant to peeling, stains, and discoloration caused by UV exposure.
The nailhead accents are a neat design feature, but watch out for your puppy who may be tempted to chew on them. For that reason, this sofa is more suited to a well-trained dog.
Rating: 4.7/5 – Best Budget Pick
If you think you can't afford a leather sofa, you should take a good hard look at this Honbay convertible. Even with its low price, it comes with the key benefits you'd expect with a pet-friendly sofa.
For one, faux leather is a material that resists scratches and stains. It's also effortless to clean, as you can blot spills with a soft washcloth. To restore its luster, apply a leather cleaner to the fabric.
Durability-wise, this couch can carry a max weight capacity of 600 pounds. With its sturdy wood frame, it can accommodate you and your visitors – and a pooch on the larger side.
As for style, you can make it a left or right-arm facing sectional. With its reversible chaise, you can transform it into a wide, lounging sofa as well.
Despite its affordability, its features are at par with more expensive choices. With its storage ottoman, you can keep your pet's toys out of sight.
Rating: 4.6/5 – Best Leather Reclining Sofa For Dpgs
If your dog tends not to treat upholstery with the respect it deserves, you might be thinking twice about buying a new couch. Fortunately for you, there's the Homelegance Center Hill sofa. Made from bonded leather, this comfy recliner is perfect for a pet-loving household.
Although bonded leather contains less than 20% genuine leather, it has plus points too. It has a smooth and consistent texture that's as durable as the real thing. And since it's available in a variety of colors, you're not tied to the usual black or brown.
A recliner is one of the more popular sofa styles on the market. It can help reduce back pain and improve circulation. Most importantly, it can help you relax at the end of a long day.
With its hard-wearing leather-like fabric, the Homelegance sofa can keep worries at bay. Instead, you can focus on lounging and relaxing. Whether it's a slight recline or a flat position, this sofa can do it all.
Rating: 4.6/5 – Best Modern Leather Sofa
If you're looking for a sofa that is as beautiful as it is durable, then what you need is the River Aiden sofa. With its sleek, modern style, it fits in well with all kinds of room designs.
More than being a stylish choice, the Rivet Aiden sofa is one of the best leather sofa choices for dogs. After all, it features one of the finest materials for pets: top grain leather. This choice is sturdier than regular leather, and can last for 10 to 15 years with proper maintenance. Cleaning is also a breeze, as all you need is a soft cloth to maintain.
While its leather hide is its best selling feature, the Rivet Aiden is also known for its durability. It sits on a hardwood frame that can withstand the most vigorous antics of your Great Dane.
With all these features, prepare to pay a pretty penny. Although it's expensive, it's well worth it.
If you're a devoted dog lover who'll spend anything on their pet, you should go for the Rivet Andrews sofa. While it's pricier than other choices on the list, sometimes money can buy happiness.
This couch features luxurious, stain, and odor-resistant leather. This high-quality fabric protects the comfy cushions that support your body. Since the parts are engineered to last, supported by a sturdy wooden frame, it can withstand anything your pooch can throw at it. And if all else fails, there's always the 3-year warranty to back you up.
Design-wise, this elegant sofa is guaranteed to beautify your living space. As it is available in 8 colors, you're sure to find one that fits with your home's aesthetics.
Rating: 4.4/5 – Best Top Grain Leather Sofa
Top grain leather is one of the best leather materials for pets. Tough and durable, it can resist stains, spills, scratches, and funky odors. Pretty much anything your pet can throw at it. If you have the budget and don't mind splurging, then you should invest in the Rivet Andrews couch.
As a high-end sofa, this couch has everything you could ever want for your pet. Made with a solid wood frame and tapered wood legs, this piece will stand the test of time.
While it's strong and sturdy, it makes for comfy lounging as well. It has semi-firm seat cushions that can save you from the aches and pains of wrong positioning.
Kick back and relax on this couch after a hard day with your dog.
Rating: 4.4/5 – Best Bonded Leather Loveseat
If you can't afford to splurge on full or top grain leather, bonded leather sofas are a great alternative. Not only are they durable, but they are easy to clean as well.
Despite its compact size, it has a sturdy frame that can accommodate you and your big dog. You can play around for hours without worrying about sagging or other damage to the upholstery.
The Rubin sofa also offers stunning aesthetics, even with its affordable price. Available in black or dark brown bonded leather, it can liven up your loft or reading nook.
This stunning loveseat offers excellent features at a reasonable price point. With its bonded-leather upholstery and hard-wearing construct, its guaranteed to stand the test of time.
Rating: 4.2/5 – Best Leather Sofa Set for Pets
If you're looking for a complete deal, then set your sights on the Betsy Furniture set. Not only is the sofa pet-friendly, but it comes with a loveseat and armchair to boot.
With its bonded leather upholstery, you don't have to toil over pet dander and stains. Wipe it with a soft cloth, and you can get back to your day without a second thought.
While the Betsy set proves to be the best leather sofa for dogs, it works just as well for its human owners. After all, it comes with an extended 160-degree reclining feature. Pull the side switch for an instant 'aah' moment.
Rating: 4.1/5 – Best Reclining Leather Furniture for Pets
Relaxing on a recliner is an incredible feeling, especially after a long day at work. It's even better when you have your dog cuddling with you. Some owners are often concerned about scratches left behind by their pets. But there's a simple solution: make a switch to leather furniture.
Presenting the Juntoso 3-piece furniture, a sofa set upholstered in air leather fabric. Although it's not the real thing, this material is flexible and breathable. It's tough enough to resist scratch-marks. Better still, it also avoids the odors that come from your beloved pet.
Comfort-wise, the sofas are made with high-quality cushions and no-sag steel springs. This means you and your pet can play around on it without ruining its plump shape.
Rating: 4.1/5 – Most Comfortable Leather Sofa
Gone are the days when you have to forsake comfort for your dog's antics. With the Flash Furniture Harmony sofa, you can enjoy plush seating minus the nasty pet stains.
This couch is equipped with a padded seat and back cushions for the ultimate comfort. With its plush armrest, even your weary arms can take a rest.
If this isn't enough for you, you could always pull the lever to recline the chair. With this feature, you can enjoy better neck and back support as you bond with your dog.
More than being the best leather sofa for pets, the Harmony sofa can add visual value to any room. Available in 2 leather finishes, its classic look can rejuvenate your tired space.
Rating: 4/5 – Most Stylish Leather Sofa for Pets
If you're conscious of your home's design, then the stylish nature of Rivet Cove is an ideal choice. Available in 4 colors, it has a modern style that works well with existing furniture in your home.
Compared to other sofas, its visual appeal does not get in the way of its comfort. After all, it comes with tufted back and seat cushions that will make you feel relaxed after the busiest of days.
With its leather upholstery, it's simple to clean up after your pet. Deodorizing is a breeze, as the leather does well to repel any nasty odors.
Dogs and Leather Furniture Guide
How to Choose the Best Leather Sofa for Dogs
Just because a sofa is leather, doesn't mean its meant for you and your dog. If you want to get the ultimate bang for your buck, keep these buying tips in mind:
Leather type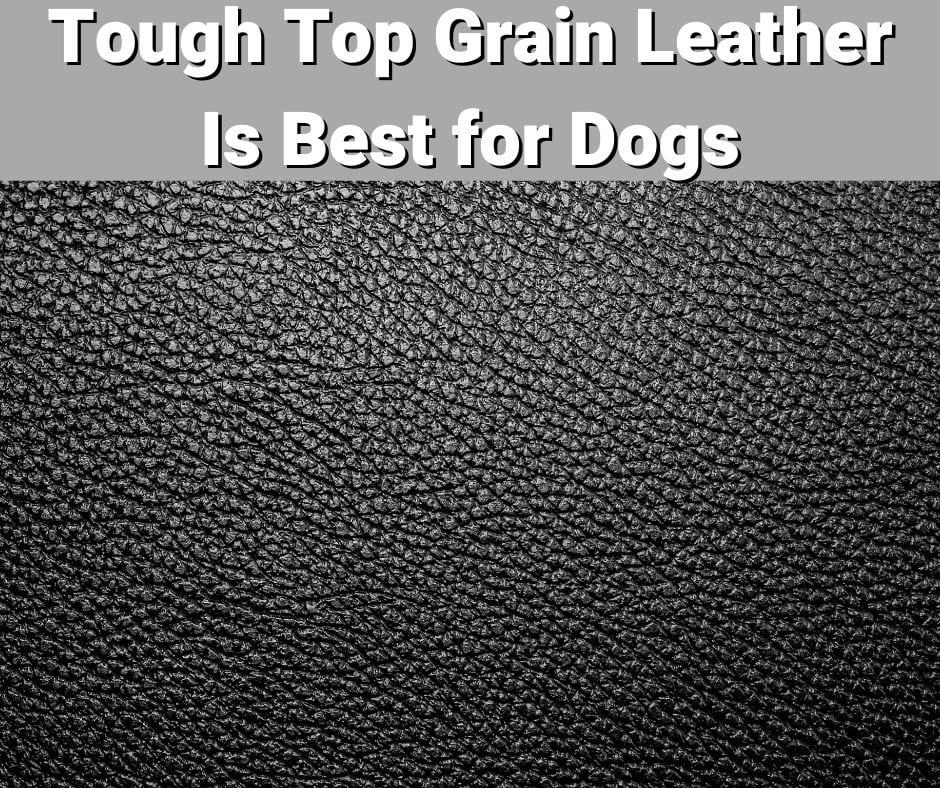 Not all leather fabrics are made equal. Top grain leather is one of the best materials for pet owners because of its sturdy construction. This is the material used for the Rivet Aidan leather bench.
If you don't mind spending a lot, another good option is the more expensive full-grain leather.
And if you're working with a smaller budget, opt for bonded leather. A mixture of real and faux leather, this offers the best of both worlds. The Homelegance reclining sofa uses bonded leather to great effect.
Size
This will depend on how big your pet is. If you have a smaller dog breed, such as a corgi or pug, then an armchair or loveseat will work fine. But if you want to bond with a big pet – say a Saint Bernard or a Mastiff – then you need a bigger sofa. Sectionals such as the Poundex F6973 provide that much-needed seating space.
Color
Avoid lighter colors, which could show up stains and marks. Instead, opt for earthy tones such as charcoals and browns. These colors can keep stains to a minimum and also reduce the visibility of fur.
If stains are your primary concern, it's best to work with darker shades. Black sofas such as the Flash Furniture leather sofa can hide stains well.
Features
Simple is better. Complex textures or designs can be hazards for your pet, especially if they are puppies and love to chew. Choose a plainly-designed leather sofa, like the Rivet Cove couch.
Removable Covers
While it's pretty simple to clean leather, removable covers will make your life a lot easier. Removable covers can often be thrown in the laundry for fuss-free cleaning.
What are the Advantages of a Leather Sofa for Dogs?
Leather is not only visually pleasing, but it's also the best material for a pet-loving home. Some of the benefits include:
Tough
Our pet's claws are perfect for digging holes in your beloved lawn, but they can also have the same impact on your sofa. Leather is far more durable and damage-resistant than other materials. This means it can stand up to daily wear and tear.
Easy to Clean
Gone are the days when you need to scrub vigorously to remove stains. With leather, all you need to do is wipe the area with a soft cloth. A few dabs with water and dish soap, and you're done!
Repels Odors
Compared to other upholstery, leather repels odors. Even if your pet makes a mess, smells can be removed with proper cleaning.
Low maintenance
A leather sofa does not need much attention. As long as you condition it from time to time, it's sure to retain its timeless look.
Beautiful!
Suffice to say, the leather couch is not only for your dog – it's for yourself as well! Leather sofas offer a classic look that can make any room seem elegant and classy.
How to Protect Leather Furniture From Pets
While leather sofas need little maintenance, they still need some tender loving care from time to time. If you want your couch to look beautiful for the years to come, then you need to follow these maintenance tips: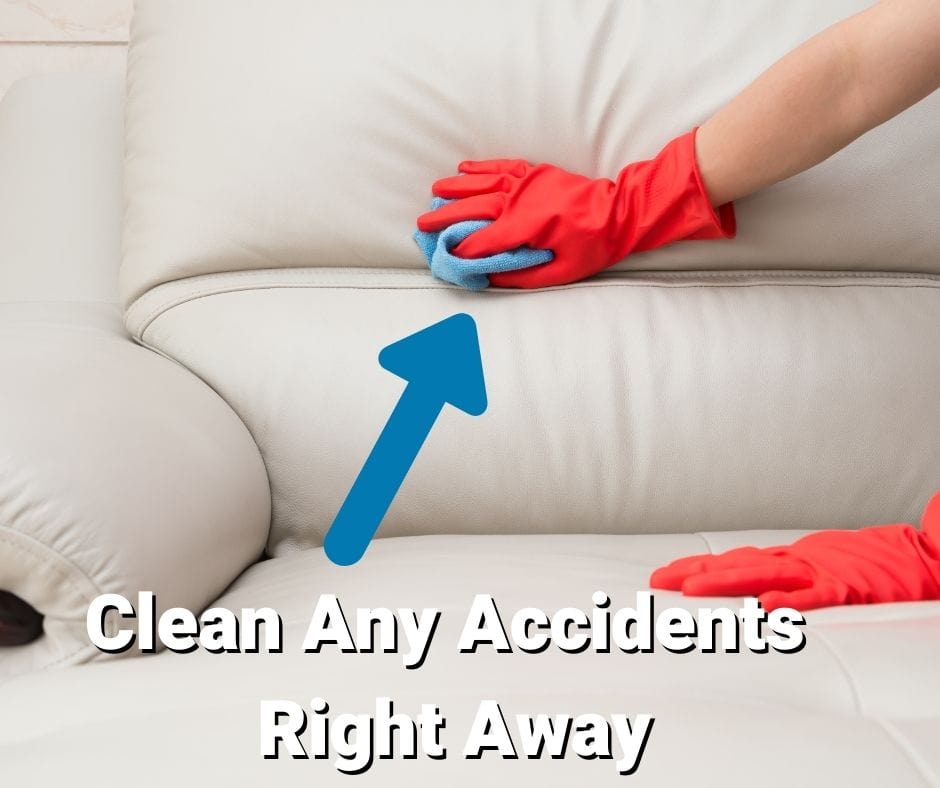 Clean up dirt and mess right away.
Avoid using abrasive chemicals, such as ammonia or cleaning solvents.
Apply a special leather sealant so stains won't penetrate the fabric.
Should there be any light scratches, moisten the area with distilled water. This will help you 'buff' the marks.
Keep your pet's claws well-manicured.
Conclusion
Leather provides the ultimate protection from scratches, stains, and everything else between. When it comes to the best leather sofa for you and your pooch, the Poundex F6973 is our top choice. A convertible sectional, it is built with sturdy, faux leather, designed for you and your dog.