When it comes to choosing upholstery for your new recliner, nothing really beats the stylish look and comfortable feel of leather.
Whether it be faux or genuine, a leather recliner has a unique quality that separates it from fabric and other types of upholstery.
And if you are looking for a good leather recliner, then we have you covered! The Ravenna Home Glider Recliner is our top pick as it comes from a reliable brand that offers true quality and comfort.
In This Article We'll Discuss
10 Best Leather Recliners
---
10 Best Leather Recliners
Best Leather Recliner from a Reliable Brand
Product Details:
Materials: Faux Leather Upholstery, Foam Padding, Fiberboard, and Iron Frame.
Colors: Taupe, Grey, Dark Brown, and Buff
Dimensions: 35.4″ L x 36.6″ W x 39.8″ H
Ravenna Home is best selling brand.
The Oakesdale design is soft and cozy, precisely what a recliner should offer. Its soft foam padding works to increase comfortability, making it genuinely hard to beat.
The frame of the Oakesdale glider recliner is a combination of fiberboard and iron to increase its durability. It boasts a sturdy metal reclining mechanism that is both smooth and quiet, helping you to relax after a busy day. The sturdy mechanism also guarantees that this recliner will last for many years to come.
However, the star of the show is the Oakesdale's lush, faux leather upholstery, which is durable as it is comfortable. Using high-quality faux leather, Oakesdale has created a recliner that not only looks good but feels great to use as well.
The only downside of the Oakesdale glider recliner is that it's a manual recliner. This means you have to turn a knob that's located on the side of its armrest to recline it. Sure, it's not as convenient as powered options, but for a recliner that ticks every other box, we are prepared to look past that.
---
Our Budget Pick
Product Details:
Materials: Faux Leather (PU) Upholstery, Metal Frame, High-density sponge padding.
Colors: Black, Brown, Grey, Khaki, Light Beige, and Red
Dimensions: 29.25″ L x 20.67″ W x 27.69″ H
The Homall Recliner Chair is ideal for those working with a tight budget. Offering plenty of standout features, you'll wonder how a recliner of this quality can cost so little.
The Homall recliner chair has a solid design that offers wide armrests and a thick backrest to give you the best comfort imaginable.
Adding to its comfort are two convenient reclining options. The Homall recliner chair has a half-open recline and a full-open recline that gives you all the comfortability you could hope for in a recliner.
Like with our top pick, the Homall also uses faux leather as its upholstery. In this case, it uses polyurethane (PU) leather, a lighter material resistant to sunlight. One of the more obvious benefits of faux leather is that it is cheaper than the real thing.
As for the padding, the Homall uses a type of high-density sponge that is incredibly comfortable. So much so that you'll definitely find it hard to leave.
And despite its slimline appearance, it can easily accommodate well beyond 200-pounds. Most of that strength is down to its durable metal frame and thoughtful design.
The Homall can blend into any home aesthetic as it comes in a wide variety of color options.
---
Best Contemporary Design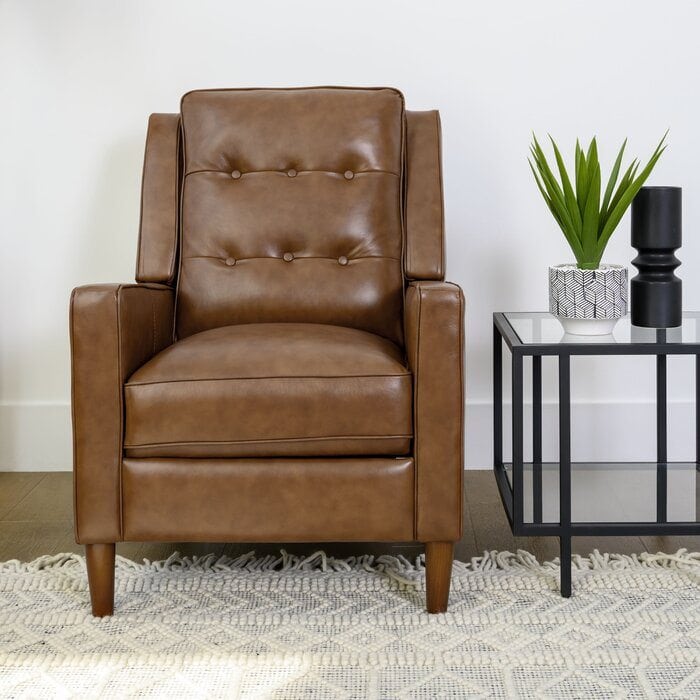 Product Details:
Materials: Genuine Grain leather Upholstery, Solid Pinewood Frame, Oak Wood Legs, High-density Foam Padding.
Colors: Caramel, Brown, and Grey (Espresso and Oak colored table legs)
Dimensions: 41″ L x 30″ W x 37″ H
The Coastal Farmhouse Mary manual recliner is our best pick for a recliner with a stylish contemporary design.
If you're looking to add a modern flair to your living room, the Mary recliner is our standout choice. Not to mention, this is the first recliner in this article to use genuine leather as opposed to faux leather. It also comes in three distinct colors despite using genuine grain leather.
Adding to its classy upholstery is the fact that its backrest is tufted to give you the best feeling imaginable when it's time to relax.
The plush foam filling helps to dial up the comfort on the Mary manual recliner. It uses a type of high-density foam padding that gives it the right amount of resilience, preventing you from sinking into the recliner
Moving to Mary's frame, it uses solid pinewood to give it all its strength and durability. This is definitely a sofa that will stand the test of time. The recliner uses oak wood for its legs, which are sturdy yet stylish. Better still, you choose between two colors for the legs to accent the leather upholstery.
Overall, the Mary manual recliner is a solid choice if you are looking for something that uses genuine leather. As an added bonus, it even features a small footrest.
---
Best Swivel Recliner
Product Details:
Materials: Faux Leather, Thick Sponge Padding, Metal Frame.
Colors: Black and Brown
Dimensions: 33.1″ L x 35.8″ W x 43.2″ H
The Esright Massage Recliner is our best pick for a swivel recliner, but it offers so much more than that. It doubles as a wonderful massage recliner for extra comfort.
The Esright has featured on many of our previous lists, which is a testament to how much we adore this recliner.
The Esright features supportive, firm padding. This type of padding helps the Esright's massage function, giving you the best possible massage experience in the comfort of your recliner. In addition to the massage function, the Esright also has a heating function to keep you warm during the winter months.
What gives the padding of the Esright its firmness is its thick foam sponge filling. It boasts a 'puffy' appearance, which visually demonstrates how comfortable this recliner is.
Moving onto the Esright's frame, it sports a metal construction and a sturdy base, which allows for smooth rotation. It also gives the Esright its strength and durability.
When it's time to recline, you use an internal pull handle to lay back and relax. While this is not as convenient as a powered recliner, it does mean you won't have any trailing cables around your living room.
Overall, the Esright massage recliner chair is a great recliner, especially for those looking for an added swivel function.
---
Best Padded Design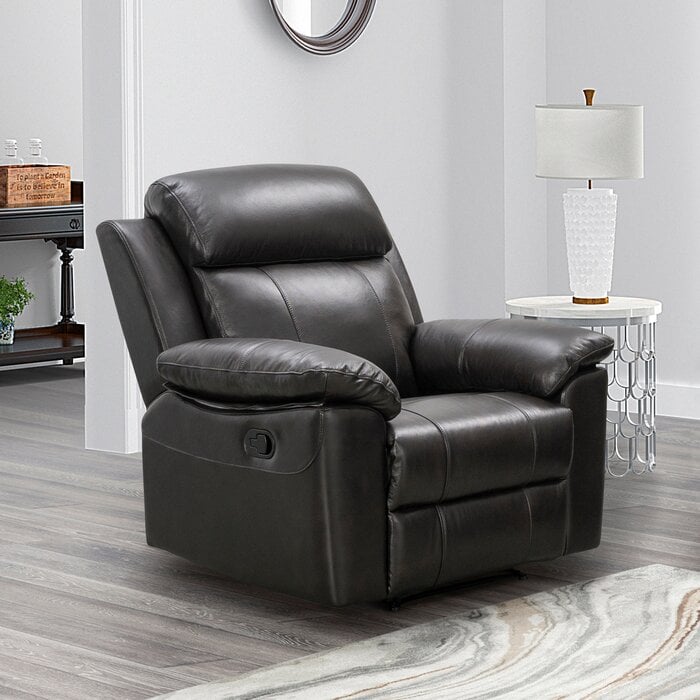 Product Details:
Materials: Genuine Grain Leather Upholstery, Foam Filling, Solid Hardwood Frame, Steel Legs, Coil Spring Seat Construction
Colors: Grey and Brown
Dimensions: 38″ L x 40″ W x 37″ H
By far the most comfortable padding, the Bima Leather Manual recliner scored top marks on comfort.
The Bima Leather Manual recliner is a product from Wayfair, similar to the Mary manual recliner.
Similar to the Mary, the Bima uses genuine grain leather in the upholstery. So, if you're looking for genuine leather furniture, it does seem that Wayfair has a bunch of great models.
The Bima's leather upholstery isn't as puffy as Esright's, but it has a smoother appearance, which we find a lot more aesthetically pleasing. And speaking of appearances, its leather upholstery comes in a choice of two colors.
As for the padding, the Bima comes with your standard foam filling, which provides ample firmness to keep you from sinking uncomfortably in the seat.
And even though the Bima uses the standard foam filling for its padding, what earned its place as our best choice for a padded recliner is its shape.
The Bima comes in a cozy design similar to our top pick recliner (the Ravenna Home Oakesdale). Its cushioned armrests and thick backrest allow for the best relaxation experience.
The solid hardwood frame gives the Bima a lighter weight while still maintaining its strength. Its reclining mechanism, as well as its legs, are made of metal though, which gives the chair incredible durability.
Although pricey, we think the Bima is well worth it.
---
Best High-class Design
Product Details:
Materials: Bonded Leather Upholstery, Wood Frame, Metal Reclining Mechanism
Colors: Brown
Dimensions: 35.75″ L x 39.75″ W x 41.25″ H
The Waldo club chair recliner has a sophisticated and high-class design, earning its place on our list of quality leather recliners.
The Waldo's club chair design is expertly crafted, so much so that at first glance, you may mistake it as just a fancy leather armchair. But underneath its stylish exterior sits a fully functional recliner.
And because it's a club chair, it is thickly upholstered, which gives the Waldo its supportive yet comfortable firmness. On the note of its upholstery, the Waldo's backrest comes tufted to add to its comfort and increase airflow.
The most comfortable feature of the Waldo, though, is its design. Its rounded shape and ample firmness will cradle you into complete comfort.
With all these features and stylish design, you may be thinking that the Waldo will set you back a pretty penny.
But you would be wrong to think that!
The Waldo club chair recliner is an inexpensive purchase despite its sophisticated design.
The Waldo uses a type of bonded leather as its upholstery, which could attribute to its price. See, bonded leather is a combination of real and faux leather that is much cheaper than top-grain leather. And while this is a perfectly functional upholstery choice, just keep in mind it won't last as long as the real thing.
---
Ottoman Included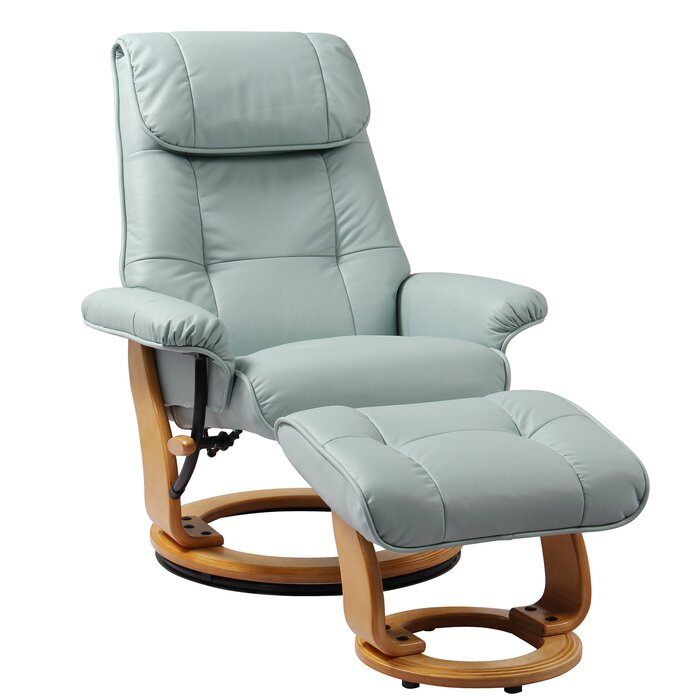 Product Details:
Materials: Faux (PU) or Genuine (Grain) Leather Upholstery, Foam Filling, Metal Frame, Wood Frame
Colors: Blue, Orange, and White
Dimensions: (Recliner) 31.5″ L x 45″ W x 39.7″ H (Ottoman) 21″ L x 18.5″ W x 16.5″ H
Unlike with the rest of the recliners on this list, the Beaucet has an ottoman instead of a footstool for your legs to rest on!
The Beaucet boasts a unique design that lends itself to a modern home. That's not to say that it's unappealing. To us, it looks amazing, but it doesn't lend itself to fit with every home aesthetic.
The reason we find the Beaucet a wonderful recliner choice is because it incorporated its swivel base into its aesthetic rather than hiding it as most recliners do.
What the Beaucet has in common with other recliners is the comfortability it offers with its seat and the infinite recline positions you can assume.
The Beaucet also gives you the best of both worlds when it comes to upholstery. See, the Beaucet comes with genuine grain leather on areas where you would usually touch, as well as faux polyurethane leather on sites that don't get much contact. This allows the Beaucet to be much more affordable than if it was covered in 100% leather.
The Beaucet comes in three different color choices to pick from, which you can personalize to your liking.
To top it all off, the Beaucet comes with a comfortable ottoman, which is styled in the same way as the Beaucet, creating an unbeatable aesthetic.
---
Faux Leather Padded Design
Product Details:
Materials: Leather, Suede, or Fabric Upholstery, Overstuffed Padding, Metal Frame, Metal Legs
Colors: Air Red Brown, Black, Brown Fabric, Brown Suede, Grey, Smoke Grey Suede
Dimensions: 35.8″ L x 37.4″ W x 39.4″ H
Another outstanding padded design, the Bonzy home, boasts a ton of amazing features we simply couldn't ignore.
The Bonzy Home air leather recliner would be our alternative pick if the Bima Recliner was not up to your standards.
The Bonzy has a more indulgent upholstery wrapping compared to the Bima, which is synonymous with the Esright and its puffy design. So, if you're looking for the comfortability that the padding of the Bima offers but the indulgent comfort of the Esright, then the Bonzy is the answer.
In addition to all of that, the Bonzy is a fairly large recliner. What that means is it offers a lot of room – perfect for sleeping. If you do intend to sleep on it, then we recommend its fuzzy fabric variant, which is stylish yet comfortable.
That's right, the Bonzy comes in three different types of upholstery, which you can customize to suit your preference.
It comes in either faux leather, suede leather, or fabric. By now, you should already know what faux and fabric upholstery are but what is suede? Suede leather is a type of leather with a 'napped' finish that gives it a softer surface.
The Bonzy is the only recliner on our list to use suede as an upholstery choice, but we think it makes for an excellent recliner.
---
Space Saving Wall Hugger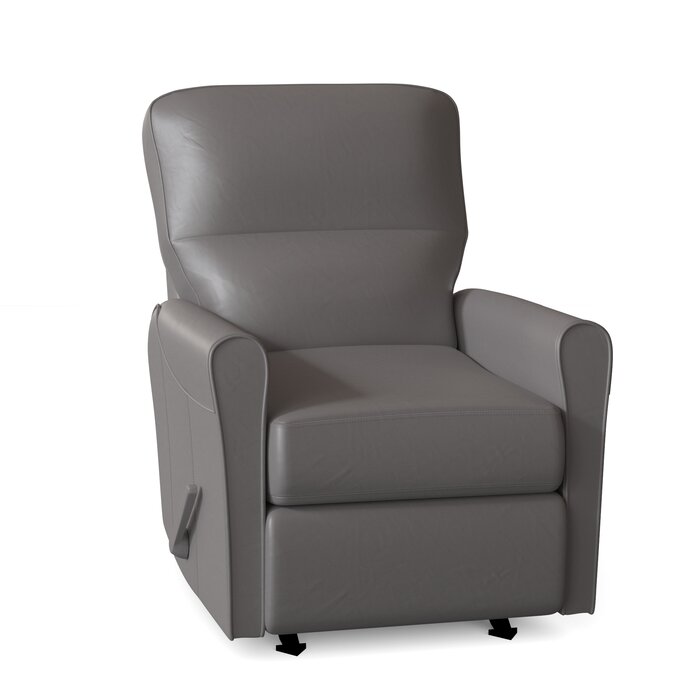 Product Details:
Materials: Faux Leather Upholstery, Synthetic Fiber and Foam Padding, Coil Spring Seat Construction, Solid and Manufactured Wood Frame
Colors: Ambient Cream, Classic Regatta, Dillon Thunder, Hush Sand, Prestige Navy, and etc. (102 more different colors to choose from!)
Dimensions: 38.8″ L x 29.3″ W x 37.6″ H
The Birch is our best pick for a wall hugger recliner for its quality features and a wide array of color choices.
If you know your upholstery, you would know that typically faux leather doesn't come with many colors to pick from (It's either shades of brown or base colors). The Birch power wall hugger recliner bucks that trend with its enormous amount of color options.
Boasting a massive 107+ different upholstery colors to pick from, you won't have any trouble finding something that works for your existing decor. In fact, picking a color may become even more difficult than picking a recliner.
The Birch's overall dimensions make it a compact recliner, making it ideal for smaller homes and living spaces. And because it's a wall hugger recliner, you can have the Birch positioned against a wall while still being able to enjoy the reclining function.
Its space-saving feature allows you to have the comfort of a recliner without sacrificing too much of your living space. As for the comfortability that the Birch offers, it's made from a combination of synthetic fiber and foam padding to give a firm yet comfortable seating experience.
---
Great for Sleeping
Product Details:
Materials: Bonded Leather Upholstery, Coil Spring Seat Construction, Metal Frame, Wood Legs, Comfor-Gel Filling
Colors: Chestnut and Godiva
Dimensions: 43″ L x 46″ W x 48″ H
If you are exclusively looking for a recliner that's great for sleeping, then the Catnapper is the recliner for you.
Like the Bonzy and the Esright, the Catnapper Power lift recliner sports a puffy leather upholstery. Its baggy appearance may not be the most appealing for some, but what it lacks in aesthetics it makes up for in comfortability and durability.
And to allow you the most comfortable experience, the Catnapper uses what it calls Comfor-Gel as filling in its upholstery. This Comfor-Gel is a formulated gel that lines the inner layer of the bonded leather upholstery of the Catnapper, which is the source of the recliner cushions softness. The gel works to keep you cool, so it's perfect for hot summer days.
The Catnapper's metal frame and its reclining mechanism are sturdily built. With a maximum user weight of 450-pounds, it's excessively sturdy, which means the Catnapper will handle the wear and tear over many years without issue.
And sporting such a large design, the Catnapper can comfortably accommodate taller people
However, the Catnapper is not free from flaws. As with the Waldo, the Catnapper uses bonded leather, which doesn't offer the same extended lifespan as genuine leather.
---
Buying Guide
---
What to Look for in a Leather or Faux Leather Recliner?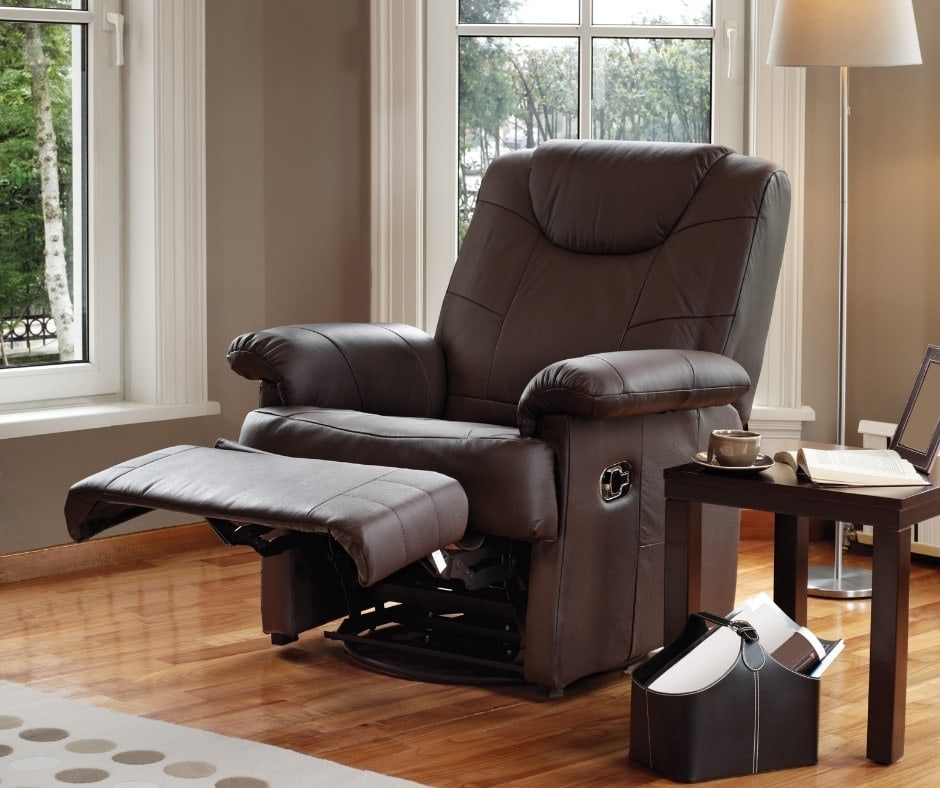 When selecting the leather recliner of your choice, look for the following;
Color Choices
Upholstery (Leather, Microfiber, Linen)
Seat Filling (High-Density Foam, Polyester)
Frame Material (Hardwood, Rubberwood)
Dimensions (Size, Height, And Weight Capacity)
Overall Style
How Long do Leather Recliners Last?
Leather recliners certainly tend to be more durable than their fabric counterparts. This is because of the durable properties of leather as a material.
However, it really comes down to how you use your recliner and how you take care of it.
Depending on the leather type, a recliner can last 10-20 years (with care) or just a few years if not maintained properly.
Typically, genuine leather will last much longer than faux or bonded options
Faux or Real Leather?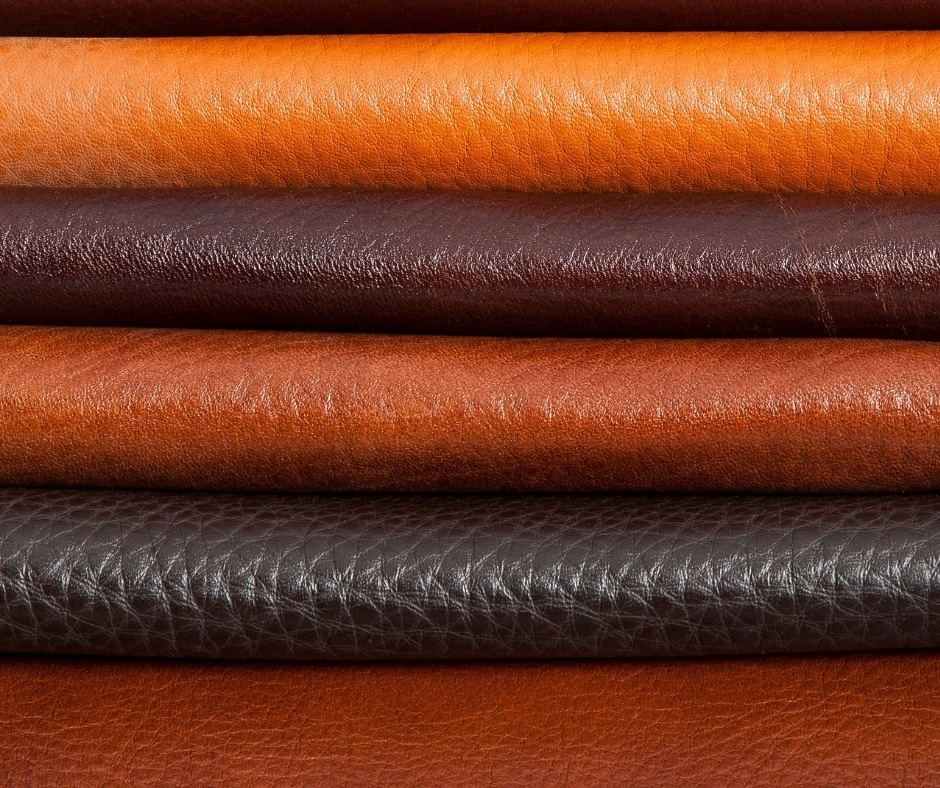 Both genuine and faux leather are excellent upholstery choices for recliners.
If you can afford it, you can't beat the look and feel of genuine leather. That being said, faux leather can also look great and last for many years if maintained properly.
Conclusion
By now, you have an idea of what leather recliner to pick for your home, but if you're still undecided, then we recommend that you go back to our top pick.
But, if the Ravenna Home Oakesdale is not to your liking, then the Beaucet is our runner-up. It may have a unique design that's not fit for every home aesthetic, but it has plenty of personality.