From La-Z-Boy and Ashley to Wayfair and Homelegance, there are a lot of Recliner brands. Are you confused about which leather recliner brand is the best? What about the cheapest? In this article, I'll go over the types of leathers used in each major retailer.
This will give you an insight into the quality and value of each recliner brand. I give each brand a rating out of 10 based on the quality of leather and overall cost.
In This Article We'll Discuss
LA-Z-BOY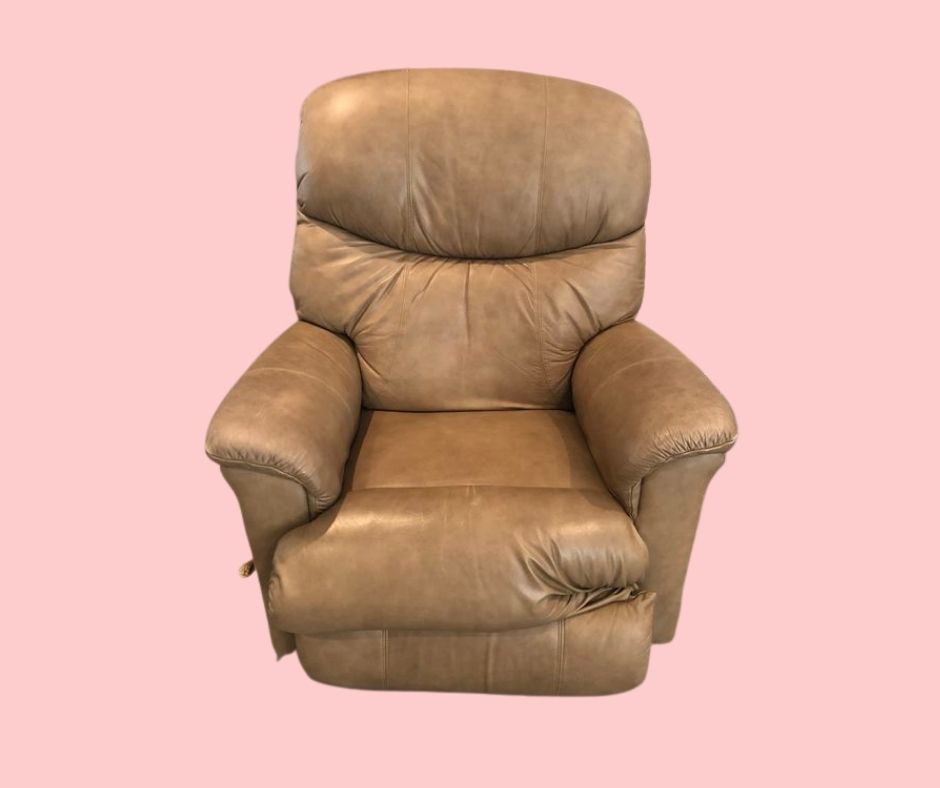 La-Z-Boy is a heavyweight when it comes to the recliner game. As the creators of the recliner product, they understand how to make a great recliner.
All of the materials used are of the highest quality. Even better, all their products come with a warranty, meaning they'll cover you for years to come. Unlikely as it is that something will break, at least you're covered if it does.
There are various leathers that La-Z-Boy uses within their recliners. The five leather categories range from Tutti, Moda, Ranch, Mezzo, and Dolce. These all come in a range of tones and colors.
Tutti is a leather that comes in 8 shades. The shades are Cloud, Wool, Taupe, Espresso, Steel, MIdnight, Salsa, and Merlot. All of these shades contain a pigment, which can take away from the character of the leather. While getting rid of scars can improve cohesion, it removes originality.
Tutti is a high-quality leather. Considering it is only partially corrected, the leather used here is 7/10.
Coming in 11 distinct shades, Moda is the second leather type La-Z-Boy offers. This leather is less corrected than Tutti, but has a similar finish. Both are top-layer leather of the highest quality.
Again, due to the correction, this leather is a little over-perfect. I give the leather used in Moda leather recliners 7/10.
The third leather that La-Z-Boy uses is Ranch. Ranch comes in 7 shades, ranging from Oak to Stone. La-Z-Boy buffs and micro-pigments Ranch leather.
This gives the leather a mottled, uniform finish. The application of a top-coat means this leather is durable and resists staining.
Ranch is slightly better quality than Moda and Tutti, coming in with an 8/10.
The fourth style of leather used in La-Z-Boy leather recliners is Mezzo. La-Z-Boy uses corrected graining to give Mezzo a soft touch. The graining also increases durability.
Mezzo comes in an amazing 29 colors, meaning there will be a style to fit anything you need. The manufacturing process of Mezzo also means it is incredibly soft. The lack of a buffer means the authentic quality of the leather remains. Overall, this leather gets an 8/10.
Finally, Dolce is the fifth leather style used by La-Z-Boy. Dolce is available in 8 tones, ranging across the natural color spectrum. Dolce does not use micro-pigmentation, meaning some leather imperfections will remain.
In the leather world, this is a good thing. Imperfections will give an authentic quality to your leather.
Dolce is the top quality leather used by La-Z-Boy. They demonstrate this in the price of the products that use this leather style. However, it is really worth it, with this leather coming in at a 9/10.
La-Z-Boy is a fantastic company to go to if you're looking for a recliner. They have a history of happy customers, and will definitely have something for you. Our personal favorite is the Kenley range, which you can view here.
Ashley Furniture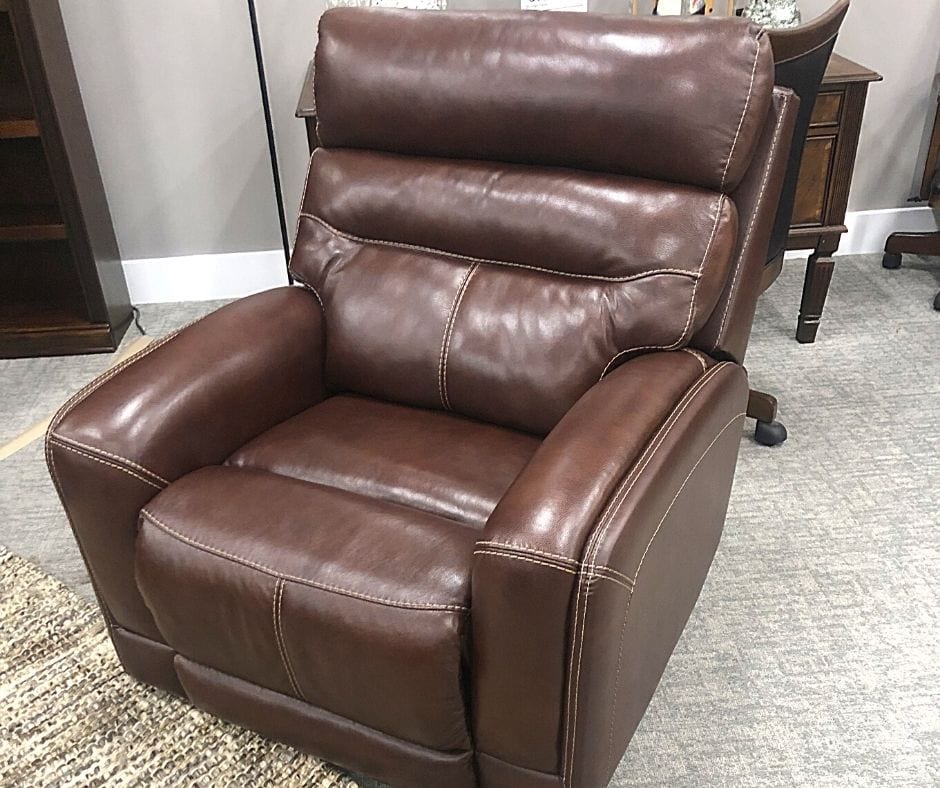 There are two main types of leather used by Ashley Furniture for their recliners. Both of them are of decent quality, but nothing to write home about. Ashley has named the two leathers bonded leather and leather match.
As implied by the titles, these leathers aren't purely leather. Rather, they are often composite leather.
The bonded leather is only up to around 20% real leather. The quality of this leather is not particularly good. However, if you're looking for a cheap option, this can be very lucrative. The product looks fantastic, but will likely break down over time. I give this a 5/10.
Second of all, the Leather Match that Ashley Furniture uses is of better quality. This is a top-grain leather, coming from the best part of the hide. A composite will give strength and durability to the material.
This leather gets a 7/10, considering it looks great and will last a long time. Ashley Furniture is a fantastic option if you're looking for a cheaper leather recliner.
Esright
Esright is a much better option if you're looking for a leather that will last a long time. Esright builds all of their leather recliner products with PU Leather. PU Leather, which stands for polyurethane leather, is a leather substitute. It is 100% vegan and incredibly durable.
Esright builds its products to last. They have placed durability and strength at the forefront of their product design. Don't worry about PU leather, it looks incredibly realistic.
Esright also commonly adds electrical components to their leather recliners. If you're looking for a charger or built-in heating features, Esright is for you.
Overall, I give both Esright and the PU Leather a 7/10.
Catnapper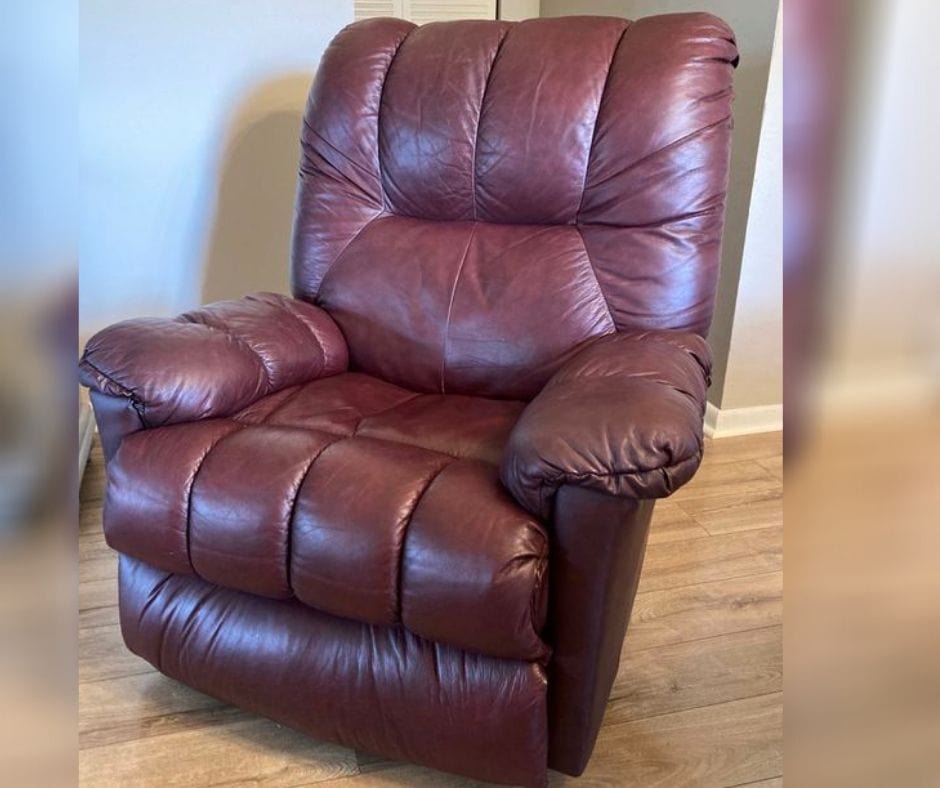 Catnapper is a renowned furniture brand that operates out of the USA. Their leather is of incredible quality. It is available two colors, either chocolate or chestnut.
The leather is Italian leather, known to be beautiful, durable, and flexible. The leather is a genuine beauty but comes at a cost. Although the leather used by Catnapper is one of the best out there, it is quite expensive. Due to that, I am going to cap my rating at 8/10.
Barcalounger
Barcalounger definitely comes at a price. Much like Catnapper, this brand is fantastic if you have a lot of spending money. One of the most expensive leather recliners ranges on the list, these are worth it if you have some spare cash.
Barcalounger makes all of their leather recliners from Top Grain Leather. This is the highest quality leather. They keep micro-pigmentation to a minimum and only buffer a select few of their products.
Due to this, Barcalounger's products get a 9/10.
Homelegance
Homelegance is a great mix of luxury and affordability. Their construction technique is flawless, which each design coming out beautifully. They use 100% Top Grain leather, in line with other market leaders.
How Homelegance keeps the prices down is by using faux leather wherever the skin doesn't touch. That means on the seat, backrest, and arms, there will be real leather. Yet, if your skin isn't going to touch it, so on the back, for example, it will be faux leather.
The faux leather used is a PU leather composite, which is great for the environment. Again, this composite is 100% vegan. This also helps to keep the cost of the leather recliners down.
All in all, Homelegance gets an 8/10. Their balance between luxury and affordability is hard to beat.
Christopher Knight Home
Christopher Knight does well in making lower-quality leather seem better than it is. This is a great skill, making cheaper leather into something attractive. The Christopher Knight Home Berkshire Bonded Leather is a composite leather.
The leather used is bicast, blending lower quality leather with micro-pigmentation. This micro-pigmentation smooths out the leather, before adding designs which mimic leather scarring.
This technique allows for cheaper leather to regain the appearance of better quality. A downside to this is that the leather is difficult to clean. On top of this, due to the mechanical process the leathers go through, it is easy to stain.
Ultimately, this composite gets a 7/10 for the leather they use. Their recliners are a little more affordable, but sadly don't rise to the heights of other brands.
RecPro Charles
The RecPro Charles brand designs recliners specifically for RV motor homes. Due to this, their leather has another feature that many others don't need. They have to build in heat resistance to stop the sun making the leather uncomfortably hot.
RecPro Charles uses a top-grain leather, mixed with a polymer that is heat resistant. This is a great solution to the problem they have to fix. If you want to put these leather recliners in your home, there are definitely better options.
Out of 10, I give RecPro Charles a 6/10. However, if you are looking for a leather recliner for your RV, then you really can't get better than this brand.
Wayfair Brands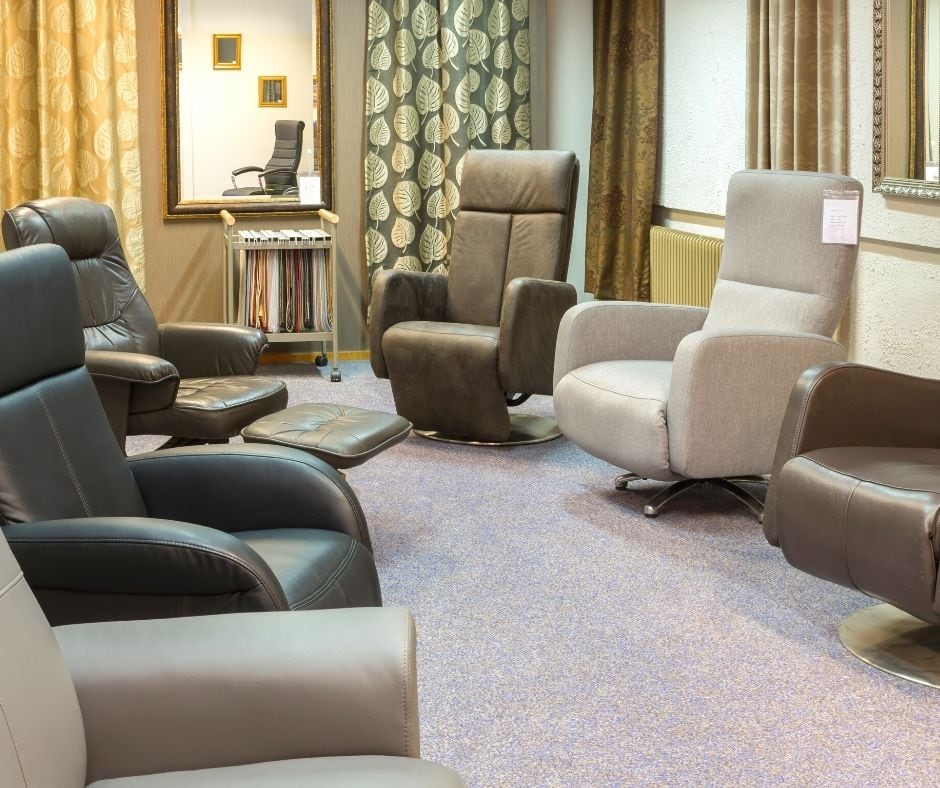 Wayfair Brands is one company that owns many different furniture retailers. Wayfair recliners are under Wintson Portor, Corrigan Studio, and Latitude Run. This is the same for Andover MIls and the most famous Red Barrel Studio, all which fall under Wayfair.
Wayfair uses one of two leather types in all of their leather recliners. The names are a little deceptive, one being Top-Grain and one being 100% leather.
You would assume that 100% leather is the better one to go for. Actually, this is a composite leather that is heavily pigmented. This leather goes through processes to make it more durable. The problem with this is that it sacrifices the aesthetic quality of the leather.
This leather is much cheaper but ends up having a less impressive finish. Out of 10, I give 100% leather from Wayfair 5/10.
However, the 'Top Grain' leather that they use is of a much better quality. If you are willing to pay a little bit more, this leather is definitely worth it. One of the most beautiful leathers on this list, I give it a 9/10. The durability, style, and finish are all precise and beautiful. This leather is one to look out for during your shopping journey.
Conclusion
There are a lot of brands that supply leather recliners. If you're looking for something on the cheaper side, try Homelegance or Esright.
However, if you are looking for the best quality out there, you should try Barcalounger or La-Z-Boy. Considering the warranty on La-Z-Boy products, they are the brand I would recommend.