Heavier individuals know the struggle of finding recliners that will be both comfortable and durable. The good news for you is we have put together a complete guide of the best options on the market.
The Falls rocker recliner is our top pick from Lane. Wonderfully stylish with an impressive weight capacity to boot. If you're short on time and want the best your money can buy, go for this.
If you're after a leather recliner, why not consider the All Star. This recliner features a soothing heat and massage function as well as a classy leather finish.
In This Article We'll Discuss
11 Best Heavy Duty Recliners For Large People With 400-500+ Weight Capacity
---
11 Best Heavy Duty Recliners For Large People With 400-500+ Weight Capacity
Best Overall
Product Details:
Materials: 100% Polyester, Upholstery, Metal, Hardwood
Colors: Almond, Chocolate, Mink, Pheasant, Vintage, and Wine
Dimensions: 40 x 41 x 44 inches
Weight Capacity: approximately 350lbs
Check out this heavy duty heavy hitter from Lane, our number one choice.
First up and our top pick is this heavy duty recliner from Lane furnishings – one of the best-known brands in the game.
It features pocket coils in the cushion for superior support and an over padded back and arms for unbeatable comfort levels. The upholstery has a beautiful vintage faux leather appearance, which makes this a very good looking sofa indeed.
Even better, the recliner comes with a zero-gravity feature. This means that you will almost feel like you are floating in space when reclined as the chair provides ample support to your body, legs, head, and neck.
Customers love Lane because their durable, hard-wearing recliners are made right here in the USA. The superior construction using advanced carpentry techniques ensure a purchase from Lane will last you a lifetime.
The power lift and recline is a handy feature, especially for those who are mobility impaired. This feature gently lifts the user to a standing position to help them get up from the chair more easily.
---
Runner Up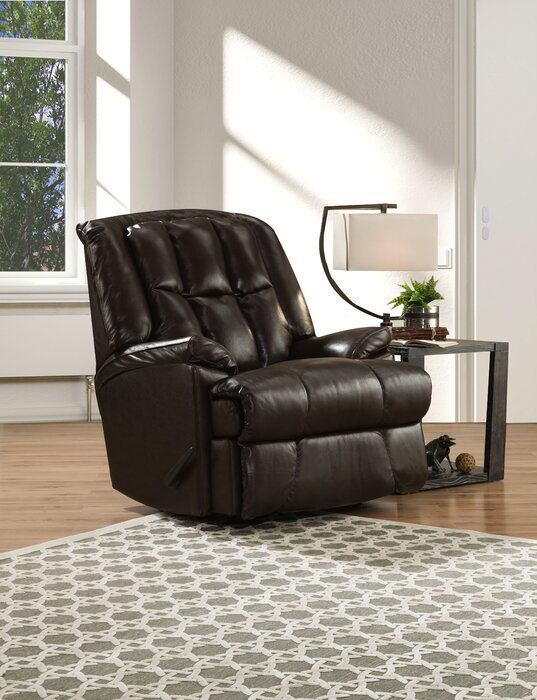 Product Details:
Materials: 100% Polyester, Leather Match, Foam; Synthetic Fiber
Colors: Genuine Leather Chestnut, Faux Leather Dark Gray, Genuine Leather Gray, Faux Leather Walnut, and Faux Leather Mushroom
Dimensions: Overall 45″ H x 42″ W x 48″ D
Seat 22″ H x 22″ W x 25″ D
Weight Capacity: 500 lb
Not sold on our top pick? The Artemis takes the silver medal and is a worthy addition to your home.
Coming in a very close second is this beautiful recliner from Lane. The Artemis recliner uses high-density foam, a hardwood frame, and a steel mechanism to increase this chair's durability, making it the perfect choice for heavier users.
When it comes to comfort, the Artemis doesn't hold back either. The plush, cushioned backrest and seat envelop you in a warm hug the minute you sit down. This recliner comes in either a manual or powered option to suit your needs.
As with all of their furniture, Lane Home Furnishings pride themselves on the fact all their products are made in the USA. They also boast some of the world's most advanced manufacturing facilities, helping them to offer some of the best products on the market to their customers.
When fully reclined, this recliner is a massive 79″. While this makes it great for taller users, this may not be the right choice for you if you're lacking in space.
---
Best Heavy Duty La-z-boy Recliner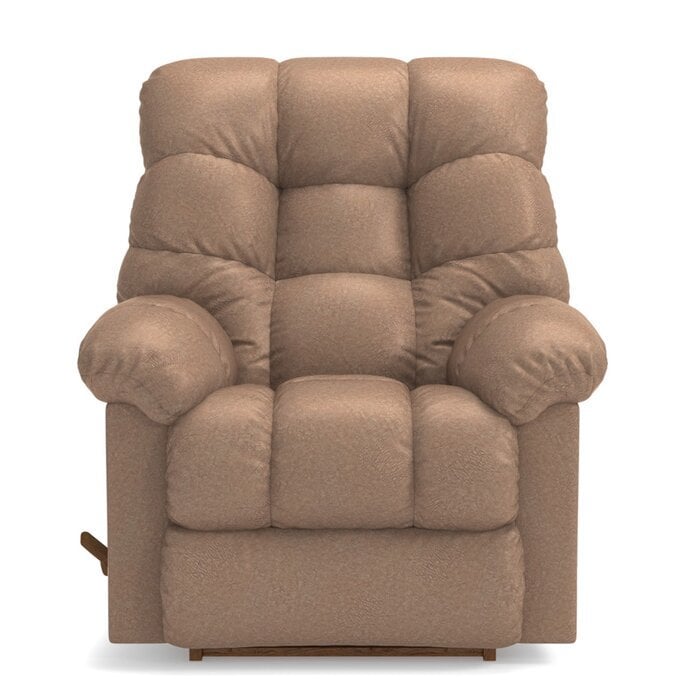 Product Details:
Materials: Synthetic Fiber
Colors: Tar Urethane and Fawn Urethane
Dimensions: Overall 44″ H x 40″ W x 43″ D
Seat 20″ H x 17″ W x 22.5″ D
Weight Capacity: 300 lb
This heavy duty from La-z-boy is a perfect choice for those set on the La-z-boy brand.
La-z-boy is one of the best-known brands in the world when it comes to comfortable recliners. If you're looking for a La-z-boy with a large capacity, you can't go wrong with the Gibson.
The appearance of this recliner is definitely inviting. Covered in plush, pillowy pockets, you'll find it hard to leave this recliner once you sit down. The manual recline function further increases its comfort. This allows you to independently move the foot and backrests to meet your needs.
The upholstery is also incredibly durable and easy to maintain and can be easily cleaned with a damp cloth.
As La-z-boy manufactures all of their furniture in the USA, you can be assured you're receiving a high-quality product, guaranteed to stand the test of time.
It's worth noting that the Gibson has a max weight capacity of 300 pounds – far lower than our top picks, which support up to 500 pounds.
---
Best Heavy Duty Recliner with Power Lift Rise
Product Details:
Materials: Wood
Colors: Bitter, Candor Mocha, Cappuccino, Chestnut, Espresso, Romero Cocoa, Romero Stone, Slate, Smoke, Taupe, Turbo Cocoa and Turbo Mocha
Dimensions: 42 x 49 x 47 inches
Weight Capacity: 450lb
Sit and stand comfortably with this powered lift chair from Lane.
A power lift feature is an excellent addition to any recliner, allowing the user to sit and stand comfortably. But if you, or a family member, have mobility issues, it can be a necessity.
Not only does this recliner come with a power lift feature, but it also boasts an easy glide mechanism. This makes reclining silent, making this recliner ideal for a bedroom.
The power recline function offers limitless positions with the touch of a button. Its robust hardwood frame that feature mortise and tenon joints allow it to comfortably support a 450-pound user.
For added convenience, the chair features side pockets that can be used to store books, magazines, or television remotes. It also features dual USB chargers to keep your devices powered up.
---
Best Heavy Power Power Lift Recliner on Wayfair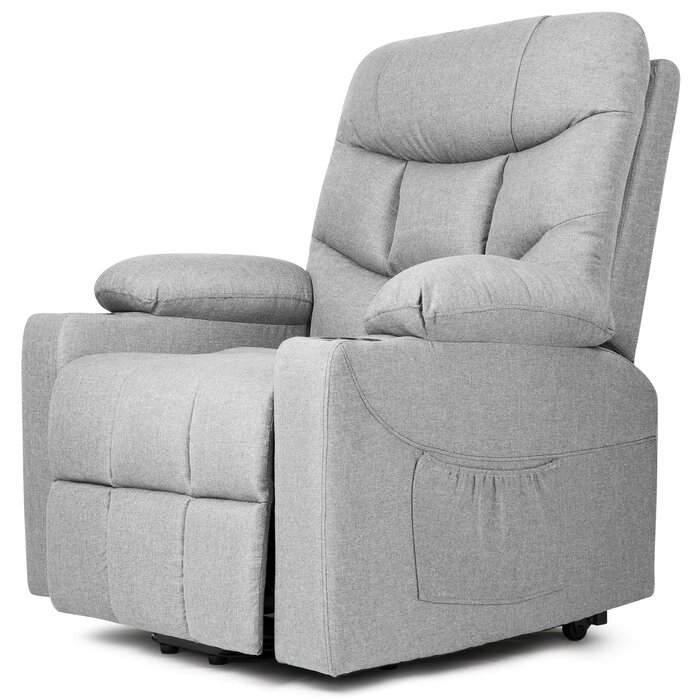 Product Details:
Materials: Linen Blend, Metal, Pellets/Beads
Colors: Gray, Cappuccino Brown, and Dark Brown
Dimensions: Overall 40″ H x 34″ W x 29″ D
Seat 20″ H x 23″ W x 22″ D
Weight Capacity: 440 lb
If you're set on purchasing from Wayfair, check out the Aedyn massage recliner.
The power lift function makes this an ideal choice for the elderly or those with mobility issues. The feature allows the user to sit and stand comfortably, giving them back independence and making the whole process much safer. Combined with a sturdy frame, stability is guaranteed.
What sets this recliner apart from the others we have reviewed so far is that the Aedyn boasts a soothing massage feature, complete with a relaxing heated mode for added comfort. Its 8 massage nodes gently ease your aches and pains after a long day.
The upholstery is a breathable microfiber that keeps you cool during the summer and warm during the winter. It's also effortless to maintain, as well as being stain and fade-resistant, ensuring your recliner will always be looking as good as new. For added convenience, the chair also features two side pockets for storage.
---
Best Heavy Duty Recliner for Sleeping
Product Details:
Materials: Plush, Steel
Colors: Blue
Dimensions: Overall (WDH)44 X 40 X 48
Seat (WDH)25 x 21 x 22
Weight Capacity: 500 lb
Looking for a comfortable recliner for napping or sleeping? The Stallion has you covered.
The Stallion Big Man recliner is aptly named. Its extra-wide seat (44 inches) and durable frame supports up to 500 pounds, making it one of the highest capacity recliners on our list.
The Stallion recliner is the chair you've been waiting for. Complete with an uber-comfortable back and extra plush pillows in the seat and side, the Stallion remains one of the comfiest chairs we tested.
One of the best features of the Stallion is its wall-saver function. This means the recliner requires very little wall clearance to fully recline, making it an ideal choice for smaller spaces.
When it comes to reclining, the easily accessible lever on the side can be used to accommodate unlimited recline positions. The wonderfully comfortable upholstery dials up the relaxation as you slip into a dreamy slumber.
One of the most significant benefits of using a recliner to sleep is that it can help with medical conditions such as snoring and sleep apnea and can also help to boost blood flow. For that reason, it's one of the best heavy duty recliners for sleeping your money can buy.
---
Best Space Saving Heavy Duty Recliner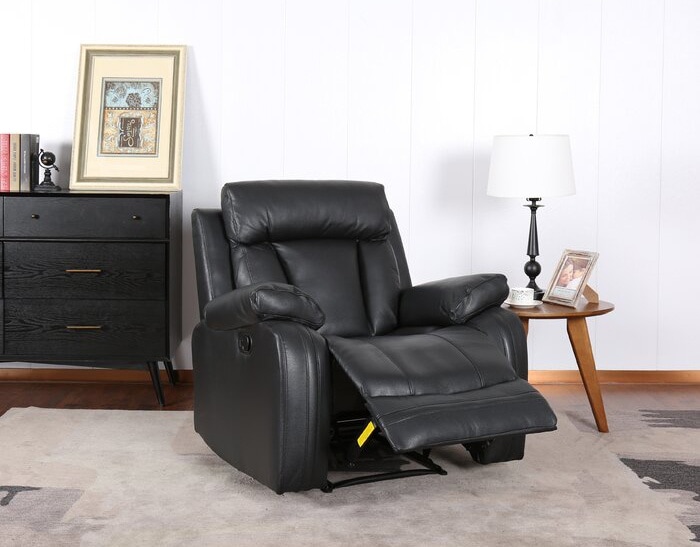 Product Details:
Materials: Leather Match, Metal, Foam
Colors: Black
Dimensions: Overall 40″ H x 37″ W x 32″ D
Seat 19″ H x 18″ W x 20″ D
Weight Capacity: 500 lb
Lack of space is no longer a reason why you can't have your own recliner.
This gorgeous contemporary recliner from Wayfair is an ideal solution to a space-strapped home. Featuring a wall-hugging feature, the Bale recliner requires very little clearance to achieve a full recline.
Instead of reclining backward, as typical recliners tend to, the Bale silently glides forward. This means you can position it close to walls and other furniture without preventing its ability to recline.
As well as being amazingly stylish, the Bale recliner is also unbelievably durable. Not only is its frame made from sturdy metal, but its upholstery is resistant to water, stains, mildew, and fading.
One of the most significant advantages of this recliner is that it's effortless to assemble. If you're not too handy with DIY, this recliner is an attractive choice.
---
Best Space Saving Recliner from Lane
Product Details:
Materials: Wood, 100% Polyester
Colors: Walnut
Dimensions: 40 x 44 x 48 inches
Weight Capacity: 500 lb
Studio apartments, motor homes, or RVs require furniture that maximizes the use of space. If you're looking for a heavy duty piece of furniture that doesn't take up too much room, this wall-saving recliner from Lane is perfect.
Requiring minimal wall clearance, you can still enjoy the full benefits of a recliner in your home, even if you don't have space to spare. The recliner itself boasts a seven gauge steel mechanism for ultimate durability, as well as a solid hardwood frame and mortise and tenon joints. To top it all off, the recliner is made in the USA for added peace of mind and quality.
Despite being space-saving, this recliner can comfortably accommodate big and tall users. When reclined, the chair extends up to 79 inches, which is almost the length of a full king-size bed.
This heavy duty recliner chair is covered in an indulgent leather looking suede, making it both durable and easy to clean.
---
Best Heavy Duty Rocker Recliner
Product Details:
Materials: Wood, 100% polyester
Colors: Taupe
Dimensions: 41 x 37 x 43 inches
Weight Capacity: 500 lb
Looking for a heavy duty recliner to help you or your little one get off to sleep? Check out the Alecio.
Rocker recliners are the perfect choice for new parents or those that need a little extra help at night falling to sleep. The chair's rocking motion is both soothing and comforting, helping you slip into a natural slumber with minimal fuss.
The heavy duty recliner chair features an entirely padded chaise cushion for optimum support from head to toe. The 100% polyester covering is both soft to the touch but exceedingly durable, guaranteeing this recliner will put up with everything you can throw at it and look good while doing so.
The zero gravity mechanism makes you feel as if you are relaxing on cloud 9 as it gently takes the weight off your head, neck, and torso. The recliner also comes with 'comfort cradle seating,' a feature unique to Lane recliners that molds to your body's contours for ultimate support.
---
Best Leather Heavy Duty Recliner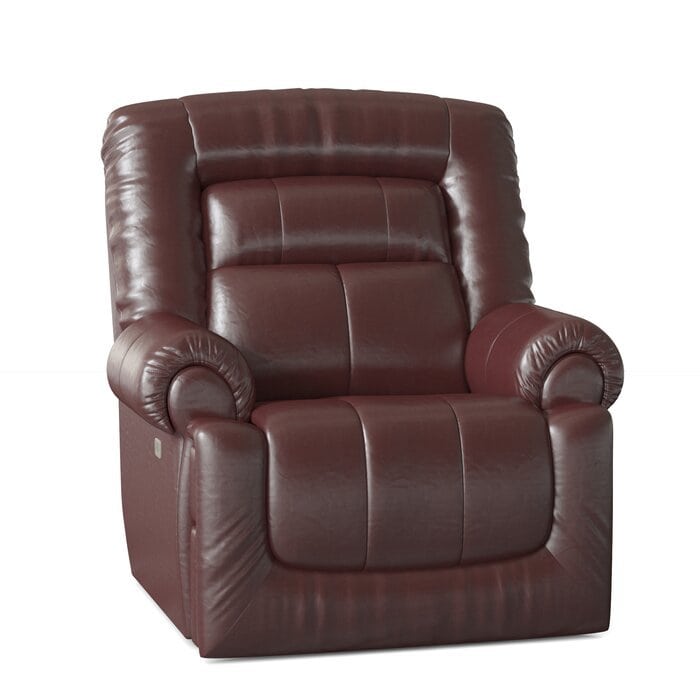 Product Details:
Materials: Metal, Foam, Synthetic Fiber, Solid + Manufactured Wood
Colors: Alfresco Chianti, Alfresco Marsala, Maximus Fossil, Milano Nutmeg, Alfresco Baca, Alfresco Beach, Surreal Brie, Ambition Cream, Maximus Sand, Alfresco Gunmetal, Milano Slate, Surreal Graphite, Fresca Cobblestone, Valentino Slate, Alfresco Toast, Eastwood Chaps, Milano Coffee, Alfresco Hickory, Eastwood Majavem Eastwood Slate, Fresca Dark Roast, Fresca Hazelnut, St. Laurent Espresso, St. Laurent Taupe, Milano Coal, Santa Rosa Denim, Fresca Olive, Fresca Amber, Surreal Buttercup, Alfresco Peacock, Alfresco Rustico, Maximus Horizon Milango Marinara, Milano Putty, Surreal Burpee, Surreal Night, Surreal Regatta, Valentino Chocolate, Alfresco Palazzo, Alfresco Stetson, Eastwood Colorado, Fresca Ultramarine, Santa Rosa Scotch, St. Laurent Fog, Valentino Smoke and Last Change Indigo
Dimensions: Overall 49″ H x 46″ W x 44″ D
Seat 24″ H x 23″ W x 24″ D
Weight Capacity: 450 lb
Longing for leather? Take a look at the heavy duty All Star recliner.
Leather is an unbeatable choice for recliners, offering enormous durability and a stylish aesthetic you won't find from other materials. The aesthetics of this recliner are tremendously versatile, meaning it will fit in with your existing decor with no issues.
With a weight capacity of 450 pounds, this chair will support big and tall users with ease. It boasts an extra tall back and raised arms that make it a perfect choice for larger folks.
By default, this recliner is powered and comes complete with a soothing heat and massage function. You can also pick this up with a powered headrest for increased comfort
One of the great things about this heavy duty recliner chair is that it comes in an impressive number of colors. This means you can find something that will fit into your existing decor relatively easily. It also gets delivered to your door completely pre-assembled, so you can get straight to relaxing the moment it arrives.
---
Best Heavy Duty Glider Recliner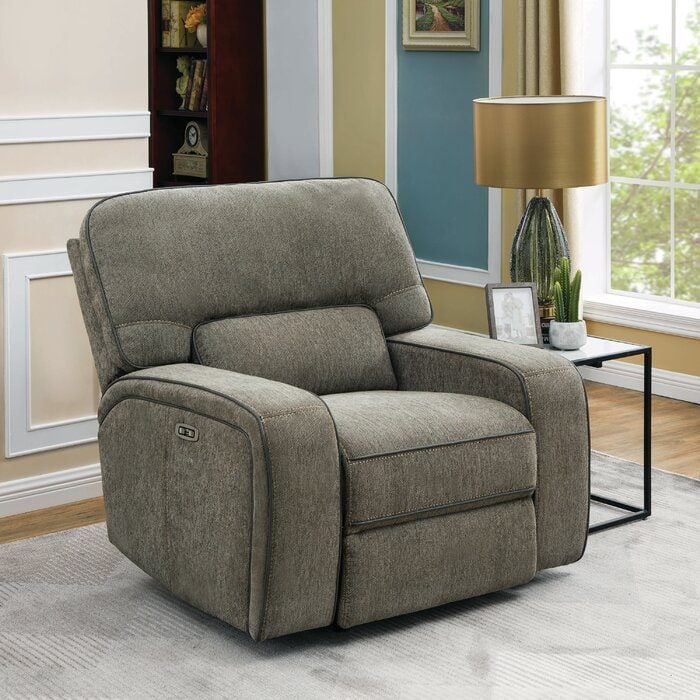 Product Details:
Materials: Chenille, 100% Polyester, Wood, Foam, Synthetic Fiber
Colors: Light Gray and Navy Blue
Dimensions: 41″ H x 40″ W x 40″ D
Seat 20″ H x 23″ W x 22″ D
Weight Capacity: 450 lb
Similar to rocker recliners, glider recliners move back and forth. However, instead of a rocker's typical curved path, glider recliners moves back and forth in a straight line. The benefit of a glider is that it provides for a much smoother experience and has the added benefit of not damaging your flooring underneath the chair as some rockers can.
The Leona is a beautiful example of a glider recliner, which features plush memory foam layers and soft to the touch upholstery for exceptional comfort. For convenience, the Leona comes with built-in USB ports to keep your devices fully charged.
As well as being a glider, it also comes with handy wall-saving features. This function prevents damage to walls that typical recliners can cause by knocking into them when reclining. Instead of going backward, the Leona reclines by sliding forwards – a space-saving feature to boot.
---
Frequently Asked Questions
---
What Should I Look For In A Heavy Duty Recliner?
When looking for your recliner, pay special attention to the following points.
Weight Capacity
Weight capacity is the most obvious feature you want to pay special attention to. Look for something which can comfortably carry your weight, but be sure to read the explanation below to make sure your recliner will be suitable.
What Does Weight Capacity Actually Mean?
Weight capacity refers to the maximum weight recliners can comfortably accommodate. You can easily check this information on the website where you are purchasing your new recliner chair from.
Note: Weight capacity operates under the premise that the weight is spread equally over a chair. Therefore, you might run into trouble if you buy anything too close to the user's weight.
Quality
Picking a recliner made from high-quality material is essential, as it will help ensure the longevity of your new recliner chair.
For the frame, some of the best heavy duty recliners will use either hardwood or metal. A wooden frame is typically the best option in the long term, as over time, metal can bow and snap.
Brand
While buying a recliner chair from a reputable brand comes with many benefits, don't overlook smaller or lesser-known brands. They can often offer the same benefits at a fraction of the cost.
Price
Decide what features you want in your new recliner before starting your search. There are tons and tons of recliners on the market, so narrowing down your choices at the start is a wise move and will save you time.
In general, the more features you want to include in your recliner, the more expensive it will be.
Where To Buy A Heavy Duty Recliner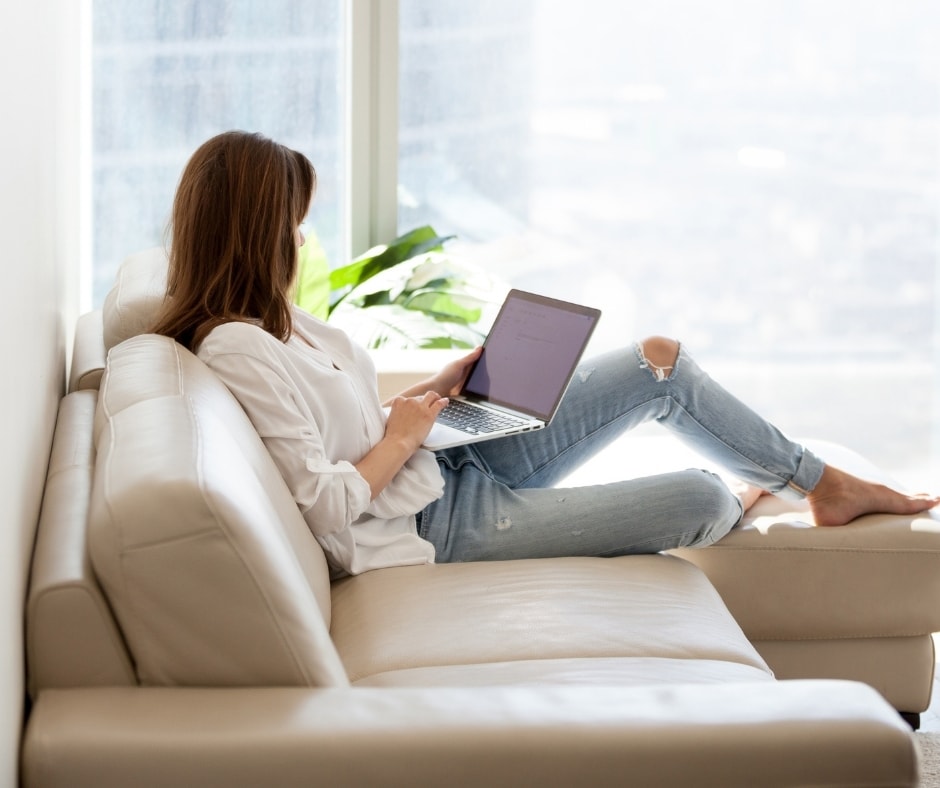 Two of the best places to buy the best heavy duty recliners online are Amazon and Wayfair
Both sites carry a wide variety of recliners suitable for a range of budgets and tastes. Both offer fast delivery and excellent customer service should anything go wrong.
How Much Do Heavy Duty Recliners Cost?
Recliners start at a few hundred dollars but can easily go into the thousands, depending on which features you choose to add.
Recliners with a massage and heat function will obviously cost more than one that just does the basics. The good news is there is an excellent selection of recliners available at many different price points. This means it's reasonably easy to find something to suit your budget.
How Long Do Big Man Recliners Last?
Well made recliners can last almost a lifetime. Those using premium quality materials can last upwards of 20 years. Obviously, the better care you take of your recliner, the longer it is likely to last.
How Sturdy Are Recliners With 500lb+ Weight Capacities?
Heavy duty recliners are specially designed to be durable, capable of supporting heavier weights than typical recliners. Because of their superior construction, they are impressively sturdy. Some of the most robust heavy duty recliners feature hardwood frames and hard-wearing upholstery such as leather or microfiber.
Conclusion
We hope this article has helped narrow down your options regarding buying heavy duty recliners.
If you're still struggling to make a decision, go back and read our review of the Falls Rocker Recliner. This recliner is our top pick for its comfort, incredible weight capacity, and stylish design.