Booking an indulgent massage is a wonderful reward after a busy week. But finding time to visit can be tricky, and let's not mention the cost.
If you're looking for a more convenient way to achieve some much-needed zen, you're in luck! This week, we've been roadtesting some of the best massage chairs on the market. Our goal? To help you to reach nirvana from the comfort of your own home.
Take, for example, the Esright recliner chair with an inbuilt heated massage function. Perfect for winding down after a hectic day.
In This Article We'll Discuss
Best Heated & Massage Recliner Chairs With Power Lift & Rocker Options Reviews
Best Rated Heated Recliner
The Esright recliner chair with heat and massage has everything you could ever want – and more. It has 8 massage nodes for the back, legs, thigh, and lower back, so you can enjoy a variety of intensities.
It also has heated support for the back for much-needed soothing relief. To make things even better, you can rock and swivel this chair a full 360 degrees!
Measuring 33.5″(W) x 35.8″(L) x 43.2″(H), the Esright comes with a CARB-certified board and iron frame. With these durable materials, it can support a max weight of 300 pounds.
What's great about the Esright is that, even without these added features, it's a mighty good chair. After all, it's cushions and armrests come padded with ergonomic foam for indulgent levels of comfort. Its PU leather upholstery is available in 3 shades. It's also breathable, water-resistant, and effortless to clean.
Best Heated Recliner for Elderly
Do your grandparents have arthritis, balance, or mobility issues? The Esright Power Lift heated recliner with massager is an ideal solution.
Measuring 33.3″(L) x 28.3″(W) x 41.3″(H), it is an assistive device that can help support the user to stand up. All the while, without adding stress to the back and knees. This can help to reduce falls around the home.
The Esright recliner offers a soothing heated massage. It can help relax the 4 most tension-filled areas – the head, back, thigh, and legs. With its 5 massage modes and 2 intensities, you can opt between short pulses or longer waves.
Construction-wise, the chair comes with an environmentally-friendly CARB timber and alloy steel frame. This makes it sturdy enough to carry a 330-pound user while allowing a max recline of 150 degrees.
Despite its lack of a rocking option, it makes up for comfort with its ergonomic padded cushions. It also comes equipped with a USB port and a cup holder and is available in 5 neutral shades. Not to mention, it also boasts a very affordable price point.
Best Leather Heated Massage Recliner With Power Lift Feature
Leather is an excellent choice for a sofa and couch. Not only are they elegant, but also very easy to clean. The Esright heated recliner implements the use of faux leather. This makes it a perfect choice for the animal lovers out there. Coupled with the added power lift, it makes it a hard choice to pass up.

This dark brown faux leather chair measures 35″(L) x 30″(W) x 41.7″(W), which makes it a good fit for most homes.
While it's not a rocker like the Esright swivel recliner, it comes with an intense massage feature. It has a 6-point massage system and 5 vibrating nodes. You can enjoy sweet relief on your arms, legs, neck, and back as you recline up to 160 degrees.
Even with all these features, it's sure to stand the test of time. After all, it's made with a sturdy alloy steel frame with a max capacity of 330 pounds.
Given its soft padded cushions, the Esright is one of the best chairs for lounging. Coupled with cupholders and a USB port, you'll find it hard to need to get up!

Best Power Lift Recliner for Back Pain
Is back pain your constant companion? Consider investing in a recliner chair with inbuilt heat and massage. The best choice for this is the Magic Union power lift chair, which measures 31″ (L) × 33.5″ (W) × 41.3″ (H). With its wood frame and plush foam cushion, it can carry up to 330-350 pounds.
Available in black and brown leather, it has 8 massage points for the back, lumbar, thighs, and legs.
Here, you can experiment with 5 massage modes: wave, press, pulse, regular, and auto. Coupled with the heated lumbar function, it can help to soothe your aching back quickly. While it has superb massage features, it falls short when it comes to rocking and reclining. After all, it can only assume a lay-flat position of up to 140 degrees.
This may not be comfortable enough for those who prefer a more horizontal angle.

Best Budget Pick
The ComHoma is an affordable recliner chair that comes with a set of excellent features.
Despite its affordable price, this 37.4″ (L) x 35.8″ (W) x 40.94″ (H) model has features that wouldn't look out of place in an option twice the cost!
While it has no power lift function, the ComHoma comes with a 360-degree swivel and rocker feature. It also has a 151-degree recline, which can help you to sink into the chair as it slowly massages your cares away.
With its soothing heating system that goes up to 98.6 Fahrenheit, it works to increase the effectiveness of the 8-point massage system. Just lay back, take the remote control, and choose from any of its 4 vibration options.
The ComHoma also comes with a zero-gravity regulation. As it gently lifts the weight off of your joints, it can relieve pressure off your back and reduce pain and discomfort.
With its metal mechanism and soft padding, ComHoma provides increased comfort and stability. It's also available in 3 beautiful colors, which work well with any type of home décor or design. At this price, you can't go wrong.
Best Power Recliner with Heat and Massage
A heated massage chair with power lift and zero-gravity options – what else could you ask for? Despite the lack of a rocker feature, this 32″ (L) x 31″ (W) x 29″ (H) product outperforms many of the other chairs on this list.
For one, it has 2 massage intensity options, 5 modes, and a very soothing heating feature. It can recline up to 160 degrees, which allows users up to 300 pounds to nap in bliss. There's no need to worry about stability, as this is made with a durable metal frame.
When it comes to the chair, the Homall recliner still manages high levels of comfort. After all, it has a wide headrest and thick padded armrests and footrests. With its 2 cupholders on the side, you'll barely notice the passing time while you're on this baby.
The PU leather Homall chair is available in 4 colors: gray, black, blue, and brown.
Best Heavy-Duty Heated Massage Recliner with Power Lift for Tall Person
Measuring 39.4″(W) x 39″ (D) x 40.2″(H), the ANJ power lift recliner provides the best support for tall users. With its elongated size and wide armrests, this metal frame model supports up to 300 pounds.
Complete with 8 relaxing modes, you'll really struggle to move after you settle down in this chair. It comes with carefully positioned massage points on your shoulders, thighs, and legs. And with a comfy heat directed towards your back, you'll almost believe you were in an expensive spa.
Despite the lack of a rocker function, this overstuffed recliner promises immense comfort. It can recline up to 160 degrees and lift you towards a standing position. With its plush anti-slide fabric, it makes maneuverability a breeze.
The ANJ, which is available in gray and camel, also comes backed by a 1-year warranty.
Best Heated Massage Recliner with Swivel
The Esright recliner is praised for its 360-degree swivel, but it's just the cherry on the cake! It is a fantastic investment, given its rocking, vibrating, and heating functions. With its 8 massage nodes, you can relieve the tension of your tired back, arms, and thighs.
Measuring 33.5″(W) x 35.8″(L) x 43.2″(H), this recliner has a durable metal frame that supports a 300-pound user. It also comes with a thick, padded headrest, armrest, and cushions for extreme comfort.
While the Esright is an excellent recliner chair with heat and massage, it has some pitfalls. For one, the reclining angle is limited to 140 degrees. For a near-flat position, you may prefer the Esright faux leather recliner.
While this chair has no power lift option, it does come in a variety of styles. It is available in 7 colors, with upholstery options ranging from fabric to PU leather.
Best Heated Massage Recliner with Cupholder
Watching the game without a beer in hand is a crime. And you may find yourself in more trouble if you end up spilling said beer all over your new chair! Take all the risks out of the equation with the Mcombo power lift chair. With its cupholders and easy-clean faux leather cover, you no longer need to worry about spills. Phew!
While it can only recline up to 140 degrees, it does have impressive heat and massage options. It can warm up your lumbar area while you enjoy any of its 8 vibrating massage options. Prone to falling asleep? Simply set an auto-timer on the chair to turn off after a set duration.
This chair also comes with a power lift function, helping those less mobile to stand with ease. And even if you make use of this function regularly, you don't need to worry about its longevity. After all, it has a durable alloy steel frame to support years of use.
Measuring 34.6″(W) x 30.7″(L) x 41″(H), this chair can accommodate users up to 320 pounds and 5'9″ in height. A little on the taller side? Lucky you! You may be more comfortable in the ANJ power massage recliner instead.
The Mcombo is available in light/dark brown, red, and black.
Best with USB Charging Port
Relaxixi is a recliner chair with heat and massage that's perfect for the TV or book junky. With its built-in USB port, you can charge your device as you enjoy a relaxing massage. From light strokes to a firmer touch, its massage function can be customized to your preferences.
Even without a power lift or rocker feature, the Relaxixi promises ultimate comfort. With its wooden frame, foam cushion, and fuzz linen fabric, you can enjoy a plush 140-degree recline.
The Relaxixi recliner, which measures 38.2″(W) x 29″(D) x 39.8″(H), can carry a max weight of 300 pounds. And it's super comfortable too. Its overstuffed backrest even comes with an inbuilt heater to keep you warm, no matter the temperature outside!
One of the standout features of the RELAXIXI is that it comes backed with a 1-year warranty. Should any issues arise in your first year of use, you can receive a replacement – no questions asked.
Perfect for a games room, the Relaxixi power recliner is available in brown, light coffee, and blue.
Best Splurge Pick
Is price not an option? The LM6800 may be a tad on the expensive side – but you're worth it. It has all the features you could ever want in a recliner. Trust us, you'll wonder how you ever lived without it.
For one, it has a Smart Body Scan technology that helps tailor a customized massage experience. The LM6800 also has an L-track massage system and 3 Zero Gravity stages. The L-track system is a uniquely designed massage trail that eases your neck and soothes your back – all the way down to your feet!
It also works to gently heat your back and legs, unlike some other models which only heat your back. It even has yoga stretching programs and dual foot rollers to boot.
While it has many unique features, the LM6800 does not have a power lift or rocker option. Its frame, measuring 48″ (L) x 31″ (W) x 46″ (H), is also a little on the bulky side. For that reason, this just won't work in a smaller sized living room. Despite this, it only has a 220 pound-capacity because of its steel and plastic frame. The recline is also limited to just 120 degrees.
If you can't justify the price, don't worry. There are plenty of more affordable options that perform just as well.
Best Heated Massage Rocker Recliner for Heavy People
The Lane Home recliner is one of the heavyweights on this list – in more ways than one! With its hardwood frame, mortise, and tenon joints, it can hold a max capacity of 500 pounds. That's 200 pounds more than the ANJ recliner!
Sturdiness aside, the 39″ (L) x 40″ (W) x 43″ (H) recliner is known to be very comfy as well. It has pocket coil springs and high-resiliency foam cushions that support the body. These are topped by leather-like polyester that's easy to clean.
While the Lane Home recliner is praised for its heat and massage functions, it doesn't stop there. With its power lift and zero gravity functions, you can indulge in a spa-like experience – from the comfort of your own home. Unlike other rockers, the Lane Home has a lifetime warranty for the frame. You can also choose from 4 colors: Steel, Merlot, Cognac, and Sand.
Best Heated Recliner for Nursery
Taking care of your baby is immensely rewarding – but it can be tiring. That's why you deserve the Homcom recliner chair with heat and massage.
It has a heated strip that warms your core and soothes your tired muscles. It also has 2 soothing points by the back and waist, which is a perfect way to end your day.
Even if it does not have a power lift or rocker function, the Homcom wins when it comes to the recline angle. It goes almost flat at 165 degrees when extended to 65 inches. This is better than most models, such as the LM6800 that is limited to 120 degrees.
While it does have a wood and metal frame, the 28″(W) x 31″ (D) x 42″(H) Homcom can only carry a max weight of 265 pounds. Despite this, it has a soft foam cushion that can keep you comfortable as you bond with your baby.
This chair would look fabulous in a nursery or living room. It is also is available in 3 nursery-friendly shades.
Best Microfiber Reclining Chair with Heat and Massage
If you have kids, then investing in a recliner chair covered in microfiber is a no brainer. Microfiber is famed for its easy to clean properties. And one of the best microfiber chairs on the market is the Relaxzen. This plush recliner chair features tough and water-repellant microfiber upholstery. This makes it perfect for a home full of kids!
The Relaxzen is not only easy to clean, but it's also very sturdy as well. With its metal frame, it can carry a combined weight of 300 pounds. So while you relax on its soft, comfy cushion, your child can sit with you too.
At 36″W x 38.5″D x 39.5″H, the Relaxzen can recline to a relaxing 160 degrees. For the ultimate experience, go ahead and try any of its 5 intensity levels and 9 modes. With its lumbar heat feature, it provides a professional massage experience without having to leave your home.
Available in 4 neutral colors, the Relaxzen compliments any type of home decor.
Best TUV-Certified Recliner Chair with Heat and Massage
When it comes to safety and quality, the Furgle Power recliner seals the deal. This TUV-certified product can power lift and assume a 140-degree recline seamlessly. TUV, although a German certification, offers a guarantee on the quality and safety of your recliner.
The Furgle recliner comes with 8 vibrating areas, 5 modes, and 2 intensity levels. It also provides lumbar heating, which can help soothe back pain. While it's not as flat as Romcom's 165, it has overstuffed cushions that make for perfect resting.
Made with a wood and metal frame, this brown faux leather recliner can carry a max capacity of 330 pounds. This is notably good, given its compact dimensions of 29.1″ (L) x 27.6″ (W) x 42.5″ (H).
Best Heated & Massage Recliners Buying Guide
How Much is a Heated and Massage Recliner?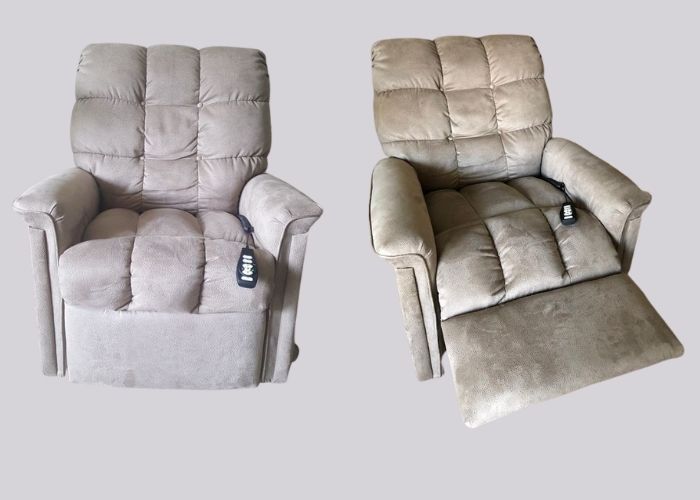 Cheap models can be picked up for as little as a few hundred dollars. If you have money to burn, then recliners can quickly go into the thousands.
Focus on which features you would like in your recliner first to help narrow down the range of options! Obviously, the more features your chair has, the higher the price!
Where to Find the Right Massage Recliner Heated PU Leather Swivel Chair?
The best place to find recliner chairs with heat and massage functions is at Amazon. They're usually cheaper than models that Costco or Walmart offers because of the lack of overhead costs.
The best part is that you don't need to drive to the store and battle with the crowds, as you can enjoy free/discounted shipping. Not to mention, Amazon often runs special offers.
How Hot do Heated Recliners Get?
Most heated recliners have a customizable heat setting to allow you to adjust it to your preferred temperature. Heated recliners usually warm up to around 98.6 degrees Fahrenheit.
Can You Muffle the Noise When the Massage is on for a Recliner?
Most recliners these days operate exceptionally quietly. Still, some of the following tips may help muffle the recliner's noise.
Place a rug under the massage chair. This can help reduce any sound, especially if you have wooden floors in your room.
Check the underside of your recliner. Use a screw or wrench to tighten any loose nuts or bolts. Look for signs of wear or deformity on the metal components. In case of any damage, you may be eligible to make a claim under the chairs' warranty.
Use a metal-friendly spray lubricant for the moving parts of your recliner. These include the coils, nuts, bolts, hinges, and springs located on the underside.
What Are The Types Of Heated Recliners?
Heated recliners come in various shapes and sizes, each with its own unique set of features.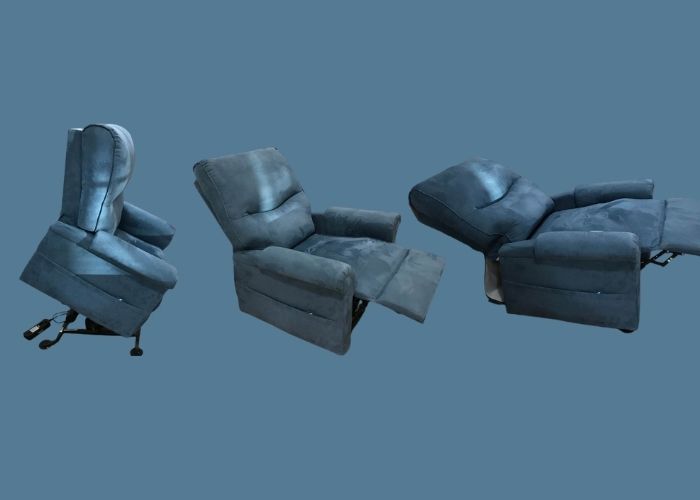 Massage Recliners. Models such as the Esright massage chair combine heat and massage for pain and stress relief.
Power/Automatic Recliners. This chair makes use of motors for positioning and heating. It allows you to adjust the head and leg rests separately for most comfort.
Power Lift Recliners. Models such as the Esright power lift chair can assume an almost upright position. This incline helps the elder user get out of the chair effortlessly.
Rocker Recliners. As the name suggests, models such as the Esright fabric recliner work like a rocking chair. They maintain a curved arch, compared to the glider that works a linear path.
Zero Gravity Recliners. Recliners such as the ComHoma model put you in a gravity-less position. It lifts your knees and keeps it in line with your head. Such recliners with heat and massage keep you relaxed because of the lack of a downward force.
Swivel Recliners. Chairs like the Esright swivel recliner can move into a full circle (360 degrees). As such, it allows you to face any direction you want.
Extra Wide Recliners. Also known as a double recliner or a cuddle recliner. True to its name, it is more spacious than the usual recliner seat. Perfect for two!
Why Buy a Recliner Chair with Heat and Massage?
There are so many reasons why you should buy recliner chairs with heat and massage functions: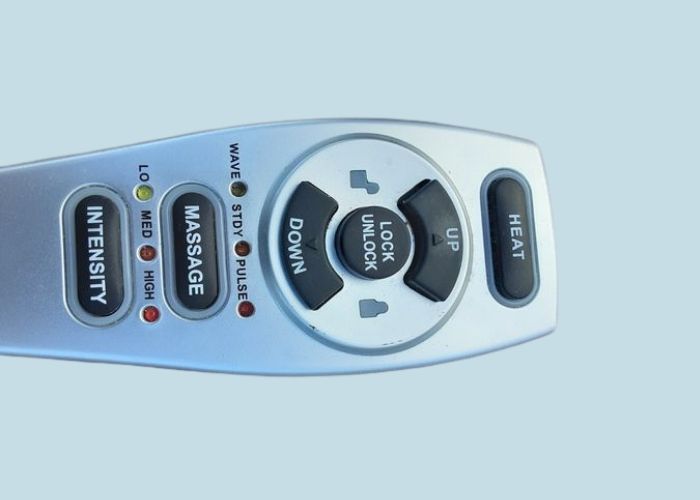 Provides Comfort and Relief
Heated massage chairs can help soothe aches and pains, especially the back. It can free your back from a day's worth of tension. Especially useful if you have a 9-5 desk job.
Improves Mobility
A massage improves circulation and stimulates blood flow. This helps reduce swelling, which is excellent for the joints. The heat also promotes better flexibility and movement, especially in stiff areas.
Enhances Well-Being
According to this Australian report, massage brings about mental calmness and relaxation. It may also help heighten mental awareness. This is because it leads to the release of endorphins, chemicals that make you 'feel better.'
At the same time, massage may also help reduce the levels of stress hormones. As such, it may keep anxiety or depression at bay too.
Improves Skin Health
A heated chair massage can promote blood circulation to the skin. This helps deliver the nutrients that help improve skin condition, tone, and texture.
Wrapping Up Best Heated Massage Recliners
Recliner chairs with heat and massage provide comfort are an indulgent addition to any home. But you no longer need to be scared of the cost
If you want to get the best value for money, then you should consider a product that has a wide variety of features. The best example of this is the Esright recliner chair. Apart from its heat and massage functions, it has rocking and swivel functions as well.
Another good option is the Homall recliner chair. This heat and massage recliner also comes with a power lift and zero gravity features. With its 2 cupholders, it's the perfect place to watch TV or read a book.