Picking the right handles for gray cabinets can be a bewildering experience. Gray cabinets are a classic in the design world and allow you to experiment with your style and decor choices. But, a gray cabinet needs the right accent pieces to make it pop.
In This Article We'll Discuss
The Best Hardware for Gray Cabinets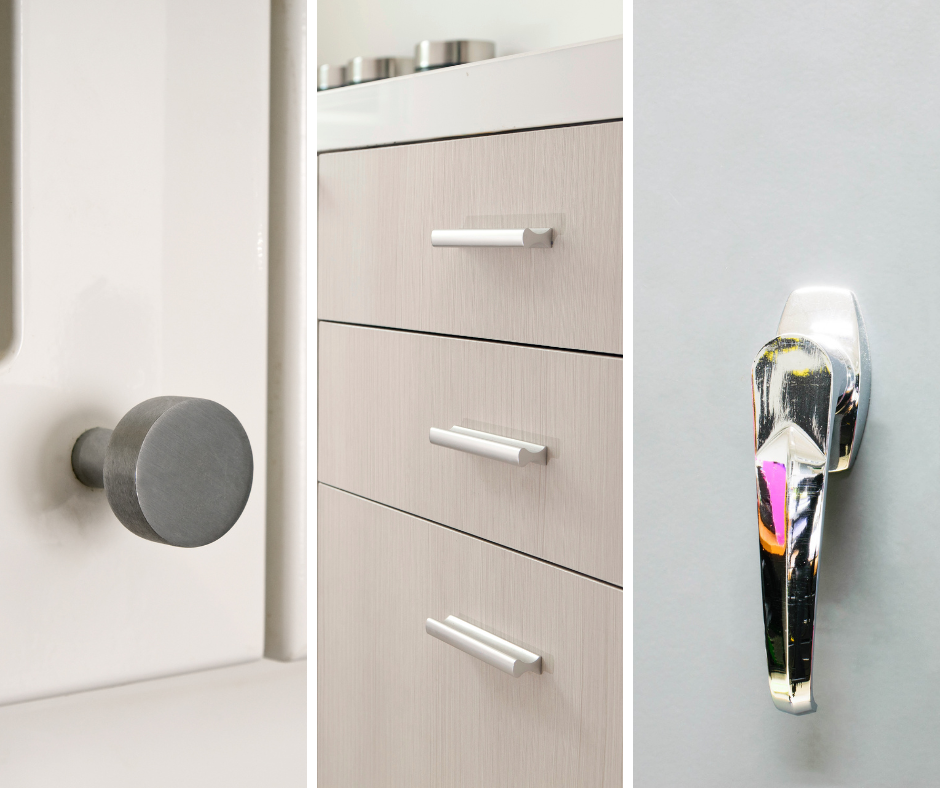 Gray is a neutral base for a range of knobs and handles that can transform the look and feel of your space. Gray cabinets need not be dull, and we have seven ways to spice them up.
Shades of Gray
From charcoal to greige, there is a shade of gray to suit every style. Designers use gray because of its ability to create a warm or cool base for a room. This variation in shades also allows you to play around with accent elements like cabinet knobs and handles. Whether you want sleek and stylish, country charm, or eclectic flair, the selection of doorknob colors or handles that go with gray cabinets is endless.
That's why we've put together this list of 7 great colors for your gray cabinet handles.
1. White
White hardware on light gray cabinets keeps a space airy and light. The fresh feel of the neutral palette means you can play around with accent colors and textures. Cool gray cabinets and white handles in a small area will make the space appear larger.
A white stainless steel bar handle will provide clean lines and a neat aesthetic for a sleek and modern look. If you want to add a vintage vibe, then an ornate ivory-toned handle will bring out the warmth of gray cabinets with a taupe undertone.
Try a retro knob with a fun design and texture to add flair to warm-toned cabinets.
2. Black
Black hardware on gray cabinets is a classic look that ages well. Black knobs and handles give cabinets a modern aesthetic and are an easy way to update gray cabinets. On cool, light gray cabinets, black hardware makes a bold statement. Try a bar handle to highlight the modern aesthetic in this case. On dark gray cabinets, black hardware creates an understated and monochromatic aesthetic with a masculine and austere feel.
For a more traditional room, a softer shape pull in matte black will compliment warm gray cabinets. If you want to update your cabinets with a bold statement, then a uniquely-shaped knob will do the trick.
3. Metallics
There is something about a bit of understated bling on a cabinet that gives a room something special.
Bronze
Try bronze or brass hardware for a vintage and timeless update to your greige cabinets. An antique brass knob with a weathered patina is a great way to add character and charm to new cabinets.
Vintage barn-door-style handles paired with warm gray tones will create a welcoming farmhouse feel.
Silver
Silver knobs and handles on gray cabinets are staples in many kitchens and bathrooms. It is a classic pairing that creates a neutral decor palette. Silver hardware also works well on gray cabinets with a blue undertone.
For a clean and modern update, try a brushed nickel bar handle. These are also simple to maintain. Or, you can add a solid square knob that will add drama to your cabinets without being overpowering.
Gold
If you want to make a bold statement, adding gold hardware to your gray cabinets will do the job. Gold handles on greige – a mix of gray and beige – cabinets will add an art-deco aesthetic to your space. The combination of style and warmth will create an inviting space with a mid-century modern feel.
A sleek brushed gold handle is eye-catching, while a round-edged solid gold knob adds subtle elegance.
If you are looking for something eclectic and feminine, this gold and blush round knob is a perfect way to give your gray cabinets added personality.
Champagne
If you want metallic hardware that blends well, then try champagne-colored hardware. The understated warmth will complement your cabinets without drawing too much attention. A satin nickel round-edged pull handle will give your space a modern aesthetic that still feels welcoming.
Paired with a satin nickel round knob, you can update your cabinets with understated elegance.
4. Gray
We know that gray is a go-to color for home decor, so why not pair your gray cabinets with gray hardware?
Hand-painted ceramic knobs are a fun way to add personality to your cabinets. Each one is unique, and the shades of gray will complement warm or cool gray tones.
Try a soft iron knob with a beautiful patina for an earthy effect—the dark color pairs beautifully with dark gray and blue-gray cabinets.
Try these solid marbled knobs or brushed gold and electroplated dark gray handles for an instant glamor update. The marbled knobs will work well on any shade of gray, while the dark gray handles complement charcoal and blue-gray cabinets.
5. Clear
For old-world, understated glamor, update your gray cabinets with clear hardware. This timeless look works well with any shade of gray and will add subtle elegance to your space.
Delicate glass knobs add a feminine aesthetic to a vanity, while clear acrylic handles with gold accents offer a hardy but attractive option for frequently used cabinets.
6. Rattan
Rattan – a material made from woven wood – will introduce an organic feel to your kitchen. At first, this may seem like an odd choice. But, the natural rattan fibers pair beautifully with warm gray tones. It creates a casually eclectic and bohemian aesthetic for cabinets in a small space.
These round rattan knobs with gold detailing pair well with rattan handles for a chic yet relaxed cabinet update.
7. Wood & Resin
Continuing with organic materials, warm-toned gray cabinets look earthy and natural when paired with wooden hardware. Gone are the days of clunky wooden handles and boring wooden knobs.
Wooden handles can be sleek with metal detailing or paired with resin for a bohemian vibe. Combining resin with natural wood grains adds interest and texture to your gray cabinets.
The Best Hardware for Gray Cabinets
Gray cabinets allow you to play around with colors and textures, and you can update them easily. They provide a neutral backdrop to showcase your personality and decor style. The versatility of gray means you have various options for colors and design when it comes to knobs and handles. So, have fun with it, be bold, and spice up your gray cabinets.