Established as a subset of Home Depot, Hampton Bay brings a level of affordability to the oversaturated fan market. By focusing on a range of styles and functions, Hampton Bay offers a quality selection of ceiling fans. If you want a decorative piece that will cool down your home, then a Hampton Bay ceiling fan could be for you!
Finding the best Hampton Bay ceiling fan for you will depend on your personal style and where you plan on putting it. If you're looking for a modernist aesthetic, we recommend the Industrial Energy Star Ceiling Fan. This fan is wonderfully efficient, and it saves energy while also generating a lot of power. This stunning matte white fan will cool your home and look great.
Alternatively, if you're looking for a Hampton Bay ceiling fan with additional features, then the Stoneridge fan may be a better choice for you. This ceiling fan comes with three central lights, each of which is dimmable. These LEDs produce a range of light intensities, so you can adjust the brightness how you want it. The fan is large and will easily cool the majority of indoor rooms.
Although these two fans are the standouts in certain areas, the other Hampton Bay fans have a lot to offer as well. We've compiled a list of some of the very best Hampton Bay fans currently on the market. Let's take a look!
In This Article We'll Discuss
8 Best Hampton Bay Ceiling Fans
---
8 Best Hampton Bay Ceiling Fans
---
Best Overall
Product Details:
4670 CFM
52-inch diameter
Central LED
Chain control
Dark-tinted mahogany appearance
This indoor fan is perfect for rooms up to 20 ft. x 20 ft. It generates a continual 4670 CFM (cubic feet per minute of air), so this fan will easily keep your indoor rooms cool. In addition, it comes with a central LED light.
The two dangling chains control the lights and fan speeds separately. The fan is made of mahogany with a black tint on one side, which gives the fan a modern and elegant appearance. It's 52 inches, which makes this fan is a great choice for any medium-sized home.
---
Best Industrial
Product Details:
Three 25-in blades
60-in diameter
Wall control with 4 speeds
Saves energy
This fan is perfect if you're looking for a modern or industrial style. The pure matte white fan has three large blades, and each blade measures 25 in from base to outmost point. In total, the fan has a diameter of 60 in.
In addition, the fan comes with a wall control that allows you to cycle through 4 different speeds. The Energy Star rating of this fan ensures that it saves energy while working at full power.
---
Best Lighting
Product Details:
Diameter of 52 inches
Three LED light fixtures
5 reversible blades
Three speeds
This traditional fan is made with bronze and wood. This finish gives the fan an aged look and creates an antique aesthetic. The fan is 52 inches in diameter, so it's a great choice for larger rooms.
The three central light fixtures are powerful and cast a wide light range. This makes this fan a great choice if you're planning to use it as the room's main light source. Also, the blades are reversible, so you can choose to cool or heat up a room. The fan has three speeds and five blades.
---
Best in White
Product Details:
5 blades
Completely white
52-inch diameter
Silent motor
3 speeds
This Hampton Bay fan is completely white. It's also reversible, which allows you to heat up or cool down your house. Each of the five blades are matte white on both sides.
The diameter of the fan is 52 inches, which is large enough to create a solid air flow in even the largest rooms. The multi-capacitor also means the fan can operate completely silently, even at full speed.
---
Best for Outside Use
Product Details:
52-inch diameter
LED fixture
5 waterproof blades
Three speeds
Silent motor
Outside safe
If you live in a warmer climate, you may be interested in installing an outdoor fan. If that's the case, then this Hampton Bay Gazebo fan may be perfect for you. It has 5 weatherproof blades that are completely outside safe. The fan also comes with a central LED fixture that will brighten up any space.
The fan has three speeds and a quiet motor for silent operation. With a 52-inch diameter, this fan will keep your outside spaces incredibly cool. The central part of the fan is natural iron, and the two hanging chains also resemble this material.
---
Best Brass Design
Product Details:
3 LEDs
5 Blades
2 Chains for control
52-inch diameter
This brass design Hampton Bay ceiling fan has an antique look to it. The five blades are flat and made from a light wood, and there are also three LED bulbs at the center of the fan. You can control both lights and fan speed from the two dangling chains. In addition, the base of the fan is made from brass, which gives it an ornate style.
The fan has three speeds and the 52-inch diameter will allow you to cool down the majority of rooms in your home.
---
Best Space Saver
Product Details:
44-inch diameter
Brushed nickel
5 blades
Remote control
Three speeds
If you don't have a lot of space in your home, this small fan will be perfect for you. It's 44 inches in diameter and it's one of the smallest fans on our list.
The fan is made from brushed nickel and has 5 black blades. There's also a central LED light fixture, but it's not dimmable. You can control this fan with a remote control that has three possible fan speeds.
---
Best Vintage
Product Details:
48 inches in diameter
Darker colors
5 blades
Chains to control
LED dimmed with filter
When looking for a vintage-style fan, you can't go wrong with this Hampton Bay Roanoke Fan. This fan uses darker colors to create a vintage aesthetic. It has five black blades and the central LED is dimmed by an orange finger. There are two dangling chains to control the light and fan speed.
The center of the fan is dark brown, furthering the vintage style. The fan is 48 inches in diameter, which is enough to cool practically any room in your home.
---
Buying Guide
---
How to pick the best Hampton Bay ceiling fan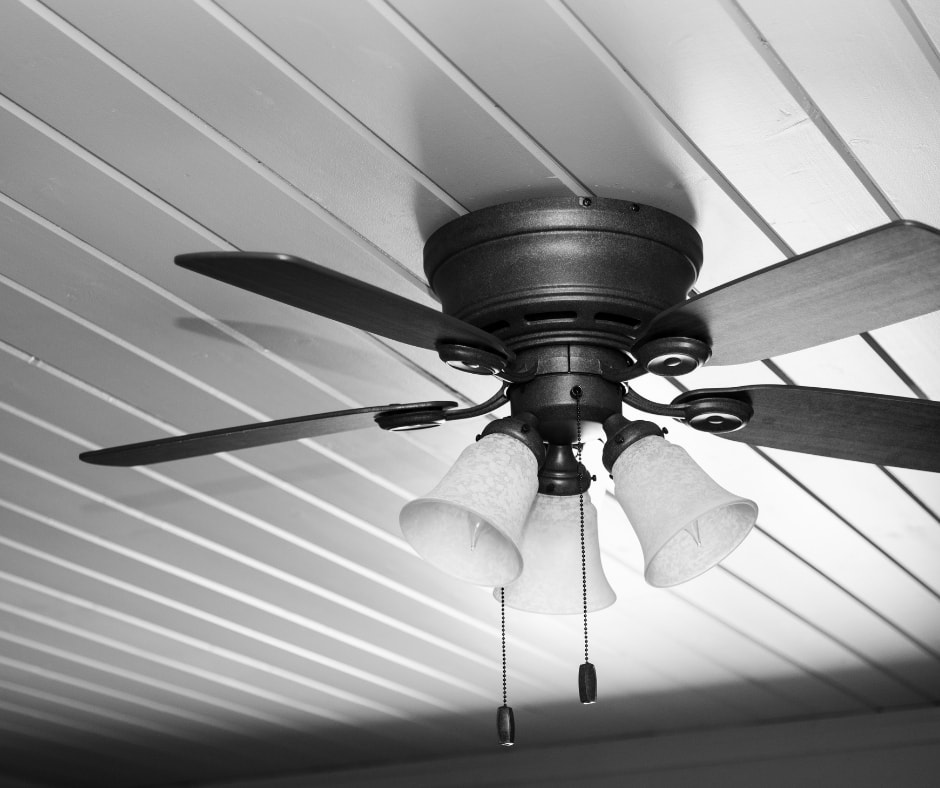 Before choosing the best Hampton Bay ceiling fan for your home, we recommend answering two questions. First, where are you going to use the fan and, second, what style of fan are you looking for?
Location
When deciding on a ceiling fan, one of the most important things to ask yourself is where you're going to put the fan. If you're going to be using the fan in a smaller indoor space, the fan you choose will obviously be slightly different from the fan you'd buy if you were putting it in a larger space.
If you want to put the Hampton Bay ceiling fan in a smaller office, we recommend opting for a fan with a smaller diameter. Not only are these much easier to set up, but they also won't overwhelm your room. They will cool your room and look stylish while doing so.
Alternatively, if you need to cool down a larger room, then we suggest buying a bigger fan. Bigger fans can typically generate more power and can move air around the room more efficiently. While this isn't always the case, larger fans can generally generate more CFM of air.
Style
As you can see, there is a huge range of fans to choose from when it comes to Hampton Bay. From brass designs to vintage pieces, you'll be able to choose from a variety of styles.
Therefore, before committing to a Hampton Bay ceiling fan, you should consider the style of the room the fan is going into. If you have a modernist style, the last thing you want is for a vintage fan to interrupt the aesthetic.
Try to match the fan to the room. With a diverse range of aesthetics, you're sure to find a fan you love with Hampton Bay.
Who makes Hampton Bay ceiling fans?
Hampton Bay is a house brand owned by Home Depot. So, you'll often find a huge range of these fans at Home Depot stores.
As a Home Depot brand, all the Hampton Bay fans are made in the USA.
Is Hampton Bay a good ceiling fan brand?
One thing that Hampton Bay excels at is variety. Even on this list, there is a huge range of styles and functions that you can opt for. Due to this, Hampton Bay has certainly made a name for itself. If you're looking for a unique fan, then Hampton Bay is a wonderful choice.
With that said, if you're looking for the strongest fan on the market, Hampton Bay is likely not the brand for you. While they do have some powerful fans, their fans create a lower CFM on average than other mainstream brands.
Depending on what you looking for, Hampton Bay can be a fantastic brand. However, if you're looking for a lot of power, then it may be best to look elsewhere!
Conclusion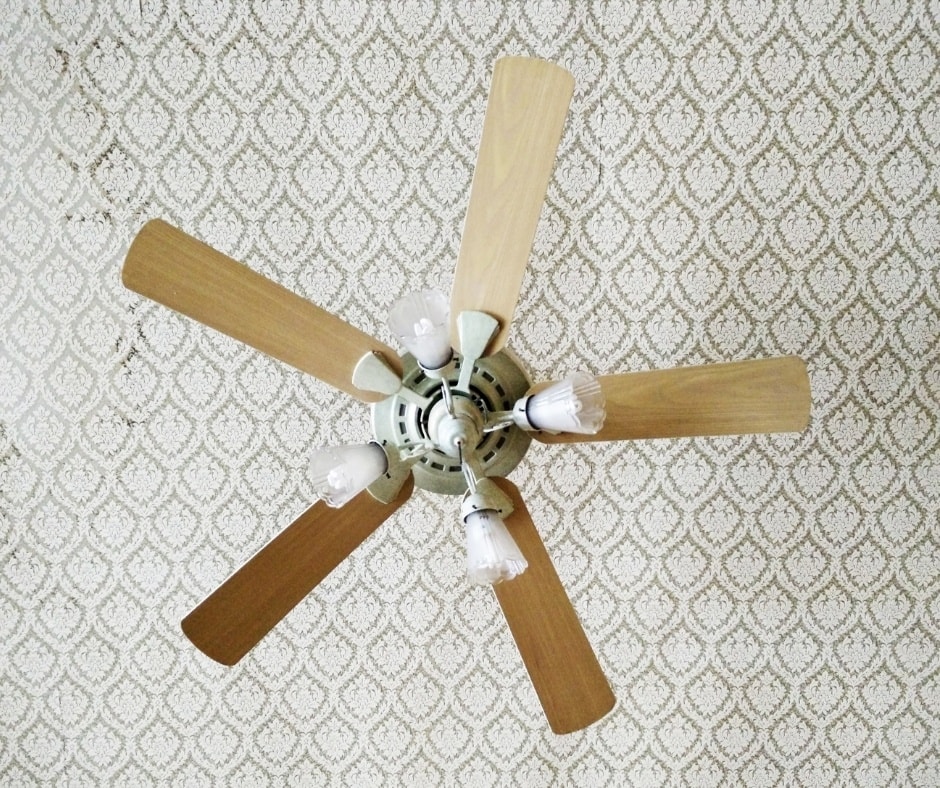 Hampton Bay offers a huge selection of fans. We've attempted to cover a range of styles and functions on this list. From certain aesthetics to individual features like lights and speeds, we've included it all. Be sure to check the buying guide before buying a fan, as this will help you make a decision!
Our recommendation from this list is the Hampton Bay Hugger. This 52-inch fan creates an impressive 4670 CFM of air. In addition, its chain features allow you to choose from a range of speeds. Technical aspects aside, the fan also looks fantastic. If you're looking for a standout centerpiece fan, you can't go wrong with this design.
All the fans on this list are the best that Hampton Bay has to offer. Check out each of them and decide for yourself which would fit best in your home.